The US and its allies believe that free and fair elections should be held in the country. On the other hand, China today commands the forces that oppose the United States. Therefore, it is simple to understand how politics on a worldwide scale affect this situation. International politics' diplomatic confrontation has shifted to Bangladesh. Both sides participated in a heated public argument. Both factions are still attempting to persuade or keep Bangladesh to their side in the shadows. Politics in America have historically been rather open. US representatives have and continue to often visit Dhaka. Donald Lu has returned to Dhaka for the second time.
What did the visit achieved?
On July 13, 2023, Uzra Zeya, the Under Secretary for Civilian Security, Democracy, and Human Rights, met with the Honorable Prime Minister Sheikh Hasina.  They talked on the solid and expanding relationship between Bangladesh and the United States, as well as cooperation on everything from humanitarian aid to gender equality.  They discussed initiatives to develop a prosperous future supported by solid democratic institutions, such as free and fair elections, the critical role of civil society and independent media, and strengthening human rights and fundamental freedoms, such as freedom of association and labor rights.
The Prime Minister and Under Secretary also spoke about Bangladesh's generous hosting of Rohingya refugees and their ongoing need for assistance from the international community.  Since August 2017, the US has been honored to support Rohingya refugees and host communities in Bangladesh and the surrounding area with more than $2.1 billion in humanitarian aid.  The Under Secretary also disclosed that the United States is contributing more than $74 million in additional humanitarian aid to help with ongoing relief efforts in Burma and Bangladesh. Nearly $61 million of this amount will go toward supporting Rohingya people who are internally displaced in Burma, Rohingya refugees in Bangladesh, and their host communities, including Bangladesh. She also urged other donors and potential donors to continue their support.
The United States strongly urges the Government of Bangladesh to increase livelihood possibilities for Rohingya refugees considering decreasing donor support and escalating camp insecurity.  The United States continues to put pressure on the military government in Burma to put an end to the crisis and establish the framework for the eventual, voluntary, informed, and sustainable return of the Rohingya to their country.
Senior American government representatives from the Department of State, the U.S. Agency for International Development, and the National Security Council, including Assistant Secretary for the Bureau of South and Central Asia Donald Lu, are visiting Bangladesh from July 11 to 14.  Senior government officials, members of civil society, Rohingya refugees, and representatives from humanitarian groups are all present at the meetings.
Uzra Zeya, the United States' Under Secretary for Civilian Security, Democracy and Human Rights, has reaffirmed her nation's desire for "Peaceful, free, and fair" elections in Bangladesh.
She said in an interview with the Hindustan Times, "We look forward to robust discussions with the government on a variety of issues, humanitarian cooperation, the elections process, and I think our hope for a peaceful, free, and fair elections process."
Zeya also spoke about the connection between Bangladesh's economic development and prosperity, which have been the focus of a significant and long-standing development partnership, and the crucial contribution that respect for labor rights and freedom of association makes to Bangladesh's aspirations. Through new organizations like the Quad, she claimed they are united in their desire to create an Indo-Pacific region that is "more prosperous, more secure, more connected, more inclusive, and more resilient."
Lu served as the public face of the initiative after the new visa policy was formally revealed by US Secretary of State Antony Blinken on May 25. She made appearances in Bangladeshi media to outline how it would be put into effect. Meanwhile, Uzra Zeya's visit to Pakistan is primarily an effort to advance the friendly relations between the two countries and strengthen communication, according to Mohammad Rafiqul Alam, Director General (Additional Charge) of the Public Diplomacy Wing at the Pakistani Foreign Ministry.
The Constitution and Democracy
Uzra Zeya stated in an interview before arriving in Dhaka that the United States revealed its new visa policy in order to guarantee a totally free and fair election in Bangladesh. Still, the US demands more. It's possible that Bangladesh will only fail to satisfy American standards if it fails to organize free and fair elections. Bangladesh should be included in the US security strategy for India and the Pacific area in addition to supporting democracy and human rights. Bangladesh is a glaring example of the polarization in global politics that is being discussed and is concentrated on the United States, China, and Russia. The election of Bangladesh has been discussed in essentially all of these two new poles. The UK, Japan, and Australia have all made statements outside of the US and the EU. Belarus and North Korea, meanwhile, are currently not included. The cycle will be complete if these two nations discuss our politics and elections.
Democracy, as stated by Abraham Lincoln in his renowned Gettysburg Address of 1863, is "government of the people, by the people, for the people." It is obvious that a democratic government is made up of elected citizens who serve the interests of the entire population. It is desired that such a government, established with the permission of the people and acting in their best interests, "shall never perish from the earth." We fought our Liberation War under the outstanding leadership of Bangabandhu Sheikh Mujibur Rahman, the father of the nation, to secure our right to self-determination. In order to do this, democracy was established as a core value of our state's government. All those discussions were multilateral or all-party.
Before independence, politicians used to seek solutions in such all-party conferences with great sincerity. Our Constitution's Article 11 declares that "the Republic shall be a democracy in which fundamental human rights and freedoms and respect for the dignity and worth of the human person shall be guaranteed, and in which effective participation by the people through their elected representatives in administration at all levels shall be ensured." To further ensure that the democratic system is universal, Article 59 of the Constitution requires the rule of people's representatives at all administrative levels.
We must abandon the hate-filled politics of annihilation and bring in a political culture of inclusivity, respect, and consensus if we are to realize Bangladesh's foundational ideal of a democratic, secular, and just country. Politics must shift its focus from self- or coterie interests to public service. For the system of checks and balances to function and to guarantee the executive branch's transparency and accountability, the parliament must become independent and functional. According to the High Court decision in the case of Anwar Hossain Manju v. Bangladesh, the members of the parliament must concentrate on enacting laws and refrain from participating in local development, which is against the Constitution.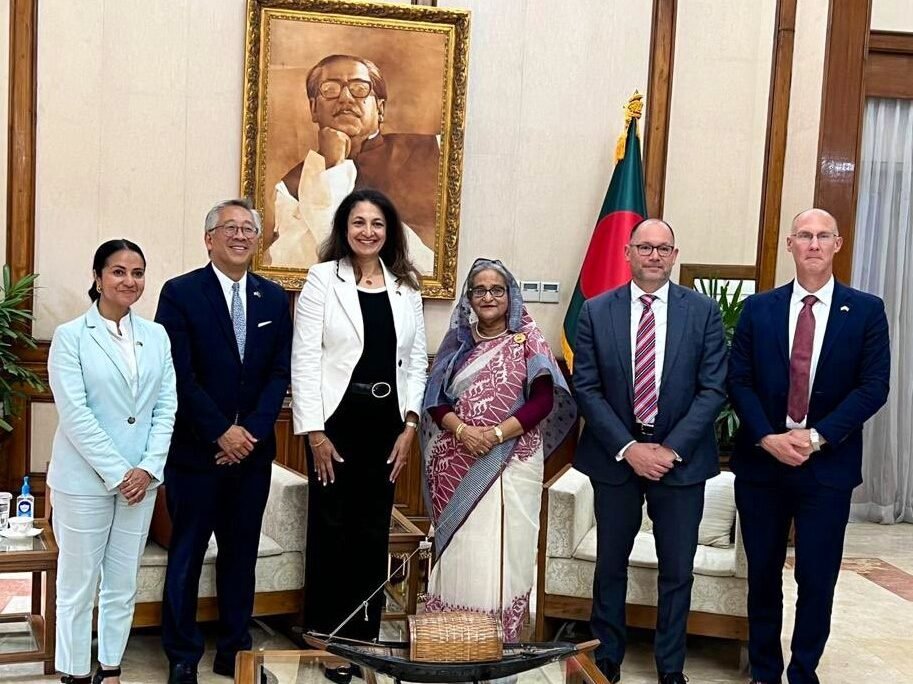 According to Article 78 of the Constitution, a Code of Conduct and a Privilege Act must be created for MPs in order to prevent conflicts of interest. We pray that our leaders will have the strength, fortitude, and discernment to compromise, come to an agreement, sign and put into effect a National Charter keeping constitutional obligation thriving to ensure a secure and democratic future for all of us in light of the grave challenges our country faces. Democracy is more than just participating in elections as a way to voice one's opinions. As a result, participation in the process of developing a country's government involves more than just voting to elect a government. Personal development and welfare are seen as essential components of social and institutional change. It should be a matter of right to have a better quality of life that is recognized and respected.
The different nations' stances and statements towards Bangladesh are consistent with where they stand in international politics and diplomacy. Human rights and democracy are important to the United States. Others believe that they utilize the topic of "democracy and human rights" as a crutch to exert pressure, stay in the game, and occasionally even guarantee an advantageous position for their nation in terms of commerce and business.
The geopolitical interest
Due to its own interests, the US is currently discussing human rights and our elections. Because the US wants to take back the leadership role it formerly held in regional affairs. Additionally, when it came to the Bangladesh issue in 2014 and 2018, the United States and China, India, and Russia had the same position. However, by 2023, it will be clear that China and Russia have surpassed the United States in strength in Bangladesh. As a result, geopolitics and strategy have modified the United States' posture. We also encounter the inverse, though.
The underlying splits and rifts along lines of ideology, politics, religion, and institutional components are the apparent immediate causes of political violence. Political violence spreads mistrust, institutionalizes violence as a legitimate way to express one's political views, and socializes violence-politics among the next generation of party supporters. To prevent political violence, we must be cautious and act with both consensus and a firm resolve. All political crises to date could be settled by dialogue and agreement among the political parties within the confines of the People's Republic of Bangladesh constitution, I believe.
Photo Credit: U.S. Embassy in Bangladesh