Visiting US Department of State's Under Secretary for Civilian Security, Democracy and Human Rights Uzra Zeya has announced the new visa policy to supplement PM Hasina's commitment to hold a free, fair and neutral election.
The senior US diplomat arrived in Dhaka from Delhi on 12th July. Her four-day visit comes at a time when bilateral ties between Washington and Dhaka are seemingly fraught with tension. She is accompanied by Donald Lu, US assistant secretary for South and Central Asia.
The target of the mission is:
Advance "shared solutions" to global challenges;
Contribute to a more free, open, secure, and prosperous Indo-Pacific;
Bolster humanitarian support for refugees and host communities throughout the region;
Shared humanitarian concerns;
Election focused on US Delegation's meeting with PM Sheikh Hasina
The US visiting delegation visited the prime minister's official residence where Uzra Zeya was accompanied by Donald Lu and Anjali Kaur, deputy assistant administrator of USAID.
"We do not have any bias towards any party, we want a neutral, free, and fair election," Zeya was quoted as telling PM Hasina. During the meeting, Zeya said that the visa policy was aimed at achieving free and fair elections, which Hasina had also pledged to ensure.
"We always fought for free and fair elections in the country, we already have held a free and fair election," PM Hasina said. She also emphasized her commitment to holding free and fair elections in the country.
PM Hasina also mentioned that it was the Bangladesh Nationalist Party (BNP) that started vote rigging in the country and also recalled their atrocities, and terrorist activities. She mentioned arson attacks of the BNP and their allies during 2013-15 that left 500 people killed.
After the meeting, Zeya tweeted, "Engaging & productive convo with Prime Minister Sheikh Hasina on 50+ years of #USBDPartnership. US appreciates BD's generosity towards Rohingya refugees & looks forward to free & fair elections anchoring a thriving democratic future for the Bangladeshi people."
The United States has said holding free and fair elections in Bangladesh is a "shared desire" of the two friendly countries.
"It's a desire that we share as a friend and partner of Bangladesh for over 50 years," stated US State Department Spokesperson Matthew Miller in a regular briefing at the State Department, on10 July 2023.


US to assist with Rohingya Repatriation
During the discussion, Zeya that she visited Rohingya camps and talked to the displaced people from Myanmar and put emphasis on strengthening coordinated international efforts to ensure the reparation of the Rohingyas to their homeland in Myanmar. She also mentioned that US will provide some $74 million for the operational cost in Rohingya camps. She highly appreciated Sheikh Hasina for hosting such a huge number of Rohingyas in Bangladesh.
"Bangladesh currently is hosting more than one million Rohingyas in two different areas of the country and human trafficking and anti-social activities are going on in these camps which are very much alarming for the country's security," added Prime Minister Sheikh Hasina.
Zeya and PM Hasina also discussed the strong and growing partnership between the US and Bangladesh, including coordination on issues from benevolent assistance to gender equality.
Other Engagements
In addition to her meeting with Prime Minister Sheikh Hasina, Uzra Zeya also met with Law Minister Anisul Haque, Home Minister Asaduzzaman Khan, Prime Minister's Private Industry and Investment Adviser Salman Fazlur Rahman, Foreign Secretary Masud Bin Momen, PMO Secretary Mohammad Salahuddin, Bangladesh Ambassador to United States Mohammad Imran and Foreign Secretary Masud Bin Momen today. After having lunch with the Foreign Secretary at Padma State Guest House in the afternoon, she spoke to reporters on a range of issues.
Election
"Apart from Prime Minister Sheikh Hasina, several ministers of the government express their conviction about free and fair elections. As a long-standing partner, the United States wants to play its part in free and fair elections in Bangladesh," US Under Secretary said to the journalists present.

In a written statement she added that a prosperous future depends on strong democratic institutions and the broad participation of Bangladeshis in elections and governance of their country. The United States looks forward to continued collaboration supportive to an inclusive and democratic Bangladesh, in which all can thrive.
Strong Bilateral Relations
"I am here to acknowledge the partnership with Bangladesh. The US wants to deepen this relationship. We have had fruitful discussions in the hope of establishing a free and independent India and the Pacific. We look to the next 50 years and beyond. Our cooperation on climate change, development aid, economic, humanitarian assistance, and security highlights the strength and future potential of the relationship," Uzra Zeya said.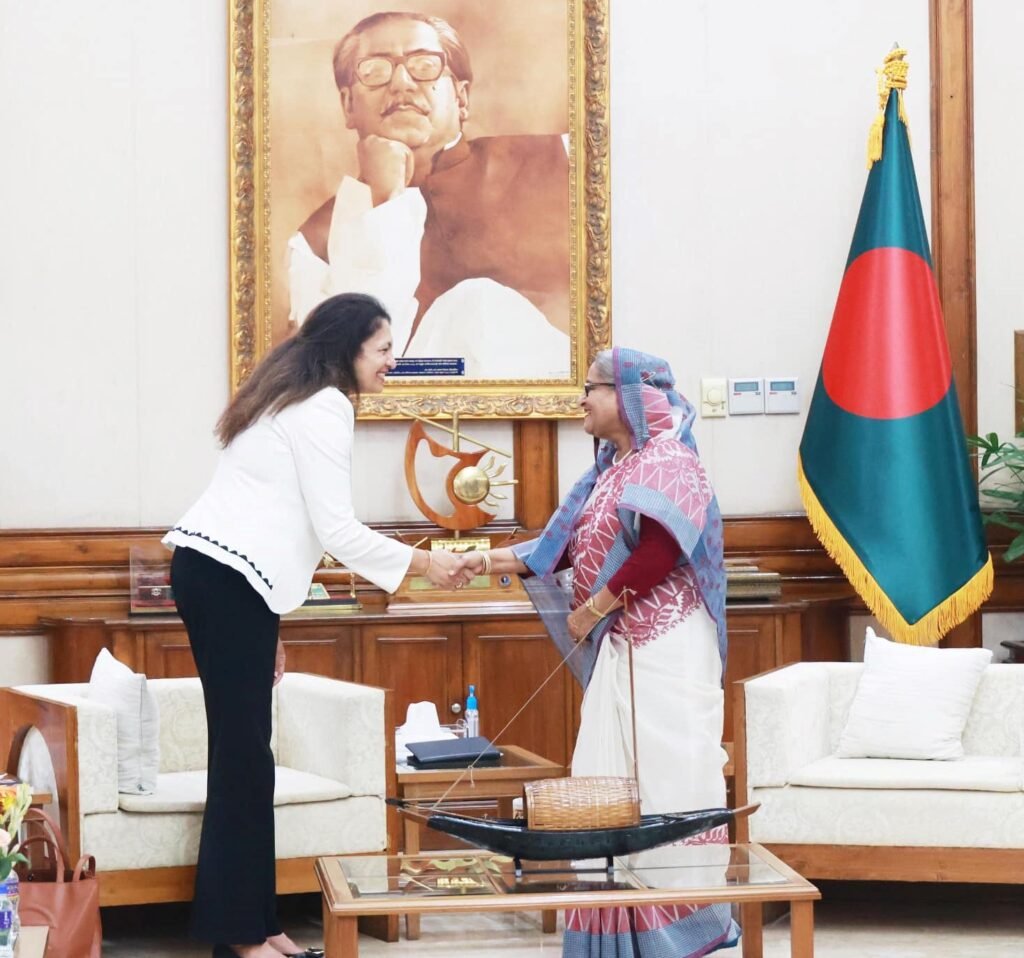 Labour Rights
In the presser, Bangladesh's Foreign Secretary said that the meeting with Uzra Zeya was very productive. We discussed the multidimensional and wide-ranging relationship between Bangladesh and the United States. Bangladesh values this relationship and is committed to working with the United States to address common challenges. Zeya highlighted Bangladesh's achievements in the last decade in revising labor laws. She also commended Bangladesh's ongoing initiative to improve the safety of workers and their rights.
The US delegation is scheduled to have some more meetings tomorrow with civil society members. Under Secretary Zaya will finish his Bangladesh visit after that.
Photo Credit: Yeasin Kabir Joy