Saudi Arabia is trying to expand its sphere of influence in the Emirati-controlled port city of Aden, which analysts see as the first step of exiting the vicious and costly war in Yemen.
The Yemeni civil conflict, which began in 2014, resulted in a fragmented political landscape marked by competing factions and regional influences. In light of recent events, Saudi Arabia has established administrative councils in Hadramawt and intends to establish another in Aden in an effort to promote a united Yemen in contrast to the Southern Transitional Council's push for secession.
These initiatives come at a crucial moment, when Saudi-led peace negotiations with the Houthi rebels are facing obstacles, and may indicate Saudi Arabia's acceptance of a divided Yemen.
Yemen continues to struggle with one of the world's largest humanitarian crises, requiring immediate attention and peacemaking efforts.
Saudi-backed administrative councils in Hadramaut, Aden
The establishment of administrative councils supported by Saudi Arabia in Hadramaut and Aden has strategic significance. These councils may not have a significant impact on political affiliations, but they demonstrate Saudi Arabia's desire to increase its influence in the south, especially as peace negotiations stall. According to Yemeni scholar Matthew Hedges, the councils may be a recognition of Yemen's prospective division into two entities.
"It is unlikely that the new council in Aden will develop into a wider community of support or to a wider political movement that can genuinely confront the Southern Transitional Council," said Hedges. In fact, he rather sees these new administrative bodies as "setting the cat among the pigeons."
Mohamed al-Iriani, a research analyst at the Yemen Policy Center, an independent think center in Sanaa, stated, "Saudi Arabia has made repeated attempts to form a political coalition in Aden, particularly with those political factions that share aspirations for a united Yemen. These efforts have proven unsuccessful."
However, the researcher believes that the Saudi-backed councils could provide an additional benefit. If Saudi Arabia and the United Arab Emirates are able to resolve their differences in the south, these new councils "could potentially facilitate consensus-building in local dialogues among southern factions," according to al-Iriani. This, he continued, "could aid the Saudi-led coalition's exit from the war."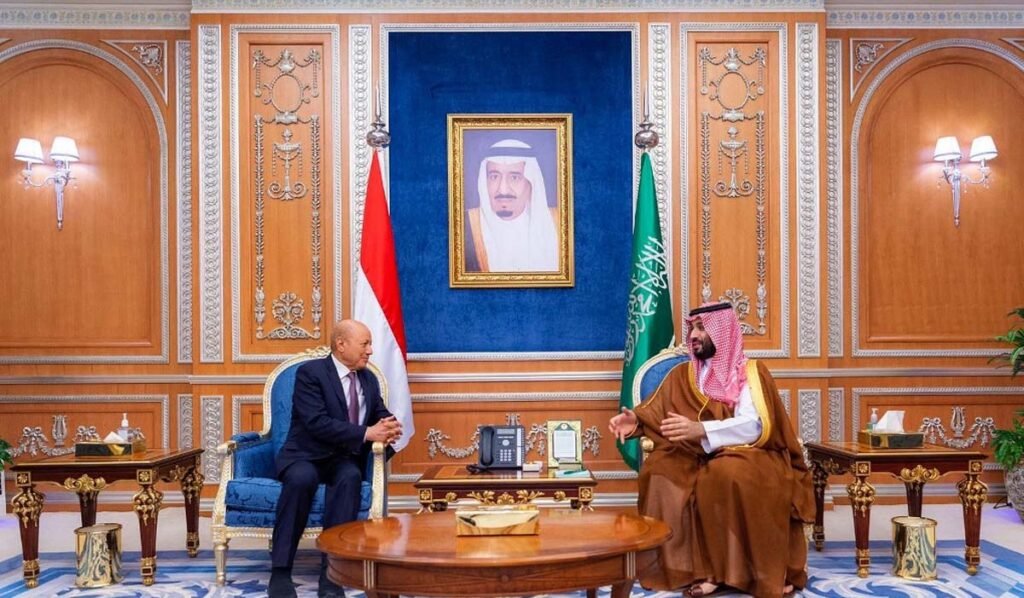 Background of Yemen's civil war and ongoing humanitarian crisis
Yemen has been at war for the past nine years, when Houthi militants seized the capital at the time, Sanaa, and deposed the internationally recognized government. In 2015, the situation deteriorated when a coalition of nine countries, led by Saudi Arabia and including the United Arab Emirates, intervened to restore the government, which is now known as the Presidential Leadership Council. Except for the issue of secession, the United Arab Emirates are staunch Saudi allies in all other regards.
The protracted conflict in Yemen has caused immense hardship and continues to be one of the world's worst humanitarian crises. In the meantime, the conflict has taken a heavy toll on Yemeni civilians, rendering Yemen the country with the worst humanitarian crisis in the world. The United Nations estimates that 60 percent of the estimated 377,000 fatalities in Yemen between 2015 and the start of 2022 were due to indirect causes such as food insecurity and lack of access to health care. Twenty-five million Yemenis, or nearly 74%, still require assistance. Five million are at risk of malnutrition, and over one million have been affected by a cholera outbreak. According to reports, all parties to the conflict have violated human rights and international humanitarian law.
The United Nations estimates that approximately 21.6 million Yemenis, or two-thirds of the population, require humanitarian assistance. The conflict has caused tens of thousands of deaths, massive population displacement, and severe food insecurity. The dire situation in Yemen requires immediate action to address the population's pressing requirements.
Is Saudi exiting the war?
The conflict in Yemen has been described as a proxy war between Saudi Arabia and Iran, with regional powers embroiled in the Sunni-Shiite divide. Saudi Arabia's stated desire to leave the costly conflict, combined with recent diplomatic overtures between Saudi Arabia and Iran, has generated optimism for a potential political settlement. The implementation of confidence-building measures, including prisoner exchanges and the restoration of diplomatic relations, has occurred. The resumption of peace talks mediated by Oman and the cautious optimism of the UN Special Envoy indicate the possibility of a new peace agreement.
After eight years of conflict, the Houthi militants now possess a formidable arsenal that they have employed against Saudi Arabia and the United Arab Emirates. Moreover, the protracted conflict poses a challenge to Saudi Arabia's efforts to rebrand the country as a destination for tourism and investment. The kingdom is concerned that a protracted conflict could deter investment and undermine its stability goals.
The Saudis "want to wash their hands of the situation," and avoid responsibility for any future flare-ups, an analyst from Saudi claimed.
As, Saudi Arabia has become more vocal about its desire to end the costly conflict, these developments are quite crucial for almost decade long Yemen conflict.
In conclusion, recent developments in Yemen, including Saudi Arabia's establishment of administrative councils and diplomatic efforts, offer a glimmer of hope for a potential political settlement. While challenges persist in the deeply entrenched conflict, the resumption of peace talks and confidence-building measures indicate a willingness to find common ground.