Gold has been widely used as ornaments and a status of wealth. Recently the fever of edible gold trend has started which brings the same old luxury but wrapped in foods! There are many claims of health nutrition associated with edible gold, but are they facts or just myth?
Gold! Shiny and sparkling gold! A term that typically evokes elegant and opulent connotations. A symbol of luxurious comfort, great wealth, and high standing! A desirable concept and physical property! Gold can be found in necklaces, rings, ornaments, and status. It has been man's companion for the majority of human history, and it retains every bit of its illustrious reputation even now. It's even expanding into new territories! The popularity of gold fever is increasing so rapidly that we now have the interest of discussing edible gold!
The fever of edible gold in Dhaka
Gold-wrapped doughnuts, gold-plated pizzas, and gold-leaf-wrapped burgers are available in a number of countries around the world. Almost everywhere has caught the edible gold craze, and Dhaka is no exception.
This year, InterContinental Dhaka, one of the city's five-star hotels, has added a mouth-watering and extremely expensive delicacy to their iftar menu: gold foil-wrapped jilapi for Tk20,000 per kilogram. Surprisingly, the Gold Jilapi were completely sold out in less than a week after being reviewed by prominent food bloggers and social media influencers.
After the news broke that gold-wrapped Jilapi was being sold in a Dhaka hotel, many social media users expressed astonishment and even criticism.
This is not the first time in Bangladesh where edible gold foods have received such mixed reaction. The news of gold-wrapped ice cream country received a great deal of attention in July of last year. On the occasion of their 19th year in business, Hotel Sarina, another five-star establishment in the city's Banani neighborhood, offered the limited-edition ice cream. The cost of the ice cream was Tk99,999. It was proclaimed to be Dhaka's most expensive ice cream.
What is edible gold?
Edible gold is a form of gold composed of high-karat, food-grade gold, ranging from 22k to 24k. It is not standard gold that is used for jewellery. It is a popular luxury garnish for desserts and beverages, including sushi, delectable cakes and pastries as well as drinks.
How does edible gold taste?
Is it metallic? Sweet? Savory? Well, gold doesn't taste like anything actually. It has no distinct flavor. It is added to cuisine for its assumed luxury and health benefits. Only the flavor of the dish itself will be experienced. Therefore, gold-dusted ice cream will be sweet, whereas sushi will be savory flavor.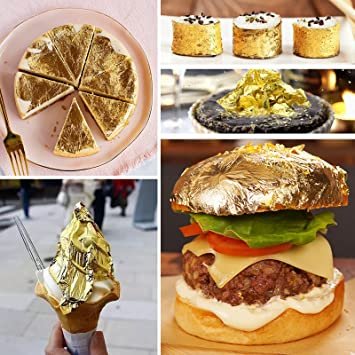 The history of edible gold and myths
While eating gold is currently popular, the practice is not revolutionary. In 3000 B.C., the Egyptians believed that gold was the skin and flesh of the gods; consequently, they consumed it for mental, physical, and spiritual purification, viewing it as a gateway to immortality. Sweets coated in gold or silver have been popular in India and Southeast Asia for ages.
At the time of the Renaissance, European noblemen sought to impress their visitors by decorating their food with gold leaf at banquets and weddings (bread, oysters, quail, carp). In Renaissance Venice, gold-covered, sugared almonds were served after a meal in the belief that gold protected against pain and strengthened the heart.
In the 19th century, it was common practice to consume gold to alleviate depression, migraine, and the immune system. Indian Ayurveda has utilized gold charcoal to treat infertility for centuries.
Even a 2015 study claimed that using gold salt to treat rheumatoid arthritis helps to halt the disease's progression, which is a myth.
Facts:
Does gold consumption have any benefit or side effects?
However, while gold makes every dish appear better, it cannot make them healthier. Mark Grimwade, a consultant for the Worshipful Company of Goldsmiths in London, suggests that eating gold leaf appears to have no negative effects. "This is not surprising because gold is chemically inert." It indicates that it does not break down readily.
As gold has no calories or nutritional value and does not dissolve in gastric acid, consuming gold leaves or gold dust has no health benefits. It will not disintegrate in the bloodstream and will be expelled from the body as waste.
Some cultures and modern enthusiasts believe that gold can "replenish minerals" in the body, but this is a myth, as is the marketing of so-called "monoatomic gold" as a panacea for virtually everything. "Edible gold leaf has no taste, texture, calories, or expiration date," says science journalist L.V. Anderson. "Pure gold passes through the human digestive system without being absorbed into the body. Since 24-karat gold is very soft and fragile, most edible gold—whether leaf, flakes, or dust—also contains a little bit of silver, which is also inert," he states.
Is it safe to consume edible gold?
Similar to the importance of karats in ornaments, there is a significant difference between consuming 24k, 22k, and 18k gold.
"Edible gold must be 23-24 carats," says New York-based registered dietitian Alexandra Oppenheimer. Because impure gold may be toxic due to the presence of other metals.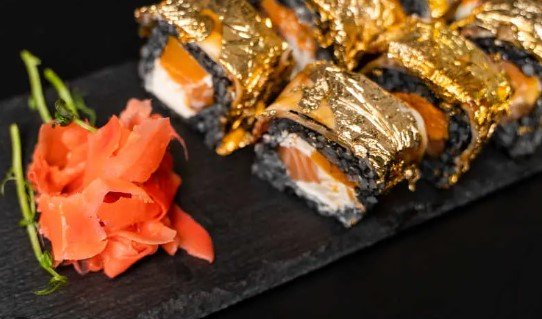 Gold is not a naturally risky substance. Additionally, it is inert, so it does not react with anything in the digestive tract. Gold consumption is not regulated by the Food and Drug Administration (FDA), but the Centers for Disease Control (CDC) considers it non-toxic.
The European Food Safety Authority (EFSA) has approved Gold (E-175) as a consumable food additive. It is regarded a gold coloring that functions similarly to any other food coloring or additive.
Ultra-thin edible gold leaf is safe for consumption. So, if you wish to consume gold safely, ensure that it is 100 percent genuine! However, edible gold should not be eaten while pregnant or lactating.
We can conclude that the explanations for consuming gold have evolved over time. In antiquity, gold was consumed for its believed health benefits, spiritual awakenings, and mysticism. Today, top chefs and patissiers use gold as a symbol of luxury and prosperity to create stunning and memorable culinary experiences for diners. However, one element remains, unaffected by time itself. It feels amazing! It feels luxurious! It appears powerful and it is so!