We are living in an era where our lives have become increasingly reliant on electronic devices, leading to a significant surge in their use in recent decades. Undoubtedly, these gadgets are significantly simplifying human work and contributing to a "digital revolution" that the world is currently experiencing. Since 1900, gradual technological innovations and their rapid application in our daily usage have been accelerating this progress worldwide. From smartphones to laptops and smartwatches, these gadgets have made it easier for us to communicate, work, and access information on the go.
Although these technologies offer numerous benefits to users, they also have some concerning drawbacks. Among these, "e-waste" poses the biggest threat to the world. A lack of proper direction, management, and control is hastening the accumulation of these wastes in landfills, posing risks to both human health and the environment. If things go like this, then how is the world going to hold the leash on this problem? The issue requires urgent attention and action from individuals, businesses, and governments alike to find solutions that mitigate the impact of e-waste on our planet.
BREAKING DOWN E-WASTE
Electronic waste, or "e-waste," refers to any obsolete, malfunctioned, or unusable electric devices that have been or will be discarded in a landfill due to expiration. It is a catch-all phrase that includes any discarded machinery like mobile phones, computers, calculators, printers, televisions, air conditioners, clocks, cameras, etc. Any kind of unwanted electrical device that contains a circuit board can be called e-waste, but products containing non-biodegradable plastics, polychlorinated biphenyls, and metals like Sb, As, Hg, Zn, Cu, Cr, Pb, Ni, and Cg are the ones that should be considered the most serious threat to nature and human beings.
The used products that are currently not in a position to be used and are on the waiting list to be reused, recycled, resold, or disposed of are also included under the definition of e-waste. The European Union identifies this flow of obsolete products as "waste electrical and electronic equipment" (WEEE). But for its ease, the term "e-waste" is used predominantly to refer to this problem worldwide.
CATEGORIES OF E-WASTE
E-waste stems primarily from the accelerated pace of technological advancement and shifts in consumer lifestyle, preferences, and fashion. According to several studies, there are six different types of products that generate e-waste. These are:
Among these, small equipment produces the most waste in nature, which is about 30% of the total waste. Then, large equipment and temperature-exchanging machines also produce significant amounts of waste, which are 26% and 23%, respectively. Monitor and screening machines, as well as small IT and telecommunications equipment, have fewer impacts compared to their percentages in waste generation, which are 11% and 7%, respectively. Lamps are the machines that produce the least waste, with only 2% waste production.
ENVIRONMENTAL AND HEALTH EFFECTS OF E-WASTE
Uncontrolled and improper handling of e-waste can exacerbate its harmful impact on both the environment and human health. After being collected by the dumpster, e-waste either ends up in landfills or is given to local, unlicensed dealers in exchange for money. If these wastes are thrown away in landfills, then non-biodegradable elements like heavy metals and plastics get mixed with the soil, and it eventually damages the fertility and strength of the soil for around 450 years. In fact, heavy metals sometimes discharge toxic substances, which, after getting leaked from the soil, get mixed with the groundwater level and adulterate the same.
This adulterated water then gets mixed with the crops and poisons them too. It should be noted that any substances from e-waste that get leaked into nature find their own way to get mixed with each and every component of nature and pollute the environment. Again, these heavy metals can ruin the structure of plants because of oxidative stress that affects the growth of plants and their metabolism. After affecting the body of plants or any other living creatures, according to research, it is very tough and challenging to remove the contaminants of heavy metals from biological tissues, for which, it became a source of concern for mankind.
The Global E-waste Monitor 2020 says e-waste holds a notable place among the major contributors to raising the level of global warming. The crude recycling of undocumented household ewaste releases about 98 million tonnes of carbon dioxide equivalents in the atmosphere. These wastes, when they get burned, emit cyanogenic exhaust and then get blended with various harmful gases in the air. People's and residents' health conditions then worsen due to inhaling those gases from the air.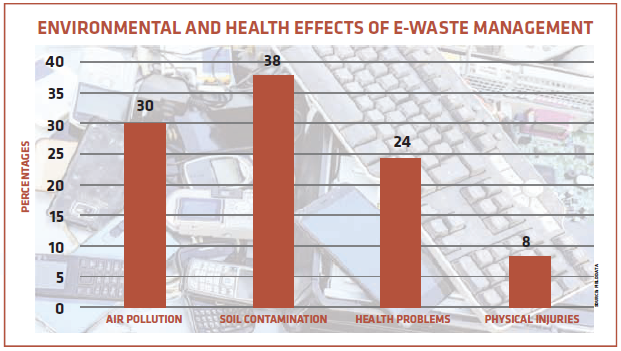 Moreover, a report shows that about 18 million children aged 5 to 15 and 12.9 million female workers are actively working in sorting and processing e-waste for recycling purposes. Among these female workers, women working with pregnancy are directly harming their health conditions as well as risking the lives of their future babies.
The Child's Health Report 2020 says that when pregnant women inhale toxic gases from the air, some of these gases get passed to their unborn children, which affects the growth of the baby adversely. Even it can damage their DNA too, which will cause a lifetime impairment of their health. E-waste is generated during its recycling process when harmful techniques like chemical stripping and acid baths are used to extract scrap metal from obsolete devices. These methods release toxic fumes that mix with the environment, causing severe environmental damage.
Again, improper means of recycling e-waste pose a significant threat to the workers too, as these informal techniques have the potential to affect their health. These workers are forced to work without even having proper hygiene protection equipment, putting them in direct contact with toxic materials emitted by scrap materials. Possible health issues that may arise from these works include lung cancer, neurological disorders, birth defects, damage to the nervous system, etc. However, in terms of the formal aspects, the world is witnessing some steps from businessmen becoming involved in the recycling industry. To control these industries, there is a need for the law to enforce essential environmental regulatory requirements. Related organisations believe that using the best available technologies (BAT) will be a useful technique for formal recyclers in safely managing e-waste.
HAZARDOUS MATERIALS: A THREAT TO THE ENVIRONMENT
There are numerous materials that, when mixed, are hazardous to the environment. Materials like lead, mercury, selenium, hexavalent iron, arsenic, cadmium, and flame retardants, when mixed with nature, can have severe polluting impacts while degrading the environment and human health too. Lead is the component that is usually found in the circuit board's solder. After disposing of circuit boards into the atmosphere, these leads get mixed with nature, which has a bitter possibility of causing problems like headaches, hearing, and memory loss, stomach problems, etc.
Mercury, a noxious element found in electrical products, is harmful to nature because of its ability to pollute the air after getting mixed with it. Even so, this element can accumulate in the water and get injected into the fish's body. Arsenic is a well-known pollutant in Bangladesh, which, after getting absorbed into the body, can pose a significant health hazard. Certain symptoms, like stains in the body, can be found after inhaling this pollutant.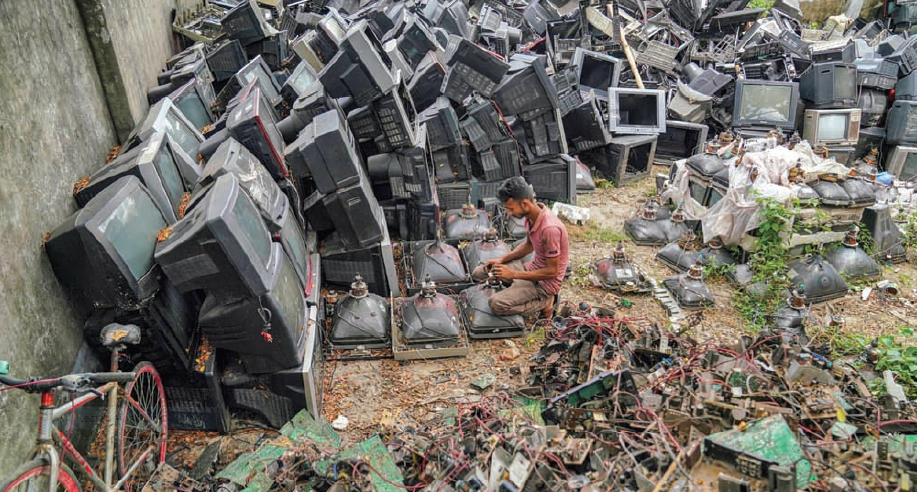 GLOBAL IMPACT OF E-WASTE
As new technologies are installed in the market, the old ones become obsolete. So, the old products become unusable as people lose interest in those, because of having new ones. Reports revealed that there are more than a total of 57.4 million tonnes of Waste Electronic and Electrical Equipment (WEEE) around the world. When compared, the amount of waste can far exceed that of the world's largest man-made structure, the "Great Wall of China."
The global e-waste monitor showed in 2020 that, in 2019, there were a total of 53.6 million metric tonnes of WEEE produced on earth. This rate was 21% larger than that of 2014, and predictions have now been made that this rate of waste accumulation on earth can reach up to 74 million metric tonnes (Mt) by 2030. According to the Central Pollution Control Board (CPCB), the Indian subcontinent produced more than 10 lakh metric tonnes of e-waste in 2019–20, up from 7 lakh metric tonnes in 2017–18, for a total of 3 lakh metric tonnes in just two years. But the dismantling of the e-waste ability of this area remained at 7.82 from 2017–18 to 2019–20. In 2017–18, India's electrical garbage totalled 69,414 tonnes, rising to 3.4 lakh tonnes in 2020– 21.
Though the country has been trying to quadruple its e-waste processing capability, only 11% of the total waste has been recycled. But the CPCB said that India stood in third place for producing the most e-waste, which numbered 1,014,961.2 tonnes. The first two countries on the list are the United States and China. Though each of the seven continents contributes to e-waste, the Global Ewaste Monitor 2020 report states that Asia is the top e-waste generating continent in 2019, with a total generation number of 24.9 Mt.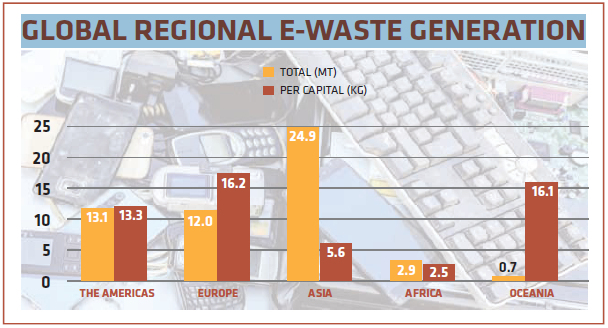 The second and third-ranked continents are America and Europe, with a respective production amount of 13.1 Mt, and 12 Mt. It is noteworthy to add here that Europe stands first in the ranking of per-person production of e-waste, producing 16.2 kg per capita.
Oceania is the second-ranked continent in this ranking, with a per-person production of 16.1 kg of waste per capita. Western countries, like the US, UK, Canada, Brazil, France, etc., are also fighting improper ways of handling e-waste. USA took the EPR strategy in 2011 as it was battling with e-waste generation because of e-waste's total conceding of 3% of the total solid waste in the municipal area. However, according to the USEPA's 2016 report, there was no federal system in place to deal with e-waste management procedures. It also stated that 50-60% of the e-waste generated in the United States was sent to developing countries, whereas this country recycled only 25% of its total e-waste.
As the United Kingdom is one of the most highly developed countries in the world, it, at the same time, produces e-waste at the fastest rate compared to other wastages of the country. This country also transports its e-waste primarily to developing Asian and African countries, but only about 17% is recycled domestically. The UK has given the duty of handling e-waste management procedures to the private sector. So, despite managing and recycling e-waste in their native countries, these nations are putting the developing countries of the world in a more hazardous position by transporting most of their electrical waste into these countries.
China, one of the wealthiest nations in the world, is also struggling with the production of e-waste. Guiyu, a town in China, alone produces 70% of the world's e-waste, most of which is managed by improper means, leading to complexities for humans and nature in hygienic positions. China's authority only supervised 25% of its total e-waste production, with the remaining amounts handled through informal procedures. Guiyu is reported to have a very high rate of heavy metals in its ground and water bodies.
Moreover, countries like India, Bangladesh, and Pakistan are heavily suffering from the electrical waste produced in their own countries. In addition, the waste sent by western and developed countries is posing more severe issues for these countries, as most of this waste is transferred to informal bodies, and the countries even do not keep proper legislation and records about these wastes. Many countries receive these wastages in the form of donations as these countries are unable to produce these products due to not having enough capability, and thus, they use the products by repairing them where needed. The United Nations Environmental Programme (UNEP) revealed in a report that developed countries only recycle 10% of their total e-waste, and the rest is transported to the developing countries of the world.
BANGLADESH'S STANCE ON E-WASTE
With the largest contribution from the shipbreaking yards of 2.5 million metric tonnes, Bangladesh becomes one of the fastest ewaste-generating countries in Asia with a total production of 2.8 million metric tonnes per year. Though shipbreaking is one of the fastest-growing industries in Bangladesh, it produces most of the waste produced in total in a year. Other notable contributors include mobile phones, cameras, laptops, desktops, and so on. Bangladesh is reported to have produced a total of 10,504 toxic e-wastes from mobile phone usage within the last 21 years. TV sets also contribute significantly to e-waste production in the country, producing 0.17 million metric tonnes per year.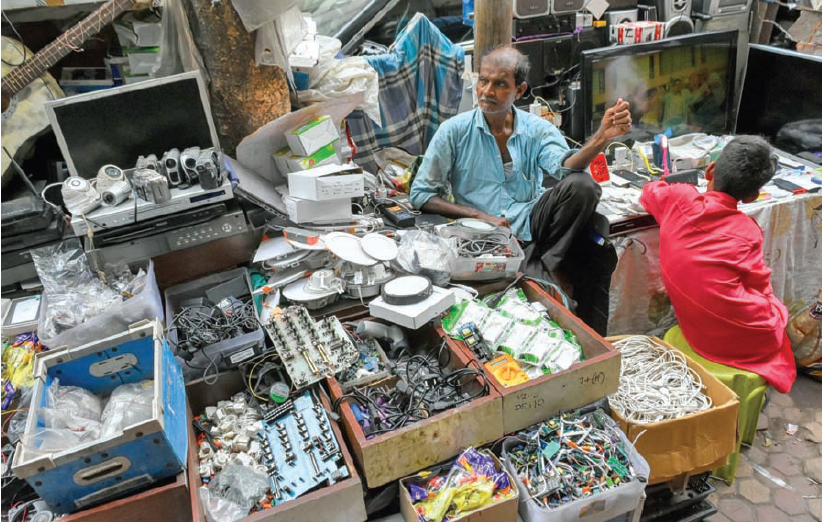 Bangladesh's IT sector is also rapidly expanding and producing a large amount of e-waste; in just the last ten years, it has produced 35,000 metric tonnes of waste. To summarise, shipyards alone contribute 89.28% of e-waste production, followed by obsolete medical and dental equipment, which contributes 3.21%. TVs, mobile devices, and refrigerators all together produce 7.84% of total ewaste in Bangladesh.
As Bangladesh has made significant improvements in its digitalisation procedures, the country at the same time is puffing and blowing with the heat of e-waste management problems. Bangladesh is in fact having difficulty managing the solid waste produced in the country, let alone managing e-waste. A report says Bangladesh is projected to produce 12 lakh metric tonnes of ewaste in 2025, and it may rise to 46 lakh in 2035, which is a giant threat for the country.
POSSIBILITIES OF GAIN FOR BANGLADESH IN THE E-WASTE MANAGEMENT SECTOR
As the global e-waste market is going to reach around $140 billion by 2028, Bangladesh has a good opportunity to cast gain from this. If the country can work in this sector, it can earn a lot of monetary benefits by recycling these wastes. Again, because Bangladesh's unemployment rate is alarmingly high and a significant number of these unemployed people are well-educated, Bangladesh can involve these unemployed people in e-waste collection, recycling, and management procedures. And thus, it can allow hundreds of thousands of unemployed people to have work to do and earn accordingly.
Again, as precious metals like iron, gold, copper, nickel, and silver, etc. are essential in producing electricity, Bangladesh, which does not have enough of these metals, can extract them from e-waste and then use them accordingly, which may be helpful to reduce the cost of electricity production, according to a research report. Furthermore, as the price of fossil fuels is increasing rapidly, Bangladesh, to cope with the situation, needs to find alternative opportunities to meet its demand for these products.
As this country imported petroleum equivalent to 4.98 million Mt in 2021 and the rate has no scope to decrease, Bangladesh can produce a significant amount of these fossil fuels from e-waste. As e-waste has a high calorific value during combustion, it can mitigate the energy crisis in Bangladesh if this country can manage these wastes properly.
The electronic chips that contain about 83.44% of volatile composites can also be a good option to meet the fossil crisis revealed in a report in 2009.
The Catalytic Depolymerisation Process Technology (CDPT) can generate 40 MJ/kg of energy from plastic e-waste on its own. Several research articles say as Bangladesh is suffering from an ample oil resource, this technology can play a significant role in mitigating the problem. Along with this, there are several other ways to meet the energy production from e-waste, and those are pyrolysis (turning plastic products into combustible fuel), incinerating (destroying waste by burning it down and thus producing energy), etc. But if not maintained with care and safety measures, all of these procedures can pose significant harm to the environment and human beings.
ADVANCE E-WASTE MANAGEMENT SYSTEMS
Due to the potential harmful effects of e-waste on human civilization and the environment, the world is exploring technological solutions to manage this waste. Four components have emerged in dealing with e-waste through technology, these are: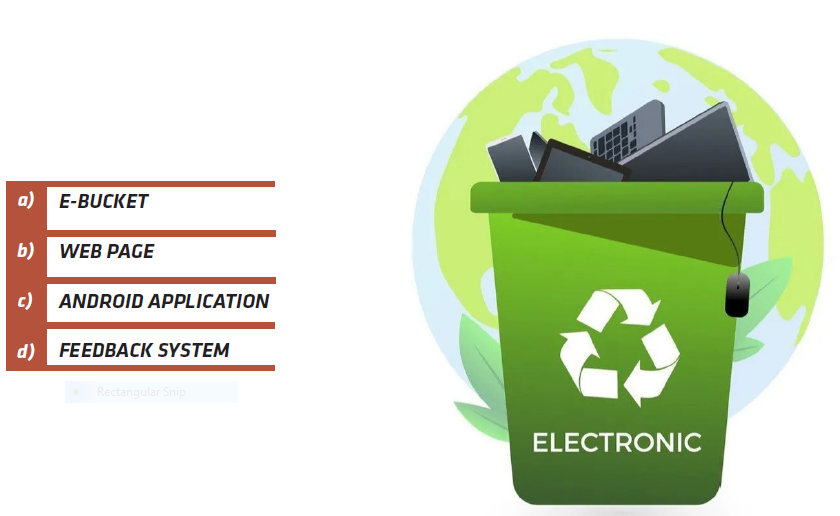 Firstly, People can use e-buckets to dispose of their e-waste. This e-bucket is made with certain materials to ease the procedures, which are:
Body of e-bucket
Module
Sensor
LED display
Control panel
Solar Panel
Battery
The procedure of throwing and managing e-waste through an ebucket can be controlled using the web page of the e-bucket. And, the address of that web page is ebucket.tk. After collecting waste with buckets, this webpage sends the information to the appropriate body, which then takes the necessary steps to collect and manage the waste.
The third one is an Android application. Those who find hazards using a web page can use this Android application to manage tasks related to e-waste disposal. This application is free to download from the Google Play Store. It is easier to control the whole procedure of e-waste disposal through the Android application compared to the web page.
And the final one is the feedback system. Users can provide and receive feedback on e-waste disposal procedures through this system. It works when a bucket exceeds its capacity to absorb waste. The message to inform the user about its capacity is shown through the LED message system. After seeing the message, the person can go to the next destination and throw waste there.
In conclusion, though the globe is surrounded with lots of problems and many of these problems are yet to getting discovered, e-waste has significant importance. The devices that produce e-waste contain precious and lucrative metals, which, if managed properly, can be good options for any country having possession of those wastes to obtain monetary value. Here to mention, according to one study, the concentration of gold in e-waste products is ten times greater than in gold ores. The rate of gold concentration in e-waste products is 10-10,000 g of gold per tonnes, compared to 0.5–13.5 g of gold per tonnes in gold ores. E-waste also contains other lucrative and precious metals like palladium, silver, copper, etc. So, if managed properly, a country can gain significant benefits from ewaste, for sure.