The 14th of February, typically known as Valentine's Day in the West, has become a widely celebrated festival all over the world, including Bangladesh. With Valentine's Day just around the corner, dating or married couples seem to relish the day by expressing love to their valentines. Single Bangladeshis also have a range of hopes when it comes to their romantic lives – especially marking Valentine's Day. Some yearn for committed relationships, some seek casual dates, while some refuse to date at all.
A latest Press Xpress survey on love life in Bangladesh reveals that love marriage is the preferred option here with more men than women in this country looking for partners. The survey also discloses and represents some secret facts about both single and couple lives of Bangladeshis.
Three out of Ten Bangladeshis report of remaining single
Overall, 30% of Bangladeshi adults are single, which means they are not married, living with a partner, or in a serious romantic relationship.
The percentage of single people varies widely among age groups. Adults under 30 years old are the most common age group to be single, with the biggest proportion belonging to this demographic.
Taking into account both age and gender, there are 25% of women among the 30% of single individuals. Additionally, younger males are much more likely to be single than older men.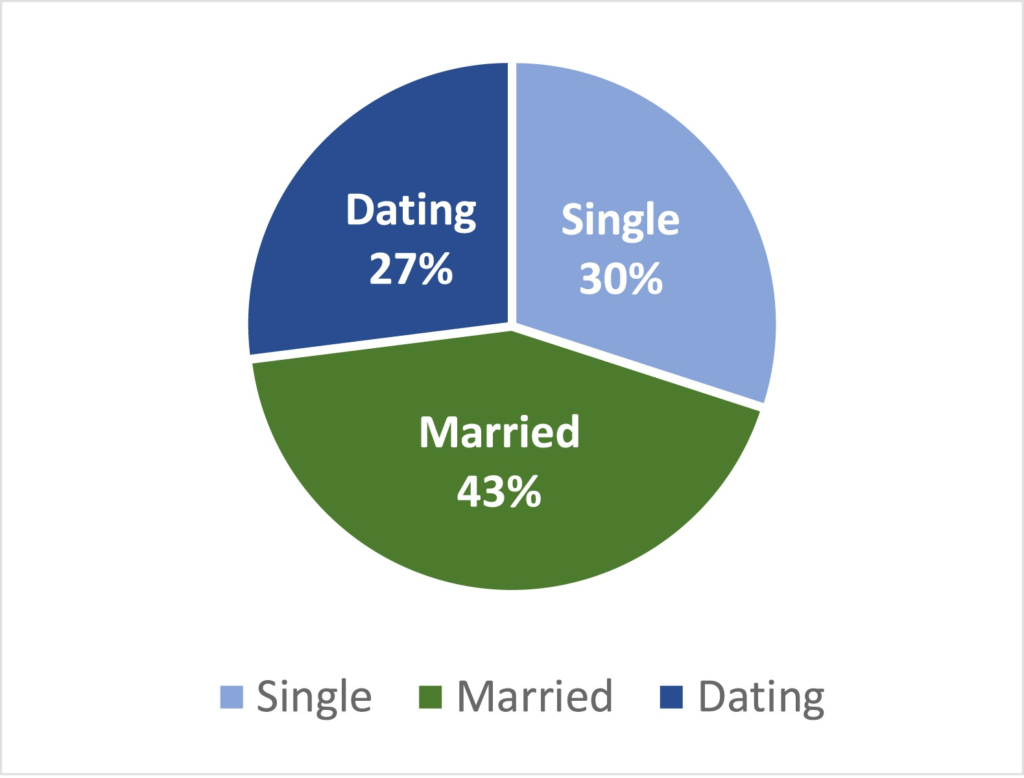 Six out of ten single adults look for "long-term commitment"
58% of single Bangladeshis are currently seeking a long-term relationship. Even among "single and looking" individuals, not everyone has the same dating preferences. Only 11% of single adults claim that they are only interested in casual dates, while 31% or around one in three say they are not interested in either serious relationships or dating casual people.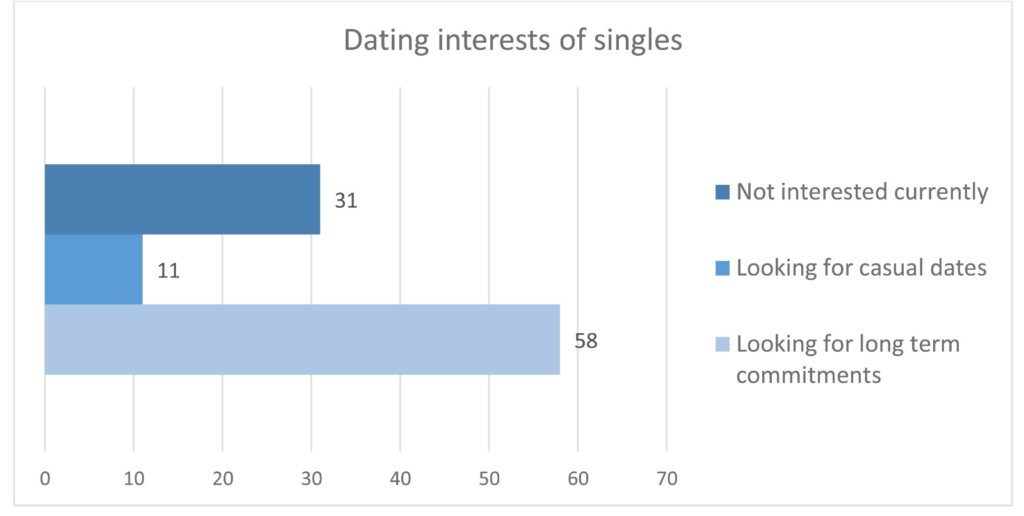 Overall, 69 percent of Bangladeshi singles are in search of romantic relationships. Compared to single women, single men are more likely to be looking for romantic adventures.
In addition, younger singles between the ages of 26 and 30 are more likely than older singles to claim they are actively seeking dates and/or a committed relationship.
Love marriage is the preferred option
Among the married couples, roughly 76% or around seven out of ten couples had love marriage. Only 23 percent couples reported of having arranged marriage.
Moreover, the rate of arranged marriage in couples have decreased over time. The preference of love marriage is prominent in the age group of 26-30.
How do they meet?
In every one-in-two love marriages (50%), the couples had met through educational institutions, which include school, college and university. In the second list of love marriages, they have "relatives or friends", through whom the couples had met. In love marriages, 65% couples in total had met their spouses from their educational institutions or relatives or friends. 10% of the couples had met through social media before having love marriage.
Moreover, in arranged marriages, almost every six couple out of ten or 62% had met through "relatives or friends". The success of matrimonial sites seems to be very less in this segment.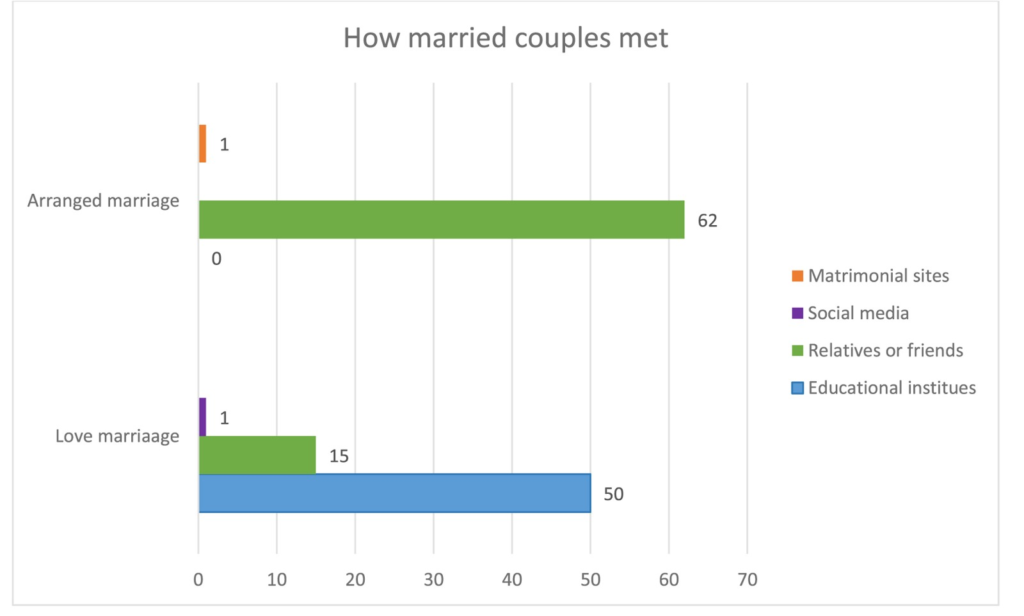 More men are searching for partners than women
In Bangladesh, singles of both genders seek for different kinds of relationships. About 69% of singles, who are actively looking for dates indicate they are open to either serious relationships or casual dates. Among daters, who are only open to one of these alternatives, there is a greater likelihood that they are seeking a serious relationship (58%) as opposed to casual dates (11%) only.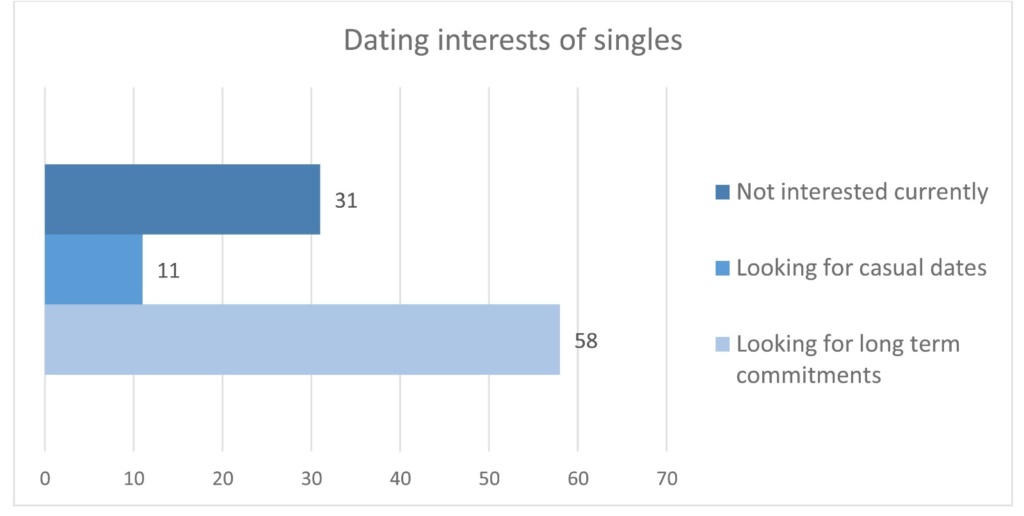 But this is different for men and women. 70% of men, who are looking for love, say they are open to either a serious relationship or casual dates, while only 30% of single women, who are looking, say the same. Out of every ten men and women, seven men are searching for partners. Conversely, women, who are single and looking, are less likely than their male counterparts to seek out committed partnerships.
What are single men and women looking for in partners?
Finding a romantic partner is not always a fairy-tale experience where both people fall in love with one another in no time. It can be the opposite as well, where one person may fall in love instantly while the other takes time to develop mutual romantic feelings. Furthermore, people may also look for partners through online dating or matrimonial sites.
People who use online dating look for people with personalities that are similar enough to find love. It can be for casual dating or for long term commitments. People have found solace in this modern service, which has gained a lot of popularity in the last decade or so as a result of hectic lifestyles. Online dating is a Gen Z trend that has spread to boomers and other generations.
From Tinder and other dating sites, individuals are finding their romantic relationships based on their criteria. Generally, both look for good looks, good career, proficiency in education, compatibility, humour, mature, playful, intelligent, independent and adventurous partners.
While in matrimonial sites, a few more additions are found looking for spouses. They include height preferences, family- oriented, skin colours, thoughtfulness, family background, and religious-minded, among others.