The longest leadership race in living memory has ended with former Foreign Minister Liz Truss winning finally. The election by Conservative members have decided Liz Truss will replace Boris Johnson as party leader and Britain's next Prime Minister. This astounding victory has made her only the third woman to lead Britain after Margaret Thatcher and Theresa May – all being Conservatives.
Sir Graham Brady has given some numbers on the margin of Liz Truss' victory over Rishi Sunak. He says Truss won 81,326 votes compared to Sunak's share of 60,399 votes. Brady adds there was a turnout of 82.6%.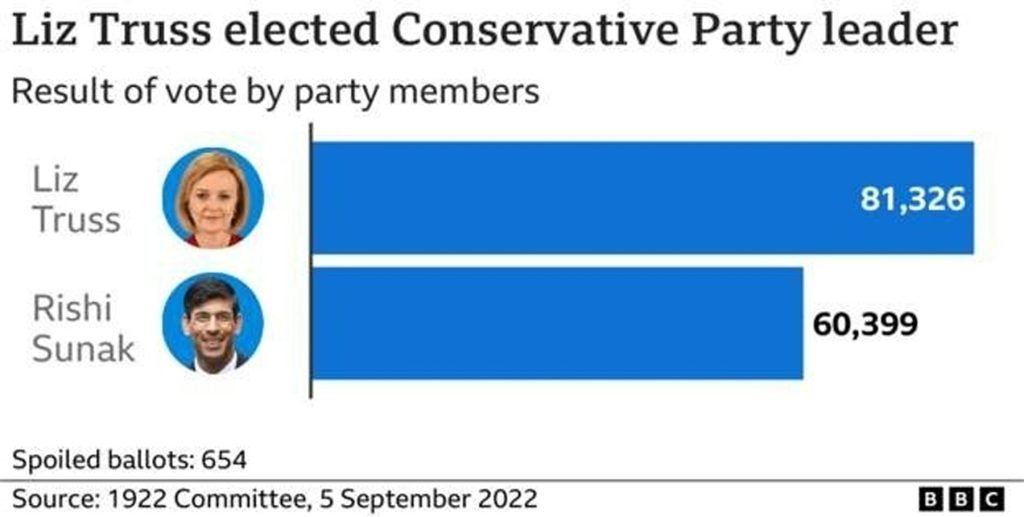 Who is Liz Truss?
Liz Truss, a right-wing Conservative Party politician, is the new prime minister of Britain. Liz Truss is a Member of Parliament for South West Norfolk and the Secretary of State for Foreign, Commonwealth, and Development Affairs. Truss has also been designated as Minister for Women and Equalities. She is a British Conservative politician and the second woman to hold the position of foreign secretary in British history.
Early Life
The full name of Liz Truss is Mary Elizabeth Truss (born July 26, 1975, Oxford, England). Her father was a professor of mathematics at the University of Leeds. Her mother worked as a nurse, a teacher, and a Campaign for Nuclear Disarmament campaigner.
In 1993, Truss entered in Merton College, Oxford to study politics, philosophy, and economics. She got involved in politics and became president of the Liberal Democrats at her university. In 1994, she gave a speech in the party conference. She supported a motion to get ahold of the British monarchy there. She said, "We [Liberal Democrats] don't believe people are born to rule." But Truss's time as a center-left politician didn't last long. In 1996, she became a Conservative. As a member of the university's Hayek society, she had become a strong supporter of classical liberalism. Truss began her profession as an economist and accountant with a Conservative membership card.
Political career
Truss is well recognized for her libertarian views on trade and economics. She has long credited Margaret Thatcher as an inspiration. Some supporters have named the 46-year-old the "New Iron Lady."
In 2006, Truss won a seat on the Greenwich council. In 2010, she was chosen to represent South West Norfolk as an MP. Truss was elected to Parliament. In 2012, she was one of the first new MPs to join the government.
By 2014, she had established to her first cabinet position as David Cameron's secretary of state for environment, food, and rural affairs. Since then, she has served in various positions for Theresa May and Johnson. She was given the highest position of foreign secretary in 2021. Truss promoted "Global Britain" when serving as the foreign secretary, hoping to increase the UK's influence in world politics.
After Dominic Raab's resignation as foreign secretary in 2021, she obtained one of the top positions in the government at the age of 46. In this role, she has tried to solve the Northern Ireland Protocol by removing sections of a post-Brexit EU-UK accord. Truss succeeded in securing the freedom of two British-Iranian citizens. They had both been detained and taken into custody. When Russia invaded Ukraine in February, she took a hard line and insisted that all of Vladimir Putin's troops should leave the country. But she was criticized for helping British people who wanted to fight in Ukraine.
Truss's Promises as Leader
When Johnson was facing a party rebellion this year, Truss was one of the few cabinet members who supported him. This might have played a role in her premiership. She had the support of top Conservative politicians like Wallace and Tom Tugendhat, who ran for prime minister in the past.
Few of the discussed topics are-
• Ms. Truss says she will reverse the recent increase in National Insurance, which took effect in April, and hold an emergency budget.
• Promises not to add any new taxes and to eliminate the plan to raise the corporation tax from 19% to 25% in 2023.
• Would suspend the "green levy," a portion of energy bill that benefits environmental and social projects.
• Says she'll spend for the cuts by making the UK's "Covid debt" last longer.
• promises to modify taxes to make it simpler for individuals to stay at home and take care of youngsters or elderly relatives,
• Wants to make "low-tax and low-regulation zones" all over the country to encourage innovation and business.
• Says she won't reduce government expenditure until there is a solution to do so without creating new difficulties.
• Would move the objective of spending 2.5% of GDP on defense up to 2026 and create a new objective of 3% by 2030.