With a growing population, a developing economy, and increased urbanization, Bangladesh's construction industry is expanding quickly. Nonetheless, safety flaws on construction sites frequently result in worker injuries or even fatalities. On municipal development initiatives, many foreign contracts have been signed. Such as Italian-Thai Development Public Company Ltd. (Dhaka Metro rail), China Railway Construction Corporation (CRCC) (Dhaka elevated expressway), and China Railway Group Limited (CREC) (Padma Bridge Rail Link), etc. Yet, accident, injury, and death are the most frequent phrases associated with construction work. Various analyses reveal that the safety priority placed on construction sites in Bangladesh is quite low, and the old traditional practices are unable to guarantee worker's and passerby's safety. Accidents are mostly caused by lack of personal protection equipment, lack of safety awareness and training, inexperienced labor, and other factors.
The deaths of 5 individuals for falling BRT girder on car is the most discussed and heart wrenching incident of recent times. On 15th August, 2022, 7 individuals were in the same car while a girder crushed the car in Uttara. It was a project of Bus Rapid Transit (BRT). The girder was being moved by a crane on a national holiday. The Roads and Highways Department (RHD), the Bangladesh Bridge Authority, and the Local Government Engineering Department are executing this project to build distinct lanes for specific vehicles along 20km from Gazipur to the airport.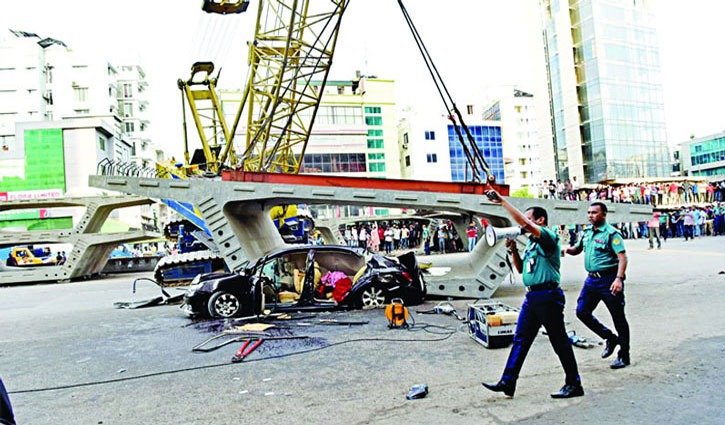 Ten people have been charged with negligent homicide in the deaths of five people, and the case has been accepted by the Dhaka court. As per court documents, the company's safety engineer, Zulfikar Ali Shah, never took the required steps to develop the appropriate safety zone for the crane operation. The initial inquiry report found the contractor of the BRT Project, China Gezhouba Group Corporation (CGGC), of gross negligience for site safety.
In a meeting on 21st August, 2022, Md Atiqul Islam, DNCC mayor said, 'The sad thing is that even after the accident of the BRT project, yesterday (Saturday) I saw the work of the elevated expressway going on without any kind of security. That means we haven't moved yet. So, I humbly request everyone, let us all be aware and work to build a safe city.", The mayor had suspended the work on the site until safety measures were ensured and resumed it on 22nd August, 2022.
M A N Siddique, managing director of Dhaka Mass Transit Company Limited (DMTCL), said, "We see accidents happen occasionally in this BRT project. Accidents happen in other projects too. So, we should if any foreign contracting company commits any irregularity, then their ambassador can be summoned. They should be summoned and told that their country's contractor is not working properly. Then the contractor will be forced to work properly."
In order to ensure work safety in all sectors, it is required to train the workers with safety measures as barely half of the percentage know about it. It is crucial to know about The Bangladesh Labour Act (BLA) of 2006 which consolidates all Bangladeshi labor regulations, provides rules for safe working conditions and worker compensation in the event of injury or death. The government can engage all grassroots groups to monitor whether every industry has bottom-up safety and health management. The administration can approve worldwide OSH norms to ensure third-party testing and improvement in Bangladeshi factories. By adopting OSH procedures, the government can make laws efficient and compact to assure the greatest level of OSHA. There can be a procedure for Bangladesh Employers Federation (BEF) and Bangladesh Occupational Safety, Health, and Environment Foundation (OSHE) to gather input on Occupational Safety and Health.
Involving foreign ministers for a strict safety measure in overall work industry for foreign constructors might be a good way. But, before approaching them, we need to abide by the existing laws that are present to protect the citizens and workers.
Number of accidents in 2021
A report of 2021, performed by the Bangladesh Institute of Labour Studies (BILS) reveals that, 1,053 individuals were killed and 594 others were injured in industrial accidents across the country. 513 employees died in transportation, 154 in construction, 87 in agriculture, 55 in food processing, and 46 in day labor. The analysis of BILS data revealed that car accidents, electrocution, lighting, toxic materials, waterway accidents, wall or roof collapse, fire, and gas cylinder explosions were the major causes of accidents.