In Bangladesh, from the bustling cities to the beautiful countryside, plastic is choking our canals, drains, rivers and sea. Plastic waste is causing open flooding and providing expedient breeding ground for mosquitos. It also embellishes various water-borne diseases as water becomes trapped in plastic. Plastic also degrades over time, releasing smaller particles called micro plastics, posing a significant threat to nature, humans and ecosystems. Some recent studies have shown that the use of plastics has increased in the country, as well as increased plastic pollution, which is a big obstacle in achieving green sustainable management. Besides, many of us have recently seen the heart-breaking images of dolphins, turtles, whales harmed and their lives ended by plastic pollution. It's clear that urgent action is needed to save our environment and ecosystem.
Grim Warning From the Research
The World Bank warns that sustainable plastics management is the key to achieving green growth for Bangladesh, but the use of plastic is constantly increasing in the country. According to the World Bank records, Bangladesh is the tenth largest user of plastic and polythene in the world. Its use has increased more than threefold in between 2005 to 2022. In Dhaka, 80 percent of used plastic is being discarded on ground after single use. From there these enter rivers via drains and canals, and finally end up in the Bay of Bengal. Bangladesh currently ranks sixth globally in polluting the sea with plastic and polythene through the rivers. In Dhaka city alone, plastic waste has gone up more than 3.5 times from 178 tonnes per day to 646 tonnes per day within just 15 years. Of that 646 tonnes, only 37 percent is recycled, and mostly by the informal sector. The rest remains unrecycled which poses immense threat to the surroundings. Landfills are most often found filled with single-use plastics, such as thin shopping bags.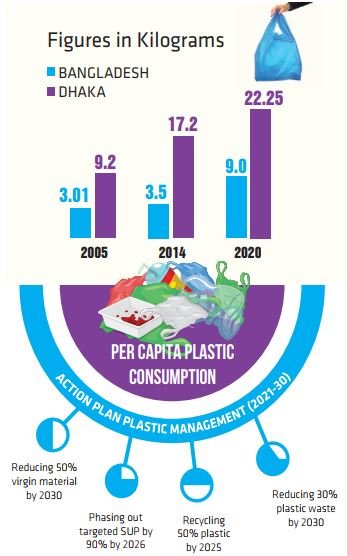 A joint research done by two German universities including Hamburg University and Independent University of Bangladesh's International Centre for Climate Change and Development was published in the science magazine Earth last year. That research titled, 'Dhaka Sitting on a Plastic Bomb: Issues and Concerns around Waste Governance, Water Quality, and Public Health' advised fast reduction of polythene usage before a massive catastrophe. The World Bank published its report in the same year. It provided advice and a plan of action to cut down the use and production of plastic by 50 percent within 2021 to 2030. The effects of six types of plastic-polythene pollution in the country have been identified in the research. It said, annually 17 thousand tonnes of thin plastic and polythene is being discarded on the ground in the country. And 73 percent of this is mixing with the soil and water. In turns, these are mixing with food and water to eventually enter the human body. This is leading to a rise in different diseases starting with a weakening of the immunity system to skin diseases, high blood pressure and ailments related to the nervous system. In that 2021 research it has been showed, polythene usage goes up in Dhaka with the sale of seasonal fruits during monsoon. The major part of that polythene is thrown to the ground. This is carried by rainwater to the rivers through drains and canals. As a consequence, the city is getting water logged with just a little rain.
The Covid pandemic has worsened plastic pollution in the country as well as in the world. Not only is the pandemic bringing human tragedy and loss but is also leading to greater environmental crisis, leading towards a surge in the use and improper disposal of plastic waste. The Environmental Sciences and Technology journal estimates that globally, more than 129 billion disposable masks and 65 billion throw-away gloves are used every month – most ending up in our rivers and oceans.
For this, it is a must to act now. If we can't prevent it now, plastic waste generation in South Asia, already reached 334 million tonnes annually, is estimated to double by 2050, and causes to the environment, biodiversity, communities, livelihoods, and our health will be enormous. The impact of plastic pollution could also be accelerated by climate change in Bangladesh, at a scale that is yet to be understood.
Towards Making a Difference 
Addressing plastic pollution is not only a crucial development agenda but an opportunity to innovate, create new green jobs, ensuring a green growth pathway for Bangladesh.  The Bangladesh government has proactively responded to this challenge by issuing bans and regulations. In 2002, the Ministry of Environment, Forest, and Climate Change banned plastic carry bags. In 2018, a draft regulation on the use of plastic packaging by food, beverage and agro-inputs industries showed its commitment towards plastic issues. In 2020, a High Court order was issued to ban single-use plastic in coastal areas and all hotels and motels in the country.
The National Action Plan for the Prevention of Plastic Pollution has set a target of 50 percent recycling of plastics by 2025. Plans have been made to reduce plastic waste production by 30 percent by 2030. Now the need is now to implement the action plan at the right time with the right motivation. Otherwise, Bangladesh's growth will be hampered.
The 8th Five Year Plan
The 8th Five Year Plan (8FYP) also focuses on improving solid waste management in the urban areas. With support from the World Bank, the government has finalised a draft multi-sectoral action plan for sustainable management of plastics. All these initiatives give us hope. If citizens, manufacturers, and the government all come together, we can make a difference.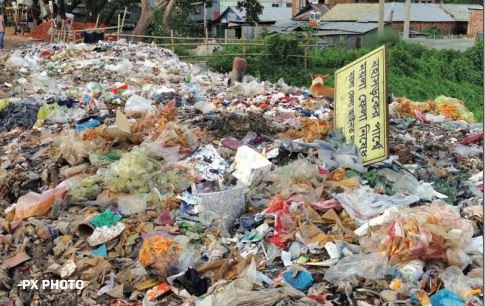 Bangladesh wants to curb its plastic waste by 30 percent in a decade, according to the country's national action plan that will be jointly implemented by the World Bank. The plan, which is aligned with Bangladesh's 8th Five-Year Plan addressing the concerns of several public agencies and stakeholders, focuses on a 3R strategy for plastic products which is reduce, reuse and recycle. It sets a target of recycling 50 percent of plastics by 2025, reducing virgin material consumption by 50 percent by 2030 and phasing out targeted single-use plastic by 90 percent by 2026.
Dandan Chen, World Bank acting country director for Bangladesh said, "With rapid growth and urbanisation, Bangladesh faced a sharp increase in both plastic use and pollution. The Covid pandemic has escalated the problem of mismanaged plastic waste. Now, Bangladesh needs to address it. Sustainable plastic management starting from designing a product, to minimising plastic use, and finally to recycling will be critical to ensure green growth for the country.
President of Bangladesh Chambers of Commerce and Industry (FBCCI) Md Jashim Uddin mentioned that plastic recycling can draw new investments if the government can mix it up with policy support. Referring to other nations with more than 100 kg per capita plastic consumption, he said that the issue is not about plastic's use but mismanagement of plastic wastes. He said, "Two Dhaka city corporations can provide households with trash cans for discarding plastic wastes. The waste then will be collected and supplied to the recycling units."
In this regard, Eun Joo Allison Yi, World Bank senior environment specialist said, "To implement the national action plan focusing on the 3R strategy, commitments from all stakeholders including the government and the citizens are important."
Youth to Contribute
Bangladeshi youth's creativity and determination towards beating plastic pollution was abundantly clear with the innovative submissions to the Plastic Circularity Innovation Challenge 2021,  supported by the World Bank-administered multi-donor trust fund, PRO-BLUE. The contest called for innovative solutions in combating the plastics surge. The diversity of solutions from the Bangladeshi winners was impressive and futuristic; from a plastic management system using a micro-credit business model to a floating waste-cleaning robot as well as cutting-edge digital platforms to incentivise households and organisations to recycle. Indeed, these are the leaders of tomorrow and the government needs to appreciate as well as create a scope for this youth so that they can contribute in addressing plastic waste.
Lastly, if the government can provide land and utility services through economic zones or eco-friendly industrial zones, this would help in increasing the number of green industries or enterprises around the country. This could also facilitate the setup of an eco-industrial park. And, if the government initiates a duty-free scheme for the import of environmentally friendly machinery, technology and equipment and goods for setting up export-oriented green factories, this can also help facilitate promotion of green sustainable future effectively. 
Although, this is only the beginning and there remain many other aspects to operating a green and inclusive future. As we build back better and sustainable atmosphere towards a green and inclusive recovery, we must act together to preserve, protect, and save our environment.  Bangladesh has played a critical role in leading the world's efforts on climate change mitigation and adaptation. Now it is up to the country's government, general populace and passionate youth to tackle plastic pollution and attain green growth.