Gazipur is a place close to the capital city and is full of infinite possibilities with a combination of history and tradition. It's an ancient town nurtured in various traditions through centuries, which has a rich historical value. In the course of time, the traditional Gazipur district has been enriched into a travel and tourism destination. Due to its proximity to Dhaka and improved communication system, Gazipur is an attractive and must-go destination for the tourists from home and abroad. PHOTO: RASHEDUZZAMAN
BANGABANDHU SAFARI PARK
Bangabandhu Safari Park is located in Mawna Union under Sreepur Upazila of Gazipur. The Park is spread over an area of about 3,690 acres, covered with small hills and Sal forests. This Safari Park, modelled on Thailand's Safari World, was launched in 2013. One of the attractions of the park is the Core Safari. There are tigers, lions, giraffes, zebras, wild deer and other animals walking around and in the middle of it you are roaming around in a minibus. Maybe a tiger suddenly block the road from the front or a lion came by the window and roar. To get such an amazing experience, Bangabandhu Safari Park can be an ideal place to visit all day long with family. The entire Safari Park is divided into five sections – Bangabandhu Square, Core Safari Park, Biodiversity Park, Safari Kingdom, and Extensive Asian Safari Park.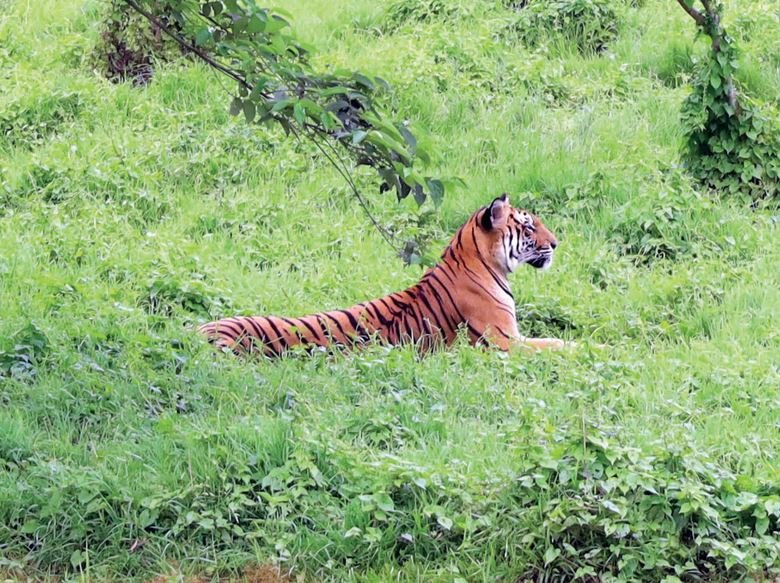 How to go?
From Dhaka's Mohakhali you've to go first to Sreepur by bus. Then, cross the Gazipur crossroads and if you go a little ahead, you'll see a huge signboard of the safari park at Bagher Bazaar. From there you can reach Safari Park via Rickshaw.
Cost?
Entrance ticket for Bangladeshis will cost you 50tk, but children under-18 can enter the park for 20tk. Students have to pay 10tk to enter the park. Foreign visitors have to pay 5 US dollars to enter the park. You have to pay 150tk per person to rent jeep and minibus through the core safari park to see the animals roaming around under the open sky. You will also need to buy a ticket to enter other parts of the park. It will take about 250-300tk to see all the spots.
BHAWAL NATIONAL PARK
Bhawal National Park is located in the shade of Joydebpur in Gazipur, 40 km away from the capital. Due to the abundance of Gazari trees, it is also known to many as the bastion of Gazari of Bhawal. Bhawal National Park, which covers an area of about 5022 hectares, was recognised as a National Park in 1982. The 221 species of trees in the garden include 43 species of trees, 19 species of shrubs, 3 species of palms, 26 species of grasses, 24 species of vines and 104 species of medicinal plants. There are also 64 different species of animals including 13 species of mammals, 9 species of reptiles, 5 species of birds and amphibians. Many people organise picnics and various events during the holidays in this park, which is full of natural beauty and biodiversity.
How to go?
The distance from Gazipur Sadar to Bhawal National Park is only 3 kilometres. After crossing Joydebpur crossroads, you will see the main entrance of Bhawal National Park on the right hand side.
Cost?
Bhawal National Park can be visited from sunrise to sunset. Entrance fee is only 20tk per person. Ticket price includes charges for a children's park, watch tower, mini zoo and public toilet.
SHREEFALTALI JAMIDAR BARI
Shreefaltali Jamidar Bari is located in Shreefaltali village under Kaliakair of Gazipur. The foundation of this zamindar house was laid by Rahim Newaz Khan Chowdhury. The Shreefaltali Jamidar Bari is divided into two portions and was used for managing the zamindari. It is one of the significant archaeological sites in this country. If you want to get a touch of history, you can visit this zamindar house not far away from Dhaka.
How to go?
You can get on the bus from Dhaka and get off at Shreefaltali. It's just 5-6 minutes' walk from Shreefaltali turn to reach this zamindar house.
Cost?
There is no cost to visit Shreefaltali Jamidar Bari. It can be visited any time before evening.
JOL O JONGOLER KABBO
Known as Jol O Jongoler Kabbo or Pilot Bari, this resort is built on 90 bighas of land in Pubail of Tongi under Gazipur district. The resort has been decorated with skilled designers with bamboo and jute chalk while keeping the nature intact. If you want to see the unearthly moonlight shining over the Beel, you must come to the resort. An afternoon with a fishing rod in the calm waters of the Beel surrounded by relaxing green is enough to fulfill the dream of your reclusive mind. Jol O Jongoler Kabbo is a wonderful place to spend the whole day in a short time and at low cost near the capital Dhaka.
How to go?
The distance from Pubail College Gate to Jol O Jongoler Kabbo is only 3 kilometres. Pubail College Gate can be reached by bus from Mohakhali bus stand in Dhaka. From Pubail College Gate, you can take a rickshaw to reach the resort.
Cost?
Day out package: Day out package including lunch is 1500tk per person. Package including lunch and dinner cost 3500tk per person. But it must be a group of at least 10 people.
Night stay package: Package including dinner and breakfast will cost 4500tk per person. Package including Dinner Breakfast and Lunch is 5500tk per person.
BASE CAMP, BANGLADESH
For adventure lovers, the country's first outdoor activity campsite Base Camp Bangladesh was set up in 2013 at Rajendrapur in Gazipur, just 36 kilometres away from the capital. Apart from the traditional resorts, this camp has the opportunity to enjoy the beautiful natural environment as well as to take part in various adventurous activities. The base camp's on-ground activities include cycling, monkey pass, tire pass, tire sandwich, zip line, rope trench, rope walk, boating, football, archery, cricket and badminton. The Base Camp Bangladesh also has a swimming pool, tree house, special zone for kids, tracking and fishing. In addition to staying at the tent at night, campfire and Bar BQ party can also be organised there. All in all, the Base Camp Bangladesh is becoming popular among adventure lovers for a different experience of picnic or staying in a tent.
How to go?
The Base Camp Bangladesh is located next to the Dhaka-Mymensingh Highway. You can reach the base camp near Gazipur crossroads by taking your own transport from Dhaka or any bus plying on the Dhaka-Mymensingh route.
Cost?
Arrangements are made to stay in tents at The Base Camp Bangladesh from September to March. The cost of living in a tent depends on various activities. And the tent packages are mainly school, family and corporate-based. The rent for a two-person tent for a team of 20 people is 2500tk. In addition, single room rent with AC and attached bathroom is 2500tk and double room rent is 3500tk. Rent of duplex bungalow with large living room and lounge is 12000tk.
To conclude, Gazipur is an ideal place to visit. Being close to Dhaka, the sites of this district can be visited in a day. Notable among other travel spots in Gazipur are Bhawal Rajbari, Boliadi Zamindar Bari, Sohag Polli, Ekdala Fort, Bhawal Raj Shashaneshwari, St. Nicholas Church, Nakshatrabari Resort etc. Hence, anyone having the desire, time, means and money can go to these beautiful places in Gazipur without any more delay.