Narayanganj district is the smallest district in Bangladesh under Dhaka division with a rich and glorious history. Narayanganj district, 20 km south-east of Dhaka city, situated on the banks of the Shitalakhya River, is also famous for its golden fibre jute. Notable among the scenic and historical places of Narayanganj district are; Panam City, Murapara Jamidar Bari, Banglar Tajmahal, Mayadwip, Zinda Park, Hajiganj Fort, Sonakanda Fort, Sonargaon Museum, Kaikertek Hat and Sabdi- the village of flowers etc.
PANAM CITY
Panam City, well known to Bangladeshis as the 'Lost City,' located at Sonargaon in Narayanganj district adjacent to Dhaka. In 2006, Panam City was listed by the World Monument Fund (WMF) as one of the hundred most endangered landmarks in the world. Panam City is the oldest city of Bengal as in the 15th century, Isa Khan established the first capital of Bengal at Sonargaon. At one time, people from rich Hindu community used to live here. Muslin cloth was a thriving business then in Panam city. Panam City was the capital of Bengal during the reign of Isa Khan. There are many buildings here that are centuries old, which are related to the history of the Baro-Bhuyan of Bengal. The city is spread over an area of ​​20 sq. km. and has a major significance historically. It is known that a university was established here in the 1400s where famous teachers around the world used to come here to teach. It is also known that, there was a slave-market here.
There are a total of 52 colonial installations on both sides of the Panam City. It has 31 installations on the north and 21 on the south. The architecture of the installations here is a mixture of European art and Mughal art. Apart from residential buildings, there are places of worship, baths, inns, court rooms etc. There are some other structures around Panam City such as Choto Sardar Bari, Isa Khan Toran, Nill-kuthi, Banik Basti, Thakur-Bari, Panam Nagar Bridge and a wonderful folk art museum.
How to go?
From Gulistan you have to take bus to Mograpara crossroads. From the crossroads you can reach Panam City via battery-powered auto or rickshaw. It'll take approximately 50 Tk bus fare to go to Mograpara from Gulistan and 30 Tk to reach Panam City from the crossroads.
Entrance Fee: You have to pay 15 Tk to enter Panam City. Tickets cost 30 Tk per person to enter the museum inside the city.
Schedule: The museum is closed every Wednesday and Thursday.
MURAPARA JAMIDAR BARI
Murapara Jamidar Bari or Matherghat Zamindar Bari, located in Rupganj upazila of Narayanganj, is a century old zamidar palace that has survived the evolution of time. Murapara can be an ideal choice for a day outing or a day trip. This installation is established by Babu Ramratan Banerjee on about 40 hectares of land in 1889, was renovated several times. Murapara Jamidar house has over hundred rooms, almost all of which have touches of extra-ordinary artwork. It also has temple, storehouse, kacharighar, guest house, a huge sitting room, puja mandap, dance hall and two ponds in front and back. The huge gate at the entrance of the building gives a hint of the enormity of the Jamidar Bari. Besides, the top of the temple building is about 30 ft. high.
How to go?
You have to take a bus from Sayedabad, Gulistan or Jatrabari bus terminal to Bhulta or Ruposhi bus stand. From there you can go directly to Murapara Jamidar Bari by rickshaw or CNG.
BANGLAR TAJ MAHAL
Taj Mahal of Bengal, popularly known as Banglar Taj Mahal was built in the Perab village of Sonargaon upazila in Narayanganj district. Banglar Taj Mahal was built in the style of the Taj Mahal in India's Agra, which is one of the oldest Seven Wonders of the World. Banglar Taj Mahal was built by Narayanganj-based industrialist and filmmaker Ahsan Ullah Moni. Construction of the Taj Mahal officially began in 2003 and it was opened to the public in December 2006. The main building of the Taj Mahal is wrapped in precious transparent stone. The tombs of Ahsan Ullah Moni and his wife Razia are preserved inside the Taj Mahal. Like the original Taj Mahal in Agra, the main building of Banglar Taj Mahal has four large minarets at the four corners. In front of the building there are water fountains, flower gardens and seating benches for visitors.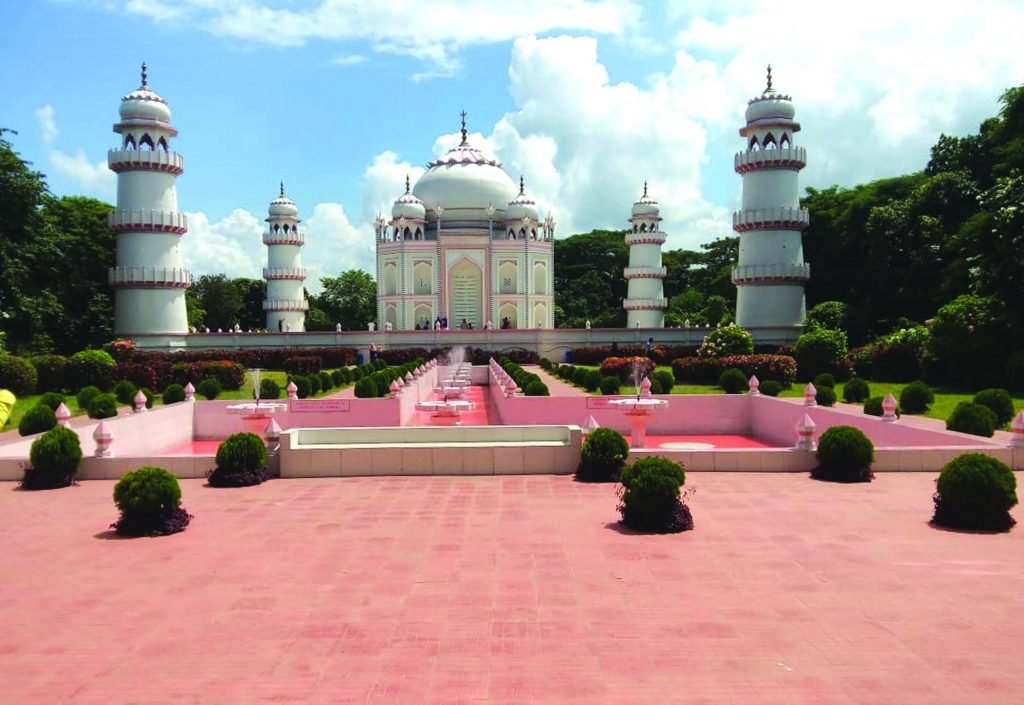 A replica of the Egyptian pyramid, a memorial sculpture of the Liberation War, a memorial sculpture of Indira Gandhi and Bangabandhu Sheikh Mujibur Rahman, a 250-seat cinema hall and seminar room also have been constructed near the Taj Mahal. The Taj Mahal is also surrounded by shops selling handicrafts, jamdani sari, earthenware and more.
How to go?
The distance from Dhaka to Banglar Taj Mahal is only 30 kilometres. First, you have to take a Dhaka-Sonargaon, Dhaka-Cumilla or Dhaka-Daudkandi bus and come to Madanpur bus stand. From there you can visit the Taj Mahal by CNG or autorickshaw. Besides, you can take a Narsingdi or Kishoreganj-bound bus plying on Dhaka-Sylhet highway and go to Barpa bus stand. From there you can reach Banglar Taj Mahal by CNG.
Entrance fee: The entrance fee to the Taj Mahal and the pyramid has to be paid together, there is no chance to see only the Taj Mahal or the pyramid. Tickets cost 150 Tk per person.
Schedule: Banglar Taj Mahal remains open daily from 10 am to 6 pm.
MAYADWIP
Mayadwip is a triangular shaped char located on the banks of the Meghna Rivar in Baradi union of Sonargaon upazila of Narayanganj district. Mayadwip is surrounded by greenery will fill your mind with an unearthly serenity. The open fields, the wind blowing parallel to the waves of the river, which make this char truly a magical enchantment. Being close to Dhaka, Mayadwip is another name for nature-loving visitors to spend an afternoon with their loved ones. Life laughs here with the sigh of relief from the brick-and-wood bustle.
How to go?
From Gulistan in Dhaka to Sonargaon in Narayanganj, different buses leave for several minutes from morning till night. Go straight to Sonargaon by bus. Then from there you have to go to Vaidya Bazaar by easy bike and rent a boat. It will take about 40 minutes to reach Mayadwip.
Entrance Fee: No entrance fee required here but you need a boat to travel around Mayadwip. It will cost 1000-1200 Tk to rent a boat for the whole day.
Schedule: Mayadwip is an open char so, you can visit here anytime. But it is better not to stay in the char after evening on safety ground.
ZINDA PARK
Zinda Park is located in Daudpur Union of the Narayanganj district covering an area of ​​about 150 acres. If you are looking for a destination little far, and have all day, then you can visit Zinda Park. Zinda Park is the result of 35 years of tireless work of the Agrapathik Palli Samiti, which started its journey with 5,000 members in 1980. Covered in green, Zinda Park has more than ten thousand trees of 250 species, five reservoirs and innumerable birds. There are tong houses on the trees, big sun-built ponds, bridges over the ponds and mud houses. Also inside the park, there is a market, a beautiful architectural library, Canteen and a mini zoo. There are also six well-equipped boats in the park lake for navigating. The architectural style of the various installations at Zinda Park will fascinate you for sure.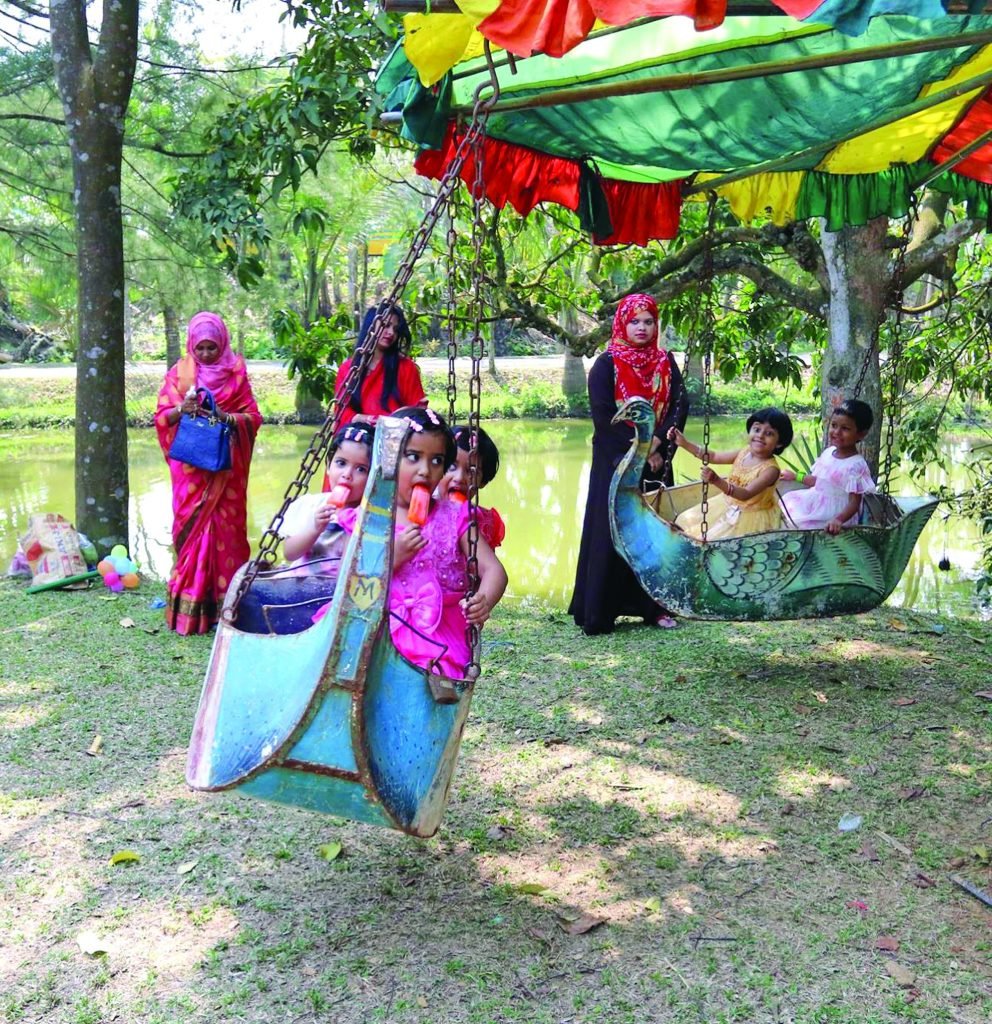 How to go?
The easiest and most beautiful way to get to Zinda Park is through the Purbachal Highway on Kuril Biswa Road, a 300 feet road. Come to Kuril Biswaroad from anywhere in Dhaka. Buy a ticket from the BRTC counter next to the Kuril railway line to Kanchan Bridge. Zinda Park is only 4 km. away on the left side of the Kanchan Bridge along the Dhaka City Bypass. From Kanchan Bridge you can reach the park via Rickshaw.
Entrance Fee: Tickets for Zinda Park cost 100 Tk per adult. Tickets for children under five are 50 Tk. If you enter with food, the ticket price will be 125 Tk. In addition, the entrance fee to the library is 25 Tk and you can go for a boat ride in the pond, the cost will be 200 Tk per 30 minute.
Schedule: Zinda Park is open to visitors seven days a week. The park opens at 9 am for visitors.
HAJIGANJ FORT
Hajiganj Fort, located on the banks of the Shitalakhya River in Hajiganj, Narayanganj District, is a historic water defence system built during the Mughal period. Hajiganj was known as Khizirpur at that time. During the Mughal period around 1650, when Mir Jumla was the Subadar of Bengal, three forts were built along the river to protect the then prosperous city of Dhaka and its environs from the onslaught of Portuguese enemies on the river. Hajiganj fort is one of the so called Triangle Water Fort or Triangle of Water Fort. The fort is surrounded by huge walls, and you have to climb the stairs at the entrance. On one side, stands the Watch Tower as a witness of past. Inside the fort there are now only a few trees standing, and there is a huge green field.
How to go?
There are various haka to Narayanganj AC, non-AC bus services from Gulistan. From there go straight to Chashara. From there, come a little ahead and from the auto stand, take an auto to reach Hajiganj Fort.
Entrance Fee: No entrance fee is required to visit this historic installation
Schedule: Hajiganj Fort is always open to visitors.
SONAKANDA FORT
Sonakanda Fort is an ancient water fort located east of the Shitalakhya River in Bandar Upazila of Narayanganj district. Sonakanda fort is one of the three water forts built in the 17th century to protect Dhaka city from external enemies. An ideal place for a day trip. The quadrangular Sonakanda fort is surrounded by strong high walls. Inside the fort, there are a large number of small, wide-open holes for safe firing through the walls. They could be used with guns and light cannons. There are four octagonal towers in the four corners of the fort. The most interesting part of the fort is the huge round cannon platform on the western side. There is an interesting rumour about this fort that Isa Khan, the ruler of Baro Bhuyan, forcibly married Sonabibi, the widowed daughter of Kedar Roy, a zamindar of Bikrampur, and brought her to this fort. Sonabibi could not accept the matter. She sat in the castle in silence and wept day and night. From then on the fort was named Sonakanda.
How to go?
Narayanganj can be reached by bus from Gulistan in Dhaka. From Launch Ghat No. 2 of Narayanganj city, you can take a boat to Bandar Upazila Ghat and take a rickshaw to Sonakanda Fort.
Entrance Fee: No entrance fee is required to visit this historic installation
Schedule: Sonakanda Fort remains open daily for visitors
SONARGAON MUSEUM
Bangladesh Folk and Crafts Foundation is also known as the Sonargaon Museum. Only 24 kilometres away from the capital. Bangladesh Folk Art and Craft Foundation was established in 1985 by Shilpacharya Zainul Abedin with the aim of preserving and recognizing the culture and folk art. The foundation has Gopinath Saha Sardar Bari, Zainul Abedin's Historical Struggle Sculpture, Bust Sculpture of Bangabandhu's Historical Speech, Zainul Abedin's Sculpture, Zainul Abedin Memorial Museum, Lokoj Mancha, Crafts Village and Sabuj Mora Subish. The Zainul Abedin Memorial Museum house has more than 4,500 ancient artefacts. Here you can see various artistic and everyday items made by the skilled hands of the ancient artists of rural Bengal of Bangladesh.
How to go?
From Dhaka you can take your own transport directly to Sonargaon in Narayanganj district. If you want to go by local vehicle, you will get various counter service buses from Gulistan to Mograpara crossroads. From Mograpara you can reach the Museum by Rickshaw or CNG.
Entrance fee: Entrance fee to Sonargaon Museum is 50 Tk per person. Students can enter at 30 Tk per person.
Schedule: The Museum is closed on Wednesdays and Thursdays and open for visitors on the rest of the days from 9 am to 5 pm.
KEIKERTEK HAT
For hundreds of years, Kaikertek Hat has been held every Sunday in Kaikartek area of ​​Mograpara union in Sonargaon Upazila of Narayanganj district. This hat, which cherishes the tradition of rural Bengal, is also known to the locals as 'Rabibar Hat'. The river Brahmaputra flows past Kaikartek Hat. The hundred-year-old monuments and the natural environment on the banks of the river attract a variety of travellers alike, in addition to the buyers and sellers who come to Kaikartek's market. The taste of the delicious food sold in the market fascinates the visitors. Although this traditional Kaikartek Hat is famous for its history and tradition, the center of attraction of this Hat is a special kind of sweet named 'Puta'. This sweet weighs two kg and four to five times larger than usual sweets.
How to go?
Take a bus from Gulistan, then get off at Mograpara on the Dhaka-Chittagong highway and get a CNG from there to Kaikartek Hat. The market can also be reached by renting a trawler boat from Munshiganj by river.
Entrance Fee: Keikertek Hat is open to the visitors free of any charge.
Schedule: Keikertek Hat starts early morning on Sundays and closes before evening.
SABDI: THE FLOWER VILLAGE
Sabdi in Narayanganj district is one of the places that can be visited day by day from Dhaka. In winter, the crop fields of Sabdi village are full of yellow mustard flowers. Besides, different types of flowers like rose, marigold, gladiolus, tuberose, gerbera, cosmos, daisy gypsy, dahlia, chrysanthemum etc. are cultivated here in February. The whole village became vibrant with colourful flowers. The stunning beauty of the sunset view from the flower kingdom on the horizon fascinates travellers. If you want, you can go down to the river, take a boat and look around the flowery beauty.
How to go?
To reach Sabdi, first take a bus from the south gate of Baitul Mukarram Mosque in Gulistan or in front of Bangabandhu National Stadium to Chashara launch terminal in Narayanganj. You can easily cross the river by an engine driven boat and come here and by auto rickshaw, you can easily visit all the places of interest in the vicinity of the flower village Sabdi.
Entrance Fee: No entrance fee is required to visit the place.
Schedule: Village Sabdi becomes colourful during February. So, it is better to visit here in February. You can visit here in winter as well.
Narayanganj city is an ideal place for those who are looking for a place for a day tour around Dhaka. So, visit this beautiful place of Bangladesh without delay and embrace the exquisiteness here.