For Bangladesh, Europe is the largest market for readymade garments. Almost sixty per cent of our total exports went to European countries until now. But there was no opportunity to send goods directly to these countries by ship from Chattogram. Now, for the first time, that door has opened. From this month a direct freight service will be starting from Chattogram port to Europe. Container ships will go directly to Europe with garments made from Bangladesh. This will moderately reduce transportation costs and save time.
It usually takes 24 to 26 days to travel from Chatto- gram port via Singapore or Sri Lankan port to Italy. In some cases it takes more than 30 to 35 days to get a booking on big ships. However, for the first time, Chattogram -Italy direct shipping service will reduce the time for export of goods from Bangladesh. As a result, it will now reduce the time by at least a week or two for Bangladeshi exporters to send their ex- ports to Italian ports.
For a long time, Bangladesh has been ahead in the global competition in the garment sector utilizing only labor. Bangladesh lags far behind in the com- petition against other countries in delivering goods to foreign buyers. This is because, there are no deep seaport in Bangladesh. So, there was no direct ship- ping service over long distance exports as large ships could not navigate. In this case, the Coronavirus out- break is a boon for Bangladesh. An organization has launched a direct container transport service with
small ships due to abnormal increase in fares and uncertainty in the transportation of goods during Coronavirus pandemic. This has created the possi- bility of delivering the product to European buyers directly and in less time for Bangladeshi exporters. On December 23 last year, direct shipping from It- aly to Chattogram was started on an experimental basis for the first time. On the first voyage, empty containers were brought from Italy. With the suc- cess of this experimental movement, the transpor- tation of export goods was started this time. For this, another ship named 'MV Songa Cheetah' ar- rived at Chattogram port from Italy on February 5. It left the Italian port of Ravenna on January 17. On arrival, the ship brought about 900 empty and 63 filled cargo containers. The ship arrived at Chatto- gram port to pick up Bangladeshi garments bought by European buyers. The ship set sail for the Italian port of Ravenna on February 7 with 950 containers loaded with ready-made garments. From there buy- ers will take their products. Chattogram Port Secre- tary, Omar Farooq said that, "The ship left the port at around 3.15 pm. This has opened new doors for maritime trade in Europe".
Ships will sail twice in a month
The ships will sail to Europe from Chattogram port twice every month. The destination of the ships will be Ravenna port in Italy. From there buyers from other European countries can conveniently transport
he product to their respective countries. Two ship- ping vessels of Italian shipping company 'Calypso Compania de Navigatsione- SPA', 'Songa Cheetah' and 'Cape Flores' will transport garments made by Bangladesh for export. 'The Songa Cheetah' is the flag bearer of Liberia and 'Cape Flores' is the flag bearer of Marshall Islands.
Mohammad Rashed, Chairman of Reliance Shipping and Logistics, an Italian shipping company in Bangladesh, said, "Goods from Bangladesh used to go to Europe via transshipment. The ships first sailed to Colombo port in Sri Lanka, or Port Kelang in Malaysia, or Singapore. From there the goods were sent to Europe by main ship. After this new establishment, export cargo ships will now sail directly from Chattogram port to Europe with nowhere to stop. Ships will also arrive in Chattogram directly with empty containers. As a result, it will take one third of the time than before. The cost will be substantially reduced. If Cape Flores brings empty containers, they will be loaded with export goods. Later, when the 'Songa Cheetah' will bring empty containers, they will be unloaded and replaced with the containers filled with export goods. Empty containers will later be loaded for Cape Flores. In this way, the ships will go to Europe twice from Chattogram".
Less time, less cost
The fare of 40 feet long container transport from Chattogram to Europe via Singapore or Colombo is fluctuating from 14,000 to 15,000 dollars. The newly launched direct shipping service is being asked for 10,000 dollars. In this case, the cost shipping will be reduced by about 30 percent. At the same time, direct shipping will also reduce the time by a week or two. It will also reduce the uncertainty of foreign buyers to get the product.
Leaders of the Bangladesh Garment Manufacturers and Exporters Association (BGMEA) say, "It is a new milestone for Bangladesh. Bangladeshi exporters will now be able to send their exports to Italian ports in less than a week or two, compared to Vietnam. As a result, Bangladesh's export trade will be more prosperous".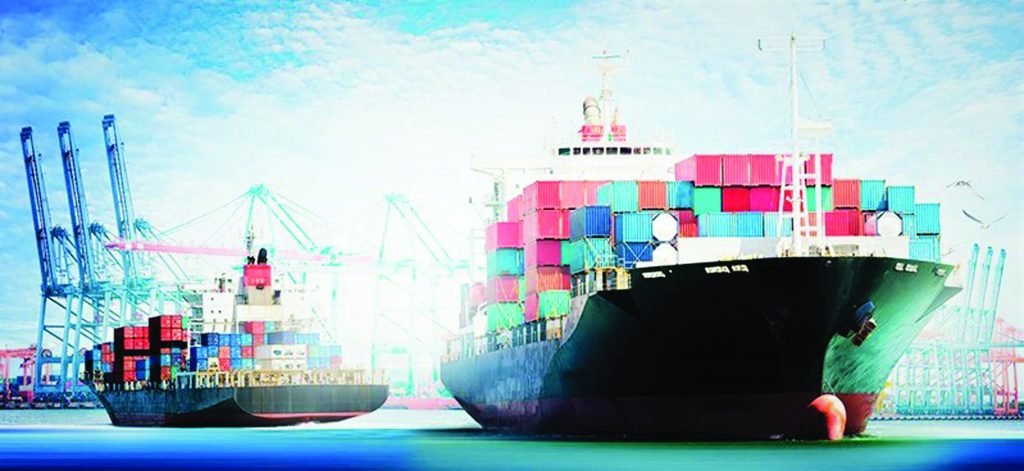 Chattogram Port Authority Secretary, Omar Farooq said in a press briefing, "Considering the importance of garment exports, the port authorities would al- ways give priority to the ships of Italy-Chattogram route in terms of all facilities including berthing & crane allocation. Readymade garment exporters will benefit from this event. With direct ship communication, the time spent in the middle of the transshipment port will no longer be required. Our exporters will be able to reach the European market in less time. They will be benefitted from this. In addition, the country's economy will be boosted".
How long will it last?
Due to the abnormal increase in freight by sea, ship- ping operators are now finding it profitable to trans- port container goods directly to Italy in small vessels. This initiative may not last if the freight rates by sea are reduced to 2,500 to 3,000 dollars per container (40 feet long) as before. However, sea fares
are not suddenly becoming normal, global organiza- tions have hinted about that.
Talking to officials of the leading shipping companies, it was learned that, the number of ships would have to be increased in order to retain the new services. Larger ships will have to land here regularly. If the new route becomes popular, many top companies will come forward. Mohammad Rashed, chair- man of Reliance Shipping and Logistics Limited, a local representative of the new service in Bangladesh said, "The number of ships could increase gradually even if the service is launched with two ships at present. As the direct shipping service exporters get higher profits and the process is time saving. So, we must retain this new journey".
Greater good for export trade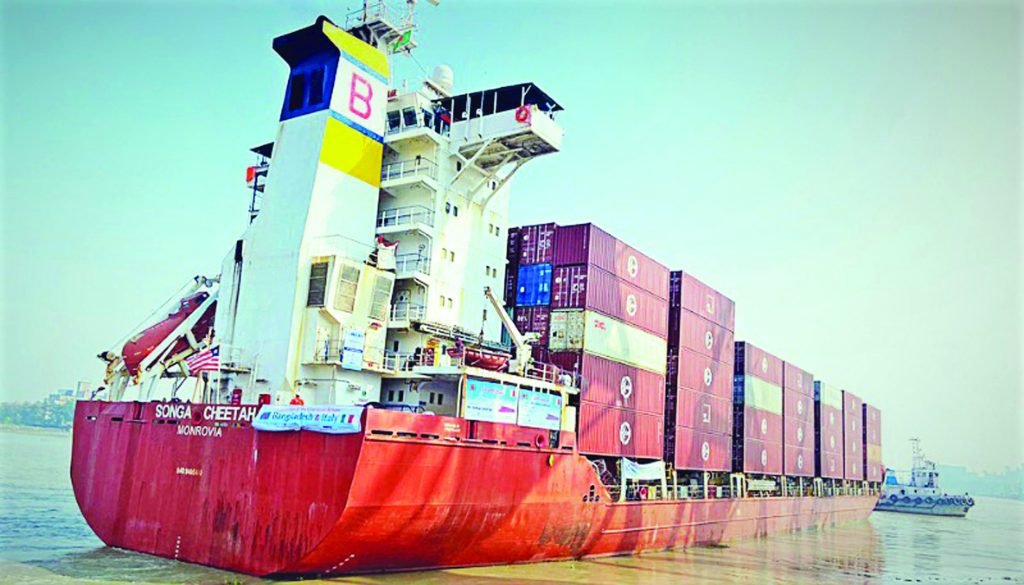 Rear Admiral M Shahjahan, Chairman of Chittagong Port Authority (CPA) said, "The experimental shipping on this route has already been successfully completed. In April last year, about 25,000 Bangladeshi imported containers were stranded at transshipment ports in Sri Lanka and Malaysia. Production comes to a halt as the raw material of the industry does not reach the factory on time. Export goods could not reach the buyer on time. This tarnishes the image of Bangladesh. Traders ended up facing extreme financial losses. Later these containers had to be brought to Chattogram port by additional feeder ships. Now with the introduction of direct export facility, such problems can be solved".
He says, "The number of ships carrying goods directly to Europe will increase gradually in future. It will have a big positive impact on the readymade garment industry of our country".
Traders say, "The import-export trade of Bangladesh is being affected due to the congestion in the transshipment port. The initiative will strengthen Bangladesh's position in the competitive market by reducing the cost of export-import trade, including fixed operating costs of ships. According to the concerned, Europe is the destination of 52% of Bangladesh's exports. So, if this route becomes popular, it will create a new milestone in the country's export sector. This will attract new buyers and expand country's export sector".
To conclude, Italy is among the top seven destination for products exported from Bangladesh. In the 2020-21 fiscal year alone, Bangladesh exported 1.3 billion dollars worth of goods to Italy, of which 95 percent were garments. At the same time, goods worth 438.9 million were imported from Italy, half of which was capital equipment. About 45% of Bangladesh's total exports are to the 28 European countries, such as Italy. In the last financial year, the amount of exported goods was 1.7 billion dollars. Out of the total 6, 29,000 single containers exported through the port, only 3, 20,000 containers have been taken to Europe. If this initiative becomes successful, other European countries will also start shipping goods directly from Bangladesh. The success of this trip may make those countries interested in transporting goods directly as there are buyers of garments made from Bangladesh in vicinity of Italy including Austria, Belgium, France, Germany, Greece, Bulgaria, Spain, Romania. American buyers may as well be interested to join in the opportunity. When that happens, Bangladesh will be able to go one step further in the garment export sector. And this will add a new dimension to Bangladesh's export sector, one with tremendous growth.