Prime Minister Sheikh Hasina once again has called for an immediate end to Gaza war amid continued history's one of the greatest apocalyptic humanitarian catastrophes inflicted by the Israeli forces on the innocent civilian Palestinians including a majority of children and women.
Renowned as the 'Mother of Humanity' for her compassionate efforts towards displaced communities, such as the Rohingya refugees, Sheikh Hasina reiterated her call while addressing the 2nd Voice of the Global South Summit 2023 in New Delhi held on 17 November. Despite being virtually present from Dhaka, her impassioned appeal underscored the pressing need for global unity in addressing the dire situation in Palestine.
Her call to the global community to unite against the Palestinian conflict coincides with escalating ground and air attacks by Israel forces on defenseless civilians, seemingly disregarding the basic ethical standards of warfare. This appeal comes as if the Israel forces operate with unchecked power, detached from the collective conscience of the world.
Due to the ongoing conflict between Gaza and Israel, the loss of human lives remains irreparable. The human rights violations committed by Israel forces are notably high when compared to historical records. Israel has continuously launched airstrikes on the Gaza Strip since October 7, following a surprise attack by Hamas in southern Israel. It is more worrying is that Israel has also been accused of using white phosphorus munitions in its ongoing military operations in Gaza and Lebanon, posing a significant risk to the lives of civilians in those regions.
Earlier, Prime Minister Sheikh Hasina's call to the international community for a peaceful resolution in the Ukraine conflict demonstrates her commitment to global harmony, showcasing her leadership and diplomatic efforts on pressing global issues.
Demand for an International Criminal Court (ICC) investigation
Concurrent with PM sheikh Hasina's call to end the war, five countries, including Bangladesh, have submitted a demand for an International Criminal Court (ICC) investigation into the Israel-Hamas conflict. ICC's chief prosecutor, Karim Khan, disclosed that Bangladesh, along with South Africa, Bolivia, Comoros, and Djibouti, has initiated a request for an investigation into 'the situation in the state of Palestine.' South Africa's push for ICC members to collaborate in examining the Gaza conflict represents a positive step. They have reiterated their commitment to eliminating impunity for war crimes, crimes against humanity, and genocide, aiming for the ICC to prioritize Palestinian circumstances and deliver justice to those impacted by these serious transgressions.
Unite to stop ongoing conflicts
During the "International Conference on Women in Islam: Status and Empowerment" held in Jeddah on 6th November (2023), Prime Minister Sheikh Hasina urged global leaders to prioritize an immediate ceasefire in Gaza to halt illegal occupation. Within her five-point agenda at the conference, Sheikh Hasina presented a series of recommendations for global leaders.
She began by advocating for the immediate cessation of the conflict in Palestine, emphasizing the imperative need for justice in cases of crimes against humanity, particularly highlighting the plight of women and children. Sheikh Hasina underscored the urgency of terminating the ongoing conflict, emphasizing the criticality of safeguarding innocent civilians who have been profoundly affected. Additionally, she invoked the memory of the two hundred thousand women and girls who endured inhumane persecution during the Great Liberation War in 1971.
Now, Prime Minister Sheikh Hasina's appeal to the international community to stand united as one world against the Palestinian conflict came when, particularly as Israel forces intensified ground and air assaults on civilians, disregarding fundamental ethical standards of warfare. Their actions seemed as though they operated with unchecked authority, disregarding the international community. 
Grim Reality Unfolding
The situation in Gaza has escalated drastically, resembling an apocalyptic scenario. Israeli forces have relentlessly attacked unarmed civilians, disregarding ethical conduct in warfare. Despite global pleas for a ceasefire, the assaults continue, resulting in a staggering death toll of almost 12,000 Palestinians and over 50,000 injuries. Nearly half a million people have been displaced, and vital infrastructure like hospitals, schools, refugee camps, and civilian homes lay devastated by Israeli airstrikes.
The blockade enforced by Israel forces worsens the crisis, leaving 1.1 million Palestinians without access to necessities like food, fuel, electricity, and medical care. Reports of Israel's use of white phosphorus munitions raise grave concerns for civilian safety in Gaza and Lebanon. Furthermore, a complete siege on Gaza City prevents humanitarian aid, leaving its 1.1 million residents grappling with acute shortages of essentials.
Additionally, accusations of Israel deploying white phosphorus munitions in its military actions in Gaza and Lebanon have surfaced repeatedly, posing a significant threat to civilian lives in these regions.
Bangladesh's previous Emergency Medical Assistance for Gaza
On October 18, 2023, Prime Minister Sheikh Hasina directed Health Minister Zahid Maleque to swiftly dispatch medical supplies, including crucial medicines, to Palestinian hospitals. This instruction was conveyed during a phone conversation between the two officials.
Amidst relentless Israel attacks, numerous injured individuals and civilians sought sanctuary at Al-Ahli Arab Hospital in Gaza, perceiving it as a place of safety. However, tragedy struck on Tuesday, October 17, 2023, when an explosion rocked the hospital, resulting in grievous casualties.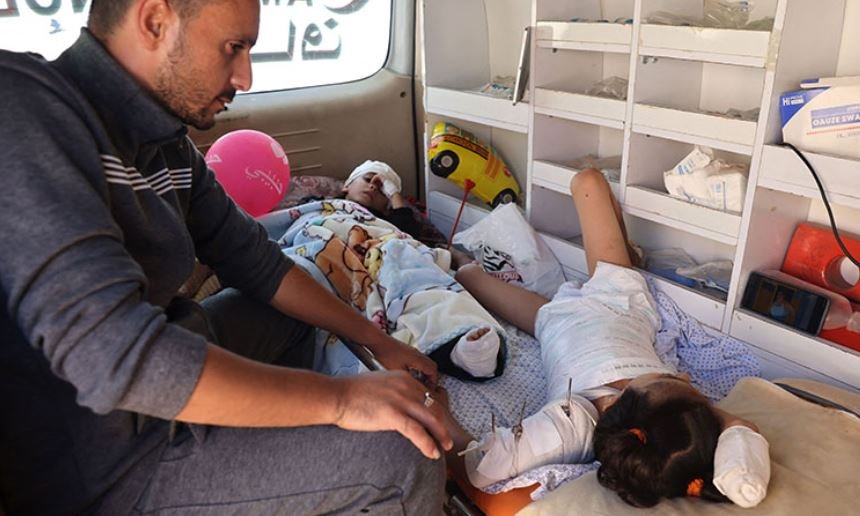 Prime Minister Sheikh Hasina, emphasizing the indiscriminate loss of hundreds of innocent lives, predominantly women and children, at the hands of the Israeli occupation forces (IOF), promptly ordered authorities to urgently deliver medical supplies to Palestinian hospitals in need.
Additionally, she drew a poignant parallel between the suffering of Palestinian women and children and the haunting memories of the two hundred thousand women and girls who endured unimaginable atrocities during Bangladesh's Liberation War in 1971.
Furthermore, Bangladesh urged the international community, including the United Nations, to denounce this egregious act and expedite humanitarian access to the affected region. The nation also appealed to all relevant parties to engage in negotiations and strive for a lasting resolution to the Palestinian crisis.