Severe water scarcity, exacerbated by climate change, disproportionately affects children in South Asia, with 347 million children under 18 facing high or extremely high water scarcity, the highest among global regions, according to a UNICEF report.
This figure represents over half of the region's children, and South Asia, home to over a quarter of the world's children, is increasingly susceptible to climate change-related disasters.
The report notes that 55% of children in South Asia are impacted by water scarcity, the highest global rate. Climate change disrupts weather patterns, causing unpredictable water availability, and the situation is expected to worsen. Following South Asia, Eastern and Southern Africa are the next worst-affected regions, with 130 million children facing severe water scarcity. Globally, 1 in 3 children, or 739 million, live in areas exposed to high or very high water scarcity.
UNICEF plans to advocate for necessary measures at the upcoming COP28 UN Climate Change Conference in Dubai to ensure a habitable planet for children, emphasizing safe water as a fundamental human right.
South Asia's Water Scarcity Scenario
The water scarcity crisis in South Asia results from insufficient water resources. This region is home to a quarter of the world's population, yet the available freshwater is inadequate to meet the needs of such a large population. Only 0.75% of the Earth's total water is usable for human consumption, with rivers being the primary source of freshwater. The region is facing significant pressure due to limited water supply, attributed to the rapid growth in population, urbanization, industrialization, and inadequate water resource management. By 2030, an estimated 60% of the world's population will have limited access to fresh water.
South Asia, with its four major rivers (Brahmaputra, Indus, Ganges, and Meghna) and numerous tributaries, is grappling with water scarcity exacerbated by diminishing freshwater availability and transboundary water flows. The looming water crisis is further intensified by the increase in India's population to 1.6 billion by 2050, placing substantial stress on water resources.
In Bangladesh, per capita water availability is expected to decrease from 8444 cubic meters to 7670 cubic meters by 2025, primarily due to its status as a lower riparian state. The root of the problem lies in the fact that 90% of the water flowing into Bangladesh originates beyond its borders.
The water scarcity in South Asia is increased by shared waters, transboundary water flows, and the control of water flows by one state over another. Despite water treaties between India and its neighbors (Pakistan, Bangladesh, and Nepal), concerns persist over Indian hegemonic designs in the region, impacting the water security of all South Asian states.
Urbanization, industry, and population growth are all occurring quickly in this area. All of these elements have put South Asia's water security in jeopardy.
Eastern and Southern Africa's Water Scarcity Scenario
As of October 2022, approximately 226 million individuals in Eastern and Southern Africa lacked access to fundamental water services, while 381 million lacked basic sanitation services. The disparity between rural and urban areas is more pronounced. Eighty percent of underserved people in the region reside in nine countries: Angola, the Democratic Republic of Congo, Ethiopia, Kenya, Madagascar, Mozambique, Sudan, Tanzania, and Uganda. Addressing the water and sanitation needs of people in these nine countries and making ongoing progress in other parts of the region are crucial for enhancing lives and stimulating economic growth.
The projection for alarming water scarcity in Africa by 2025 remains unchanged. It is estimated that around two-thirds of the world's population may face a shortage of fresh water. The primary factors contributing to water scarcity in Africa include physical and economic scarcity, rapid population growth, and climate change. Despite Sub-Saharan Africa having an abundant supply of rainwater, its seasonal and uneven distribution results in frequent floods and droughts. Moreover, prevailing economic development challenges, coupled with issues of poverty, rapid population growth, and rural-urban migration, have positioned Sub-Saharan Africa as the world's poorest and least developed region.
To effectively tackle the challenge of water scarcity in Africa, the United Nations Economic Commission for Africa stresses the importance of investing in the development of the continent's potential water resources. This investment would enhance both food and water security, safeguarding economic gains through the effective management of droughts, floods, and desertification.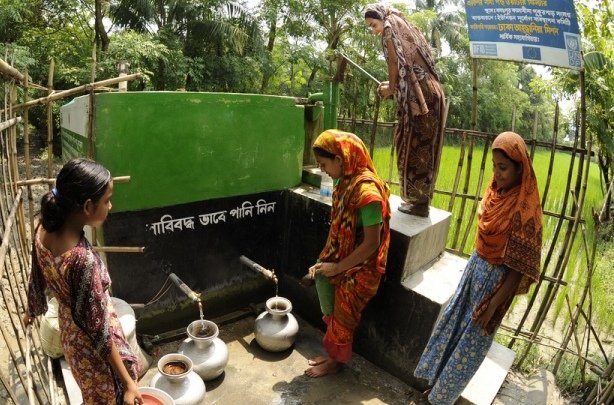 Water scarcity scenario in Bangladesh
Water scarcity is a critical issue affecting millions worldwide, with Bangladesh, housing 165 million people, experiencing severe challenges. Factors such as climate change, rapid urbanization, and industrialization worsen the situation. Despite having substantial groundwater reserves, over-extraction and mismanagement have led to significant depletion, causing saltwater intrusion and rendering water unsuitable for consumption and irrigation.
Bangladesh faces the dual threats of floods and droughts, causing widespread damage to crops, infrastructure, and health. Water sources, especially in rural areas, suffer from contamination, with arsenic in groundwater and pollutants in surface water, contributing to health issues. Access to improved water sources and sanitation facilities is limited, with only 62% and 34% coverage, respectively, according to the World Bank.
Southwest Bangladesh experiences a severe potable water crisis due to inadequate freshwater aquifers and high salinity in surface water. Affordability issues force communities to rely on expensive technologies or drink contaminated water. The lack of awareness about salinity's health implications is concerning, with potential impacts on kidney health, blood pressure, and cardiovascular diseases.
Governments Steps to remove scarcity of water
The Minister of Local Government, Rural Development, and Cooperatives, Md Tajul Islam, reported to the Jatiya Sangsad that the government has implemented various projects over the past 14 years to improve access to safe water.
Under the Department of Public Health and Engineering (DPHE), initiatives include the installation of 16,47,000 water sources, 631 rural piped water schemes, 10,753 community-based water supply units, and 18,974 mini rural piped water schemes. Additionally, the DPHE has worked on pond construction and re-digging, rainwater harvesters, latrine projects, and public/community latrine development. The government has successfully installed 16,13,200 safe drinking water sources, 110 rural piped water schemes, 865 community-based water supply units, and 15,610 mini rural piped water schemes as part of these efforts. The DPHE has also completed pond projects, rainwater harvesters to further enhance the water supply in the country.
In addition, govt. has Dug canals, dredging the river to increase the navigability of the river to increase the amount of fresh water. Delta Plan 2021 has adopted which aims to ensure clean water.
To address these challenges, Bangladesh must adopt sustainable groundwater management practices, promote water-efficient agriculture, implement rainwater harvesting, and regulate groundwater extraction. Building resilience to floods and droughts requires improved forecasting, early warning systems, flood shelters, and drought-tolerant crops. Access to clean water and sanitation can be enhanced through investments in infrastructure, including new treatment plants and rehabilitation of existing facilities. Better monitoring and data collection are essential for informed groundwater management decisions.