Key highlights:
 Social Sector's budget allocation increased from 13,845 crore in FY10 to 1,26,272 crore in FY24.
Universal Pension scheme 2023 has been enacted.
100% coverage is ensured for 'Old age Allowance', 'Allowance for Widows, Deserted and Destitute women', and 'Disability allowance.'
A total of 840,000 families have been rehabilitated through 'Asrayan' project.
Bangladesh's commitment to social protection is enshrined in Article 15 (d) of its National Constitution (1972), serving as the bedrock for comprehensive policies. Social protection stands as a key pillar in Bangladesh's national budget, dedicated to elevating the welfare of its vulnerable populace. The adoption of the National Social Security Strategy (NSSS) in 2015 signifies the nation's proactive approach in identifying and addressing the shortcomings of its social protection system. Besides, budget allocation in the social sector experienced a 9-fold increase from BDT13,845 crore in FY10 to BDT1,26,272 crore in FY24.
The subsequent integration of NSSS recommendations into medium-term five-year plans and annual economic plans, such as the national budget, underscores Bangladesh's commitment to improving its social protection framework. NSSS and its corresponding Action Plan (2018) signifies the intention to establish a National Social Insurance Scheme.
 In the spectrum of priorities, Bangladesh is marked by a diverse range of programs, including a pension system, retirement benefits, and initiatives like the Old Age Allowance, Allowance for Freedom Fighters, Allowance for Widow and Husband Deserted Women, Vulnerable Groups' Feeding (VGF), and Allowance for transgenders under the National Social Security Strategy (NSSS).
Progoti, Surokkha, Somota, Probash: Bangladesh's Four-Tiered Pension Revolution

The old age allowance is set to be increased by Tk 100 to Tk 600 per month as the government expects the number of beneficiaries to rise to 5.8 million, compared to 5.7 million

– Finance Minister AHM Mustafa Kamal.
In a bid to enhance the safeguarding of elderly citizens, Bangladesh's government launched the Universal Pension Scheme 2023 on August 17, 2023. It is designed to empower citizens, including those with modest incomes, to achieve a self-sustained retirement. The country emphasizes the significance of this because state-sponsored pension schemes only cover a small fraction of the population, limited to public sector employees. The government anticipates a shift in the demographic ratio, with an increase in the dependent population and a decrease in the working-age population, aligning with rising life expectancy.
Four unique pension plans have been introduced, namely Progoti for private company employees, Surokkha for those in the informal sector like farmers and laborers, Somota for individuals below the poverty line, and Probash for Bangladeshi citizens residing abroad.
Welfare Scheme for Women Dealing with Widowhood, Desertion, and Destitution
The program initially granted a monthly allowance of Tk. 100 to 4.03 lakh women, a figure that was later raised to Tk. 500 in FY 2016-2017. During this phase, an allocation of Tk. 690.00 crore was assigned, benefiting 11.50 lakh recipients. Subsequently, significant headway has been achieved, with the number of beneficiaries escalating to 24.75 lakh in FY 2021-2022. These women now receive a monthly allowance of Tk. 500, underscoring the government's unwavering commitment to bolstering support for women in vulnerable situations.
Additionally, the "Maternity Allowance for Poor Mother" program, initiated in FY 2007-2008, serves as a social safety-net initiative to provide financial assistance to economically disadvantaged mothers. The monthly allowance was raised to TK 800 in FY 2018-2019, indicating a commitment to increased assistance. By FY 2021-2022, the program had benefited 7.70 lakh mothers, highlighting its role in addressing the economic needs of vulnerable mothers during their maternity period.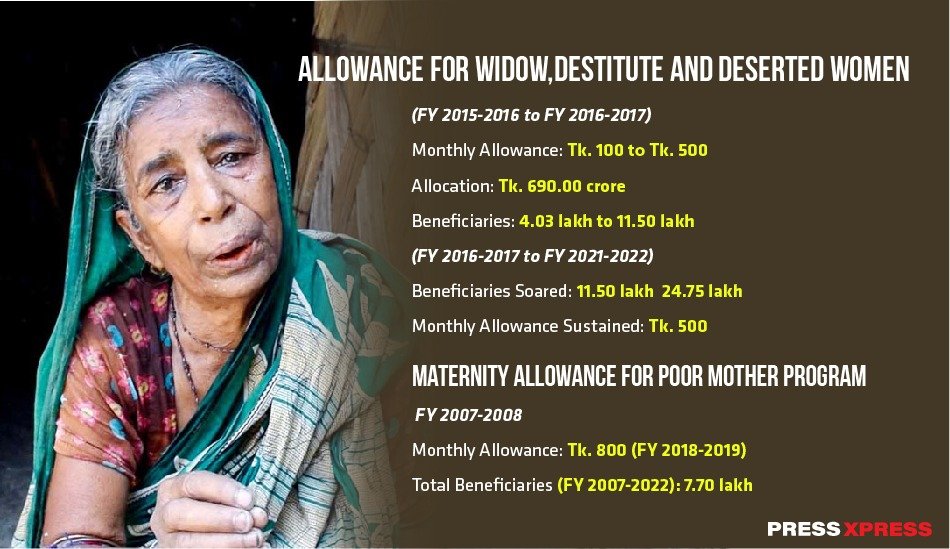 Empowering Transgender, Bede, and Disadvantaged Communities through Livelihood Improvement Initiative
The government initiated the "Development of the Living Standards of the Bede Community" program as a pilot project in seven districts in FY 2012-2013, which has since expanded to 64 districts. In FY 2019-2020, a dedicated initiative called the "Living Quality Improvement Programme for Backward Communities" was launched and has evolved into a separate entity, the "Living Standards Development Programme for Backward People," as of FY 2022-2023.
This program aims to improve the living standards of various beneficiaries, including 45,250 elderly and special beneficiaries from backward communities, 21,903 individuals receiving educational allowances at four different levels, and 1,210 people participating in socio-economic training.
Other Initiatives in the Social Safety Net Landscape
Commencing in 1997, the Ashrayan initiative was established to provide rehabilitation and housing solutions for families in Bangladesh who lack land, shelter, and roots. A total of 840,000 families (50 lac people) have been rehabilitated through the Ashrayan (Housing for homeless people) project.
On the occasion of Mujib Barsho, funds have been earmarked for the construction of a total 1,83,157 semi-pucca single houses, each built on two decimal khaas (government-owned land) allocated to each family.
In conclusion, Bangladesh's journey in social protection is not just a narrative of numbers and policies; it is a saga of resilience, compassion, and a vision for an inclusive and empowered society. With each program and initiative, the nation takes a step closer to a future where the vulnerable are not just protected but truly thrive.