The integration of the "Imo" messaging app for expatriates to access the upgraded "Smart 333" helpline reflects a positive step by the Bangladeshi government
In a notable stride toward supporting the expatriate workforce, the Bangladeshi government has integrated the widely-used instant messaging app, "Imo," to facilitate overseas calls to the upgraded "Smart 333" helpline. This development is particularly beneficial for the approximately 14.9 million Bangladeshi expatriates scattered across 176 countries, underscoring the government's commitment to enhancing public services, especially for those contributing significantly to the economy through remittances.
While the Smart 333 helpline employs AI-assisted services for improved efficiency, Prime Minister Sheikh Hasina's administration has implemented a multifaceted approach to address challenges faced by expat workers. These encompass diplomatic engagements, bilateral agreements with destination countries, extensive training and skill development programs, pre-departure orientation initiatives, comprehensive welfare programs, and vigilant consular services.
Prime Minister Sheikh Hasina's unwavering commitment to the welfare of overseas workers aligns with the government's broader strategy to secure their rights, contributing not only to individual well-being but also to the nation's economic prosperity.
A picture of Bangladesh's Expatriate Labor Market
At present, 14.9m Bangladeshi expatriates work in 176 countries. Around one million women workers have got employment opportunities abroad in the same period.
The primary destinations for Bangladesh migrant workers include Bahrain, Kuwait, Oman, Qatar, Malaysia, Singapore, Saudi Arabia, Jordan, Romania, and the United Arab Emirates. Notably, Jordan and Lebanon are significant destinations for female workers, while Saudi Arabia remains the largest labor market for Bangladesh.
Kuwait, Malaysia, the United Arab Emirates, and the Maldives were once major labor markets. Still, many Bangladeshis continue to work legally and illegally in these countries.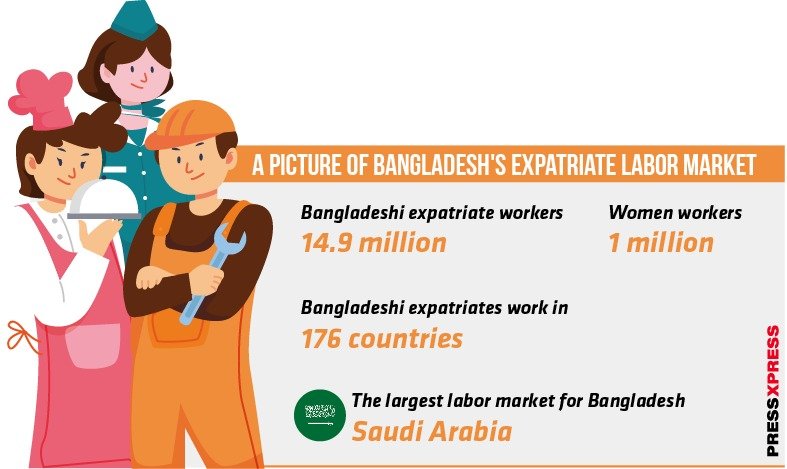 In his budget speech for the fiscal year 2023-2024, Finance Minister AHM Mustafa Kamal disclosed that over 14.9 million Bangladeshi expatriates are currently employed in 176 countries worldwide. Since assuming office, the government has provided professional, skilled, semi-skilled, and low-skilled training to a total of 8,147,642 workers. Kamal highlighted the decentralization and expansion of 73 training centers during this period.
Simultaneously, about one million women workers have seized job opportunities abroad. AHM Mustafa Kamal emphasized the exploration of new labor markets, successfully sending Bangladeshi workers to countries such as Poland, Seychelles, Albania, Romania, Slovenia, Uzbekistan, Bosnia Herzegovina, and Cambodia.
Initiatives Taken for Expatriate Workers
PM Sheikh Hasina and her government have been taken various initiatives to support the rights and welfare of Bangladeshi workers abroad.
Diplomatic Engagement:
Sheikh Hasina's government actively engaged in diplomatic efforts to strengthen ties with countries that host a significant number of Bangladeshi migrant workers. This involved negotiating agreements to ensure the protection and rights of Bangladeshi workers in those countries.
Bilateral Agreements:
The government entered into bilateral agreements with destination countries to secure the welfare of Bangladeshi migrant workers. These agreements often addressed issues such as fair wages, working conditions, and legal protections for workers.
Training and Skill Development:
The government emphasized the importance of skill development and training for prospective migrant workers. Initiatives are launched to enhance the skills of workers, making them more competitive in the international job market.
For instance, the government has implemented the National Skills Development Policy 2011, which calls for increased skilled-based training and acknowledges the need for quick responses to global labor demands.
Pre-Departure Orientation:
Pre-departure orientation programs are implemented to educate workers about the legal aspects, cultural differences, and potential challenges they might face abroad. This aimed to empower workers with the necessary information to protect themselves in foreign countries.
Welfare Programs:
The government implemented various welfare programs for the families of migrant workers left behind in Bangladesh. These programs include financial support, educational opportunities, and healthcare services to ensure the well-being of the families.
For example, govt. has taken the Expatriates' Welfare and Overseas Employment Policy, 2016.
This policy encourages and ensures safe migration, protection of migrant workers and their family members, ensuring facilities and welfare of migrant workers, and migration of female workers.
Consular Services:
Bangladesh's embassies and consulates in different countries were directed to provide robust consular services to Bangladeshi workers. This included assistance with legal issues, healthcare, and repatriation if needed.
Monitoring and Regulation:
The government works towards ensuring that recruitment agencies adhere to ethical practices. Monitoring mechanisms are put in place to track the activities of these agencies, and strict actions are taken against those found exploiting or misleading workers.
"We've to give special attention so that no one is cheated by middlemen. We've the responsibility to look after their security and welfare because they're our citizens," she said."

– Prime Minister Sheikh Hasina
Crisis Management:
In cases of emergencies or crises affecting Bangladeshi workers abroad, the government undertook prompt and effective measures to address the situation. This involves diplomatic interventions, emergency repatriation, or other necessary actions.
Remittance Inflows in Bangladesh Over the Years
The second-largest source of foreign exchange revenues, expatriate earnings, is crucial to Bangladesh's economy. Remittance inflows in Bangladesh over the years are discussed below.
According to Bangladesh Bank,  In November 2023, remittances stand at 1977.56 million US dollars.
Conclusion
The integration of the "Imo" messaging app for expatriates to access the upgraded "Smart 333" helpline reflects a positive step by the Bangladeshi government.  Prime Minister Sheikh Hasina's comprehensive initiatives demonstrate a commitment to safeguarding workers' rights and enhancing their well-being, contributing significantly to the country's economy through remittance inflows. The consistent growth in remittances, exemplified by the November 2023 figure of 1977.56 million US dollars, highlights the pivotal role of expatriate earnings in Bangladesh's economic landscape.