Both nations are prepared to make a significant contribution to the safety and prosperity of the region through their strengthened military connections as they set out on this collaborative path.
Bangladesh and Japan have a long history of bold relationships over mutual support and cooperation. This has also formed admirable results and excavated trust between the two governments. In recent days, it has entered into a new phase of defense aid collaboration.
Ambassador of Japan to Bangladesh Iwama Kiminori and Principal Staff Officer Lieutenant General Waker-Uz-Zaman of Bangladesh Army signed the 'Grant Contracts' for Grass-Roots Human Security Projects (GGHSP) at the Embassy of Japan. Japan will provide grant aid of ¥575 million to the Armed Forces Division of Bangladesh under the Official Security Assistance — a new cooperation framework of Tokyo.
The agreement on the grant aid was signed on Wednesday 15th November (2023).
Japan also recently agreed to transfer coastal radar equipment to Bangladesh. It will be the second recipient of defense equipment under the framework after the Philippines.
Strengthening Maritime Defense
As part of this aid, Japan is set to transfer four patrol ships to Bangladesh, a strategic move aimed at enhancing Dhaka's deterrence capabilities, particularly in response to Beijing's expanding maritime influence. This transfer of coastal radar equipment to Bangladesh positions the country as the second beneficiary of defense equipment under the OSA, following Japan's recent agreement with the Philippines.
Japan's aid will significantly strengthen the Bangladesh Navy's monitoring, surveillance, and disaster relief capabilities, aligning with Japan's interest in fortifying these aspects given the Bay of Bengal's significance.
The grant aid includes provisions for four patrol boats, envisioned to considerably elevate Bangladesh's naval capabilities. This enhancement is poised to contribute not only to bolstering the nation's security measures but also to extending support in monitoring, surveillance, and disaster response efforts, ensuring a more robust presence in the Bay of Bengal region.
Japan's Dual Grass-Roots Security Projects
Japan extended a grant of around Tk14.7 million to two Bangladeshi NGOs. The NGOs are SKS Foundation and Good Neighbors Bangladesh—under the 'Grant Contracts' for Grass-Roots Human Security Projects (GGHSP). Ambassador Iwama Kiminori signed these contracts at the Embassy of Japan, enabling SKS Foundation to secure $82,027 for eye care equipment procurement at SKS Eye Hospital in Gaibandha District.
This initiative aims to enhance eye care diagnosis and treatment accessibility in the region through the acquisition of Optical Coherence Tomography and Visual Field Analyser equipment.
Additionally, Good Neighbors Bangladesh received $53,481 for the construction of drinking water supply facilities in Barguna District. This endeavor seeks to provide safe and sustainable drinking water, transforming local communities' access from communal wells and ponds to safer sources.
Japan's ongoing support through the Grant Assistance for Grass-Roots Human Security Projects (GGHSP) has benefited 215 NGO projects since 1989, fostering economic and social human security at grass-roots levels in Bangladesh. The cumulative aid extended to Bangladeshi NGOs now totals approximately $16.9 million, furthering Japan's commitment to humanitarian endeavors in the country.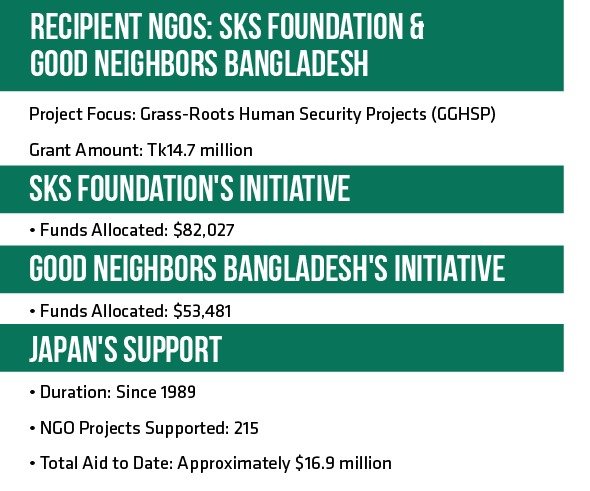 Objectives of the OSA Programme
On December 8th, 2002, the governments of Japan and Bangladesh inked the Agreement on Technical Cooperation. This pivotal accord aimed to elevate mutual technical collaboration by consolidating infrastructure efforts and simplifying procedures within a singular framework.
Expanding upon this foundation, Japan has recently integrated Bangladesh into the Ocean Security and Awareness (OSA) initiative to amplify defense cooperation. This strategic maneuver signifies a joint commitment to fortify regional security and collaboration. Through their unified participation in the OSA framework, Japan and Bangladesh signal a substantial stride in advancing maritime security and fostering economic prosperity across the Indo-Pacific region.
As per the Japanese Embassy's press release, the Official Security Assistance Program (OSA), has a multi-pronged objective. It strives to deepen security cooperation with recipient nations, foster a conducive security environment, and play a pivotal role in upholding and reinforcing international peace and security.
Bangladesh-Japan Strategic Partnership
In April 2023, Bangladeshi Prime Minister Sheikh Hasina's visit to Japan marked a significant turning point in the bilateral relationship. A key focus of the visit was to strengthen economic and interpersonal bonds, culminating in the establishment of a Joint Study Group. Formed in April 2023, this group aims to explore the feasibility of a Japan-Bangladesh Economic Partnership Agreement (EPA).
Economically, Japan has a long history of strong ties with many Asian countries, including Bangladesh. Bangladesh is the second-largest recipient of development and economic assistance from Japan after India, having received around $25 billion in Japanese development and economic aid since 1972.
Bangladesh's reasons for joining OSA
Bangladesh's decision to join the Ocean Security and Awareness (OSA) initiative stems from its commitment to safeguarding marine resources and promoting maritime security. With a significant reliance on coastal waters for both livelihoods and trade, Bangladesh acknowledges the urgency of tackling ocean-related issues.
Participation in the OSA offers Bangladesh a platform to engage with global allies, exchange critical information, and devise comprehensive approaches to combat various maritime challenges, including illegal fishing, pollution, and piracy. This strategic collaboration enhances Bangladesh's capacity to safeguard its coastal interests while contributing to global maritime stability.
In conclusion, Japan's deliberate choice of Bangladesh as its latest OSA partner is expected to strengthen and improve defense ties between the two countries.