Women in Bangladesh have made significant strides in political empowerment, holding key positions in government, local governance, and various sectors.
Throughout history, women have faced marginalization in patriarchal societies, often consigned to secondary roles in the family, community, and workforce. The unequal treatment or representation of girls and women based on their gender persists, leading to far-reaching consequences that impact various aspects of life.
In Bangladesh, the female population has consistently increased over the years. As per the Population and Housing Census of Bangladesh 2022, the female population stood at 8.33 crore, constituting 50.50% of the total population. Despite comprising a significant portion of the community, women in Bangladesh encounter numerous challenges throughout their lives, starting from birth.
The government of Bangladesh has taken significant steps to safeguard the rights of girls in the country. The Child Marriage Restraint Act of 2017 redefined the age of adult females, specifically for marriage, as those who have completed 18 years, and introduced stricter penalties for those involved in child marriage.
Furthermore, the Domestic Violence Prevention and Protection Act of 2010 and the National Women Development Policy of 2011 exemplify the government's commitment to ensuring the rights of girls. Various initiatives, such as providing stipends for girls and distributing free textbooks, have been implemented to promote girls' education.
These measures underscore the government's dedication to breaking down barriers that hinder girls, providing them with essential tools for success. The empowerment of women is recognized as a crucial step in empowering the entire nation.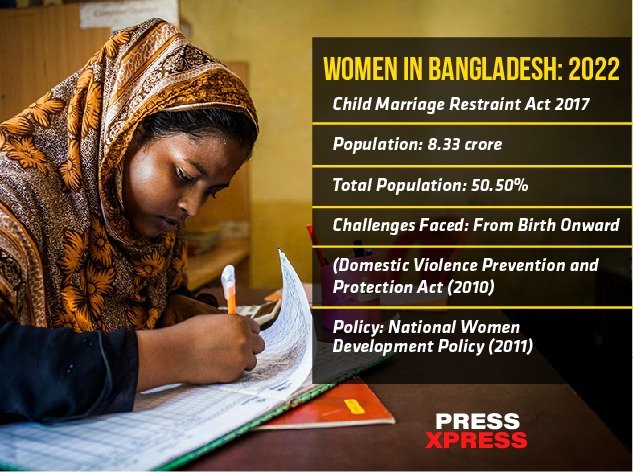 Challenges Persist for Girls in Bangladesh: Discrimination, Early Marriage, and Violence
In Bangladesh, the historical preference for boys has resulted in the neglect and mistreatment of young girls. Recent research by Dhaka University and UNFPA underscores the persistent desire for male children, leading some parents to resort to aborting female fetuses, although such cases are now rare. Positive changes are emerging, with girls gaining equal opportunities in education and healthcare, signaling a more inclusive approach to gender roles.
Notably, there has been a reduction in child marriage, attributed to a heightened focus on education. As Bangladesh progresses, the inclusion of women in the business sector becomes pivotal. Women's economic participation accelerates development, combats poverty, reduces inequalities, and enhances children's well-being. Women tend to reinvest more of their earnings in families and communities, contributing to local development. Despite past biases, Bangladesh is witnessing transformative shifts, fostering a more equitable and prosperous society through the empowerment of its women.
Improvements in women's lives
Bangladesh has made remarkable strides in enhancing the lives of women, with significant improvements in maternal health and a decline in fertility rates According to the World Health Organization (WHO), maternal mortality rates have witnessed a decline, dropping from 322 deaths per 100,000 live births in 2001 to 196 deaths in 2016. Concurrently, the fertility rate has substantially decreased from 6.9 children per woman in 1971 to 2.1 in 2018, as reported by the United Nations Population Fund (UNFPA). These achievements underscore Bangladesh's commitment to enhancing women's well-being and reproductive health.
Bangladesh has made significant strides in promoting girls' education, achieving gender parity in primary and secondary school enrolment, with more girls attending secondary school than boys. Additionally, over 30 million women in Bangladesh are clients of microcredit organizations, contributing to the improvement of their economic and social status.
Moreover, Bangladesh boasts the highest percentage of women in the workforce in South Asia, with approximately 35 percent of women actively participating in the labor force. Recent years have witnessed a positive trend in women's workforce engagement, as indicated by the World Bank, with the percentage increasing from 26.6 percent in 2010 to 36.2 percent in 2020. This signifies Bangladesh's commitment to fostering women's economic empowerment and inclusion in the workforce.
However, according to The Global Economy, female labour force participation in Bangladesh was 34.87 percent in 2021. The government has taken various initiatives to promote women's entrepreneurship and economic empowerment, such as providing training, credit, and marketing support. Additionally, women's political representation has improved, with women holding 21 percent of seats in parliament.
Progress in Politics and Beyond
Women in Bangladesh have made significant strides in political empowerment, holding key positions in government, local governance, and various sectors. The Bangladesh Awami League actively promotes women's representation at all levels, fostering excellence in education and sports. Women in Bangladesh have made significant strides in political empowerment, holding key positions in government, local governance, and various sectors.
The government supports women's rights with initiatives like six months of paid maternity leave in the public sector and protection for female workers, including those employed abroad. Social protection programs benefit a diverse range of women.
Bangladesh addresses issues like dowry, child marriage, and cyberspace harassment through legal measures and increased awareness. The inclusion of a mother's name in all documents of children is now a legal requirement.
PM Hasina's Commitment on Women Empowerment
The Bangladeshi government is dedicated to promoting the holistic development of women, striving to ensure their equal and active participation in mainstream socio-economic activities while removing barriers to their empowerment. Women undergo diverse skills training at the Shaheed Sheikh Fazilatunnesa Mujib Training Academy in Gazipur, encompassing areas such as sewing, computer skills, and beautification.
The Village Women Agriculture Training Centre in Savar provides comprehensive trade training for women, spanning areas such as horticulture, fisheries, and livestock over a three-month duration.
Across the 64 district offices of the Department of Women's Affairs (DWA), women undergo training in various skills, encompassing food processing, beautification, embroidery, sewing, mobile phone servicing, and nursery/kitchen gardening.
In 34 districts, the DWA organizes three-month-long training programs specifically focused on Information Technology for women.
Residential self-employment training for women is accessible at the Begum Rokeya Training Center, situated in Mymenshing, Dinajpur, and Bagerhat Training Centre.
Non-residential training programs for distressed women are conducted at 136 upazila offices of the Department of Women Affairs.
The National Training and Development Academy, operating under the DWA, provides vocational training in tailoring, block printing, and embroidery.
Basic computer and ICT training programs are actively offered in 64 District Computer Training centers.
As a nation, it is imperative that we collaborate to dismantle barriers hindering girls and equip them with the necessary tools for success. Empowering women inherently empowers the entire nation.