The United States' recent intervention in Bangladesh's political landscape through its call for unconditional dialogue among the Awami League (AL), Jatiya Party (JP), and Bangladesh Nationalist Party (BNP), has ignited serious debates within the nation's political arena. Letters from the US call for "dialogue without preconditions" between the three major parties. Donald Lu, assistant secretary of state for South and Central Asian affairs for the United States, also emphasized the value of "free, fair, impartial, and participatory elections" in his letters.
The rationale behind singling out these political parties and the ramifications of this intervention on the democratic processes of the nation are subjects of inquiry. This invitation raises issues about its purpose and worries about foreign meddling in Bangladesh's domestic affairs.
Why Selective Invitation?
The United States Ambassador to Bangladesh, Peter Hass, presented the Awami League, BNP, and Jatiya Party with a letter authored by Assistant Secretary of the State Department Donald Lu. The United States' action coincides with the upcoming announcement of the schedule for the 12th parliamentary election by the Election Commission on November 15th. The invitation's exclusive nature generates unease among members of Bangladesh's political spectrum.
Separating smaller but powerful groups from this conversation process may cause resentment and skepticism about its fairness. This exclusivity could unintentionally make any agreements that come out of it less legitimate since real inclusion in political dialogue means that all important parties have to be involved. The US's discussion and intervention may deepen the political divisions. Given the current complex political environment of Bangladesh, it is imperative to acknowledge that sustainable solutions in a democratic system necessitate an all-encompassing and inclusive strategy.
Bangladesh's response
The response of Bangladesh to this US intervention differs among political entities. Although certain individuals regard it as a chance to engage in productive discourse, the majority perceive it as an encroachment by an external force upon the sovereignty of the nation. The Awami League-led government of Bangladesh has demonstrated a readiness to adopt specific reforms that are crucial for the maintenance of democratic values. Approving Digital Security Act modifications shows governments' willingness to incorporate constructive feedback to improve democratic standards. Foreign Minister Dr AK Abdul Momen said on Tuesday that the government is willing to hold dialogue but needs to consider with whom it will do so. Dr. Momen's declaration of the government's recognition of the necessity for dialogue indicates an appreciation for the importance of inclusiveness and discourse in preserving democratic values.
"We have no problem holding dialogue. We do not want to undermine democracy. We will do everything to uphold democratic values, and if it requires dialogue, we are ready. However, we must consider with whom we will engage in the dialogue," the Foreign Minister said when asked to comment on the US proposal for dialogue.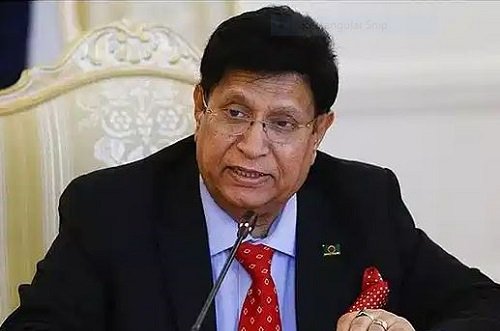 Dr. Momen emphasized that Bangladesh is a democratic nation in which all citizens are encouraged to voice their views and make suggestions. He further stated that even the United States is not as free as Bangladesh, where expatriates are not permitted to advise on domestic policies.
Moreover, following a meeting between Peter Haas and JP Chairman GM Quader, where Haas had personally handed over the letter to him, Mujibul Haque Chunnu, briefing journalists, highlighted their stance.
Chunnu said, "We did not tell the United States what we wanted. I told them that the election was our internal matter. We will inform the Election Commission about what we want."
He added, "The US ambassador has actually brought a letter written by Assistant Secretary of State for South and Central Asian Affairs Donald Lu. He handed over the letter to our party chairman. Peter Haas said the same letter is being given to three parties – Awami League, BNP and Jatiya Party.
Both Foreign Minister Dr. AK Abdul Momen and Jatiya Party's stance emphasize Bangladesh's commitment to preserving democratic autonomy and internal decision-making while addressing the US proposal for talks.
A BNP standing committee member, preferring anonymity, disclosed to UNB that the letter from Lu, assistant secretary at the Bureau of South and Central Asian Affairs, was sent to party Acting Chairman Tarique Rahman for his decision-making. He said: "We scanned the letter and sent it to Tarique Rahman. He'll decide on this."
Interfering is always easier
The narrative of bias has been a recurring theme in the United States' engagement with diverse political factions worldwide, particularly in regard to the imposition of sanctions and selective outreach. The United States has sustained diplomatic ties with various political parties in Bangladesh throughout its history, taking into account their significant influence on the country's political terrain. There's doubt regarding the US's support for democracy and fair elections in Bangladesh due to this bias.
The letter of unconditional dialogue authored by Donald Lu, which was received in the United States a few days following the India-US Two Plus Two meeting and just prior to the disclosure of election details in Bangladesh, has caused considerable confusion. A spokesman for the State Department, Mathew Miller, said earlier that the United States thinks that Bangladesh's government and future should be decided by the people, but he did not address anything about third-country policies. However, many of his answers to questions about this issue have been hard to find. Nonetheless, the selective actions and active involvement of the United States in Bangladesh's political sphere have once again sparked controversy.
Last month, during a press conference following her return from Brussels, Prime Minister Sheikh Hasina declared that Bangladesh would partake in dialogue with President Trump should US President Biden and Trump both agree to engage in dialogue. An illustration of the government's prudence regarding the acceptance of external mediation is Prime Minister Sheikh Hasina's analogy between prospective dialogue and the interaction between former President Trump and US President Biden. This cautious approach supports the idea that Bangladesh's stakeholders should shape and settle its internal political dynamics without outside meddling.
The employment of dialogue as a mechanism in Bangladeshi politics is not a novel or efficacious strategy; rather, it is a protracted process. Prior to this, the power-scarce and oppositional political parties in Bangladesh made a number of fruitless attempts at dialogue. Foreign mediation facilitated ongoing dialogues between the opposition party Awami League and the governing party BNP, even amidst the extreme political instability of the Caretaker government in 2006. The ultimate failure of those dialogues, however, resulted in the formation of the One-Eleven government, which was supported by the military.
Finally, the US's selective intervention's aims must be examined in Bangladesh's complicated political context. The goal of supporting fair elections and democratic stability seems commendable, but selective engagement and historical precedents raise worries about ulterior motives.