The ongoing digital revolution is transforming economies globally, leading to increased productivity and efficiency for nations embracing these technologies. Recognizing the significance of this trend, Bangladesh has undertaken initiatives to boost the digital literacy of its population.
Recent evidence highlights Bangladesh's impressive economic growth, positioning it as a potential "tiger economy." A study by the Centre for Economics and Business Research (CEBR) predicts that Bangladesh, currently the 34th largest economy, is expected to rise to the 20th position by 2037. This rapid advancement is just the beginning. The goal for Bangladesh is to build upon its current achievements and elevate them further by 2041.
Digital Progress in Bangladesh
Bangladesh has strategically positioned digitization at the forefront of its developmental journey, resulting in a paradigm shift marked by a commitment to digital expansion. The government's focus on simplifying public service delivery and advancing information and communication technology (ICT) has manifested in various initiatives. These efforts include the training of a burgeoning freelancer community, offering them ample opportunities, and streamlining public services through national portals, thereby reducing time, cost, and the necessity for multiple visits.
A noteworthy stride has been Bangladesh's ambitious move towards a cashless society, adopting mobile banking and digital payment systems as primary conduits for financial transactions. This not only has bolstered the nation's economic climate but has also substantially improved the quality of life for millions of residents.
Despite initial challenges related to digital literacy, Bangladesh has made remarkable progress, evident in the exponential increase of FinLab beneficiaries from 100,000 in 2017 to a staggering 18 million today. This surge is indicative of the swift embrace of mobile banking and digital payments by the Bangladeshi population, facilitated by effective collaboration among over 20 government agencies.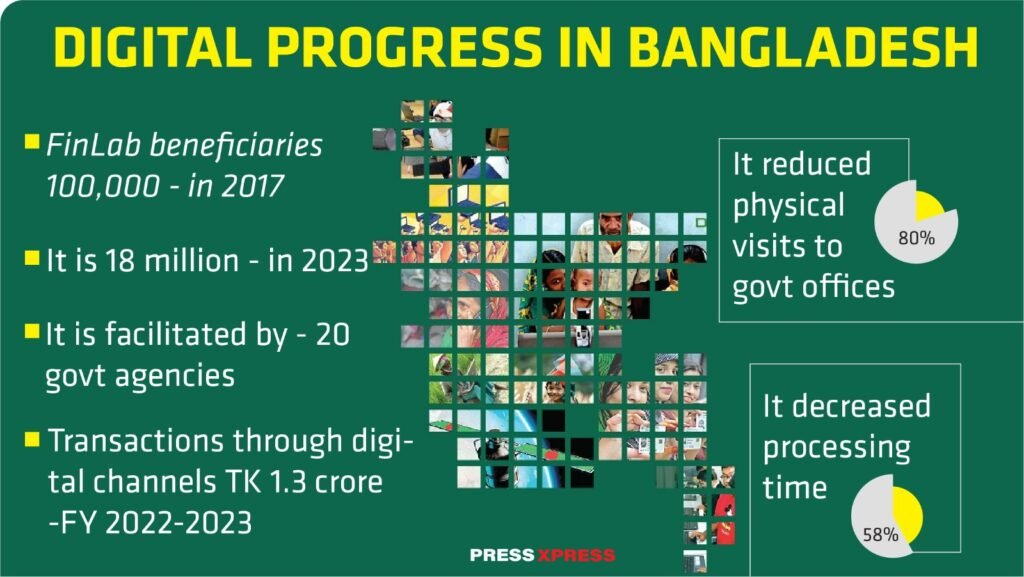 Since the fiscal year 2022–23, transactions through digital channels have totaled nearly Tk 1.3 crore, leading to an impressive 80% reduction in physical visits to government offices and a notable 58% decrease in processing time. This transition has alleviated the burdens on individuals who previously had to make frequent trips to government offices for financial incentives from social safety net programs, benefiting people of all backgrounds and abilities.
Bangladesh's commitment to financial inclusion extends beyond governmental support. The nation provides freelancers with the autonomy to earn according to their terms. With 650,000 freelancers generating a combined annual revenue of $1 billion, Bangladesh has effectively harnessed the potential of its workforce.
The "Learning and Earning Development Project" has played a pivotal role, offering IT-related training programs to 53,000 young individuals since 2014. This initiative challenges the notion that digital literacy is superfluous, highlighting Bangladesh's strides in fostering digital inclusion.
Furthermore, approximately 30,000 freelancers have been equipped with smart credentials, facilitating access to bank loan facilities and earning them a 4% incentive on foreign currency transfers. This not only boosts remittances into Bangladesh but also ensures financial stability for freelancers.
Bangladesh's journey toward digital inclusion and a cashless society serves as an illuminating model for nations globally. Overcoming initial obstacles, the country has effectively utilized digital technology to enhance the lives of its citizens. The collaborative efforts of government organizations, the rise of freelancers, and the emphasis on digital literacy have collectively contributed to this transformative process.
Govt Services Evolution Journey
In recent years, the Bangladeshi government has demonstrated a steadfast commitment to modernizing and enhancing the efficiency of public services. A notable example is the myGov application, which offers access to 2000+ public services from various government agencies, streamlining operations, and reducing processing times. The national portal's expansion to 50,000+ government offices has become a crucial tool for policymakers, aiding informed decision-making.
The impact of these initiatives is evident in the impressive statistics: 2.3 million myGov mobile app downloads, 30 million monthly visits to the national web portal, and 7–10 million monthly services provided by digital centers nationwide. Particularly noteworthy is the positive impact on remote and rural areas. This transformative journey began in 2010 with the introduction of Digital Centre facilities, evolving from 10 to over 200+ services by challenging norms and fostering digital acceptance since 2007.
This digital evolution, coupled with increased digital literacy, empowers individuals and proved essential during the COVID-19 pandemic. The government's dedication to digital integration reflects effective adaptation and paves the way for Bangladesh's promising digital future, illustrating the significant strides made in recent years.
Unleashing the Power of Digitalization on a Global Canvas
Embracing digitization on a global scale, Bangladesh actively participates in the international arena. The incorporation of the e-quality Centre signifies Bangladesh's dedication to ensuring a worldwide absence of digital divides. The country aims to assist Global South nations, particularly those early in their digitization journey, in adopting digital transformation. In the current era of globalization, collective efforts are crucial for achieving significant milestones. Bangladesh is currently collaborating with countries such as São Tomé and Príncipe, Uganda, Somalia, etc., and has proposed the International ICT Innovation (i3) funds to aid least-developed countries (LDCs) in implementing digital solutions and narrowing the digitalization gap.
Bangladesh's commitment to advancing financial inclusion and technology is poised to yield even more remarkable outcomes in the future. The country's adeptness in navigating the digital age underscores the importance of embracing technology to elevate overall living standards. Bangladesh's history serves as a testament to the boundless opportunities presented by the digital revolution.
Through initiatives like training programs, bank funding, and the promotion of digital payment methods, Bangladesh is fostering inclusive opportunities. This encompasses active engagement of disabled individuals in the economy, overcoming barriers to achieve self-sufficiency, and supporting female entrepreneurs.
With a steadfast commitment to building a Smart Bangladesh and serving as a role model for other LDCs aspiring to digitize, the next two decades are anticipated to be exciting for Bangladesh. This period holds the promise of a prosperous, innovative, and equitable Bangladesh, leaving no one behind in the journey toward digitization.