The Prime Minister's Office has issued a directive to the Bangladesh Bank, emphasizing the need for streamlined facilitation of the Letter of Credit (LC) process, particularly for essential commodities. This directive reflects the government's commitment to proactively address the challenges faced by the public.
The directive, communicated on Sunday, 12th November (2023), has been disseminated to key entities such as Bangladesh Bank, Sonali Bank, and other relevant banks, along with District Commissioners (DCs).
As a part of this initiative, financial institutions have been instructed to closely monitor the opening of LCs for crucial items, including edible oil, sugar, pulses, eggs, potatoes, and onions. Simultaneously, District Administrators have been tasked with ensuring the stability of potato prices at Tk 27 per kg, with retail prices fixed at Tk 36 at the cold storage gate.
Commerce Secretary Tapan Kanti Ghosh, in a press briefing, unveiled these details, further disclosing that the Trading Corporation of Bangladesh (TCB) is set to initiate the sale of pulses, oil, potatoes, and onions at various locations in Dhaka city starting from Tuesday, 14th November. Notably, individuals without TCB family cardholder ship will also have the opportunity to purchase these essential products.
Addressing the details of the initiative, Ghosh shared that 25-30 trucks will be deployed daily for sales, allowing around 900 people to buy products every working day. This endeavor aims to accommodate individuals living in Dhaka who may not be TCB cardholders due to their voter ID card address being in a village. The number of truck sales may increase if TCB accumulates more products in the future.
The government's this decision to extend this relaxed usance facility is anticipated to alleviate the existing strain linked with Letter of Credit (LC) payments, offering a welcome relief to individuals and businesses, thereby ultimately benefiting them.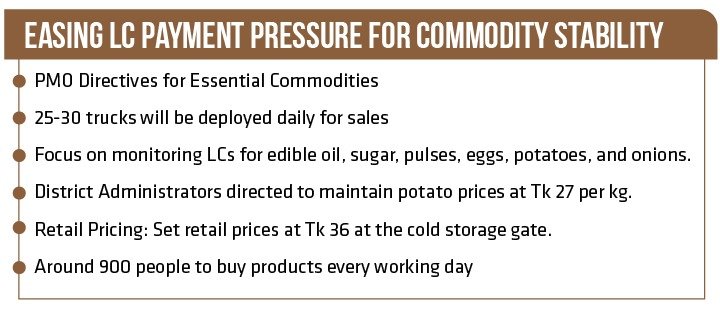 Usance period extended for another six months
Previously, on June 20 (2022), an additional notification was released, announcing the extension of the relaxed usance period facility by the Bangladesh Bank. This extension pertains to the importation of industrial raw materials, encompassing back-to-back imports, agricultural machinery, and chemical fertilizers, and is applicable under supplier's or buyer's credit. The primary objective of this extension is to alleviate the burden associated with import payments.
As per a circular issued by the central bank, banks are now granted the flexibility to defer Letter of Credit (LC) payments related to the importation of these specified products until the end of June, offering a maximum deferment period of up to 360 days.
It's important to note that the extended usance period outlined in the circular does not apply to imports conducted under EDF loans, clarifies the circular.
A senior official from the Bangladesh Bank highlighted that this extension follows a prior decision, where the usance period for imports of industrial raw materials, agricultural machinery, and chemical fertilizers was initially extended from 180 days to 270 days. Subsequently, this period was further extended to 360 days.
The rationale behind this decision to prolong the relaxed usance facility is anticipated to contribute significantly to mitigating the existing pressure associated with Letter of Credit (LC) payments, providing a more lenient timeframe for financial transactions. In the context of trade finance, a usance or deferred Letter of Credit implies that buyers are granted a grace period after receiving goods or services to fulfill their payment obligations to banks or other lending institutions.
Bangladesh eases LC cash margin for essential commodities to import 10 types of goods
On June 2023, the Bangladesh Bank implemented a significant policy adjustment, relaxing the cash margin requirements for the importation of goods across various sectors, including industries, health, construction, transport, ICT, and raw materials. This move delegated the authority to issue letters of credit for these specific products to banks, contingent upon their established relationships with clients.
The Bangladesh Bank complemented this announcement by publishing a comprehensive list specifying the sectors to which this relaxed cash margin would be applicable.
Concurrently, in an endeavor to conserve foreign exchange reserves, Bangladesh opted to increase the cash margin for the import of non-essential goods from 50 percent to 75 percent. Notably, the cash margin for luxury items was further elevated to 100 percent. Essential commodities such as baby foods, critical food items, fuel, medicines, and equipment were deliberately excluded from this adjustment to safeguard their uninterrupted supply.
Subsequently, banks, in adherence to the provided list, began applying the 75 percent cash margin to security equipment, computer parts, transport, and construction materials. This move was prompted by the exclusion of these items from the initial list of sectors enjoying relaxed cash margin requirements.
The list of products with relaxed cash margin is as follows:
Parts of industrial machinery.
Textile raw materials, chemical and associated goods.
Plastic and packaging items and related raw materials. – Medical equipment, accessories and reagents.
UPS/IPS parts and accessories.
Security-related goods.
Construction-related materials, steel sheets, H-beam, etc., that complement locally manufactured goods.
Computers/laptops and their parts.
Hardware related to information and communication technologies, the internet and cyber security.
Vehicle parts, tyres and tubes.
Conclusion
the government's implementation of these multifaceted measures underscores Bangladesh's unwavering commitment to adapt and innovate in response to economic challenges. This strategic approach is aimed at fostering a resilient and responsive trade environment, showcasing the nation's dedication to ensuring economic stability and growth.