Highlights:
Bangladesh secured the second position globally in garment exports
Bangladesh holds a 7.9 percent share of the global apparel market
The government and Bangladesh Garments Manufacturers and Exporters Association (BGMEA) have denied reports that Bangladeshi ready-made garments are being withdrawn from the markets of 12 countries, including the United States and Canada.
BGMEA President Faruque Hassan said on Sunday that any attempt to generalize incidents on the industry and the country at large is unacceptable.
"As the news report mentions about 12 countries withdrawing or recalling apparel made in Bangladesh, there is no reference to such claim, and we could not trace any evidence in support of this claim,"

Faruque Hassan
BGMEA President
Awami League General Secretary Obaidul Quader, also Road Transport and Bridges Minister on Sunday, said,
"The daily newspapers published reports that various brands of garments manufactured in Bangladesh are being withdrawn from the markets of 12 countries including the United States. It's not true. It is a rumor that the 12 countries will not buy clothes."
Product Recall Clarified
"We feel the urge to share this clarification so that misrepresentation of the fact is not repeated,' said the BGMEA chief. He also clarified the reference to The Organization for Economic Cooperation and Development (OECD) which was mentioned in the news report.
OECD maintains a "Global portal on product recalls" and the OECD members' product recall notices are listed in this portal. Product recall for any valid reason is a standard practice and there are hundreds of such recalls listed on the OECD website as of today, said the BGMEA President.
The statement mentioned, "The OECD website mentions "Health Canada recalled more than 200,000 George Brand Sleepers on Wednesday for posing a risk of choking and ingestion. The recall of the product, sold at Wal-Mart, is for sizes 0-5T and affects two styles for boys and two for girls. Zipper pulls and foot grips of the sleepers may eventually separate after frequent washing, leading to choking and ingestion hazards, the agency said, adding it has not received any reports of injury in Canada."
"Therefore, the products were recalled due to certain risk of hazard, which is not the mistake of the Bangladeshi manufacturer. Every product made in Bangladesh must pass through a stringent quality control process and laboratory tests including those of consumer health and safety," he said.
Exported products must meet the buyers' standards and the legal requirements of the export markets. Any product that fails to meet these health and safety requirements may be rejected by buyers or denied entry at the destination port.
"So any misinterpretation like 'apparel made in Bangladesh is banned in the mentioned countries' is false," Hassan said.
The alleged products were shipped from Bangladesh in early 2022 and were retailed in Canada from November 2022 to June 2023. The product recall notice of Health Canada also mentions that "As of September 21, 2023, the company has not received any reports of incidents or injuries in Canada".
"I hope this statement of clarification will help all to clear any confusion on this matter and not to be misguided," said the BGMEA Chief.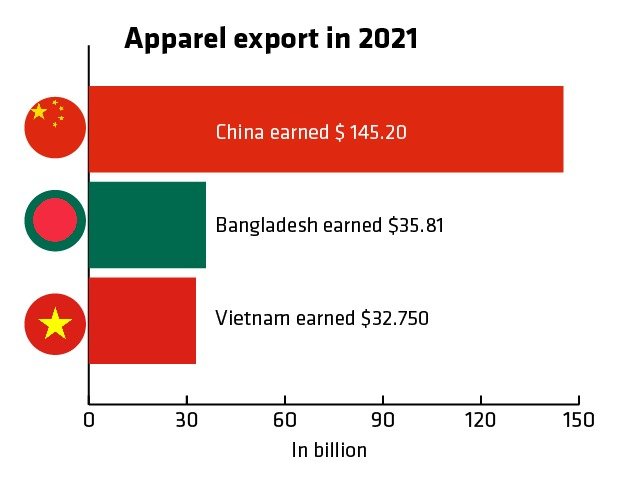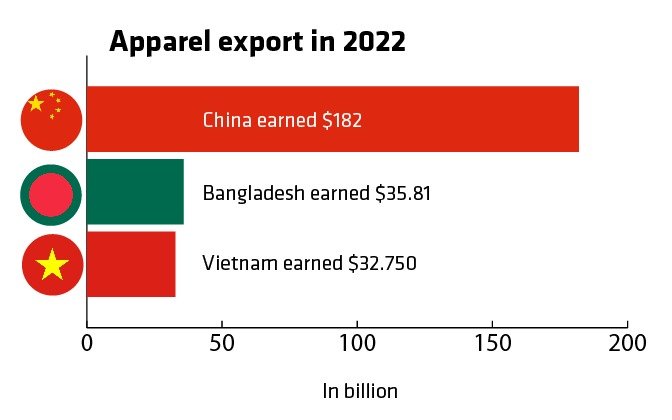 Bangladesh's Garment Exports Remain Strong
In 2020, Bangladesh ceded its position as the world's second-largest apparel exporter to Vietnam, earning $27.47 billion in contrast to Vietnam's $29.80 billion. However, in 2021, Bangladesh reclaimed the second spot, boasting export earnings of $35.81 billion, a position it successfully defended in 2022. Currently, Bangladesh holds a 7.9 percent share of the global apparel market.
As per the World Statistical Review 2023 released by the WTO, Bangladesh secured the second position globally in garment exports, recording $45 billion in apparel exports in 2022, while China maintained its top position.
Global Apparel Market Insights
The World Trade Statistical Review 2023 report offers insights into the top 10 countries in apparel exports. China continued to dominate the global clothing export market in 2022, with apparel exports worth $182 billion, although its market share decreased from 32.8% in 2021 to 31.7% in 2022. Vietnam retained its third place with $35 billion in apparel exports and a 6.1% market share. Turkey emerged as the fourth-largest apparel exporter with a 3.5% market share and $20 billion in exports. India closely followed with a 3.1% market share and $18 billion in apparel exports.
The WTO report also highlighted fluctuations in the market share of leading countries in global apparel exports, comparing statistics from 2000, 2005, 2010, and 2022. China's market share increased from 18.2% in 2000 to 36.6% in 2010 but declined to 31.7% in 2022.
What is Product Recall?
A product recall is the process of retrieving and replacing defective products for consumers. Companies or manufacturers absorb the cost of recalls, including replacing and fixing defective products, and reimbursing affected consumers when necessary.
Recalls can occur in any industry, including car manufacturing, food, medicine, and consumer electronics. They have been steadily increasing worldwide over the past decade, with around 3720 consumer product recalls issued in 2018 by almost 40 jurisdictions.
US Product Recalls Hit Four-Year High in First Quarter Of 2023
The number of product recalls in the United States hit a four-year high in the first quarter of 2023, according to Sedgwick brand protection. Recalls in five key industries increased 14.2% from the fourth quarter of 2022.
With three-quarters of the year still ahead and regulatory and consumer scrutiny continuing to grow, there is a chance that 2023 could be the third consecutive year with over 1 billion recalled units.
Product recalls can hurt sales and stock prices in the short term, but there is no evidence that they have a lasting effect. Toyota and Merck, for example, experienced brief financial losses after product recalls, but both companies rebounded quickly.
Product recalls are becoming more common, likely due to the increasing complexity of the global supply chain. To reduce costs and stay competitive, companies often use manufactured parts from all over the world, which can sometimes compromise reliability.