The World Expo 2030 has three contenders for hosting rights, Saudi Arabia seeks Riyadh, South Korea looks to Busan, and Italy proposes Rome as a potential venues. The host nation will be determined during the Bureau International des Expositions' general assembly on November 28.
In a display of global solidarity and support, Bangladesh has reaffirmed its commitment to stand beside Saudi Arabia as it endeavors to host two of the world's most momentous events: Expo 2030 and the FIFA World Cup 2034. This declaration underscores the Kingdom's burgeoning influence on the world stage and its unwavering dedication to organizing top-tier international occasions, according to Arab News.
Foreign Minister Abdul Momen has wholeheartedly confirmed Bangladesh's steadfast support for Saudi Arabia's ambitions to host both Expo 2030 and the FIFA World Cup 2034. This endorsement of these pivotal events serves as a testament to the strong diplomatic ties between the two nations.
Minister Momen emphasized, "The Prime Minister (Sheikh Hasina) has communicated to the Saudi government our unequivocal support." His statement exudes confidence in Saudi Arabia's competence to efficiently orchestrate both the Expo and the World Cup. The Kingdom's forward-thinking approach and abundant resources position it as the ideal choice to host these prestigious events, assuring their resounding success.
Saudi Arabia's Ambitions for Expo 2030
Saudi Arabia's ambition to host Expo 2030 was announced by Crown Prince Mohammed bin Salman in October of the previous year (2022). The country subsequently submitted its formal application in December to the Bureau International des Expositions, the organization responsible for the Expo. The final host nation for Expo 2030 will be decided during the general assembly of member countries on November 28.
This bid, competing against South Korea's proposal in Busan and Italy's bid in Rome, demonstrates Saudi Arabia's desire to be at the forefront of international innovation and cultural exchange. If successful, Expo 2030 will provide a unique platform for nations to showcase their achievements and contribute to global progress.
Saudi Arabia's Vision for the FIFA World Cup 2034
Saudi Arabia's bid to host the FIFA World Cup 2034 marks another significant milestone in the Kingdom's pursuit of hosting world-class sporting events. FIFA, the governing body for international association football, has invited bids from Asia and Oceania for the 2034 tournament. Saudi Arabia, being one of the contenders, has unveiled a comprehensive vision for the event.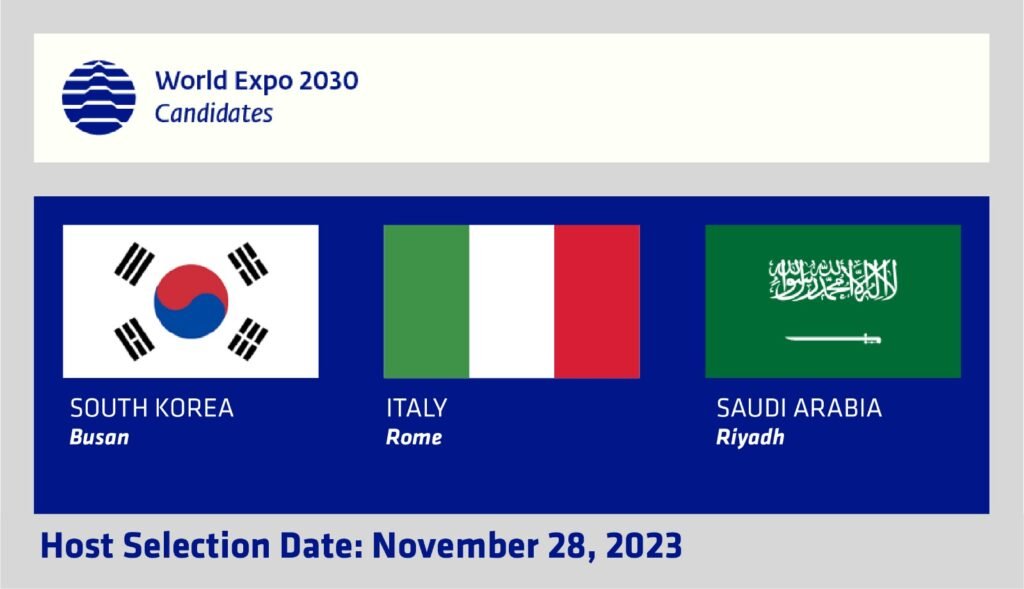 The Saudi Arabian Football Federation's bid for the FIFA World Cup 2034, announced on October 4, aims to create a world-class tournament. It draws inspiration from the Kingdom's ongoing social and economic transformation and its deep-rooted passion for the sport. Saudi Arabia's growing experience in hosting prestigious football events, along with its plans to welcome fans from across the world for the 2023 FIFA Club World Cup and the 2027 AFC Asian Cup, further solidify its credentials as a potential host for the World Cup.
Significance of Bangladesh's Support
Bangladesh's pledge of support for both Expo 2030 and the FIFA World Cup 2034 underscores the Kingdom of Saudi Arabia's ability to garner international backing for its ambitious endeavors. It highlights the country's determination to foster relationships and collaborations on a global scale, and further positions Saudi Arabia as a prominent player in hosting international events.
As the world eagerly anticipates the decisions on Expo 2030 and the FIFA World Cup 2034, the international community watches with great interest. Should Saudi Arabia's bids be successful, they will not only bring these monumental events to the Kingdom but also symbolize a new era of cooperation and global engagement.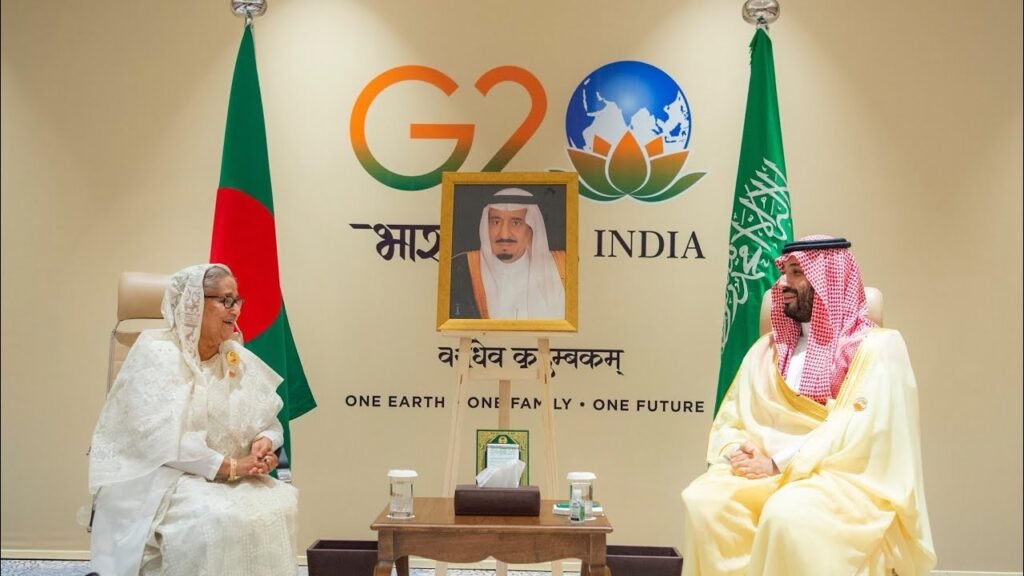 Bangladesh-Saudi ties strengthen
Saudi-Dhaka relations have evolved significantly in recent years, marked by growing cooperation and mutual understanding. This dynamic partnership has expanded across various sectors, including trade, energy, defense, and culture. As both countries strive for economic development and regional stability, their collaboration has become increasingly vital.
Over the past five decades, Bangladesh has undergone remarkable economic growth, transforming itself into a thriving financial and industrial hub in South Asia. According to the World Bank, Bangladesh stands among the world's fastest-growing economies, bolstered by its continuous expansion in ready-made garment exports, demographic advantages, and stable macroeconomic stability.
This economic success has broadened Saudi Arabia's perception of Bangladesh, moving beyond religious considerations to view it as a highly attractive investment opportunity. Consequently, Saudi Arabia has emerged as one of Bangladesh's most dependable bilateral development partners, with the nature of their relationship evolving from a single-dimensional association to encompass diverse and multi-faceted cooperation initiatives over time.
Saudi Arabia and Dhaka have witnessed remarkable growth in their relations over the years, transforming their partnership into a multifaceted alliance. This relationship is driven by shared economic interests, cultural exchanges, defense cooperation, and a commitment to addressing global challenges together. The global community eagerly awaits the outcomes of Expo 2030 and the FIFA World Cup 2034. If Saudi Arabia's bids succeed, they will not only bring these significant events to the Kingdom but also signify a fresh era of collaboration and worldwide involvement.