All fishing boats and trawlers over North Bay and deep sea have been advised to remain in shelter till further notice.
The Bangladesh Meteorological Department has issued advisories to the maritime ports of Payra and Chattogram, instructing them to hoist danger signals. Cox's Bazar has been assigned danger signal number seven, while Mongla has been assigned danger signal number five. This warning is in response to the impending severe cyclonic storm Hamoon, which is expected to make landfall on the Barishal-Chattogram Coast near Bhola sometime between Wednesday morning and noon, maintaining its cyclonic storm strength.
State Minister for the Ministry of Disaster Management and Relief, Dr. Enamur Rahman, has announced the relocation of at least 1.5 million people to shelters in areas vulnerable to Cyclone Hamoon by 8 pm today (24th October). He revealed that the low-pressure area transformed into Cyclone Hamoon on Monday (23th October).
This cyclone is heading in a northeasterly direction toward the Chattogram and Barishal coasts and is presently located 310 km from Payra port, with wind speeds ranging from 89 kmph to 117 kmph.
According to the latest bulletin, known as bulletin number 10 from the Meteorological Office, the forecast indicates that coastal areas, including Barishal, Patuakhali, Bhola, Barguna, Pirozpur, Jhalakathi, Chattogram, Feni, Noakhali, Laxmipur, Chandpur, as well as the offshore islands and chars, will be placed under danger signal number seven.
Due to the peripheral effects of this severe cyclonic storm, the northern bay and coastal regions of Bangladesh should brace for heavy rainfall, with precipitation amounts ranging from 44 to 88mm, and potentially exceeding 89mm in some areas. These rains will be accompanied by gusty or squally winds, leading to challenging weather conditions.
In addition, all fishing boats and trawlers operating in the North Bay and deep sea are strongly advised to seek shelter until further notice.
Chittagong port issues alert 3; relocates lighter vessels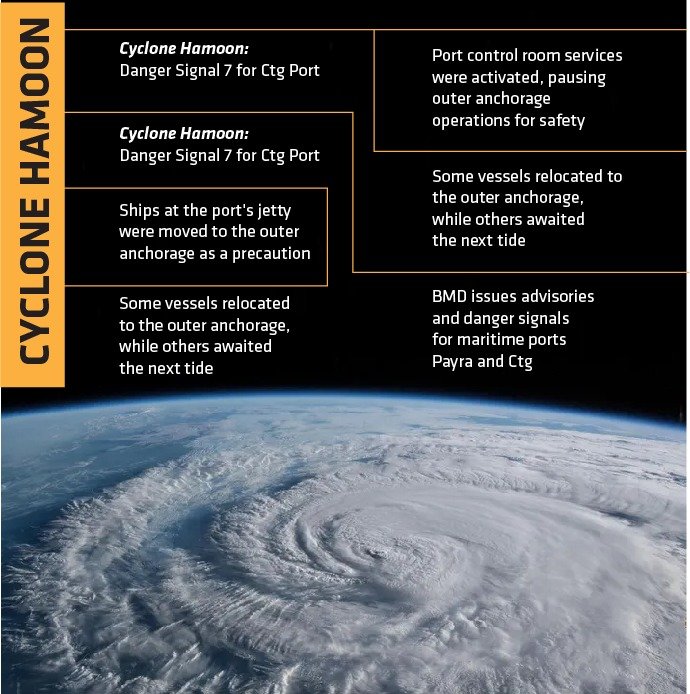 The Chittagong Port Authority responded to a severe cyclonic storm warning issued by the Bangladesh Meteorological Department on October 24. They activated their "Alert 3" signal, prompting an emergency meeting. The port authority directed all ships at the port's jetty to be relocated to the outer anchorage. Due to adverse weather conditions, unloading from mother vessels at the outer anchorage was temporarily suspended. The port's control room services were activated, and all loading and unloading operations at the outer anchorage were halted. Some vessels were moved to the outer anchorage, while others awaited the next tide for removal. Pre-scheduled delivery operations continued at jetties, terminals, and yards.
How Hamoon got its name?
The cyclone naming system is established by the World Meteorological Organization, with participation from member nations of the United Nations Economic and Social Commission (ESCAP).
Cyclone Hamoon received its name from Iran. "Hamoon" is a Persian term that signifies inland desert lakes or marshlands. These lakes occur as natural seasonal reservoirs in regions bordering the Helmand basin.
Inland water transport on southern routes suspended
The Bangladesh Inland Water Transport Authority (BIWTA) has suspended all water vessel services along the Dhaka-Barisal and southern routes due to inclement weather caused by the approaching severe cyclonic storm Hamoon. This directive was issued at 10 am on Tuesday, October 24, as the meteorological office had previously issued warnings for danger signal number 7 in several coastal districts. In response to this, Barishal River Port hoisted Inland River Port Warning Signal No II, leading to the suspension of launches and other water vessel movements in the Barishal region.
Launches on the southern and Dhaka-Barisal routes were seen anchored at pontoons, and speedboat services in various areas, including Barishal, Mehendiganj, Laharhat, Bhola, and other internal routes, have come to a halt. However, river crossings have not been halted at this time.
To prepare for Cyclone Hamoon, an emergency disaster prevention meeting was held at the Barisal District Commissioner's office.
BMD issues danger signal 5 for Satkhira coast
The Bangladesh Meteorological Department has issued Danger Signal No V for the coastal regions of Satkhira district in anticipation of Cyclone Hamoon's landfall along the Bangladesh coast between October 25 and 26.
Zulfikar Ali, the Officer-In-Charge of the Satkhira meteorological department, has warned of heavy rainfall and gusty winds expected in the area. Additionally, the coastal areas may be at risk of flash flooding due to a wind-driven surge height that could reach 3-5 feet above the normal astronomical tide.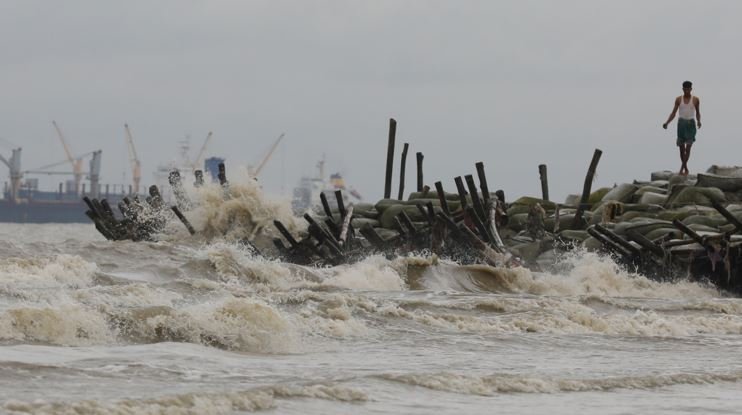 Alert System for Cyclone Preparedness
In 1992, the Chittagong Port Authority (CPA) established a four-tiered alert system for Cyclone-Disaster Preparation and Post-Cyclone Rehabilitation, aligning with warnings from the Meteorological Department. When the Bangladesh Meteorological Department issues signal number 3, Alert 1 is activated at Chattogram port. Signal number 4 prompts Alert 2. Alert 3 is triggered by warning signal numbers 5, 6, and 7, leading to the movement of vessels from the jetty to open anchorage. When high distress signals 8, 9, and 10 are issued, the port activates the highest warning level, Alert 4.
Strongest cyclone in 2023
On May 14, 2023, the highly destructive cyclonic storm named Mocha struck the land area between Cox's Bazar in Bangladesh and Kyaukpyu township in Myanmar. This cyclone resulted in substantial damage to vital infrastructure, residences, and shelters in the western and northern regions of Myanmar, encompassing Chin, Kachin, Magway, Rakhine, and Sagaing states. Additionally, it affected Bangladesh's southeastern Chattogram division.
The most devastating and expensive tropical cyclone of the year is Cyclone Daniel. It claimed the lives of over 10,028 individuals across Libya, Greece, Turkey, and Bulgaria and resulted in a minimum of $21.14 billion in damages, with the majority of the losses occurring in Libya and Greece.
As Bangladesh prepares for the incoming cyclone, let's review 10 of the deadliest cyclones in its history:
1970 Bhola Cyclone: Claiming 500,000 lives, it remains the deadliest on record.
The Great Backerganj Cyclone (1876): Devastating the Backerganj coast, it caused around 200,000 deaths.
1897 Chattogram Cyclone: This storm led to 175,000 fatalities and a cholera epidemic.
1991 Bangladesh Cyclone: Striking offshore islands, it caused 140,000 deaths and $1.5 billion in damage.
December 1965 Cyclone: Taking 19,279 lives, it struck Cox Bazaar and nearby areas.
1963 Cyclone (28-29 May): Hit Noakhali, Cox's Bazaar, and offshore islands, resulting in around 11,520 deaths.
1961 Cyclone: In Bagerhat and Khulna, it caused 11,468 fatalities.
1985 Cyclone (24th-25th May): With a death toll of around 11,000, it struck Chattogram.
1988 Cyclone 04B: Hitting coastal areas, it led to approximately 11,708 deaths.
1960 Cyclone: Striking with a wind speed of 210 km per hour, it caused around 5,149 deaths.
The 1970 Bhola Cyclone stands as the deadliest among them, with 500,000 casualties. In addition to these historical cyclones, recent ones like Sidr (2007), Aila (2007), Mahasen (2013), and Roanu (2016) have affected Bangladesh. Cyclone Sidr, in particular, resulted in 3,363 deaths. After cyclones, the government and humanitarian teams provided immediate assistance, with Rohingya refugee volunteers also aiding their communities