Bangladesh, is now directing its efforts towards strengthening nutrition security and expanding its food exports.
After gaining independence, Bangladesh's agriculture sector took the forefront as the leading force behind its economy, contributing to nearly 60 percent of the GDP. This sector plays a crucial role in the livelihoods of its people, employment opportunities, this sector stands as a central pillar in our economy, actively diminishing poverty and upholding food security. Bangladesh, is now directing its efforts towards strengthening nutrition security and expanding its food exports.
One of the distinguished recipients of the coveted 2023 FAO Achievement Award is the Sara Bangla Krishak Society (SBKS). FAO Director-General QU Dongyu made the announcement during the opening ceremony of the 2023 World Food Day, in the presence of a notable gathering. In a remarkable gesture of solidarity, SBKS shares this outstanding recognition with a Kenyan organization, marking a significant milestone for agricultural organizations globally.
In light of this achievement, Rita Brahmo, expressed her profound gratitude emphasizing that: "This milestone attained by the Sara Bangla Krishak Society truly belongs to all our small and marginalized farmers. As we face the looming threat of another food crisis due to the global economic recession, this accolade fosters a vital sense of unity and mutual support. Let us continue our collaborative efforts, much like we did during the COVID-19 crisis."
Diversification of Farming and Economic Significance
A hallmark of contemporary economies involves expansion within both the industrial and service sectors, and this trend has been increasingly noticeable within the agricultural sector. Bangladesh has embarked on a journey towards self-sustained growth, setting a remarkable global benchmark.
Food grain production, driven by innovations in rice varieties, flourished on one front, while fisheries, poultry, livestock, and dairy evolved into substantial economic drivers on the other. These sectors transformed into commercial operations led by a new generation of enterprising youth and women entrepreneurs, rather than remaining as mere amateur pursuits.
Valuable fruit orchards and vegetables were instrumental in driving the economic upturn. The agricultural service sector also received a substantial boost from the added value of these farm products.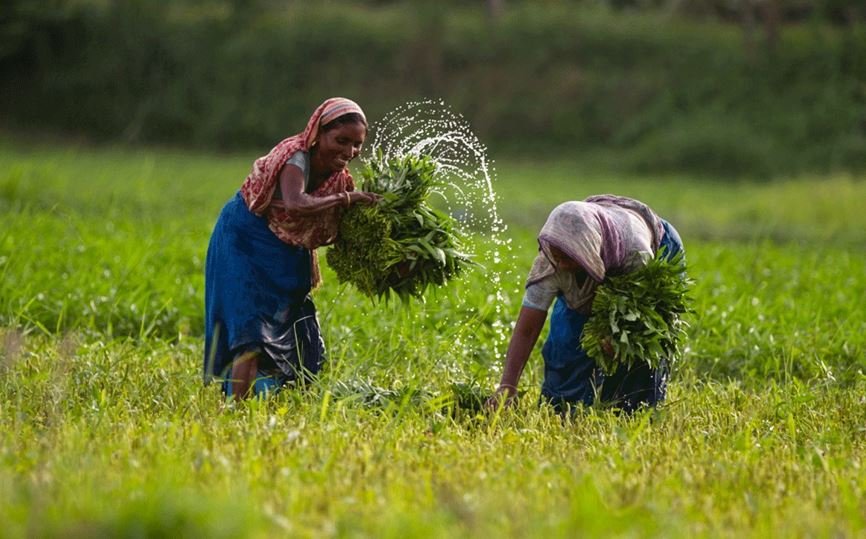 Agriculture's Contribution to GDP and Employment
Over the past two decades (1999-2019), there has been a consistent annual growth of 3.54 percent in the value of agricultural production. As previously highlighted, this sector continues to be the primary source of employment, supporting 40 percent of the workforce and maintaining its status as the largest employment sector. The agricultural industry alone employs more than 40.6 percent of the population, either directly or indirectly.
Agriculture also indirectly contributes by supplying essential raw materials for industrial processing. Currently, numerous agro-processing industries rely entirely on agriculture for their essential raw materials, such as rice milling, sugar, tea, fruit juice, spices, and more.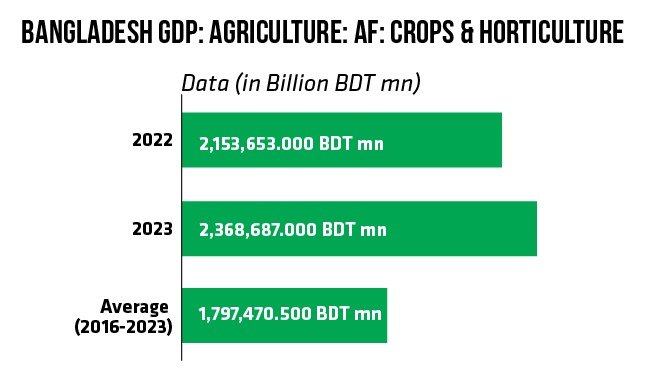 Technological Advancements and Support for Farmers
BINA (Bangladesh Institute of Nuclear Agriculture), leveraged nuclear and advanced technologies to enhance agricultural production in an environmentally sustainable manner. Once, we relied on importing capsicum; now we cultivate it on our own soil. At present, domestic vegetables are being sought after by a host of five-star hotels and restaurants across the nation, thereby curbing the need for foreign currency expenditure and fostering job creation in the agriculture sector.
Bangabandhu Sheikh Mujibur Rahman, the founding father of the nation, pioneered subsidy support in agriculture, particularly for fertilizers, as part of his strategic vision to guarantee food security. The agricultural infrastructure established by Bangabandhu, including provisions for seeds, irrigation, and agricultural extension services, has significantly contributed to the current thriving service sector.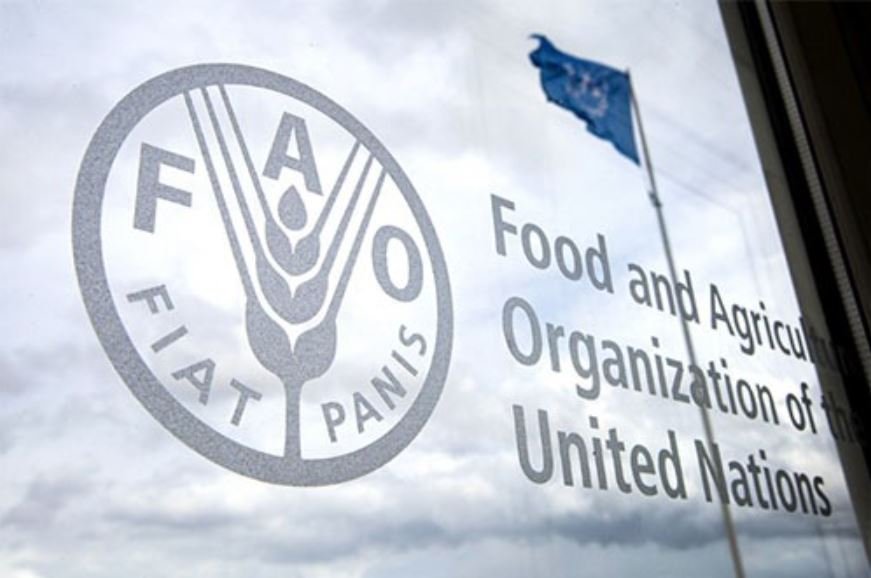 Notably, the Bangladesh Agricultural Development Corporation (BADC) has played a pivotal role in the successful cultivation of a diverse range of crops, owing to its effective management of high-yielding variety seeds. This has led to a remarkable increase in Bangladesh's crop diversity and production.
Customized technology solutions should be offered to farmers in line with their local climate change situations. Giving higher priority to agricultural mechanization and the integration of ICT in farming can be instrumental in our battle against climate change. Similarly, a focus on weather-based index and crop insurance can truly empower farmers and enhance their resilience.
Preparation for the Fourth Industrial Revolution (4IR)
According to Shykh Seraj, country's pioneer development journalist, when designing the higher studies curriculum in agriculture, it's crucial to consider the implications of the fourth industrial revolution (4IR).
Once their education is finished, this new generation of students will be able to contribute more effectively in the field, offering practical and innovative solutions to support farmers, all with the aid of cutting-edge technologies and government backing. In order to execute Prime Minister Sheikh Hasina's Vision 2041, it's essential to create a 'Digital Economy'.
The success story of Bangladesh's agricultural sector is a testament to the transformative power of perseverance, innovation, and collective effort. From a strong foundation built upon the toil of its farmers, the nation has not only achieved self-sufficiency but also emerged as a global agricultural powerhouse. The recognition bestowed upon the Sara Bangla Krishak Society (SBKS) serves as a beacon of hope, symbolizing the remarkable progress and resilience of the sector.
With a keen eye on the future and a commitment to embracing the Fourth Industrial Revolution, Bangladesh is poised to continue its journey towards sustainable growth, prosperity, and food security. As we celebrate this remarkable achievement, let us remain steadfast in our support for the farmers, the backbone of our nation's progress, and collectively strive for a future where agricultural advancements and technological innovations go hand in hand, ensuring a prosperous and secure tomorrow for all.