India and Bangladesh have a rich history of collaboration across various sectors, with energy cooperation standing out as a pivotal element of their partnership. Recognizing the critical role of energy in driving economic and social development, both nations are set to further deepen their cooperation in this realm.
In the face of global energy market volatility, Bangladesh is taking steps to import re-gasified liquefied natural gas (RLNG) from India through a cross-border pipeline, bolstering its contingency plan for a secure fuel supply. This groundbreaking initiative termed the "India-Bangladesh Friendship Pipeline," serves as a symbol of their commitment to regional connectivity and energy security, among other benefits.
The Cross-Border Energy Pipeline: A Strategic Infrastructure Project
The India-Bangladesh Friendship pipeline, affectionately known as the "Maitree pipeline," is a monumental infrastructure project designed to strengthen bilateral ties between India and Bangladesh. It marks a significant milestone in their relationship, as it aims to transport petroleum products from India to Bangladesh.
This pipeline was officially inaugurated through a video conference held on March 18, 2023, where Prime Minister Sheikh Hasina of Bangladesh and Prime Minister Narendra Modi of India jointly opened the pipeline for carrying diesel oil. The event showcased the high-level commitment of both leaders to fostering stronger regional cooperation.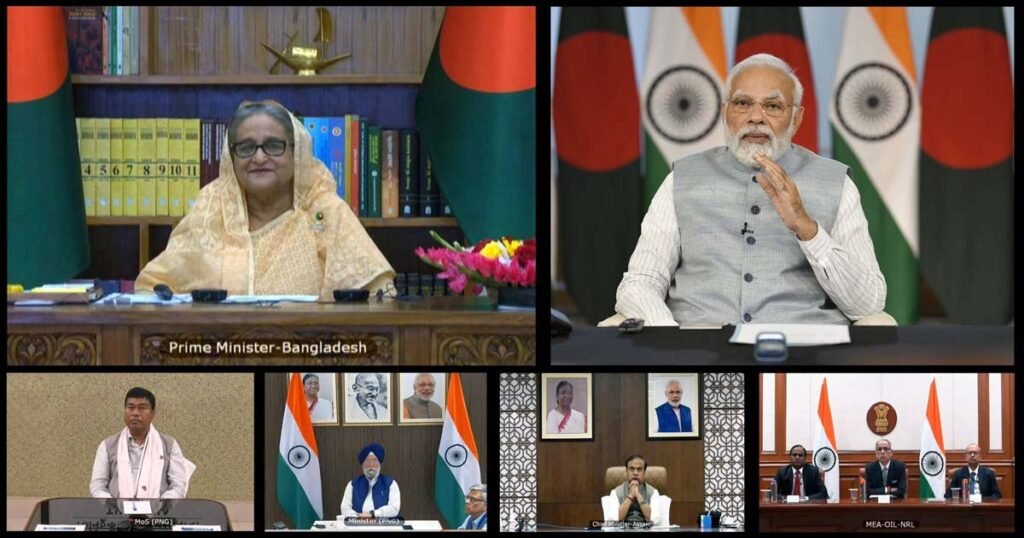 One of the primary goals of the India-Bangladesh Friendship pipeline is to enhance energy security and reduce dependency on volatile global energy markets. This strategic investment aligns with the long-term objectives of both nations: sustainable development and uninterrupted access to energy resources.
The initial goal of this project is to import approximately 1.0 million tonnes per annum (MTPA) of RLNG from H-Energy via the pipeline. This RLNG will primarily be used to fuel the 800MW Rupsha combined-cycle power plant in Khulna, which is operated by the state-owned North West Power Generation Company Ltd (NWPGCL). To meet the plant's energy needs, around 130mmcfd RLNG will be required, with the excess natural gas potentially being fed into the national grid.
Route and Partnerships
International Financing
The financing for the Rupsha power plant includes support from the Asian Development Bank (ADB) of approximately US$600 million and the Islamic Development Bank (IDB) contributing roughly $200 million. The remaining $150 million will be provided by the Bangladesh government. Additionally, Petrobangla is set to receive an additional 200 mmcfd of gas from private company Dipon Gas, which plans to import around 500 mmcfd of RLNG from India. The remaining 300 mmcfd will be sold to individual consumers.
Strengthening Bilateral Ties
Beyond enhancing energy security in Bangladesh, this pipeline serves as a symbol of the deep-rooted friendship between the two nations. Such initiatives are pivotal in catalyzing regional growth and fostering economic and political stability.
Its construction also demonstrates the mutual understanding between India and Bangladesh in identifying and addressing common challenges, such as the need for energy diversification and environmental impact reduction.
Challenges
While the India-Bangladesh Friendship pipeline is a significant step forward in energy cooperation, it's essential to acknowledge the challenges that persist. Political and bureaucratic hurdles can pose delays in the implementation of energy projects. Overcoming these challenges will be crucial for ensuring the continued success of this cross-border energy partnership.
The India-Bangladesh Friendship pipeline is a testament to the enduring friendship and cooperation between India and Bangladesh. This infrastructure project not only strengthens energy security but also paves the way for regional growth and stability. As both nations continue to work together, they are poised to reap the benefits of enhanced energy cooperation, contributing to their economic and social development goals.