The grand stage for international cricket's most significant tournament is all set to come alive in India on October 5, 2023. A spectacular showdown between the 2019 finalists, England and New Zealand, will ignite the International Cricket Council's (ICC) Men's Cricket World Cup at the iconic Narendra Modi Stadium in Ahmedabad on that momentous day.
This cricketing extravaganza will unfold over an intense 46-day period, featuring ten teams locked in fierce competition. All these teams will vie for the coveted men's one-day international (ODI) cricket championship, culminating in an epic final showdown on November 19, 2023.
Ten stalwart teams converge as West Indies to miss
Ten formidable teams will grace this year's event: India, Afghanistan, Australia, Bangladesh, England, Netherlands, New Zealand, Pakistan, South Africa, and Sri Lanka. Notably absent are the two-time champions, the West Indies, who shockingly failed to secure one of the nine qualification spots.
India, as the host nation, secured an automatic berth. While, the other nine countries embarked on a rigorous three-year qualification journey, navigating multiple stages and smaller tournaments.
Seven teams, including defending champions England, punched their tickets to the tournament through their stellar performances in the ICC Super League. The Super League ran from July 2020 to May 2023.
The Netherlands and Sri Lanka clinched the last two coveted spots, emerging victorious in qualification stage earlier this year.
Fixtures to be spanned from September 5 to November 19
The initial phase of the ODI tournament will be a round-robin format, with each team locking horns once. There will have a total of 45 matches. The first phase will culminate on November 12.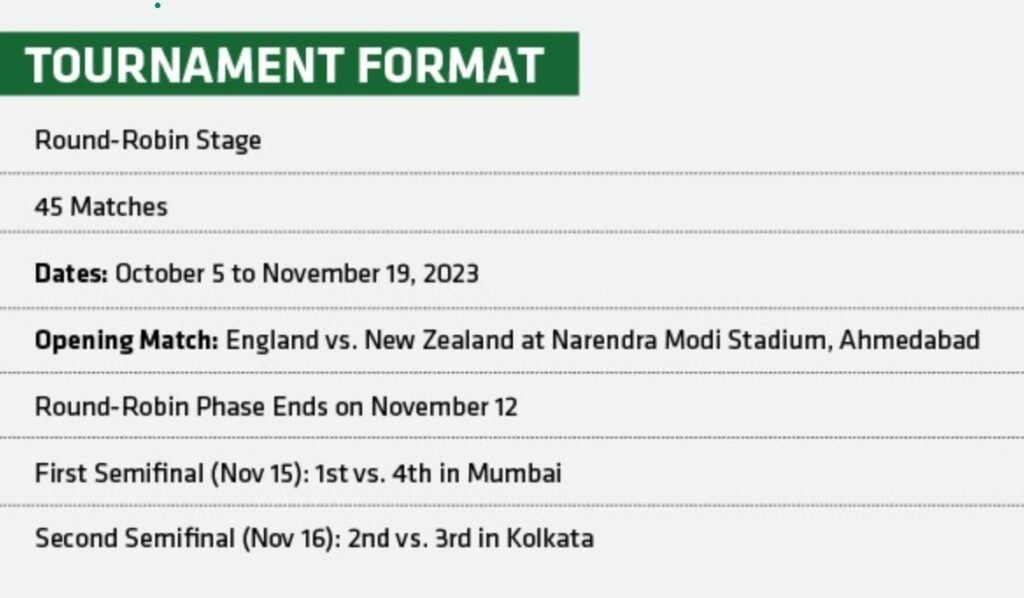 As the dust settles from the round-robin stage, the top four teams will emerge victorious, earning their rightful place in the semifinals. The team finishing first will battle the fourth-ranked team in the first semifinal on November 15 in Mumbai. On the other hand, the second and third-ranked teams will engage in battle in the second semifinal on November 16 in Kolkata.
However, should Pakistan secure a spot in the semifinals, their showdown will take place in Kolkata, irrespective of their position in the standings. If India secures a place, they will fiercely contest their semifinal in Mumbai. Should fate decree a face-off between these arch-rivals in the semifinal, Kolkata will bear witness to an unparalleled cricketing spectacle.
The cricketing extravaganza will span the length and breadth of the nation.Matches will be hosted in cities such as Chennai, Dharamshala, Kolkata, and Ahmedabad.
The host cities include Ahmedabad, Bengaluru, Chennai, Dharamshala, Hyderabad, Kolkata, Lucknow, New Delhi, Mumbai, and Pune, all poised to welcome the cricketing world with open arms.
Key players who could steal the spotlight
In every World Cup, there are standout players who etch their names into the annals of cricketing history with extraordinary performances. As we eagerly anticipate the ICC World Cup 2023, it's imperative to keep a watchful eye on these key players who have the ability to sway the course of matches.
The explosive batting prowess of legends like Virat Kohli, Steve Smith, Babar Azam, Nazmul Hossain Shanto, and Joe Root will be in the hawk eye to watch as they can single-handedly turn a game on its head with their sheer brilliance. The bowling maestros such as Jasprit Bumrah, Mitchell Starc, Taskin Ahmed, Trent Boult, Shaheen Afridi, and Rashid Khan has the potential to cast immense importance as their deliveries can leave the best batsmen flummoxed.
Among the players who can truly captivate spectators with their all-around brilliance, we have the likes of Shakib Al Hasan, Ben Stokes, Hardik Pandya, Mitchell Marsh, and Aiden Markram. These exceptional cricketers are not confined to just one facet of the game; they excel both with the bat and the ball, and their fielding prowess is equally captivating.
Amidst all the amazes to be watched, the stakes are high, with a total prize pool of $10 million at stake. The winners will claim a staggering $4 million, while the runners-up will secure $2 million. Semi-finalists will walk away with $800,000, and teams finishing at the group stage will receive $100,000. Each group stage win will be worth $40,000, adding to the thrilling drama that awaits on the cricketing pitch.
Key players to be missed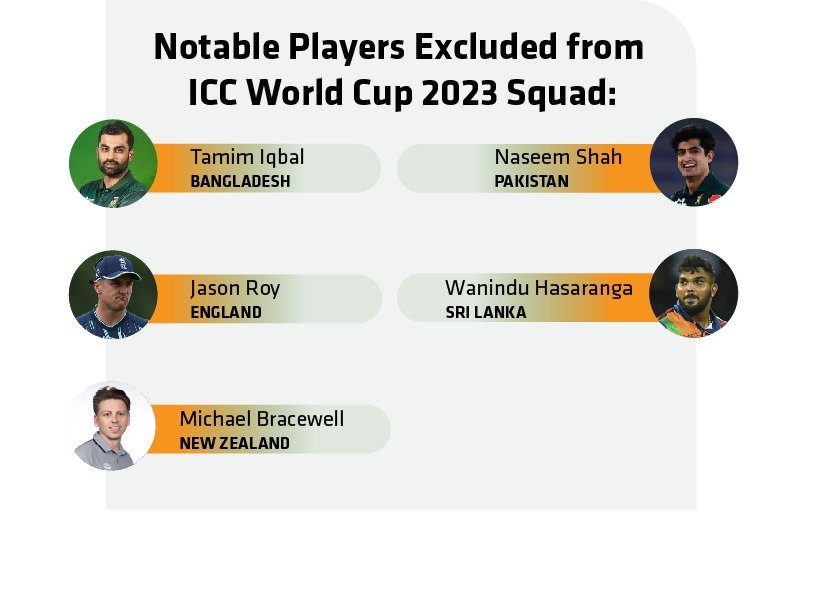 Tamim Iqbal, Bangladesh's most prolific ODI batsman and an all-time great, received a surprising exclusion when the squad was announced last week. Selectors cited the 34-year-old's persistent back injury as the reason, unwilling to take a risk in the 46-day tournament. Despite amassing 8,357 runs, including 14 centuries in 243 ODIs, Tamim's career has been marred by injuries, and earlier this year, he briefly retired only to reverse that decision.
Naseem Shah, a crucial element of Pakistan's recent bowling attack, found himself sidelined for the World Cup. The 20-year-old, known for his tight bowling with an impressive economy rate of 4.68 in 14 matches, shared the new ball with Shaheen Shah Afridi. However, a major shoulder injury suffered during a crucial Asia Cup match against India last month forced Pakistan to omit him. He's expected to remain sidelined for three to four months, according to Pakistan's selectors.
Jason Roy, a vital contributor to England's white-ball resurgence under former captain Eoin Morgan, couldn't secure a spot in the World Cup squad. The 33-year-old opener, who played a key role in England's 2019 World Cup victory with 443 runs in seven matches, has been plagued by injuries. Back spasms during a recent ODI series against New Zealand dashed his hopes of making a case for inclusion.
Wanindu Hasaranga, Sri Lanka's dynamic leg-spinning all-rounder, had risen to become one of the country's cricketing stars. With 67 wickets, including three five-wicket hauls, and four half-centuries in 832 runs, Hasaranga possessed an impressive track record. Unfortunately, an injury sustained during the Asia Cup prevented him from fully recovering in time for the squad announcement, according to Sri Lanka Cricket.
New Zealand's 2022 ODI Player of the Year, Michael Bracewell, will also be absent from the tournament due to an Achilles injury suffered during an English county match in June. The versatile 32-year-old, capable of batting at various positions, bowling decent off-spin, and keeping wickets, leaves a significant void in the 2019 World Cup runners-up squad, who face defending champions England in the World Cup opener on October 5. With a remarkable batting average of 42.5 and an impressive strike rate of 118.60 in ODI cricket, his absence is keenly felt.