Topten brand with annual sales of $430 million, has recently expanded its product offerings by sourcing knitwear items in addition to its primary imports like underwear, denim, and shirts.
From the bustling streets of Dhaka to the vibrant energy of Seoul, the ties that bind Korea and Bangladesh are a symphony of culture, trade, and friendship. Diplomatic ties between Bangladesh and the Republic of Korea (ROK) were officially established on December 18, 1973, signifying a pivotal moment in their bilateral relationship. Interestingly, the ROK extended recognition to the newly independent Bangladesh on May 12, 1972, underscoring the evolving dynamics and shared dedication to fostering diplomatic connections during that period.
On Sunday, State Minister for Foreign Affairs M Shahriar Alam announced that the trade relationship between Bangladesh and South Korea exceeded 3.0 billion US dollars during the 2022-23 fiscal year. This announcement took place during his speech at an event celebrating Korean National Day in Dhaka city.
He acknowledged the Korean government's generous decision to grant preferential access to 95 percent of Bangladeshi products. Ambassador Park Young Sik emphasized the strong foundation of bilateral relations between the two nations, noting that Bangladesh is considered one of South Korea's closest friends.
Economic Harmony in the Spotlight
With its impressive technological achievements and a steadfast commitment to innovation, South Korea has keenly identified Bangladesh as an immensely promising destination for investment. Regarding global investments, South Korea has firmly established itself as the fifth-largest foreign investor overall. Bilateral trade between the two nations saw a notable upswing in the last couple of years, primarily attributed to the growing demand for South Korean diesel imports in Bangladesh.
Last year, in October, Shinsung Tongsan, a Korean retailer renowned for its three brands – Topten, Pulham, and Ziozia – launched a sourcing office in Dhaka. Topten brand with annual sales of $430 million, has recently expanded its product offerings by sourcing knitwear items in addition to its primary imports like underwear, denim, and shirts.
Furthermore, Coupang, Seoul's largest e-commerce giant often referred to as the Korean counterpart to Amazon, has ventured into importing clothing items from Bangladesh.
Progress through Infrastructural Synergy
The establishment of diplomatic ties has paved the way for the engagement of more than 110 Korean firms in Bangladesh, participating in over 200 infrastructure development projects, with a combined cost exceeding $8 billion. For more than a decade, Samsung Electronics has maintained a research and development center in Dhaka. Samsung's decision to construct a smartphone factory in Narsingdi stands out among notable developments.
Additionally, Bangladesh's infrastructure projects have received substantial financial assistance and credit lines from South Korea. A prime example is the Dhaka Elevated Expressway, a collaborative endeavor financed by South Korea, symbolizing the strong partnership between the two nations.
Moreover, the "Bangladesh IT Connect Portal-South Korea" has been established as part of the World Bank-funded Enhancing Digital Government and Economy (EDGE) Project by the Bangladesh Computer Council (BCC) under the ICT Division. This portal serves as a pivotal B2B connectivity hub.
Expansion of Cultural and Educational Exchanges
Over the past few years, there has been a notable surge in the appreciation of K-pop and various facets of Korean culture in Bangladesh. Furthermore, in response to the growing demand for Korean language courses, dance workshops, and culinary events, the Korean Cultural Center in Dhaka has significantly expanded its program offerings during 2022 and 2023.
While the number of South Korean scholarships awarded to Bangladeshi students may not be substantial, there is a noticeable upward trend that is contributing to the strengthening of bilateral relations. The Global Korea Scholarship (GKS) program, initiated in 2011, has supported a total of 172 Bangladeshi students. Among them, 137 are pursuing doctoral degrees, while 35 are enrolled in undergraduate programs, indicating a positive trend in bilateral educational exchange.
Joining Hands for Tourism and Human Resources
Recent data demonstrates a noticeable trend in the movement of Bangladeshis to Korea, with a substantial increase from 15,482 individuals in 2016 to 18,340 individuals in 2019, representing an impressive growth of nearly 20% over three years. Additionally, Korea has actively engaged with Bangladesh in labor migration since the early 2000s.
Between 2008 and 2022, South Korea successfully recruited 28,697 workers from Bangladesh under the Employment Permit System (EPS). Looking ahead, South Korea is expected to maintain a consistent flow of Bangladeshi workers, with an estimated weekly intake ranging from 100 to 120 individuals for the current year.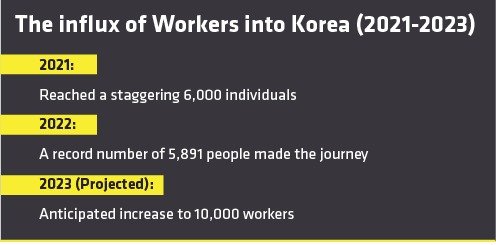 Tackling Worldwide and Local Issues through Diplomatic Channels
South Korea's aspiration to become a dialogue partner with the South Asian Association for Regional Cooperation (SAARC) and Bangladesh's active participation in the "New Southern Policy" both demonstrate their shared dedication to promoting regional collaboration.
Faruque Hasan, the President of the Bangladesh Garments Manufacturers and Exporters Association (BGMEA), stated, "During our recent visit to Korea, we extended invitations to prominent buyers and brands to consider sourcing products from Bangladesh. In addition, we proposed potential collaborations with them in the production of manmade fiber-based goods, given their extensive experience in this field. "It's worth noting that Bangladesh's apparel exports initially began with their invaluable support.
Mr. Hasan also disclosed that numerous Bangladeshi exporters will participate in two upcoming expos in Korea this year to explore the market further. This strategic move is expected to propel Bangladesh's apparel market to a billion-dollar valuation by the next fiscal year. Korea and Bangladesh are discussing negotiations for the bilateral economic Partnership Agreement.
South Korea's strategic alignment with Bangladesh's exit from LDC status positions it as the perfect partner for promoting its industrialization and infrastructure goals. With a shared vision for economic growth, cultural exchange, and global partnerships, these two nations have forged a bond that transcends geographical boundaries.
From trade agreements to educational collaborations, their partnership continues to flourish, painting a promising picture for the future. As Korea's technological prowess meets Bangladesh's vibrant culture and skilled workforce, the stage is set for a remarkable journey toward mutual prosperity and lasting camaraderie.