"The World Bank's ongoing commitment is to assist Bangladesh in mitigating learning setbacks by enhancing educational outcomes and the quality of teaching, ensuring that students graduate equipped with the skills essential for a rewarding and prosperous life and for thriving in society," – Abdoulaye Seck
Over the past decade, Bangladesh has witnessed remarkable advancements in improving educational accessibility. With 98 percent of primary school-aged children enrolled in school, the nation has achieved near-universal primary enrollment and gender parity in educational access.
Despite strides made in increasing access to education, the issue of educational quality remains a persistent challenge in Bangladesh. This is particularly true for marginalized communities. Children residing in areas struck by crises, including those within host communities impacted by the Rohingya crisis, and children who have disabilities are often overlooked and their experiences remain undocumented in the education system of Bangladesh.
The World Bank aids the Government of Bangladesh (GOB) by extending its support to pre-primary, primary, and higher secondary education, concurrently striving to enhance development prospects for youth who are not engaged in education, employment, or training. On Friday, the World Bank's Board of Executive Directors approved a $300 million fund to improve the secondary education system of Bangladesh.
Addressing Learning Losses in Bangladesh
The fund will play a crucial role in addressing learning losses stemming from the COVID-19 pandemic, implementing a hybrid approach that combines online learning with in-person education to bolster system resilience, enhance both learning outcomes and teaching quality, and curtail the secondary education dropout rate. Additionally, the fund's allocation will empower schools to bridge the educational gaps caused by the pandemic, ensuring a more adaptable education system.
Abdoulaye Seck, World Bank Country Director for Bangladesh and Bhutan, stated, "Bangladesh has achieved significant advancements in education over the years and was one of the early developing nations to attain gender parity in lower secondary schools.
However, the extended closure of schools during the COVID-19 pandemic has detrimentally affected learning and pushed numerous underprivileged girls out of the educational system."
"The World Bank's ongoing commitment is to assist Bangladesh in mitigating learning setbacks by enhancing educational outcomes and the quality of teaching, ensuring that students graduate equipped with the skills essential for a rewarding and prosperous life and for thriving in society," he added.
Objectives of the Learning Acceleration in Secondary Education (LAISE) Operation
LAISE Operation, in partnership with the government's Secondary Education Program, is set to facilitate accelerated learning key subjects like mathematics, English, and Bangla for grades 6 and 8, as they form the bedrock for future education. The program's objective is to elevate the proficiency of Grade 8 students in mathematics from the existing 28 percent to an impressive 65 percent while elevating Bangla proficiency from 66 percent to a remarkable 90 percent.
In order to combat dropout rates, the program aims to grant stipends to 8 million students while ensuring that 5,000 institutions establish active sexual harassment and prevention committees. Moreover, approximately 7,200 schools will introduce programs aimed at improving reading proficiency, while 15,000 teachers will partake in training sessions to elevate their teaching prowess.
The program will also allocate resources for mental health counseling and strive to prevent gender-based violence in a minimum of 30 percent of the targeted schools.
Digitization and Blended Education for Learning Recovery
Addressing the academic setbacks incurred during the COVID-19 pandemic, this program aims to facilitate the adoption of the recently approved curriculum through digitization and a gradual implementation process. Additionally, it will provide extra remedial sessions to help students catch up on their learning.
Moreover, it will endorse the government's blended education master plan, combining traditional classroom settings with online learning opportunities. It will also deliver personalized learning resources to empower students in their individual learning journeys.
Support for Climate-Vulnerable Regions
T. M. Asaduzzaman, the World Bank Senior Education Specialist and Project Team Leader, explained, "In climate-vulnerable regions, our program goes beyond just offering stipends. We're dedicated to keeping secondary school children enrolled and supporting those who've discontinued their education in return."
"Within regions exposed to climate vulnerabilities, the adoption of blended teaching strategies will act as a safety net, preserving the flow of education during instances of school closures resulting from floods or cyclones. Furthermore, this initiative endeavors to integrate climate education as an integral part of the curriculum, promoting environmentally responsible attitudes and behaviors among students," he affirmed.
World Bank's Ongoing Commitment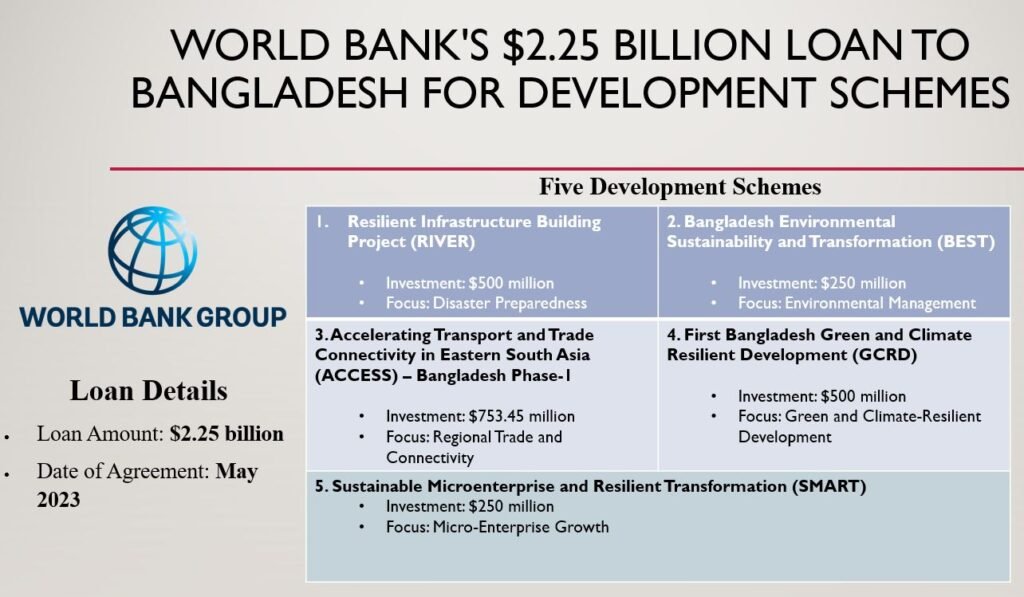 Earlier in August, Bangladesh and the World Bank signed a $300 million financing agreement aimed at providing skills and alternative education to approximately 900,000 economically disengaged rural youths, with a focus on women who make up about 60% of the beneficiaries. The financing comes from the World Bank's International Development Association (IDA) and has a 30-year term, including a five-year grace period.
The Economic Acceleration and Resilience for NEET (EARN) Project addresses barriers preventing disadvantaged and vulnerable youth from gaining education and employment opportunities. It also aims to establish vocational training centers, offer online and offline courses in market-driven skills, and provide entrepreneurial support to help secondary school dropouts, particularly females, complete vocational secondary education.
"Recognizing Bangladesh as our most significant development partner, we applaud the nation's achievements in increasing income levels and alleviating poverty. Our dedication to sustaining this partnership remains unwavering, with a focus on facilitating private sector growth, job creation, expanding the tax base, fortifying the financial sector, and bolstering resilience against economic and climate challenges,"

– David Malpass, the World Bank President reiterated on the 50th anniversary of Bangladesh and World Bank.
This initiative is congruent with Bangladesh's development priorities, notably the Eighth Five-Year Plan, the ambition to exit the LDC status by 2026, and Vision 2041. The project seeks to establish a competitive workforce, challenge societal norms that perpetuate the exclusion of marginalized communities, and bolster the employability of rural youth, including individuals with disabilities.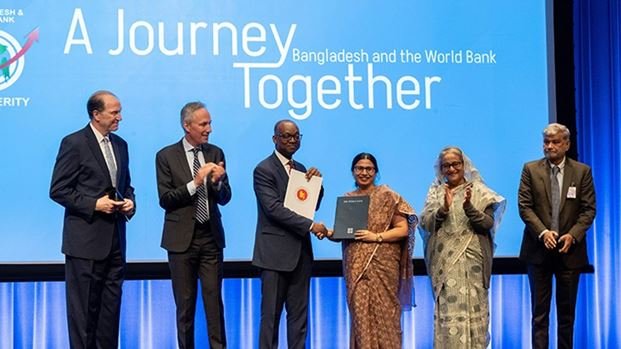 Bangladesh and World Bank: A 50-Year Partnership Since 1972
Bangladesh became a member of the World Bank in August 1972. By November of that very year, the World Bank gave its approval for Bangladesh's inaugural project – the Emergency Recovery Credit, providing $50 million to help the nation rebuild its war-torn transport and communication, agriculture, and industrial sectors, in addition to supporting construction and the power sector. Since then, the International Development Association (IDA), has earmarked over $40 billion in financial support through grants, interest-free loans, and concessional credits.
This year marked the 50 years of development partnership between the World Bank and Bangladesh. Today, Bangladesh has the largest ongoing IDA program in the world with a total of $16.70 billion for 56 ongoing projects.
Bangladesh has made significant strides in primary education, with near-universal enrollment and gender parity. However, challenges persist in ensuring educational quality, especially for marginalized groups affected by crises. The World Bank is allocating $300 million to bolster secondary education in Bangladesh, addressing COVID-19 learning losses, enhancing teaching quality, and reducing dropout rates. This initiative aligns with Bangladesh's goal to exit the LDC status by 2026 and Vision 2041.
The World Bank's commitment to Bangladesh spans five decades, with over $40 billion in financial support. This partnership continues to address critical education and development challenges, emphasizing inclusivity and economic empowerment.