The aviation sector in Bangladesh is on the rise, driven by the country's growing export-import activities due to globalization. Moreover, Bangladesh has taken steps to strengthen its international relations, which will contribute to the aviation industry's growth.
The government anticipates nearly tripling aviation growth over the next 15 years. They are also working on enhancing airport facilities to ensure technical soundness and security. Several aviation development projects, both completed and ongoing, are in progress.
Furthermore, the government is preparing for a significant project at Hazrat Shahjalal International Airport (HSIA) in Dhaka, given the continuous growth in air traffic, especially with the imminent completion of the third terminal. As a part of these efforts, plans are underway to construct a second runway at the airport.
Necessity for a Second Runway
The impending completion of the third terminal at HSIA foresees a notable upsurge in air traffic. While this expansion holds the promise of augmented connectivity and economic advantages, it poses challenges concerning runway capacity. Due to space constraints, the existing runways are closely situated, preventing simultaneous take-offs and landings for two aircraft.
A senior official from an international airline has highlighted the present setup's shortcomings, resulting in prolonged queues on the taxiway during take-offs, leading to delays of 30 to 40 minutes. Similarly, landing times are extended due to heightened air traffic, escalating operational costs for airlines. This situation also makes it challenging to adhere to flight schedules, resulting in increased operational expenses.
With the imminent opening of the third terminal and the anticipated rise in flight frequency, these issues are expected to exacerbate, underscoring the pressing need for an additional independent runway. Acknowledging this need, the Civil Aviation Authority of Bangladesh (CAAB) conducted a comprehensive feasibility study, presenting its findings to the civil aviation ministry in July as the initial phase towards realizing this critical project.
The physical construction of the second runway is scheduled to commence following the completion of the third terminal in May of the subsequent year. CAAB Chairman Air Vice Marshal M Mafidur Rahman emphasizes that the third terminal's utilization will substantially enhance passenger handling capacity, attracting more airlines seeking to operate flights to and from Dhaka.
New Runway Specifications
The upcoming second runway will be positioned between the current runway and taxiway, maintaining an approximate separation distance of 359 meters. Furthermore, there are plans to extend the existing runway, stretching it to 3,692 meters in total – 400 meters to the south and 92 meters to the north. This extension aims to enhance operational flexibility at Hazrat Shahjalal International Airport.
The construction of this second runway at the airport signifies a major achievement in Bangladesh's aviation progress. It reflects a forward-thinking strategy to accommodate the escalating air traffic, guarantee smooth operations, and bolster the nation's global connectivity.
Space Constraints and Regulatory Compliance
The constraint preventing the construction of a simultaneously usable runway at Hazrat Shahjalal International Airport (HSIA) is the limited available space. International regulations mandate that runways should be separated by a minimum distance of 1,035 meters to facilitate simultaneous take-offs or landings using the Instrument Landing System (ILS).
CAAB Chief Engineer Abdul Malek clarifies that employing ILS on both runways simultaneously could result in interference issues. However, a viable alternative is to implement a visual approach, enabling efficient coordination for take-offs and landings.
Mafidur Rahman emphasizes the numerous benefits of the planned new runway, such as the capacity for one plane to prepare for take-off while another is landing. Moreover, in case of an emergency, one runway can be closed while the other remains operational, ensuring the continuous safety of airport operations.
Optimizing Resources for Efficiency
To handle the increasing number of planes and passengers, CAAB is actively working on optimizing resources and infrastructure. With streamlining processes and enhancing air traffic management, they aim to reduce the time planes have to wait on the runway or taxiway.
With the third terminal, HSIA's annual passenger handling capacity is projected to reach 20 million, up from the current 8 million. The airport is also focused on increasing boarding bridges and developing high-speed taxiways to expedite plane movement.
Aviation expert ATM Nazrul Islam points out that leaving no room for two independent runways at HSIA was a significant oversight. He notes that Dubai Airport managed to handle 50 million passengers annually with a single runway through efficient management. With the right infrastructure and management, HSIA can similarly accommodate a higher volume of passengers with its current runway.
Third terminal project
Dhaka was poised to advance significantly in its journey toward becoming a prominent regional aviation hub as it prepared to inaugurate the highly anticipated third terminal at Hazrat Shahjalal International Airport.
The construction of this third terminal, which commenced in 2019 at an approximate cost of Rs 21,300 crore, incorporates state-of-the-art facilities akin to major international airports in Singapore, Bangkok, the Middle East, Europe, and the USA.
As outlined in the third terminal project profile, this expansion is poised to elevate Dhaka Airport's passenger capacity to an impressive 20 million annually, enhancing its role as a vital transportation hub in the region.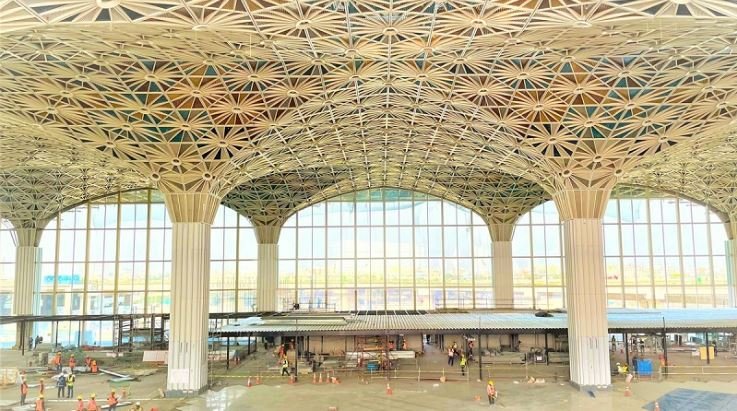 Aviation industry at a glance
In addition to Biman, three private airlines—US-Bangla, Novoair, and Air Astra—are presently conducting flight operations from Dhaka airport.
Biman currently serves eight domestic destinations and operates flights to 22 international destinations across 16 countries. Presently, a total of 34 airlines are actively engaged in flight operations to and from Bangladesh.
The Civil Aviation Authority of Bangladesh (CAAB) reports that several new airlines, such as Fly Baghdad, Ethiopian Airlines, Wizz Air, Ahan Air (Iran), Air Canada, Air France, Pakistan International Airlines (PIA), and Royal Jordanian Airlines, have expressed their interest in launching flight services to Bangladesh.
To foster international air connectivity, the government has taken proactive measures by initiating bilateral aviation agreements with 16 countries. These countries include Mauritius, South Africa, Czech Republic, Spain, Latvia, Cyprus, Guyana, Ethiopia, Rwanda, Kenya, Brunei, Seychelles, Lebanon, Turkmenistan, Algeria, and Switzerland.
Furthermore, the government has also made significant strides in upgrading existing air agreements with 14 countries, which encompass Canada, Qatar, Luxembourg, Uzbekistan, Morocco, China, Libya, Azerbaijan, Germany, Malaysia, Iraq, Australia, Indonesia, and Cambodia.