Justice Obaidul Hassan, a distinguished senior judge of the Appellate Division of the Supreme Court, has assumed the prestigious role of the 24th Chief Justice of Bangladesh. The appointment was made by President Mohammed Shahabuddin in accordance with Article 95(1) of the constitution, as communicated through a gazette notification issued by the Ministry of Law.
Justice Obaidul Hassan's appointment will become official after his taking oath of office. This confirmation is based on the notification issued by Law Secretary Md Golam Sarwar. This transition in leadership is set to transpire as the incumbent Chief Justice, Hasan Foez Siddique, is scheduled to retire on September 25. The justice has reached the statutory age limit of 67 years for a Supreme Court judge. With this transition, Justice Obaidul Hassan is poised to ascend to the distinguished position of being the 24th Chief Justice of the nation.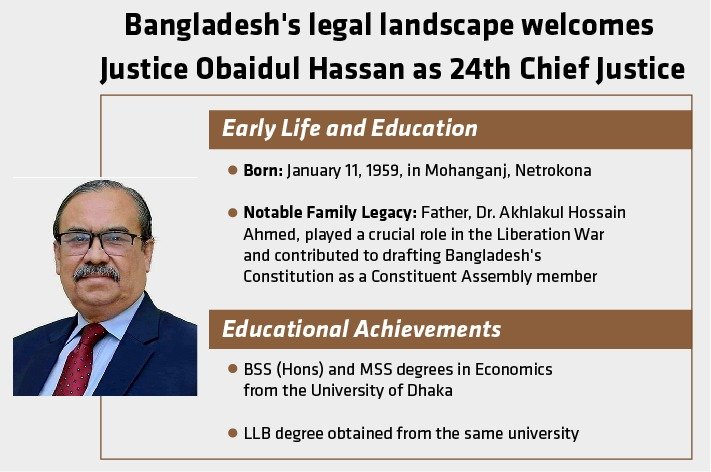 From academic brilliance to legal eminence
Born on January 11, 1959, in Mohanganj, Netrokona, Justice Obaidul Hassan carries with him a notable family legacy. His father, Dr. Akhlakul Hossain Ahmed, played an instrumental role in the Liberation War and contributed to the framing of Bangladesh's Constitution as a member of the Constituent Assembly.
Obaidul Hassan's journey to this pinnacle of the judiciary has been marked by academic excellence and a stellar legal career. He earned both BSS (Hons) and MSS degrees in Economics from the University of Dhaka, alongside obtaining an LLB. His dedication to the legal profession was apparent as he was enrolled as an advocate of the District Court on March 18, 1986. Later he continued this journey by joining the High Court Division and the Appellate Division of the Bangladesh Supreme Court on October 18, 1988, and August 15, 2005, respectively.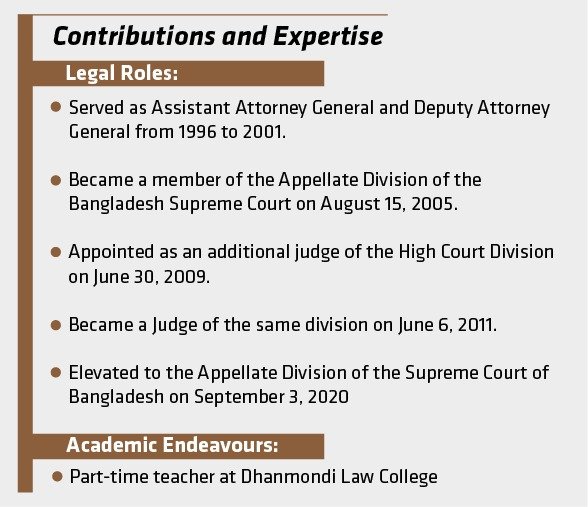 Justice Obaidul Hassan's commitment to the legal profession was exemplified during his tenure as Assistant Attorney General and Deputy Attorney General from 1996 to 2001. His reputation as an expert lawyer in civil, criminal, and constitutional matters was well-established, and he even served as a part-time teacher at Dhanmondi Law College.
His ascent within the judicial hierarchy continued as he was appointed as an additional judge of the High Court Division on June 30, 2009. Two years later, he became a Judge of the same division on June 6, 2011. Justice Obaidul Hassan's commitment to justice extended beyond national borders. He played pivotal roles both as a member and as the chairman of the International Crimes Tribunal (BD)-2, from March 23, 2012, to December 12, 2012, and from December 13, 2012, to September 15, 2015, respectively. His tenure at the tribunal saw him deliver a remarkable total of 11 judgments alongside his fellow judges.
Navigating legal waters globally
In a testament to his judicial prowess, Justice Obaidul Hassan's career reached its zenith when he was elevated to the Appellate Division of the Supreme Court of Bangladesh on September 3, 2020. In this role, he continued to render numerous landmark judgments, including those pertaining to the Arpita Sompotti Ain and the appointment of Judges to the High Court Division.
In 1991, Justice Obaidul Hassan actively participated in an international conference held in the vibrant city of Hong Kong. In July 2015, the Justice enhanced his expertise by attending the "Judicial Governance Program" held in Singapore.
The year 2015 was particularly eventful for Obaidul Hassan on the international stage. In August of that year, he journeyed to Buenos Aires, Argentina, to participate in an International Conference on "International Crimes/State Crimes."
Justice Obaidul Hassan exchanged views with judges from the International Criminal Court (ICC) and the International Crimes Tribunal for the former Yugoslavia (ICTY) in The Hague, Netherlands, also in August 2015.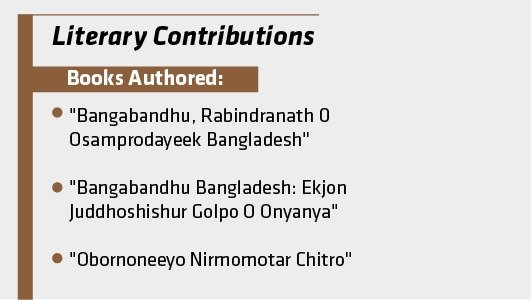 On July 29, 2021, the then Chief Justice Syed Mahmud Hossain nominated Obaidul Hassan as the chamber judge of the Bangladesh Supreme Court. This pivotal appointment was aimed at alleviating the backlog of cases amidst the challenges posed by the COVID-19 pandemic, by facilitating virtual hearings.
Furthermore, Justice Obaidul Hassan's extensive travel history reflects his commitment to building diplomatic and legal relationships with various countries. His visits to China, India, Pakistan, Nepal, Malaysia, Singapore, Thailand, Saudi Arabia, France, Netherlands, Belgium, Argentina, United Kingdom, Switzerland, Dubai, and Turkey showcase his dedication to international legal cooperation and his willingness to foster international legal understanding.
Beyond his judicial duties, Justice Obaidul Hassan is also a prolific author, having penned several books on subjects such as Bangabandhu, Rabindranath, and the historical context of Bangladesh. The books' names are Bangabandhu, Rabindranath O Osamprodayeek Bangladesh",fv Bangabandhu Bangladesh: Ekjon Juddhoshishur Golpo O Onyanya," and "Obornoneeyo Nirmomotar Chitro,"