When it comes to food, technology may not be the first thing that comes to mind. However, technology has significantly impacted how we produce and acquire food over the years. The world's current population stands at 7.5 billion, leading to an increasing demand for food each year. With a projected 2 billion more individuals to feed by 2050, agriculture must strive to be both productive and sustainable simultaneously. To increase the amount of food we can produce, we must find ways to use our available resources more efficiently, and technology provides a solution. By utilizing technology, we can discover new ways to utilize our land and enhance farming efficiency.
This is crucial to ensure we have sufficient food to feed the world, and it necessitates increased investment and adoption of productivity-boosting technology while encouraging participation from young people and smallholder farmers. Currently, agriculture is experiencing the early stages of another revolution. The combination of human ingenuity, scientific breakthroughs, and technological advancements has provided an unparalleled set of tools to transform the food system and lessen its impact on the environment and climate.
Emerging technologies such as artificial intelligence, connected sensors, the Internet of Things (IoT), genetic engineering, biotechnology, and others have the potential to increase yields, improve the efficiency of water and other inputs, and foster sustainability and resilience in both crop cultivation and animal husbandry. There are multiple technologies that have come on the forefront to change how we approach the digitalization of the sector. Let's explore a few of these innovations that are shaping the future of agriculture.
MOBILE DEVICES
Advancements in technology have significantly improved crop yields in farming. One example is the use of mobile technology, which plays a crucial role in monitoring and regulating crop irrigation systems. Similar to many individuals, farmers worldwide have adopted the use of mobile devices. Through various mobile applications, farmers can access valuable information about their fields, keep track of weather patterns, and receive pertinent updates.
The advent of modern technology has enabled farmers to remotely control their irrigation systems through their mobile phones, eliminating the need to physically move to each field. This has allowed farmers to shift from field management to tasks such as farm mapping and drone utilization, all facilitated by mobile apps. With the aid of mobile technology, farmers can now manage all aspects of their farming operations, including strategy development and progress tracking.
This also implied that they could access data on the go. This not only gave them the unprecedented ability to order seeds or fertilizer at any time or place but also enabled smallholder farmers to access crucial agronomic advice and secure fair market pricing to safeguard their livelihoods.
DRONE FARMING
Balancing increased farm productivity with operational cost savings is a challenging task. However, there is an advanced agricultural technology that is helping farmers overcome this challenge: drones. These machines gather raw data that is then processed into valuable information for monitoring farm operations. Satellite imagery provided by drones can be used to monitor crop growth and identify problem areas.
Drones were first introduced to farms in the early 2000s for crop mapping, and have since been utilized for crop scouting, seeding, and spraying. Precision agriculture is revolutionizing the farming industry, and drones are playing a significant role in this transformation. They are helping farmers achieve unprecedented levels of precision and efficiency in crop management, right down to the individual square meter. Drones are equipped with cameras that can locate and identify diseased or damaged crops, enabling farmers to address these issues promptly.
Additionally, drones collect data that can be used to optimize fertilizers, seeds, water, pesticides, livestock tracking, grazing, and geo-fencing monitoring. By utilizing computer vision, drones have the potential to analyze field conditions and accurately deliver pesticides and fertilizers to where they are required. Additionally, they can plant seeds in remote areas, reducing both equipment and labor costs. Nowadays, drones are utilized by farmers of all scales, including smallholder farmers, all around the world.
AGRICULTURAL ROBOTS
Farmers face a significant challenge with the lack of labor, particularly in large-scale operations. However, agricultural robots are an advanced technology in agriculture that is addressing this issue. Robots can aid farmers in manual-intensive tasks such as harvesting, fruit picking, planting, spraying, and weeding. Many farmers worldwide have already begun to depend on agricultural technology to automate repetitive field tasks.
Farmers in developed countries are investing in smart agricultural machines such as autonomous and semi-autonomous tractors to see the impact of technology in agriculture. After the launch of GPS technology in the mid-1990s, major farm equipment manufacturers in the developed world introduced auto-steer capabilities and other automated functions in tractors, sprayers, and combines, which were widely adopted by farmers.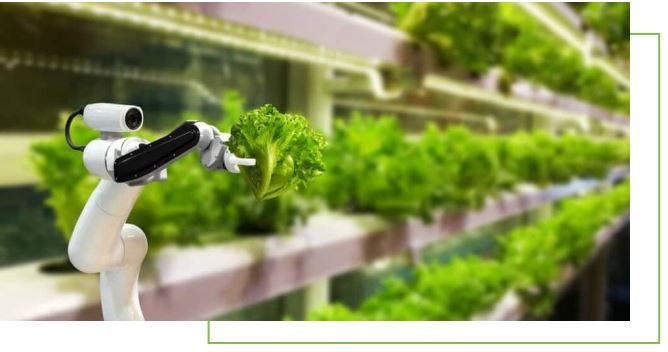 While the use of robots in agriculture does not entirely replace the need for human workers, it does help to increase their efficiency. In order to meet the demands for high-volume and low-cost production, farmers are turning to robots to help increase the speed at which goods are produced. "Smart agriculture" is the term used for the automation of farming that aims to increase productivity. Numerous companies are investing in robotics innovation to create autonomous tractors, robot harvesters, seeding, and watering robots. Although these technologies are relatively new, traditional agricultural companies have started to integrate farm automation into their operations.
CROP SENSORS
Farmers in Western countries are increasingly relying on sensors, including GPS technology, to gain a micro-level understanding of their crops, reduce environmental impacts, and conserve resources. Precision agriculture depends heavily on the use of sensors, which provide farmers with critical information that enables them to adjust their strategies based on changing environmental factors. By using crop sensors, farmers can effectively apply fertilizers, maximizing the uptake and reducing the potential for leaching and runoff into groundwater.
These sensors can also detect the health of the crop and determine how much fertilizer it may need by measuring the amount of light reflected in the sensor, using optical sensors. Crop sensors rely on GPS signals to determine the location and altitude of a field, as well as to measure parameters like organic matter content, soil moisture, and clay content. In addition, sensors can monitor a wide range of conditions, such as soil temperature and humidity levels inside grain silos. By providing information about soil health, sensors help farmers optimize the use of water and fertilizers, reducing waste and lowering costs.
GENOME EDITING
In 2012, CRISPR – Clustered Regularly Interspaced Short Palindromic Repeats – was discovered by two researchers, Jennifer Doudna and Emmanuelle Charpentier. This breakthrough technology harnesses the natural cellular mechanisms for DNA repair and enables scientists to precisely alter an organism's genome by activating or deactivating specific characteristics. CRISPR, a Nobel Prize-winning discovery, is now used by plant scientists to design seeds with enhanced desirable traits such as improved yield or quality, resistance to diseases and pests, and even climate resilience. Plant resiliency can now be accelerated through the use of genetic code.
Advances in genomic sequencing have provided scientists and breeders with unprecedented tools and knowledge to understand unique pathways and genomic interactions. Although first used in 1982, this method is still employed today by scientists and those working across the agricultural industry. For example, a Japanese company has used gene editing technology to bring tomato seeds to market with higher levels of an amino acid believed to aid relaxation and lower blood pressure. Genome editing technology can also be applied to large crops such as rice, wheat, and corn.
ARTIFICIAL INTELLIGENCE
Farmers can benefit from artificial intelligence by gaining insights into weather patterns, crop yields, and optimal crop prices to make informed decisions. AI can also help detect crop pests and diseases. There are several digital apps available, including AgroPestAlert, Farm Scout Pro, and IPM Toolkit, that use AI to detect pest infestations and change soil conditions to prevent significant crop losses.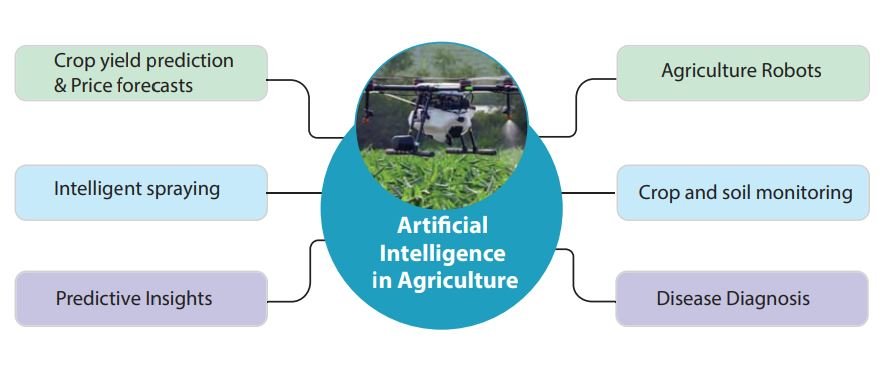 In the poultry industry, AI can detect health issues in birds by analyzing the sounds they make. Additionally, AI robots can assist with tasks such as egg collection or butchering at poultry farms. Another element of AI agricultural technology is smart chatbots that provide recommendations and suggestions to farmers. However, at a larger scale, AI can detect and monitor anomalies and diseases in plants and livestock.
WHY DO WE NEED TECHNOLOGY IN AGRICULTURE
Modern agriculture has undergone a transformation with the introduction of new technologies, such as drones, robotics, and computer vision software. The primary goal of farm automation technology is to automate routine tasks. Harvest automation, autonomous tractors, seeding and weeding, and drones are among the most commonly used technologies in farming. These technologies are a response to major concerns, including the growing global population, changing consumer preferences, and labor shortages in the agricultural sector.
By automating traditional farming processes, significant benefits can be realized, such as increased productivity, addressing environmental concerns, and meeting consumer preferences. Smart farming, also referred to as precision agriculture, is the integration of modern Information and Communication Technologies (ICTs) into agriculture, which is considered the Third Green Revolution. This approach combines various technologies, including the Internet of Things, GPS, robotics, actuators, Big Data, Unmanned Aerial Vehicles (UAVs, drones), precision gear, and more, to take control of the agricultural sector. By leveraging these technologies, smart farming aims to increase efficiency and productivity in agriculture while reducing environmental impact.
An illustration of how different technologies can be integrated into smart farming can be seen with irrigation. A sensor can be attached to an irrigator, which measures the soil moisture content prior to watering the field. This data can then be utilized to determine the appropriate amount of water required. By utilizing smart farming methods, farmers can use drones to assess the health of their crops and take corrective actions as needed. Additionally, smart farming enables farmers to monitor the nutritional requirements of their livestock more effectively, enabling them to adjust their diet accordingly, which can prevent illness and improve overall health. Through the utilization of field-generated data, smart farming empowers farmers to produce a more sustainable and productive output. Furthermore, it provides them with the additional benefit of making better and faster decisions.
FARMERS NEED TO ADOPT AGRICULTURAL TECHNOLOGY
The rate of adoption of agricultural technology, particularly among smallholder growers, ultimately determines its success. Smallholder farmers account for up to 80% of food production in Bangladesh. Many of these farmers are older and have received less formal education, making technology adoption challenging without support. In addition, the availability and accessibility of internet infrastructure in the country can be a potential barrier. Encouraging young talent is another crucial component. When more young people are drawn to agriculture, whether as researchers or entrepreneurs, it fosters greater innovation, creativity, and energy within the industry.
Digital technology adoption in agriculture has been slow compared to other sectors, despite being a primary sector employing millions of people. However, it's not too late to catch up with more investment, new ideas, and greater participation. The agricultural sector can benefit from a wide range of farming technologies, some of which may require specific adaptations for agriculture, while others such as AI, autonomous vehicles, and machine vision, developed for other areas can be utilized in modern agriculture. With recent advancements in technology, genomic sequencing, and AI, we can significantly transform how plants grow, ensuring sufficient food and fiber production while caring for the planet and farming communities. Encouraging young talent to take up agriculture and supporting smallholder farmers, who often lack access to technology, can further enhance adoption rates.