While global oil production as a whole is not expected to peak before 2030, the IEA projects a levelling off of conventional oil production towards the end of the projection period.
The concept of "peak oil" has been a subject of discussion for many decades, referring to the hypothetical point at which the maximum amount of oil that can be physically extracted is reached, followed by a decline in production. However, on a global scale, this peak has not yet been realised. A recent announcement by the International Energy Agency (IEA), a prominent global energy organisation that provides governments with analyses and policy support, highlights a different but related idea: the possibility of reaching a peak in the global demand for oil. According to Ciarán Healy, an IEA oil market analyst and co-author of the report, the projected peak in global oil demand is anticipated to occur just after 2028, most likely in 2029 or 2030. This projection is based on a scenario of slowing growth in oil consumption during the current decade, marking a potential turning point in global oil use.
While reaching a peak in oil demand is a notable development, it alone is insufficient to address the pressing issue of climate change. Even if the projected peak occurs by the end of the decade, it falls far short of the required measures to limit global temperature rise to safe levels. The IEA has previously emphasised that achieving net-zero carbon dioxide emissions from the energy sector by 2050, a critical target for limiting temperature rise to 1.5°C above pre-industrial levels, necessitates an immediate halt to the development of new coal mines, oil fields, and gas fields. Nonetheless, the projected peak in oil demand is an important real-world signal indicating that the global transition from fossil fuels to renewable energy sources is underway. This shift is imperative for combating climate change and ensuring a sustainable energy future.
Notably, the IEA is not the only entity foreseeing a decline in global oil demand. Major oil companies like BP have also indicated their belief in this trend. The reasons behind these projections and the factors influencing the pace of decline in oil consumption are complex and multifaceted.
ALL ABOUT THE 'PEAK OIL' THEME
Until the early 2010s, discussions surrounding "peak oil" were primarily centred on concerns about reaching the maximum production capacity of crude oil, followed by an irreversible decline in production. Energy experts were worried about the increasing global dependence on oil, and numerous predictions about the imminent arrival of peak oil production were made, which, in hindsight, did not materialise. One of the main reasons for this is the emergence of unconventional oil sources like shale oil and tar sands, as well as the discovery of large conventional oil fields in countries like Guyana, Namibia, and Brazil.
Throughout the history of oil production, there have consistently been new discoveries and technological advancements that have enabled the extraction of previously inaccessible oil reserves. This constant progress in extraction techniques has contributed to the continuous growth of oil production capacity over time. As a result, the concept of reaching a peak in oil production has remained elusive.
However, in recent decades, concerns over climate change have led to a significant shift in opinions regarding fossil fuel extraction. Given that coal, oil, and gas are the primary contributors to global climate change, and with various alternative renewable energy sources readily available, there is now a growing consensus on the urgent need to reduce and phase out fossil fuel usage
Consequently, a new concept of "peak fossil fuels" has emerged, suggesting that humanity should ideally start reducing its reliance on fossil fuels well before depleting all possible extractable reserves from the Earth's crust. This notion aligns with the view of the International Energy Agency (IEA), which now predicts that the world may reach this peak fossil fuels point by the end of the 2020s.
The shift in focus from peak oil production to peak fossil fuels reflects the increasing awareness of the environmental consequences associated with fossil fuel consumption and the mounting efforts to transition towards cleaner and sustainable energy alternatives. By proactively reducing our dependence on fossil fuels, the hope is to mitigate the impacts of climate change and pave the way for a more sustainable energy future.
NEARING THE TWILIGHT OF THE OIL ERA
According to a 2019 report from Ozy / Financial Times, investments in the oil and gas sector are declining, leading to a crisis of faith among energy investors. Goldman Sachs, in response to climate change concerns and the high risks and expenses associated with Arctic oil development, announced that it would no longer finance such projects.
Renowned international petroleum engineer Jean Laherrère, who spent 37 years working with France's Total oil company, argued in 2012 that technology cannot alter the geological limitations of oil reservoirs. Similarly, chemist Chris Rhodes stated in Chemistry World in 2014 that fracking would not be sufficient to compensate for the decline in crude oil production, emphasizing the inevitability of oil's depletion.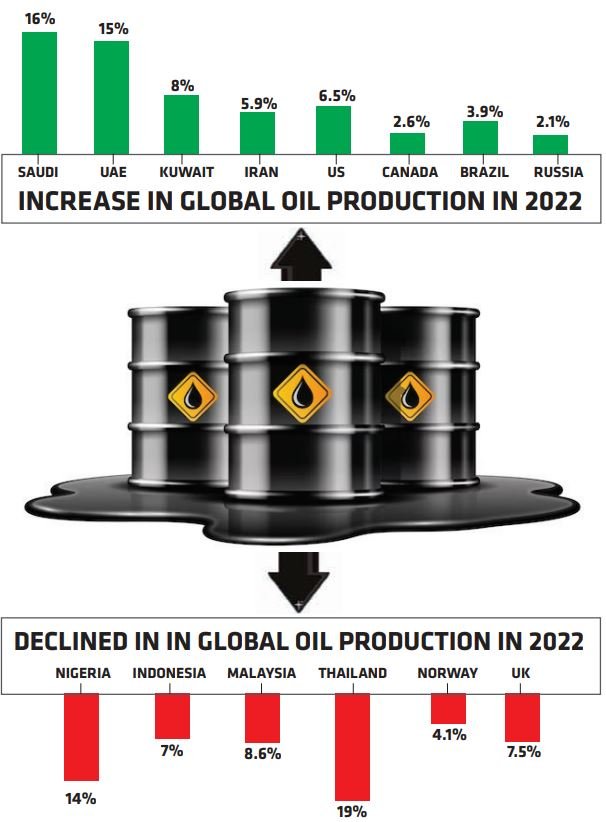 The oil industry is experiencing a natural decline due to the exhaustion of cheap, highquality oil reserves. The remaining sources, such as shale and tar sands, are more expensive and environmentally damaging to extract, contributing to Earth's climate crisis. While environmental activists may welcome the decline of the oil industry as it prompts a reduction in carbon emissions, there will undoubtedly be costs to the global economy. The Finland report emphasises that approximately 90% of the supply chain for industrially manufactured products relies on oil-derived products or services. As a result, the unsustainable economics of the oil industry may pose a significant risk to the entire global financial system.
The failure of oil companies to diversify into renewable energy and alternative energy sources earlier in history is now becoming evident. The consequences of this failure will impact not only humanity but also other species on Earth. The urgent need for a transition to lower consumption lifestyles and renewable energy systems has become more critical than ever.
Looking at the next 10 to 20 years from the current standpoint, making projections in the energy industry can be challenging due to the complexity of the factors involved. However, various sources and industry players' perspectives can offer insights into potential trends.
VISIONS AND BIASES FROM VARIOUS PERSPECTIVES
In the short term, there is an evident focus on short-term events and their impact on economies, especially with the energy transition lagging behind the required pace and a shift in oil and gas flows from Russia to Asia. Unprecedented volatility is expected to prevail on the market for several years, leading to high oil and energy prices, potentially reaching $100 USD/bbl during moments of special turbulence. Scarcity of resources, including metals and human and financial resources, will dominate the landscape, benefiting producers with lucrative returns.
The energy transition itself poses new challenges, with increased demand for resources and shifting dynamics in the energy landscape. Various analytical research, reports, and publications from international agencies, government think-tanks, industry experts, and energy companies offer a range of ideas and visions, though they may be influenced by political biases.
OPEC and its supporting consultant Wood Mackenzie predict that the peak of oil production will be reached around 2050. However, some view this forecast as biased, given OPEC's tendency to bring optimism to the oil market. While certain industries may still require hydrocarbon-based fuels in the future, there is a growing consensus that road transport, heating, and electricity generation will undergo a massive shift towards renewable energy sources and new technologies in the coming decades.
On the other hand, green-leaning institutions like the IEA believe that humanity is close to reaching the oil peak due to significant momentum in the development of renewable energy sources. However, it is also recognised that fully transitioning away from oil may take more time and effort than initially hoped for.
The current state of the European wind energy industry is facing significant challenges. As of the end of 2022, all five European wind turbine manufacturers are operating at a loss. This situation has arisen due to the prevailing emphasis on price as the most crucial criterion in tenders or auctions for wind energy projects. The race to the bottom in pricing has resulted in a disaster for producers, even though it benefits government spending. Total orders for wind energy in 2022 accounted for only 7.7 GW, significantly less than the 39 GW that turbine manufacturers estimate is required to achieve European targets. To meet the EU's energy targets, a total of 510 GW of wind turbines must be built by 2030, but the production capacity of European wind turbine plants is only 7 GW per year. Moreover, other suppliers in the wind energy sector are also struggling to bring the required capacities to the market, causing further challenges.
The tightening of monetary policy is also adding to the complexities of the process. Despite the difficulties and hurdles, there is no doubt that the transition to clean energy will eventually happen. However, the journey is expected to be bumpy and may take longer than initially anticipated in strategic memorandums.
Oil companies themselves are becoming more aware of the need to adapt to a greener future and are transforming their businesses by reducing investments in oil and gas assets with long payback periods. Instead, they are incentivizing investments in renewables. European companies are leading the way in this transformation, while US giants are still grappling with their traditional business models. While some may argue that these decisions are mainly politically and climate-driven, there is also considerable economic rationale behind them, driven by rational management and shareholders.
MIDDLE EAST OIL PRODUCERS ADAPT TO A SHIFTING ENERGY PARADIGM
The major Middle East oil producers, such as ADNOC and Saudi Aramco, are betting heavily on clean energy and technologies while simultaneously capitalizing on current oil sales. These companies, responsible for 15% of the world's oil production, have recognized the shift in the energy industry and are anticipating the decline of the oil era long before actual oil shortages occur. They aim to monetize their abundant oil resources at the highest possible price. These countries have the lowest cost of oil production globally, with breakeven prices as low as $10-20 USD per barrel. In comparison, other oil-producing regions, like Russia and the US, face higher breakeven prices of $30-40 USD/bbl and $50-60 USD/bbl, respectively.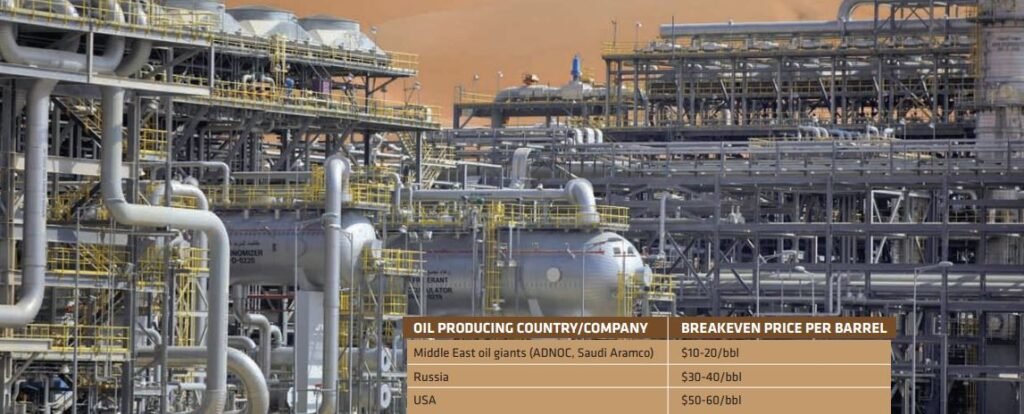 The analysis presented highlights the strategic decisions and actions taken by OPEC, especially major Middle East oil producers like ADNOC and Saudi Aramco, in response to the changing dynamics of the energy industry. By limiting oil production and creating an artificial underinvestment and minor deficit in the market, OPEC aims to maximise profits in the coming decades. This strategy involves pushing prices higher without causing significant destruction of demand, thereby achieving an ideal equilibrium.
Additionally, OPEC is investing heavily in new projects with low payback periods and the lowest possible breakeven prices. This approach is intended to increase their market share to 20% in the coming years, particularly as Russian oil production may decrease. Furthermore, anticipating a potential price decrease after the oil consumption peak, OPEC seeks to position itself to capitalize on higher prices and become a prominent player in the market.
The Vostok Oil project, a major undertaking by Rosneft with a breakeven price over $40 USD/bbl, raises questions about its long-term viability, as it may lack the resilience needed to face future challenges in a declining oil era.
To secure their place in the future global economy, ADNOC and Saudi Aramco are diversifying their investments beyond traditional oil activities. They are putting money into clean energy projects, technology development in energy storage, carbon capture, and hydrogen, as well as other ventures like the Neom city project, which aims to create a technologically advanced and diversified city in Saudi Arabia. These moves demonstrate the recognition that the era of relying solely on oil revenues is coming to an end, and they are preparing for a post-oil future.
The peak of the oil era might not be reached in the current decade, but it is anticipated to happen sometime around the 2030s. Despite this, the analysis encourages rational decision-making and preparedness for the inevitable decline of the oil industry. Rather than being overly pessimistic about the prospects of fossil fuels, it is vital to base decisions on the recognition that a transition is underway. Middle East oil producers seem to be well-aware of this, and they are positioning themselves to welcome the new era with comprehensive preparations and diversification efforts.