One more positive aspect of acquiring a second passport is the descendants may have easier access to various government services and resources available in Bangladesh, including healthcare, education, and social services
The government's decision opens up the opportunity for second- and third-generation foreign nationals with Bangladeshi heritage to secure Bangladeshi passports. This landmark move signifies Bangladesh's commitment to fostering stronger connections with the diaspora by enabling them to access Bangladeshi passports.
This decision was made during an inter-ministerial gathering convened at the Ministry of Home Affairs on August 16th. The session was presided over by Md. Saiful Islam, an additional secretary at the Ministry of Home Affairs. A formal report containing the decision will be presented to the home minister for consideration. If the minister grants approval, a circular will be disseminated concerning this matter.
Upon authorization, this regulation will also pertain to the young generation and descendants of individuals who have voluntarily given up their Bangladeshi citizenship.
Which countries have allowed the offspring of Bangladeshi Foreign nationals to have passports?
At this time, individuals with Bangladeshi roots and British or Canadian nationality can avail of the facility. Or, if the candidate is not currently holding a Bangladeshi passport but has the right to obtain one, he/she can access the service.
Presently, comparable services are being requested from Bangladeshi diplomatic outposts in Belgium, Australia, Sweden, Portugal, Japan, Russia, and other nations that endorse dual citizenship.
Updated passport rules
As per the new passport law, individuals born or residing anywhere in the world are entitled to obtain a passport. According to the provisions of the Bangladesh Citizenship Act, people born or residing anywhere are regarded as citizens of Bangladesh if they are descendants of Bangladeshi citizens from or after 25th March 1971, spanning two subsequent generations.
Hence, Bangladeshis who have become parents during their time abroad, as well as their descendants, possess citizenship in Bangladesh.
Consistent with this, a recent circular has been released to offer passports to those residing in the UK and Canada. This decision was made in significance with the number of Bangladeshis settled permanently in these two countries.
The home ministry's report reveals that a staggering number exceeding ten million Bangladeshis, including those from the first, second, and third generations, currently reside across the globe.
Potential advantages of Bangladeshi passport for foreign-born Bangladeshi nationals
Recent moves to streamline family reunification procedures have simplified the process of acquiring dual citizenship for the entire family. This shift will allow substantial family units to achieve citizenship collectively, without excluding any of the members.
Several individuals have confronted obstacles after their parents' demise in a foreign country, with assets left behind in Bangladesh. Because the offspring of the deceased lack verifiable Bangladeshi citizenship, they find themselves incapable of legally owning or managing these assets.
One more positive aspect of acquiring a second passport is they may have easier access to various government services and resources available in Bangladesh, including healthcare, education, and social services.
Holding a Bangladeshi passport might open up investment and business opportunities within Bangladesh. Some countries offer incentives and favorable conditions for their citizens to engage in business and investment activities.
Bangladeshi passport holders may have an easier time participating in cultural exchange programs, and education opportunities, including universities and research collaborations within Bangladesh.
Additionally, Bangladeshi citizens might have the right to participate in political and civic activities within Bangladesh, such as voting or running for office.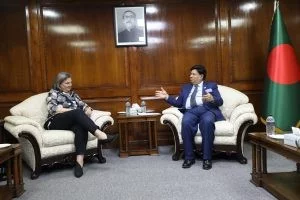 It can also facilitate visits to family and friends in Bangladesh, allowing descendants to maintain connections and relationships in their country of origin.
Lastly, it's important to know that holding a Bangladeshi passport can be influenced by various factors like the individual's country of residence, the diplomatic relationships between Bangladesh and that country, changes in visa policies, and other factors. Furthermore, visa-free travel and other benefits might vary depending on the country of residence of the foreign-born Bangladeshi nationals. Regulations and policies can change at any time, so it's recommended to check with the relevant government authorities for the most up-to-date information.