By developing a culture of transparency, accountability, and open communication, hospitals can ensure that patients receive the care they deserve and healthcare workers can fulfill their noble calling without compromise
In a heart-wrenching turn of events, Lucy Letby, once hailed as a compassionate "angel" nurse, has been implicated in a disturbing investigation involving the deaths of multiple infants under her care. The neonatal unit nurse, entrusted with the lives of vulnerable newborns, now faces shocking allegations that have shattered the façade of care she once represented.
The Angel of Death's Facade Cracks: Who is Lucy Letby?
Lucy Letby, once celebrated as a "guardian angel" nurse, is now at the center of a disturbing investigation. Working at the heart of a hospital, Letby was entrusted with the care of vulnerable infants in the neonatal unit. Her role was one of immense responsibility, where she was expected to provide comfort and healing to newborns and their families. However, the façade of care has crumbled as allegations of her involvement in multiple infant deaths have surfaced.
An investigation found-
The chief administrator at the hospital insisted that the doctors apologize to Letby in writing and ordered them to stop bringing false accusations against her
Despite their suspicions that Letby was murdering newborns, two consultants were made to take part in mediation with her
When Letby was ultimately relocated, she was given a position in the risk and security of patients' office, in which she had authority over private records from the newborn unit and was near senior managers whose responsibility it was to look into her
Because deaths were not properly reported, the wider NHS system was not aware of the high fatality rate
Letby was on work for a further six baby fatalities at the hospital in addition to the seven murder charges, and law enforcement have expanded their probe
While Letby was employed at Liverpool Women's Hospital, two infants also passed away
Early Concerns Ignored
Behind closed doors, a different narrative was unfolding. Doctors and fellow healthcare professionals noticed troubling patterns in Letby's behavior that raised alarms. Her colleagues reported witnessing inconsistent documentation, questionable decision-making, and unexplained occurrences during her shifts. These concerns were promptly communicated to hospital administrators, but their gravity was tragically underestimated.
Alarming Signs Unheeded
Months Leading Up to the Allegations:
Doctors began noticing discrepancies in the management of infants under Letby's care. They voiced concerns about unexplained shifts in patient conditions and unusual medication dosages. These warnings were initially met with indifference, as hospital bosses seemed reluctant to tarnish Letby's reputation.
Growing Discomfort Among Peers:
The whispers among healthcare workers grew louder as more instances of unsettling behavior came to light. Nurses and doctors alike questioned Letby's actions, expressing their misgivings to supervisors. Despite mounting unease, these concerns were not escalated, and the calls for a thorough investigation fell on deaf ears.
The Breaking Point:
The culmination of negligence came to a head when an unusually high number of infant deaths were linked to Letby's shifts. Doctors took it upon themselves to document the incidents meticulously and demand urgent action from higher-ups.
Hospital bosses were finally forced to acknowledge the severity of the situation, but it was a response that came far too late for the affected families.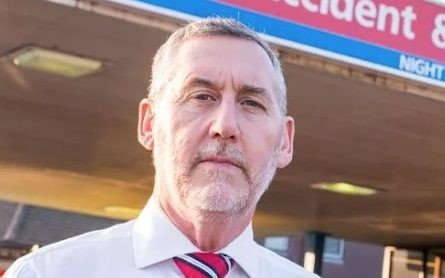 2016 June: The crucial phase
Early in June, yet another infant had passed away. Finally, two of the newborn triplets died abruptly during a 24-hour window at the very end of this month. Letby was at work when both victims passed away.
After the untimely death of the second triplet, Dr. Brearey attended a conference for the workers who had gone through tragedy.
While others were "almost crumbling before your eyes," he claims, Letby dismissed his insinuation that she must be exhausted or distressed. She replied, ""No, I've agreed to be resuming my shift tomorrow," she retorted. He claimed that when she showed up for work, she seemed rather comfortable and confident.
The two triplets' deaths were a turning moment for the following evening, according to Dr. Brearey, he allegedly called Karen Rees, an executive on duty, & urged that Letby be let off from his duties. She said no.
Dr. Brearey claims he questioned her about if she was going against the advice of seven consultant pediatricians and demanded to know whether she would be responsible for something that might occur to other infants the next day. Ms. Rees allegedly said "yes" in response.
On that very day, Letby was once again on duty when Baby Q, another infant, nearly died. Over one year after the initial event, the nurse continued to work three more shifts before being finally fired from the newborn unit. The strange fatalities and collapses thereafter stopped.
Yet no police investigation in 2017
Early in January 2017, Mr. Harvey presented the results of the two reviews to the hospital board. Both had suggested more research into several of the infant fatalities, but the board members never heard their advice.
According to meeting minutes, Mr. Harvey stated that top-down management and timely intervention issues were to blame for the newborn unit's troubles.
The seven neonatal unit consultants were called to a meeting with senior officials, including Mr. Harvey and the organization's CEO Tony Chambers, a few weeks afterwards, in late January 2017.
According to Dr. Brearey, the CEO informed them that he had invested a lot of time visiting Letby & her parent's and had apologized to them, reiterating that Letby committed nothing wrong. Mr. Chambers disputes his claim that Letby had committed no wrongdoing. According to him, he was copying her father.
The CEO, in the doctor's account, also demanded that the consultants apologize to Letby and cautioned the team that a line had been established so there were going to be "effects" if they passed it.
Proof of a poisoner from spring 2018
Letby was still employed at the hospital's risk as well as security office and had not yet been detained. However, Operation Hummingbird was already well underway, and Dr. Brearey was assisting the police in their inquiry.
He came across an autopsy report from 2015 regarding one of the infants on his unit late one night while reviewing some old medical data. It revealed that the infant's blood contained dangerously high insulin levels.At the time, the importance of the test report had gone unnoticed.
Natural insulin production by the body also results in the production of a compound known as C-Peptide. The fact that the C-Peptide estimation for the blood sugar reading that Dr. Brearey was examining was problematic. It was proof that the baby's body did not normally create the insulin and that it was instead injected.
Dr. Brearey remembers that it "made me feel sick." "The situation was quite obvious that the insulin had poisoned this baby."
A Call for Change: Ensuring a Safer Healthcare Future
The unsettling story of Lucy Letby serves as a stark reminder that the healthcare system's duty extends beyond medical care to safeguard the well-being of patients. While the alleged actions of one individual cannot define an entire profession, they shed light on systemic issues that demand immediate attention.
Legislative Reforms: Governments and healthcare regulatory bodies should enact stricter legislation to mandate transparent reporting of suspicions and allegations against healthcare professionals. This can prevent instances of neglect from slipping through the cracks.
Investing in Training and Oversight: Hospitals must invest in continuous training and oversight mechanisms to identify and address potential issues. Regular performance evaluations and peer assessments can contribute to a safer and more accountable medical environment.
Support for Affected Families: The families impacted by these tragic events deserve not only justice but also comprehensive emotional and psychological support. Hospitals should provide resources to help them cope and heal from the trauma caused by these incidents.
There has only been one fatality in the seven years after Letby left the newborn section of the hospital.
In the wake of the shocking revelations surrounding Lucy Letby, healthcare systems worldwide must heed the lessons learned from this devastating saga.
By championing a culture of transparency, accountability, and open communication, hospitals can ensure that patients receive the care they deserve and healthcare workers can fulfill their noble calling without compromise.