Vietnam and Bangladesh uphold a robust and time-honored friendship, grounded in historical similarities, a shared commitment to independence, tranquility, collaborative efforts, and progress.
On 15 August in Hanoi, Vietnamese President Vo Van Thuong hosted a farewell seminar for Samina Naz, the Bangladeshi Ambassador to Vietnam, as she concluded her tenure in the country.
At the meeting, President Thuong celebrated Ambassador Samina Naz's accomplishments during her six-year assignment in Vietnam. He also praised her for the positive and impactful role she played in strengthening the bond between Vietnam and Bangladesh in the last few years.
Bilateral ties strengthen amid $1.5B trade milestone
Both countries (Vietnam and Bangladesh) are committed to sustaining strong economic expansion, steadily progressing towards their shared objectives of achieving upper-middle-income status by 2030, followed by the transition to a developed, high-income status in the early 2040s. This collective pursuit honors the enduring legacies of their founding leaders: Bangabandhu Sheikh Mujibur Rahman and Vietnamese President Ho Chi Minh.
Samina Naz expressed her happiness at the impressive growth in the Vietnam-Bangladesh relationship across various domains. A particularly notable accomplishment is the trade turnover of approximately $1.5 billion in 2022, coinciding with both nations commemorating the 50th anniversary of their diplomatic relations this year.
President Thuong concurred with the Ambassador regarding the positive evolution of bilateral ties between the two countries. Notably, bilateral trade has quadrupled over the last decade, and both sides have intensified their collaborative efforts to attain the targeted $2 billion trade objective in 2023.
He further emphasized that the two nations should provide mutual support not only in terms of bilateral relations but also within multilateral forums.
Alongside the recent exchange of delegations, the Ambassador shared her optimism for the advancement and prosperity of bilateral relations in the near future. She particularly highlighted the promising prospects within the tourism sector, encompassing spiritual tourism and the study of Buddhism.
Bangladesh-Vietnam Trade
Vietnam and Bangladesh have positioned themselves as prime examples of economic prowess, showcasing remarkable GDP expansion driven by a strong focus on exports. Bangladesh has emerged as one of Asia's swiftly growing economies, maintaining an average growth rate of nearly 7% in recent years.
Similarly, Vietnam has also achieved an average growth rate of nearly 7%.
Trade relations between Vietnam and Bangladesh have evolved since the inception of the Joint Trade Committee meeting in 2015. Eleven key sectors, encompassing agricultural trade and pharmaceutical exports from Bangladesh to Vietnam, have emerged as top priorities for both countries.
Besides this, Vietnam has made multiple investments in Bangladesh. These encompass investments in special economic zones, collaborative ventures within the ICT sector, joint efforts in the textile and garment industry, software service exchanges, trade of halal products, establishment of a direct air connection, facilitation of trade in jute and jute products, cooperation in the banking sector, and joint promotion of the tourism sector.
Both countries possess substantial and youthful populations, providing businesses with an extensive labor force. Moreover, these nations leverage their geographical advantages. Bangladesh's strategic location between China and India, coupled with its ties to ASEAN and access to the Bay of Bengal, facilitates streamlined trade operations.
Conversely, Vietnam boasts an extensive coastline that interfaces with the East Asian trade corridor. Its array of ports, airports, and its adjacency to China collectively position it as a 'China plus one' destination.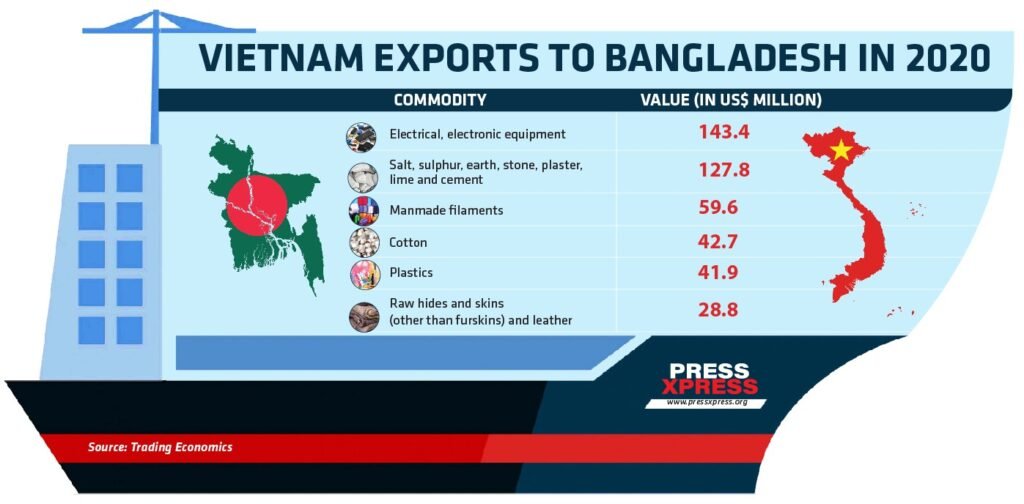 The major exports from Vietnam to Bangladesh comprise –
Clinker
Cement
mobile phones
steel billet in comparison
Textiles
Leather
Medicine
Shoe materials
 Sesame are the prevailing exports from Bangladesh to Vietnam.
Vietnam has directed its investment efforts toward a single venture, backed by a cumulative investment of $27,900.
Vietnam, Bangladesh keen to explore FTA prospects to boost bilateral trade
Vietnam and Bangladesh are keen to explore a Free Trade Agreement (FTA) to boost bilateral trade and economic ties. Vietnam's legal changes to attract foreign investors might lead to tough competition among global companies eyeing the local market. Notable giants like Samsung, Adidas, Google, Foxconn, Nike, and H&M have shifted production to Vietnam, significantly elevating exports and investments.
Even without an existing FTA, both Bangladesh and Vietnam prioritize trade, emphasizing favorable conditions for business ventures in their domains. Strengthened trade links could spur economic growth, especially given the ongoing US-China trade war repercussions. China's ascent up the value chain raised its manufacturing costs, creating opportunities for Vietnam and Bangladesh, particularly in clothing and textiles.
Vietnam seeks investments in high-tech sectors beyond basic assembly, while Bangladesh aims to diversify manufacturing by entering electronics like Vietnam. Both countries aim to climb the value chain.
Rohingya Crisis
Addressing displaced Myanmar nationals, Vietnam, an ASEAN member, aligns with the 'five-point consensus." ASEAN leaders stress Myanmar's role in initiating repatriation, following bilateral agreements with Bangladesh.
Vietnam seeks stability in Myanmar to aid repatriation cooperation between Bangladesh and Myanmar. Leveraging its strong relationship with Bangladesh, Vietnam promotes collaboration and talks.
Both countries could create a comprehensive repatriation plan based on their earlier agreement. Bangladesh holds over 1.1 million Rohingyas in Cox's Bazar and Bhasan Char, yet no repatriations have occurred since 2017's influx.