Accusations of wartime brutality, the art of propaganda, and the long-lasting effects of grouped tales all weave together to form the complex outlines of Sayeedi's notorious legacy.
The notorious legacy of Delwar Hossain Sayeedi, a prominent figure within Bangladesh's Jamaat-e-Islami party, continues to spark intense discussions, even after his passing. Delwar Hossain Sayeedi, who was condemned to death for crimes against humanity, died on Monday (August 14) of heart disease at Bangabandhu Sheikh Mujib Medical University (BSMMU) in the capital.
His involvement in horrendous war crimes during the Liberation War of 1971 is one of the darkest chapters in his life story. Additionally, his legacy was perpetuated through a carefully orchestrated propaganda campaign that glorified his image to his supporters, despite his convictions.
War crimes: A chronicle of atrocities
Sayeedi's notorious legacy and association with the Razakar movement during the Bangladesh Liberation War is a somber testament to the allegations of wartime atrocities that continue to haunt the history of Bangladesh. The Razakars were local collaborators who aligned themselves with the Pakistani military regime in an attempt to suppress the burgeoning independence movement in Bangladesh's formation in 1971.
Sayeedi possessed influential oratory skills and a charismatic presence that made him an effective tool for spreading the Pakistani authorities' narrative. He used his platform to vilify those advocating for an independent Bangladesh, painting them as enemies of Islam and proponents of disunity. By framing the struggle for independence as a challenge to religious values and national integrity, Sayeedi contributed to a climate of polarization and distrust among the population.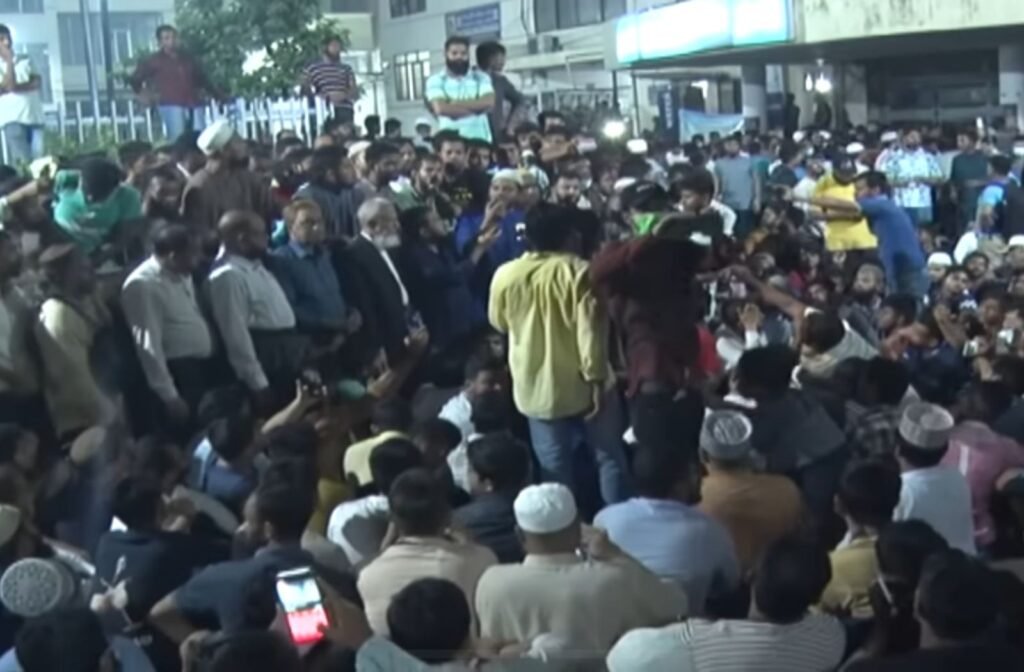 Furthermore, his involvement in the Razakar movement extended beyond propaganda.  Sayeedi's name has become synonymous with an excruciating and tragic chapter in the nation's history, as he was charged with committing heinous crimes during the Bangladesh Liberation War of 1971, including passing classified information to the Pakistani Army, rape, arson, and murder.
Sayeedi's 2013 conviction by the International Crimes Tribunal of Bangladesh only served to reaffirm the gravity of the charges against him. The court found him guilty of eight out of twenty alleged charges, providing further support for the nation's decades-long narrative of wartime atrocities. These charges were supported by testimonials from documented survivors, historical records, and eyewitnesses. In addition, reports of orchestrated home invasions, property devastation, and targeted violence against the Hindu community and pro-liberation advocates attest to the magnitude of his malice.
The art of propaganda
The art of propaganda, honed over time, has played a significant role in shaping the narrative around Delwar Hossain Sayeedi and his legacy. His supporters have skillfully employed various communication channels, including social media, to disseminate a version of events that portrays him as a champion of their cause and a victim of injustice. The use of emotionally charged imagery, slogans, and carefully crafted messages has been instrumental in galvanizing his followers and eliciting their unwavering loyalty.
The superimposed image of Sayeedi on the moon, circulated widely among his supporters, exemplifies the potency of visual propaganda. This image, coupled with messages of divine favor, has been used to cultivate a cult-like following that sees Sayeedi not as a perpetrator of wartime atrocities but as a symbol of righteousness. This calculated propaganda campaign has succeeded in fanning the flames of discontent and defiance, sparking protests and clashes even after his demise.
Another method of propaganda employed by his supporters was to appeal to religious sentiment. Sayeedi's supporters portrayed his conviction as an injustice, depicting him as a victim of political vendettas rather than a perpetrator of heinous crimes. The propaganda machinery had attempted to turn the criminal allegations against Sayeedi into a rallying cry for his followers. His persona was deftly molded into a martyr of political conspiracies, igniting fervent support among his party workers that continues to reverberate after his death.
The legacy of havoc and arson continues even after Sayeedi's death
Following Sayeedi's demise, an incident of conflict unfolded over transporting his corpse from Dhaka to his hometown Pirujpur and holding the Namaz-e-Janaza in Dhaka. From Monday night to Tuesday (15 August), tensions escalated in areas surrounding the Bangabandhu Medical University, including Shahbagh. The police were required to intervene to disperse the Jamaat-e-Islami and Delwar Hossain Sayeedi supporters.
Before the official announcement of Delwar Hossain Sayeedi's death on Monday evening, a volatile crowd of Jamaat-e-Islami supporters had already gathered in front of Bangabandhu Sheikh Mujib Medical Center. As the news of his death broke around 9 p.m., the situation deteriorated further, with the gathered Jamaat-e-Islami supporters becoming unrulier.
Monday night, during the incident of retrieving Sayeedi's body from the hospital, a confrontation occurred. During this time, clashes escalated as Jamaat-e-Islami supporters confronted the police with violence, vandalized vehicles, and demanded that the police vacate the hospital area. The supporters insisted that the funeral prayer for Sayeedi should be held in Dhaka. As reported by individuals at the scene, during this time the police attempted to communicate with Jamaat supporters, informing them that efforts were being made to remove the vehicle carrying the corpse from the hospital grounds.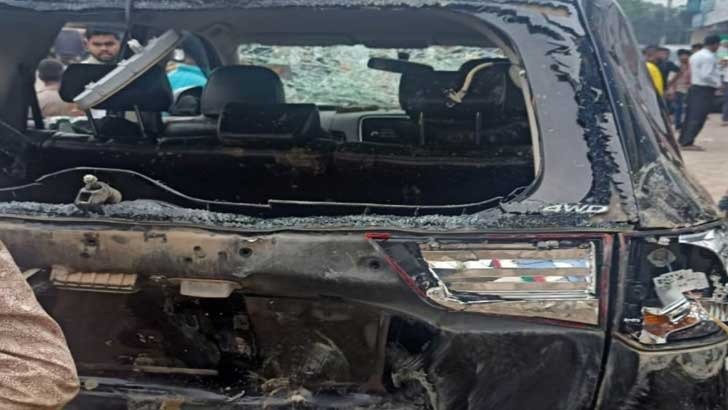 Shortly thereafter, during the early hours around 5 a.m., Jamaat supporters shattered the glass of the vehicle carrying Sayeedi and also damaged its wheels. At one point, the agitated Jamaat supporters outside the hospital attacked with bricks and sticks, damaging multiple vehicles and setting a few motorcycles on fire. The police were able to take the ambulance to Pirojpur via the highway at approximately 6:00 a.m. and transport the body to Pirojpur by dawn. A vehicle transported the body to Sayeedi Foundation in Indurkani, Pirujpur, around 10 a.m.
On the issue of Namaz-e-Janaza, DMP Commissioner Khandaker Golam Faruq during a press conference said, "Considering the attack and vandalism that took place in the early hours Tuesday morning, to avoid any further untoward situation we decided not to give permission for the absentee funeral."
Furthermore, in various regions of the country, including Dhaka, Chattogram, and Cox's Bazar, his supporters engaged in violent conflict following his death. Jamaat-e-Islami activists clashed with the police at the Baitul Mukarram mosque's north gate on Tuesday afternoon. When the police attempted to disperse them, they began throwing rocks and engaging in violent altercations.
Fatalities and clashes from the legacy's echo
Following Sayeedi's death, there have been casualties in the ensuing conflicts. At least one person was killed, and over 70 individuals were injured in various regions of the country, including Dhaka, Chattogram, and Cox's Bazar. The conflict in Chakaria resulted in the death of a 60-year-old man from gunfire wounds. Furthermore, the confrontations resulted in the injury of fifteen police officers and the apprehension of over thirty individuals.
These numbers serve as a sobering reminder of Sayeedi's continuing notorious legacy. They represent the physical, mental traumas and societal divisions that his persona continues to provoke.
Meanwhile, Jamaat-e-Islami has announced that Sayeedi's Gayebana Janaza (absentee cremation) will be held at the Baitul Mukarram mosque on Wednesday (today). The Dhaka Metropolitan Police (DMP) has already stated that it will not permit Sayeedi's funeral in Dhaka.
The unrest that has erupted in the aftermath of Delwar Hossain Sayeedi's death highlights the intricate interplay of emotions, ideologies, and historical grievances that his supporters have been ardently propagating. Sayeedi's death has reignited a deeply entrenched and frequently divisive sentiment among his supporters, who view him through a lens that disregards the accusations of wartime brutality that tarnish his legacy.
The response to the clash is not coincidental; it appears to have been orchestrated to coincide with his Janaza, the funeral prayers, and his burial. Sayeedi's supporters have grasped this opportunity to demonstrate their unwavering commitment to his notorious cause and demonstrate their solidarity towards his legacy.
To conclude, the lasting impact of Sayeedi's role in wartime propaganda is evident in the complex legacy he leaves behind. His support base continues to invoke his name to promote their own agenda, fostering an environment of misinformation and skewed historical interpretation. In their minds, he continues to represent resistance to what they perceive to be unjust convictions.