Musk's primary goals is to create a more open and permissive environment for Twitter users to express their viewpoints and opinions without undue restrictions
Elon Musk, the renowned billionaire entrepreneur and CEO of companies like Tesla and SpaceX, made headlines on October 27, 2022, when he acquired the American social media giant Twitter Inc. Musk's strategic accumulation of shares had already given him a significant 9.1% ownership stake in the company by April 2022, making him the largest shareholder.
The acquisition of Twitter was not without its fair share of drama and legal challenges. Musk's changing decisions about the company's future direction left Twitter in an uncertain state. Upon taking over as CEO, Musk wasted no time in making radical changes. He made Twitter a private entity and merged it with X Corp, a new parent company. In a bold move, he removed the previous CEO, Parag Agarwal, and terminated several top executives, streamlining the organization to achieve his vision.
One of Musk's primary goals is to create a more open and permissive environment for Twitter users to express their viewpoints and opinions without undue restrictions. He even hinted at the possibility of reversing the ban on former US President Donald J. Trump from the platform. However, this open approach to speech has sparked concerns about the potential spread of misinformation and toxic content, leading to political debates across the globe.
The big question that arises now is: What is Musk's grand plan with X?
Is Musk genuinely trying to create a free platform for everyone, or does he intend to control social media on a global scale?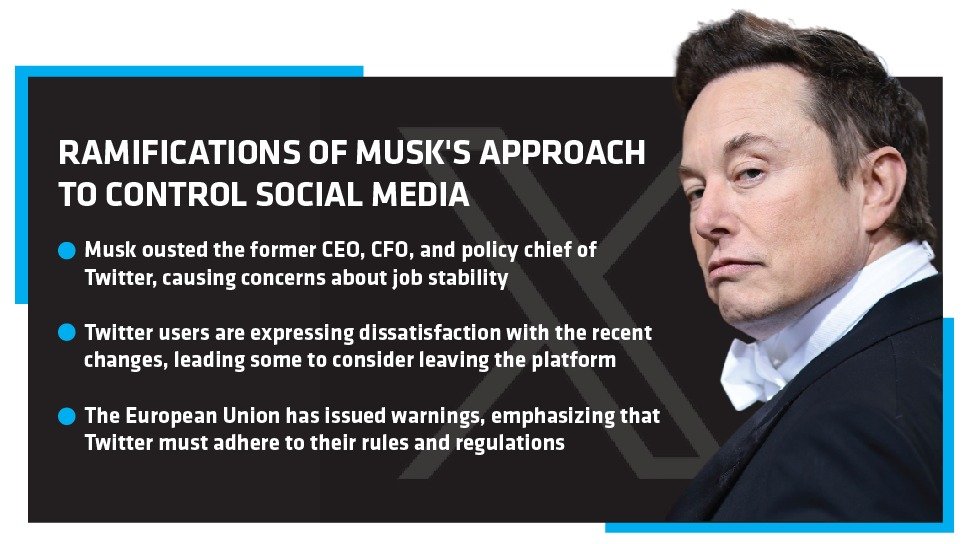 Elon Musk's X app appears to have a broader mission, as hinted by Walter Isaacson, who is working on Musk's biography. Musk envisions X as an all-encompassing platform, following his earlier ambition in 1999 when he created X.com, an online bank aimed at providing a "one-stop destination" for financial services. This venture eventually became PayPal. Now, Musk is determined to make X a revolutionary system that dominates the world of social media.
Recently appointed CEO, Linda Yaccarino, shares this vision of X as an innovative platform far beyond its microblogging origins. Under the name "X," Yaccarino foresees a future of unlimited interactivity, incorporating audio, video, messaging, payments, and banking to create an international marketplace for ideas, discussions, services, goods, and opportunities. With artificial intelligence at its core, X promises to facilitate connectivity in ways that could exceed our imagination.
What possibly could be "X"?
The speculation about X being transformed into a super app like WeChat is not unfounded. Musk had expressed his desire to create an app similar to WeChat, which provides a wide range of services beyond social media, before officially taking over Twitter. With WeChat's success in mind, Musk aims to turn X into a thriving financial ecosystem. Similar to WeChat's mini-apps, developers may contribute to enhancing the user experience. X also intends to facilitate direct messaging for payments, enabling Twitter users to send money worldwide in real-time.
X plans to reward its users for creating content on the platform, following the example of other social media platforms like TikTok and Instagram. Musk has announced that Blue subscribers, previously known as verified Twitter users, will receive a share of the ad revenues generated by Twitter. Additionally, the company plans to introduce revenue-generating ads on profile pages and provide double payouts to users.
What is apparent may not be the truth
While the prospect of an all-in-one app like WeChat sounds promising, it comes with its fair share of challenges. WeChat, despite its popularity, has faced issues such as spam, scams, content control, privacy concerns, and security vulnerabilities. As X aims to follow a similar model, there are concerns about Musk's intentions and how he plans to address these potential pitfalls.
Despite Musk's accomplishments and ambitions, he has faced criticism for various reasons. Some argue that the ability to purchase verification badges undermines the trustworthiness of the platform, while Musk's endorsement of controversial figures adds to the concerns surrounding X's future.
In conclusion, Elon Musk's plan to take over social media with X has undoubtedly sparked interest and speculation about its potential impact on the digital landscape. Whether X will successfully become the next revolutionary super app or face challenges similar to those experienced by WeChat remains to be seen. As Musk continues to push the boundaries of innovation, the world watches closely to see how his vision for X unfolds.