In a bold rebranding move, Twitter owner Elon Musk has rebranded the company's iconic blue bird logo with the letter X.
In an unexpected move, tech tycoon Elon Musk has completely rebranded Twitter as "X" and unveiled a new logo to signal the platform's transition to become a "everything app."
Musk made the startling announcement early Sunday morning. Monday morning, he tweeted that X.com now points to Twitter.com. Twitter's official account — @Twitter — has also been rebranded and is now known as "X," with a profile image of the new logo and a bio reading "What's happening?!"
The blue bird that has represented Twitter for the past 17 years has been replaced with a stylized white "X" on a black background. With this change, Musk is jettisoning one of the company's most recognizable assets, Larry, who has represented Twitter for over a decade, and whose characteristics, including color and "tweets," pervade the entire platform. Musk's vision for X resembles China's WeChat, a super-app that has transformed the daily lives of millions of Asian users. However, this bold rebranding move does not come without obstacles, and it has already generated mixed reactions and concerns regarding Twitter's brand recognition and future prospects.
The transformation to X following Musk's ambitious vision
The fascination of Elon Musk with the letter "X" is not new. In 1999, he co-founded x.com, a platform for online banking that subsequently evolved into PayPal. Musk held sentimental value for the domain x.com, and he purchased it back from PayPal in 2017. Now, Twitter follows suit as he renames the company X Corp and announces his intention to develop a "super app" called X. This is a daring step towards Musk's vision of transforming Twitter into an all-encompassing platform offering multiple services, including peer-to-peer payments, as well as a rebranding.
Musk has been explicit about his desire to transform X into a "everything app" similar to China's wildly popular WeChat. WeChat has become one of the most popular applications in the region, with an estimated 1.29 billion users in China alone. Its range of services includes payments, e-commerce, transportation, and even official government services, in addition to social media and communications.
"You basically live on WeChat in China because it's so usable and helpful to daily life, and I think if we can achieve that, or even get close to that at Twitter, it would be an immense success," Musk told a company town hall meeting in June last year.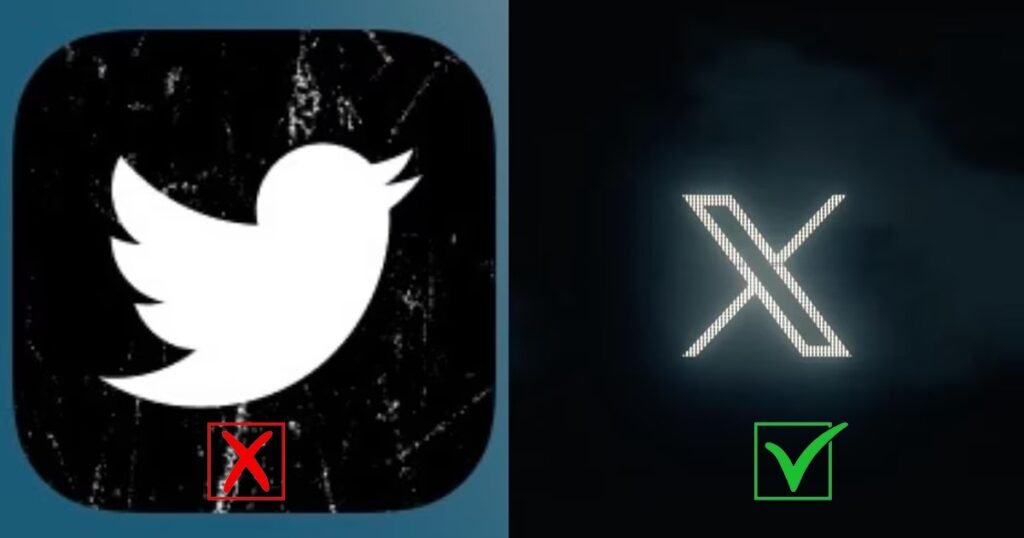 Mixed reactions
The rebranding of Twitter to X has elicited a range of responses from users and industry professionals. Some view it as a visual representation of Musk's vision for a new type of social media platform, a symbol of Musk's legacy on the company. Others, however, are concerned about the impact on Twitter's user base and reputation.
Twitter has evolved from a simple platform to a cultural phenomenon. It has established itself as a source of real-time information and a forum for public discourse. Changing the name and logo of such a well-known brand runs the risk of diminishing its identity and may make it more difficult for people to locate the app or interact with it as they once did.
Fernando Machado, who previously held chief marketing officer roles at Activision Blizzard, Restaurant Brands International and Burger King, said rebrands typically take time to sink in, though "as a Twitter user, I confess that I miss the little bird already."
Matt Rhodes, strategy lead at creative agency House 337, which has worked with companies such as Sky, stresses the dangers of making it more difficult for users to locate and utilize the app on their cluttered phone displays. Musk's transformation of Twitter into X is an ambitious attempt to redefine the platform's purpose, but a balance must be found between innovation and preserving the platform's defining characteristics.
The 'Everything App' trend
The rise of super-apps in Asia has set a new standard for what users expect from a digital platform. Apps like WeChat, PayTM, and GoJek have seamlessly integrated various services into a single app, making users' lives more convenient and efficient. Musk's vision for X follows this trend, seeking to offer a comprehensive suite of services beyond traditional social media functions.
While Twitter's rebranding may appear as a response to the success of super-apps in Asia, it also reflects a broader shift in the digital landscape. Users, especially younger generations, are seeking integrated experiences that cater to their diverse needs, from communication to payments and beyond. As the digital world evolves, social media platforms must adapt to remain relevant and competitive.
What are the potential challenges of this rebranding decision?
Musk's decision to rebrand Twitter as X could be challenged in court. The letter "X" is extensively used in trademarks, and companies such as Microsoft and Meta already own intellectual property rights to the letter. These legal complexities may be difficult to navigate, necessitating cautious consideration to avoid conflicts and trademark disputes.
Additionally, X must establish itself as a unique brand with a distinct identity in order to avoid confusion and legal conflicts with existing companies that use the letter "X" in their brand names, analysts say. This requires developing a compelling brand story, visual identity, and messaging that distinguishes X from its competitors.
Additionally, the swift rebranding has aroused security concerns. The transition could be used by cybercriminals to initiate phishing attacks against users, taking advantage of the confusion surrounding the name change. Such attacks could compromise user data and credentials, so Twitter must take proactive steps to ensure user security and privacy during the transition.
Will X Succeed?
Musk appointed Yaccarino, a former advertising sales executive at NBCUniversal, as Twitter's CEO last month. According to Yaccarino, the social media platform is on the verge of expanding its scope.
"Powered by AI, X will connect us in ways we're just beginning to imagine," Yaccarino tweeted earlier.
"X is the future state of unlimited interactivity – centered in audio, video, messaging, payments/banking – creating a global marketplace for ideas, goods, services, and opportunities," she added. 
Twitter's rebranding to X and its transformation into an "everything app" under Elon Musk's vision is a significant step for the platform. The success of X will be closely watched as it competes with established super apps. Delivering a seamless user experience and establishing a unique identity will be key to attracting and retaining users. As X ventures into this new chapter, it will reshape the future of social media and digital communication, adapting to the changing demands of digital consumers. However, challenges like legal complexities and intense competition loom ahead, making X's journey to success an exciting yet uncertain one.
To conclude, Elon Musk's rebranding of Twitter to X and its transformation into an "everything app" pose challenges in user acceptance and security, while aiming to compete with existing super-apps. Whether X will thrive as Musk's vision for an all-encompassing platform or face an uphill battle to stand out in an increasingly crowded digital world remains to be seen.