The Internet connection in Bangladesh has experienced significant growth, similar to many other developed and developing countries in recent decades. Despite various challenges in expanding Internet access and usage, the government of Bangladesh has prioritised the development of the Internet and Information Technology sector.
From beginning of internet usage in Bangladesh since 1990s with only 500 users to 2022, the country experienced significant growth in its number of people with internet access. According to a survey conducted by the Bangladesh Bureau of Statistics (BBS), the internet connection in Bangladeshi households has grown nearly eightfold over the past decade.
All about the survey
The survey, titled "Survey on Access and Use of ICT at the Household and Individual Level," revealed that the proportion of households with internet access at home rose from 4.8% in 2013 to 38.1% in 2022. The survey also indicated that 29.7% of rural households and 63.4% of urban households had internet access. The ownership of computers in households increased from 5.7% in 2013 to 8.7% in 2022, with rural areas at 3.1% and urban areas at 25.6%.
Regarding fixed-line telephone connections, only 0.8% of households in Bangladesh had them, with rural areas at 0.3% and urban areas at 2.3%. However, the survey found that 62.0% of households in the country owned at least one television unit, with rural households at 56.8% and urban households at 77.5%. The survey also highlighted individual usage patterns, revealing that 7.4% of individuals aged 5 years and above used computers, while 39.9% used the internet.
Mobile phone usage was even more prevalent, with 89.9% of individuals using them. According to survey report, in rural areas, a higher proportion of males (36.6%) than females (23%) used the internet, while in urban areas, the figures were 71.3% for males and 62.4% for females. Similarly, in terms of computer usage, 5% of males and 2.7% of females in rural areas used computers, while the rates were 23.8% for males and 13.1% for females in urban areas.
The report concluded that the proportion of households with televisions had also increased, rising from 46% in 2013 to 62% in 2022.
History of internet in Bangladesh
In the early 1990s, Bangladesh initially had limited dial-up access to email through Bulletin Board Systems (BBSs) provided by a few local service providers. However, the number of users at that time did not exceed 500. Users were charged based on data usage, and international email transfer was facilitated through UUCP using international dial-up connections.
In June 1996, the first VSAT (Very Small Aperture Terminal) base data circuit was established in Bangladesh, and licenses were granted to two Internet Service Providers (ISPs) by the Bangladesh Telegraph and Telephone Board (BTTB). Subsequently, with more liberal government policies, the industry witnessed rapid expansion, resulting in over 180 registered ISPs by 2005. The Bangladesh Telecommunication Regulatory Commission (BTRC), operating under the Bangladesh Telecommunications Act, currently regulates ISPs in the country.
In May 2006, Bangladesh achieved a significant milestone by inaugurating the submarine cable optic fiber connectivity as part of the SEA-ME-WE 4 project, a consortium of 16 countries. The landing station for the submarine cable is located in Cox's Bazar, a city in southern Bangladesh near the Bay of Bengal. In July 2008, the Submarine Cable Project was transformed into the Bangladesh Submarine Cable Company Limited (BSCCL), responsible for all services related to the submarine cable.
The number of Internet subscriptions in Bangladesh grew from 186,000 in 2000 to 617,300 in 2009. However, the percentage of the population using the Internet remained low at 0.4% in 2009, placing Bangladesh among the countries with the lowest Internet usage rates globally. It ranked ahead of only North Korea, Myanmar, and Sierra Leone in terms of Internet penetration. However, by 2011, there was a significant surge in Internet users, with a growth rate of over 900%. The total number of Internet users reached 5,501,609, accounting for 3.5% of the country's population. This increase was primarily due to the widespread availability of mobile Internet access.
In 2020, approximately 25% of Bangladesh's population had access to the Internet, a substantial increase compared to 2011.
Divisive nature of the connection
According to some sources, there is a significant disparity in internet access among households in Bangladesh based on their socio-economic backgrounds. The Multiple-Indicator Cluster Survey conducted by the Bangladesh Bureau of Statistics in 2019 revealed that 62% of households in the country do not have internet access at home. This data was also highlighted in a press release published by Unicef, emphasising the large difference in internet access between the poorest 20% and richest 20% households in the country. The statement mentioned that only 8.7% of the poorest 20% households have internet access at home, while 75.3% of the richest 20% households enjoy this privilege.
The digital divide and inequity highlighted in the report have had a significant impact on children's education, especially during the pandemic-induced school closures. The Unicef report found that globally, two-thirds of school-age children do not have internet access at home, hindering their access to online learning opportunities. In total, an estimated 1.3 billion children between the ages of three and 17 lack internet connectivity in their homes, according to a joint report by Unicef and the International Telecommunication Union (ITU).
Tomoo Hozumi, the Unicef representative in Bangladesh, he emphasised that children without access to these means of distance learning are disproportionately affected, jeopardizing their education and perpetuating existing inequalities. Hozumi further noted that this divide can perpetuate a vicious cycle of poverty and disparity, with children becoming the transmission belt for intergenerational inequality. Bangladesh has approximately 42 million children who have been affected by the school closures caused by the Covid-19 pandemic.
People's motive on the importance of internet usage
According to a survey conducted by the Bangladesh Bureau of Statistics (BBS), a significant number of households in Bangladesh do not perceive the need for internet access due to the high costs associated with data and devices. According to the preliminary report titled "Survey on ICT Use and Access by Individuals and Households 2022," it has been discovered that around 75% of households in the nation do not perceive the necessity of utilizing the internet. This sentiment has been expressed by 63.1% of the participants, as indicated by the report.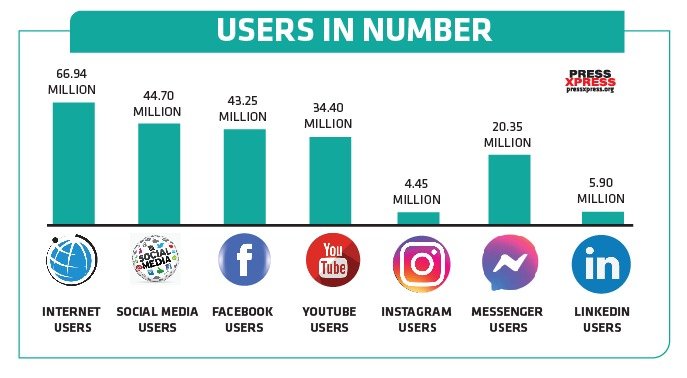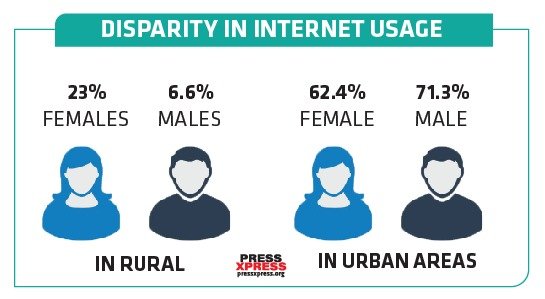 Furthermore, 48.2% of households consider internet services to be too expensive. Despite mobile phone ownership being widespread at 97.4% of households, 34.9% of respondents still find the equipment required to access the internet to be unaffordable.
The survey highlights the challenge of affordability and the lack of digital inclusion, particularly for those residing in rural areas. These survey results largely align with a preliminary report on the Population and Housing Census 2022 published in July, which revealed that 6.5 crore (65 million) people aged 18 and above in Bangladesh do not use the internet. The survey also indicates that 52.2% of the population in Bangladesh owns smartphones. In terms of regional variations, the percentage of internet-using households is highest in Dhaka at 54.2% and lowest in Rajshahi at 19.7%.
Regarding mobile phone access, the female population slightly surpasses the male population by 0.1 percentage points, with 89.9% of males and females having access to mobile phones. The survey also notes that computer usage is highest in Chattogram at 15% and lowest in Barishal at 4%.
The report states that the percentage of internet users in the total population has risen from 6.7% in 2013 to 38.9% in 2022. Similarly, mobile usage has increased from 81.7% in 2013 to 89.9% in 2022.