The Bangladesh Awami League and Bangladesh Nationalist Party (BNP) are two of the largest and most influential political parties in Bangladesh, with a long history of political rivalry. The Awami League, founded in 1949, is a centre-left political party that advocates for secularism, democracy, and social justice. It has traditionally drawn its support from the Bengali-speaking population of Bangladesh and has been in power several times since Bangladesh gained independence from Pakistan in 1971. The BNP, founded in 1978, is a centre-right political party that advocates for nationalism, democracy, and Islamism. It has traditionally drawn its support from the non-Bengalispeaking population of Bangladesh, particularly from the business community. The party has also been in power several times since its inception.
The political animosity between the Awami League and the BNP is grounded in their divergent aspirations for the future of Bangladesh. Historically, the Awami League has been a staunch advocate of Bengali nationalism and secularism, while the BNP has prioritized Bangladeshi nationalism and Islamism. Unfortunately, this rivalry has been marred by various forms of political violence, such as street protests, strikes, and even assassination attempts. Each party has accused the other of engaging in electoral fraud, corruption, and human rights violations. Moreover, the military's involvement in Bangladeshi politics has further complicated the situation. With national election in the horizon, the two largest political parties in Bangladesh, Awami League and BNP, cannot be any further in the opposite side of the spectrum regarding election process. Awami League is holding its ground to hold the election in the manner written in the country's constitution. On the other side of the field, BNP has also taken a position to not joining the election in the current proceedings, with also engaging foreign powers and international organizations to push for a regime change.
Bangladesh Awami League has won three consecutive national elections since 2008. BNP, and other opposition political and non-political entities have continuously accused Awami League of strong handing the opposition agenda. BNP boycotted the national election in 2014 with the pretext of not-level playing field and in 2018 they ended up winning 5 seats with limited participation. At present, BNP is strongly holding a position of not participating in polls under present system. They are prescribing different formulas such as return of the old caretaker government system or a national government with representation of all parties except Awami League. The chess play of political negotiation has begun in national and international theatre both. To reveal the reasons why Awami League is so vigorously opponent of BNP's terms, a history logged with blood, conspiracy, blaze and mayhem can be found. This article digs deep to unearth the roots of hatred between the two parties.
THE BLOOD OF 1975
The year 1975, four years after Bangladesh's independence, was the most brutal and bloody chapter of the country's history. The political aspiration and conspiracy saw heinous acts performed against Bangabandhu Sheikh Mujibur Rahman, the four national Awami League leaders and their family members. This dark chapter saw the hiatus of proliberation spirit of socialist democratic and secular values, and rise of Major General Ziaur Rahman who eventually founded the Bangladesh Nationalist Party. The period oversaw the rejuvenation of sectarian sentiments of preindependence period in the name of political consensus and rehabilitation of murderers of 15th August and 4th November.
Zia's involvement in 15th August massacre of Bangabandhu's family
On the dark night of 15th August founding father of Bangladesh Bangabandhu Sheikh Mujibur Rahman alongside 14 family members were assassinated by a group of military insurgents. In the aftermath of the assassination of Bangabandhu, several of the killers spoke to both local and foreign journalists about their involvement in the plot, revealing troubling connections to high-ranking military officials especially then Deputy Chief of Army Staff Major General Ziaur Rahman. Syed Farooq Ahmed and Khandakar Abdur Rashid, two of Bangabandhu's self-claimed assassins, claimed that Ziaur Rahman, who took over as Chief of Army Staff immediately after the coup, was involved in the planning of the assassination for some time. According to interviews conducted by Anthony Mascarenhas in 1976, Farooq stated that he met with Ziaur Rahman on the evening of March 20, 1975, and that Ziaur Rahman instructed him to move forward with the plot. However, as a senior officer, he expressed his inability to be in front.
'Major Farooq was in contact with General Zia as they were childhood acquintances. One-night Major Farooq came back from Zia's home and told my husband that Zia wants to become the President if the government changes. Zia says, "It is a success, come to me. If it's a failure don't involve me. Changing the government is not possible keeping Sheikh Mujib alive." A few days later, Major Farooq came to my house and told Rashid that Zia had said, "We need to find a political figure who can take responsibility." He accordingly contacted Rashid Khandaker Moshtaq at laters Agamasi Lane residence. On the afternoon of August 15, General Ziaur Rahman visited Rashid at Bangabhaban to make him the Chief of Army.'

[Published on Daily Prothom Alo: 15 August 2018]
During the trial of Bangabandhu's murder case Jobaida Rashid, the wife of Khandakar Abdur Rashid in her testimony said, 'Major Farooq was in contact with General Zia as they were childhood acquintances. One-night Major Farooq came back from Zia's home and told my husband that Zia wants to become the President if the government changes. Zia says, "It is a success, come to me. If it's a failure don't involve me. Changing the government is not possible keeping Sheikh Mujib alive." A few days later, Major Farooq came to my house and told Rashid that Zia had said, "We need to find a political figure who can take responsibility." He accordingly contacted Rashid Khandaker Moshtaq at laters Agamasi Lane residence. On the afternoon of August 15, General Ziaur Rahman visited Rashid at Bangabhaban to make him the Chief of Army.' [Published on Daily Prothom Alo: 15 August 2018]
Shahriar Rashid, another assassin, also mentioned that he had multiple meetings with Ziaur Rahman at that time. In an interview with the weekly Meghna in 1985, in response to a question, he said: "Ziaur Rahman was the deputy chief of the army at that time. He had many functions to do. So, we have talked to him many times. These meetings have been held in many places." Abdul Majed, another self-professed assassin, who fled to India after the assassination, claimed that Ziaur Rahman directly patronized the army members involved in the plot and even offered them jobs at the foreign ministry. These revelations serve as a stark reminder of the dark underbelly of political power and the lengths to which some will go to achieve it. It is crucial that the truth about the assassination of Bangabandhu and his family, and its impact on Bangladesh political practices be always kept in mind.
Killing of four national leaders on 3rd November
Former President Syed Nazrul Islam, former prime ministers Tajuddin Ahmed and Muhammad Mansur Ali, and President of Awami League A. H. M Qamaruzzaman, are the four national leaders who are embroidered in the history of Bangladesh's independence. Following the assassination of Bangabandhu, Khondaker Mostaq declared himself the President and Ziaur Rahman became the Chief of Army Staff. The new leadership with collaboration with the perpetrators of 15th August, led a crackdown on Awami League leaders and freedom fighters throughout the country. During this time, Mostaq and Ziaur Rahman imprisoned four national leaders alongside 50 Awami League leaders in Dhaka Central Jail. Ziaur Rahman even used a Bengali ISI spy to capture Tajuddin Ahmed, who was later sent abroad with a reward of one lakh dollars, a scholarship and finally a job at BBC Bangla. However, the spy continued to conspire against Sheikh Hasina and the Awami League until he was exposed and dismissed after Awami League's return to power in 1996. Mostaq viewed the jailed national leaders as a threat to his power, while Ziaur Rahman sought to eliminate them entirely to ensure his long-term control.
On 4 November 1975, Jailer Aminur Rahman gathered the four national leaders in one room, under the pretext of a meeting with a representative of the Khondaker Mostaq Ahmad government. Despite the Deputy Inspector General of Prisons' refusal to allow their entry, five army officers led by Moslemuddin were eventually granted access to the jail on orders from President Khondaker Mostaq Ahmad. The officers entered the jail and shot the four leaders in their cell, killing all except Muhammad Mansur Ali. Motaleb, a prison guard, heard the groans and cries of Muhammad Mansur Ali and informed the army team, who returned and bayoneted all four leaders in their cells.
By killing the top leadership of Awami League including Bangabandhu and incarcerating the rest, creation of a political environment carefully exempting the spirit of independence that millions died for was initiated.
POST 1975
Indemnity and state employment of Bangabandhu Killers
Towards the end of September 1975, Khondaker Mostaq issued the Indemnity Ordinance which became infamous
for granting protection to Bangabandhu's killers. Originally called Ordinance No. 50 of 1975, it was later turned into
law by General Ziaur Rahman in 1979 after he declared himself the President through a controversial vote. Ziaur
Rahman also introduced the 5th amendment to the Constitution of Bangladesh on July 9, 1979, solely for the purpose of safeguarding the assassins of Bangabandhu and four national leaders. Additionally, he ensured the safe
repatriation of Bangabandhu's killers during his tenure as the Chief of Army Staff and de facto head of state under
military rule. The assassins were also rewarded with well-paying jobs in embassies of different countries, funded
by the state. Here is the list of some self-claimed or convicted murderers of Bangabandhu who were employed into
foreign diplomatic missions: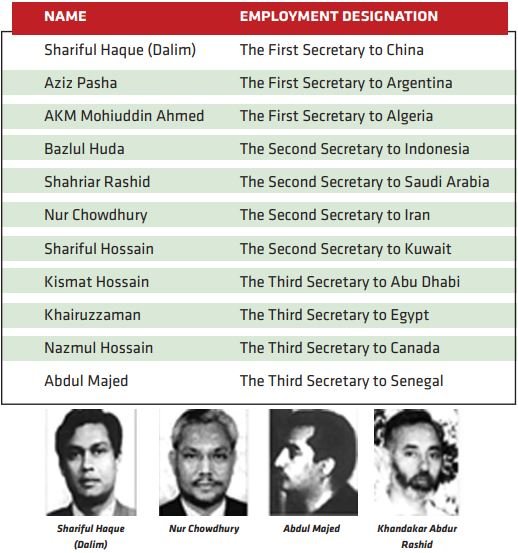 In addition, the two main perpetrators Syed Farooq Ahmed and Khandakar Abdur Rashid were settled in
Libya and were given finance from state fund to business which generated crores of taka worth of annual
revenue. Both of them even returned to Bangladesh and entered mainstream politics under the banner of
Freedom Party. Syed Farooq Ahmed even contested as a contestant in a presidential election in 1985.
Integration of communal and war criminals into mainstream politics
The independent Bangladesh was established with secularism as a main pillar of its constitution. Those loyal to Zia have consistently claimed that the first military dictator of Bangladesh restored multi-party democracy through the general elections in February 1979. However, this claim is far from the truth. After being spurned by secular parties like the Awami League, Zia needed a political base, which he found in the right-wing elements that were rejected by the nation for collaborating with the Pakistan army in December 1971. Zia did not inaugurate multi-party democracy; he rehabilitated communal politics through the introduction of "Bangladeshi nationalism" and an invocation to Allah in the constitution. Shah Azizur Rahman, who was Integration of communal and war criminals into mainstream politics part of Pakistan's UN delegation in 1971, became the Prime Minister of Bangladesh under Ziaur Rahman's presidency.
Members of the anti-liberation Peace Committee, Abdur Rahman Biswas and Abdul Aleem, who was convicted of war crimes in 2013, also served as ministers in Zia's cabinet. Jamaat-e-Islami, a extreme fundamentalist party who opposed Bangladesh's independence, and collaborated in genocide and war crimes with Pakistan army was given permission to participate in politics. After Bangladesh gained independence in 1971, Jamaat-e-Islami was prohibited and its top leaders fled to West Pakistan. Bangabandhu Sheikh Mujibur Rahman, revoked the citizenship of Ghulam Azam, the head of Jamaat-e-Islami who escaped to Pakistan, the Middle East, and the UK. Ghulam Azam organized an "East Pakistan Recovery Week" after fleeing to Pakistan, but his participation in the killing of civilians led to growing resentment against East Pakistan JI leadership.
Azam and Maulana Abdur Rahim were then sent to Saudi Arabia. In Saudi Arabia, Azam and some of his followers collected donations to "defend Islam" in Bangladesh, claiming that the Hindu minority were "killing Muslims and burning their homes. In 1979, Azam returned to Bangladesh with a Pakistani passport with a travel visa and became active in politics spreading communal messages. Azam remained active in politics until he was convicted of war crimes and passed away while incarcerated.
Coups and elimination of freedom fighters
The gross injustice With the coup and assassination of Bangabandhu Sheikh Mujibur Rahman, triggered a series of countercoups, mutiny and disturbance inside the armed forces which continued to spill blood of many freedom fighters until 1981 when ironically Ziaur Rahman was also killed by his own comrades. On 3rd November 1975, Brigadier General Khaled Mosharrof alongside Brigadier General Shafaet Jamil launched a coup and ousted Khandakar Moshtaq Ahmed and other Bangabandhu killers from power. Then Chief of Army Staff, Ziaur Rahman was forced into resignation and put into house arrest. On 6th Novmber, from his detainment Ziaur Rahman sent a message to Colonel Abu Taher, "I am interned, I can't take the lead. My men are there.
If you take the lead, my men will join you." Colonel Abu Taher was a Maoist and leader of Biplobi Shainik Sangstha who intended to establish a classless military like China. Khaled Mosharrof, Shafaet Jamil, A.T.M Haider and Nazmul Huda who led the 3rd November were detained and later assassinated with the exception of Shafaet Jamil. All the lead characters in this dark chapter of Bangladesh including Abu Taher were decorated freedom fighters. Ziaur Rahman soon turned-on Abu Taher and detained him on 29th November by armed polices. He faced a kangaroo court and was hanged. His execution was overturned by a high court rule in 2011, and was termed as 'outright murder' planned by Ziaur Rahman. Early on 2 October 1977, members of the Bangladesh Air Force and Army Signals Battalion attempted to overthrow Zia's government, calling for continued armed revolution and the creation of an army without officers.
During negotiations with the hijackers of JAL Flight 472, the mutineers killed 11 air force officers at Dhaka Airport. Zia and the Army Staff used the 46th (Dhaka) Brigade and 9th Division to suppress the uprising, with one company under Major Mostafa clearing the airport terminal by 7 am after killing at least 20 mutineers and taking 60 others prisoner. The suppression resulted in the deaths of 10 army soldiers fighting against the mutineers. Within 9th October 1977, officers and soldiers from Bangladesh Air Force and Bangladesh Army who participated in the mutiny were detained, tried and summarily executed. According to Major General A K Mohammad Ali Sikdar a total of 1148 members of the armed forces were forced to walk the gallows for hanging. During Ziaur Rahman's six-year rule, around 1,500 freedom fighter officers were executed, with the military tribunal judges reading out pre-written judgments signed by him.
Many families of the deceased, including mothers, wives, sisters, and brothers, searched for the remains of their loved ones, but in vain. Several widows still grieve the fact that they cannot show the graves of their husbands to their children where they can offer prayers. Legal experts have criticized the cruelty of not returning the bodies to the families after the execution of the death sentences. (Ref: UNB December 2023).
ATTEMPTS OF ASSASSINATION ON PRIME MINISTER SHEIKH HASINA
Present prime minister of Bangladesh and president of Awami League, Sheikh Hasina, were the eldest daughter of Bangabandhu. She alongside her sister Sheikh Rehana was the only survivors from Bangabandhu's immediate family after the tragic night of 15th August 1975 as they were abroad at that time. Both sisters, despite being apolitical at that time, were forced to live in exile and was even denied any support from the foreign missions. They were forced to live as a refugee in India until 1981 when Sheikh Hasina braved her return despite threat on her life after being elected as the President of Bangladesh. Since then, there have been 19 attempts on her life, mostly when BNP led government was in power.
Laldighi Massacre, 1988
On 24th January 1988, the eight-party alliance organized a public rally to be held at Laldighi Maidan in Chattogram during the Ershad regime. While Sheikh Hasina was en route to the event from Chattogram airport, her motorcade was subjected to an armed attack near the Chattogram court building.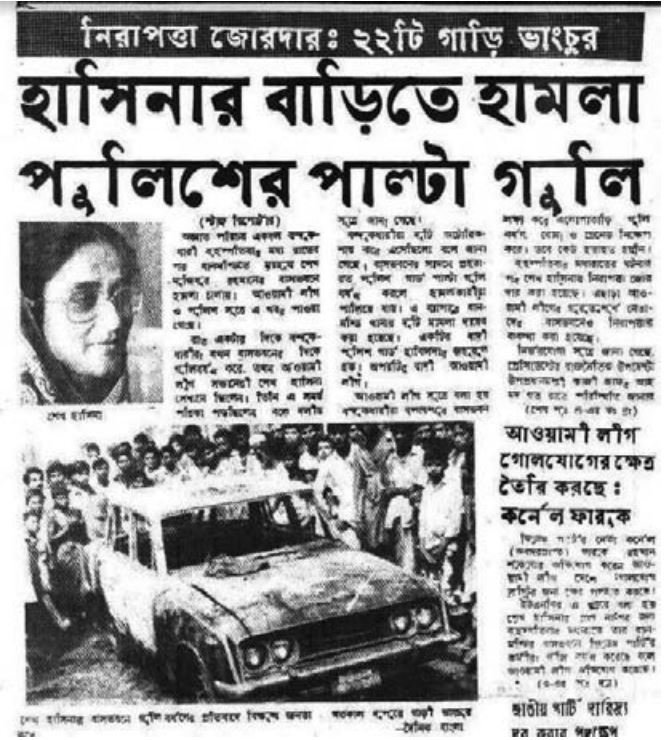 The police responded by opening fire indiscriminately, resulting in the deaths of 24 people. Among the deceased were nine party members who were attempting to protect Sheikh Hasina by creating a human shield around her. Despite being charged in a genocide case, Metropolitan Police Commissioner Mirza Rakibul Huda was promoted to a higher position in 1991 by the BNP government.
Attack on Dhanmondi Residence, 1989
Sheikh Hasina's residence at Dhanmondi 32 was attacked on 10 August 1989 by two armed men belonging to the Freedom Party, who fired shots and hurled grenades with the intention of assassinating the Awami League leader. It took seven and a half years for a chargesheet to be filed against 16 individuals in 1998. The case proceedings were halted during the BNP government after 2001 and the trial finally began on 5 July 2009.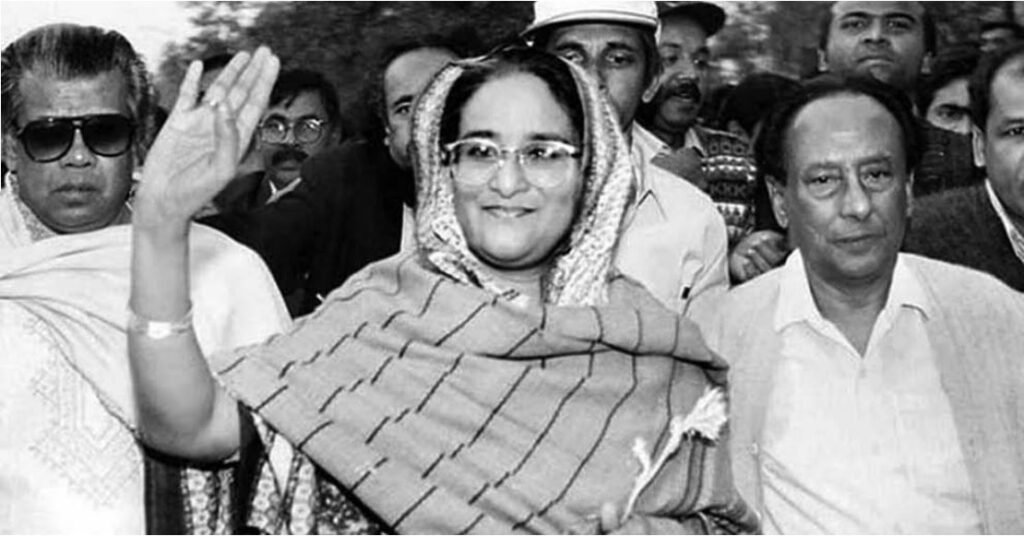 Ishwardi Rail Station, 1994
During her national election campaign on 23 September 1994, while travelling via train to gather support for a caretaker government, gunshots were fired at the rail coach carrying Sheikh Hasina at Ishwardi railway station in Pabna. Although multiple shots were fired at her coach, she remained unscathed as the bullets missed their target. A case was filed against 130-135 individuals at the Ishwardi police station at the time, and later, a chargesheet was filed against 35 individuals, mostly comprising of local BNP leaders and activists.
Kotalipara Bomb Plot, 2000
A rally was planned for then Prime Minister Sheikh Hasina on 22 July 2000 at a college ground in Kotalipara, Gopalganj. However, terrorists had placed two powerful bombs at the site in an attempt to assassinate her. Two days prior to the event, on 20 July 2000, the bombs were discovered by army explosives experts. The bombs, which weighed 76 kg and 40 kg, were found near the rally ground. The militants had manufactured the bombs at a local soap factory and transported them to the location the day before.
Grenade Attack, 2004
On August 21, 2004, a deadly grenade attack occurred during a rally in front of the Awami League's central office on Bangabandhu Avenue in Dhaka, resulting in the deaths of 24 people and injuries to over 300 others. Despite surviving the assassination attempt, Sheikh Hasina suffered hearing damage. Mahbubur Rahman, who was Sheikh Hasina's bodyguard, and Ivy Rahman, the Awami League Women's Affairs Secretary, were among the casualties of the 2004 grenade attack. Ivy Rahman passed away three days later from her injuries.
The verdict in the case led to the conviction of 19 individuals, including BNP Acting Chairman Tarique Rahman, party leader Harish Chowdhury, and former MP Shah Mofazzal Hossain Kaikobad, who were all sentenced to life imprisonment. Additionally, former state minister for home affairs Lutfozzaman Babar and deputy minister Abdus Salam Pintu were among the 19 people who received the death penalty.
Furthermore, other than these massive incidents, Sheikh Hasina has survived numerous assassination attempts throughout her political career. On 11 September 1991, during the by-elections of the Fourth Parliament, she narrowly escaped an attack when gunshots were fired at her car while visiting a polling station on Green Road in Dhaka's Dhanmondi area. In another incident on 7 March 1996, Sheikh Hasina was targeted in an attack during a rally on Bangabandhu Avenue in which at least 20 people were injured. The Rupsha Bomb Plot in 2001 was also an attempt to assassinate her during the inauguration of the Rupsha Bridge in Khulna, but detectives were able to foil the plot and recover the explosive that had been planted at the inauguration site. In September 2001, during the caretaker government, the HuJI-B had planned to assassinate her by planting a bomb at a political rally in Sylhet, but the plan was foiled when two militants were killed in an accidental blast near the rally site. Sheikh Hasina's motorcade was attacked in front of the BMC Women's College in Naogaon on 4 March 2002, and several members of her entourage were injured. Her convoy was fired upon by miscreants in Gaurnadi, Barisal on 2 April 2002, and police filed a case against the central and local leaders of the Awami League instead of taking action against the attackers. In 2007, while she was in detainment following a coup, Sheikh Hasina was poisoned by someone attempting to murder her through her food. The plot was exposed in late 2014 when trained female militants planned to assassinate her with a suicide attack, but the conspiracy was exposed when an explosion occurred during training in Burdwan, West Bengal. Members of the banned militant group Jamaat-ul-Mujahideen Bangladesh (JMB) attempted to bomb her convoy in the Kawran Bazar area of Dhaka on 8 March 2015, but their plan was ultimately thwarted.
REPRESSION OF MINORITIES
During the BNP's regime, minorities faced severe persecution and violence. In 2001, on October 1, over 400 homes and 32 shops belonging to the Hindu community were destroyed and looted in the Noakhali district of southern Bangladesh. In the same year, a Catholic church was attacked in the Cox's Bazar district, resulting in several injuries. In 2002, on February 2, communal violence broke out in the village of North Badda in Dhaka, where a Hindu temple was attacked, resulting in several injuries and property damage. In 2002, a Buddhist temple in Rajshahi was attacked, resulting in the destruction of several statues and other religious artefacts. In 2003, a Christian church in Khulna was also attacked, and several people were injured. On April 21, 2003, communal violence broke out in the village of Bhandarkot, Pabna, where over 100 houses belonging to Hindus were burnt down, and several people were injured.
Moreover, in 2004, on May 2, communal violence broke out in the village of Harinathpur, Jhenaidah, where a Hindu temple was attacked and vandalised. These attacks were not limited to religious minorities only. In 2001, a group of indigenous people in the Chittagong Hill Tracts were attacked, resulting in the deaths of several people and the displacement of many others. In 2002, a mob attacked a procession of Ahmadiyya Muslims in Brahmanbaria, resulting in several injuries. The BNP government was criticised for not taking appropriate measures to prevent these attacks and bring the perpetrators to justice, resulting in a widespread sense of fear and insecurity among minority communities in the country.
MURDER OF OTHER AL LEADERS
Ahsanullah Master
Ahsanullah Master, a prominent trade union leader and member of Bangladesh Awami League, was assassinated along with Omar Faruq Ratan during a conference in Tongi, Gazipur on 7 May 2004. Master was elected as a member of parliament from the Gazipur-2 constituency in 2001 and was in office during his death. In April 2005, Nurul Islam Sarkar, a leader of the pro-BNP Bangladesh Jatiotabadi Jubo Dal, and 27 others were convicted by the Dhaka Speedy Trial Tribunal-1 for the murder. The court cited "political vindictiveness and the desire to establish supremacy in the locality" as motives for the killing. Out of the 28 convicted individuals, 22 were sentenced to death while the remaining 6 received life imprisonment.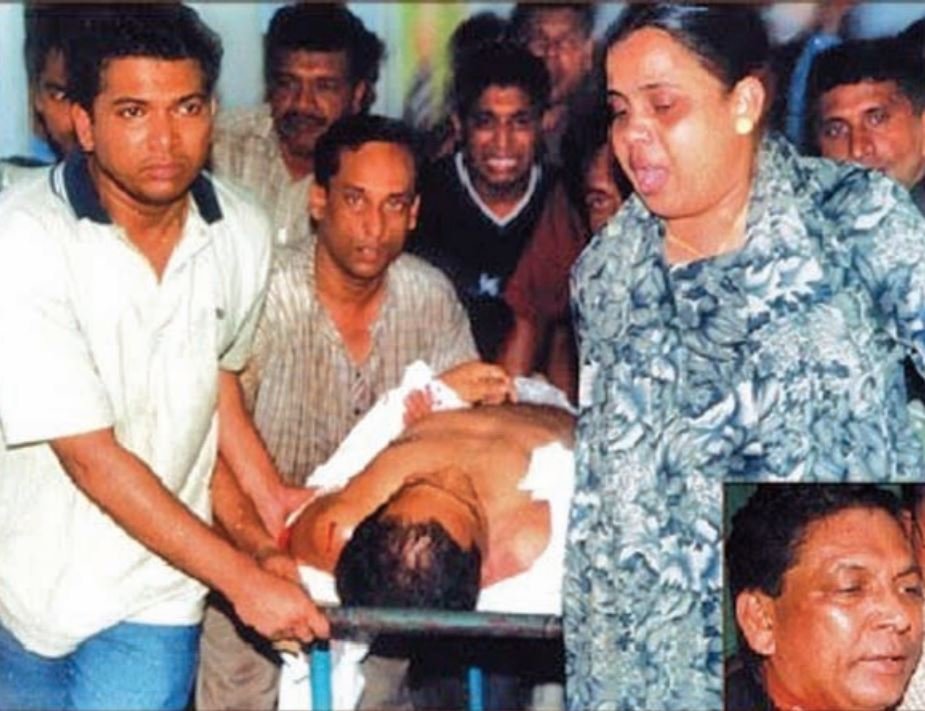 Shah A M S Kibria
SAMS Kibria was an economist, diplomat and politician from Bangladesh who joined the Awami League in 1992. He served as the Minister of Finance in the government led by Sheikh Hasina from 1996 to 2001 and was elected as a Member of Parliament from his constituency Habiganj-3 in the 2001 general election.
On 27 January 2005, after addressing a political rally at Boidder Bazar primary school in Habiganj, Kibria was exiting the grounds when two Arges grenades exploded, killing three of his companions including his nephew, Shah Manjurul Huda. Despite being taken to multiple hospitals, Kibria passed away due to lack of medical supplies and personnel.
Three of the accused have been executed in other cases while Haris Chowdhury, one of the prime accused and former prime minister Begum Khaleda Zia's political affairs advisor, has passed away
2001-2006: A REIGN OF TERROR
Bangladesh Nationalist Party won the parliamentary election in an alliance with Jamaat-e-Islami, a fundamentalist party with deep root in violence predated to Bangladesh's independence. Many notable war criminals were in the cabinet of this tenure of the government. Many top leaders of BNP conspired with terror groups, which were seen as offshoots of Jamaat and their student wing Islamic Chatra Shibir. This era saw a unseen stage of terrorist activities across the country
2001
January 20: 7 people were killed and over a hundred were injured in a bomb explosion at a rally of the Bangladesh Communist Party in Paltan Maidan, Dhaka.
April 14: 11 people were killed and over a hundred were injured in a bomb explosion during the Bengali New Year celebrations at Ramna Botomul, Dhaka.
June 3: 10 people were killed and 30 were injured in a bomb explosion at the Baniarachar church in Gopalganj.
June 16: 21 people were killed and over a hundred were injured in a bomb explosion at the Awami League office in Narayanganj.
September 23: during a election rally for Awami League candidate Sheikh Helal Uddin at KR College field in Bagherhat-1 constituency, a horrific bomb attack took place, killing 9 people and injuring over a hundred.
2002
September 28: In the city of Satkhira, a cinema hall was bombed and extremists carried out a powerful bomb attack on the Lions Circus panel in Satkhira Stadium. In this incident, schoolboy Kazi Motadul Alam Mukta (15), Hafizur Rahman (25), and Dr. Selina Parveen (35) were killed. Over four hundred women, men, and children were injured.
November 7: In the evening of the fateful day at least a few powerful bombs exploded in four cinema hall complexes around the city of Mymensingh, killing 11 people on the spot, and another 8 lost their lives at the Mymensingh Medical College Hospital after being taken there for treatment within a span of hours. More than two hundred cinema-goers were injured.
September 23: during a election rally for Awami League candidate Sheikh Helal Uddin at KR College field in Bagherhat-1 constituency, a horrific bomb attack took place, killing 9 people and injuring over a hundred.
2003
March 1: A police officer was killed in a bomb attack on duty at an international trade fair in Khulna. In the same year, on June 28, there was an explosion during bomb-making in Shariatpur.
August 15: In a bomb blast near the central office of Awami League in Bangabandhu Avenue, An AL activist Rajjak (30) was killed. Advocate Manjurul Imam, president of Khulna City Awami League, was killed in the firing of terrorists.
2004
December 12: In the shrine of Hazrat Shah Jalal in Sylhet, a grenade explosion killed 7 people and injured 70 others.
January 15: Journalist Manik Saha was killed in a bomb attack in Khulna. In the same year, a bomb was thrown at the BRAC office in Mahimaganj upazila of Gobindoganj.
March 4: A powerful bomb was thrown at the microbus of Talukdar Abdul Khalek (Dhaka-Metro-CH-14-0630) at Bangabandhu Sheikh Mujib Medical University (BSMMU).
May 21: Another powerful bomb exploded in the courtyard of the shrine of Hazrat Shah Jalal, injuring hundreds of people, including British High Commissioner Anwar Choudhury and Sylhet District Magistrate Abul Hossain.
June 21: A bomb exploded in front of the Five Star Hotel in Dirai Bazar of Dirai Upazila in Sunamganj during an Awami League rally. Journalist and editor Humayun Kabir Balu was killed in a bomb attack in front of the office of the daily Janmabhumi newspaper in Khulna.
July 18: The central leader of the Jubo League, Mirza Azam MP, was the target of a bomb attack in Madarganj of Jamalpur.
August 7: a grenade explosion at the Gulshan Hotel in Sylhet during a workers' meeting of the Sylhet City Awami League resulted in 1 death and 40 injuries.
2005
January 14: On the night of January 14th, in Lakshmikhola village of Shajahanpur upazila in Bogura, one person was killed and 40 were injured in a bomb attack during a cultural event.
January 16: 31 people were injured in a bomb attack on a procession in Natore, and on January 22, Mahbub Ali Deowan was killed in a bomb attack in Khayra of Shripur.
February 14: There was a bomb explosion at the Valentine's Day event at Dhaka University.
August 17: Militants carried out five simultaneous bomb attacks in 63 districts across the country to demonstrate their power.
November 14: Senior Assistant Judge Sohel Ahmed (38) and Judge Jagannath Pandey (35) were killed and three others were injured in a bomb blast in a vehicle carrying judges in Jhalakathi.
November 29: 3 people were killed and 20 injured in an attack in Chattogram. On the same day in Gazipur Sadar, at the hall of the district bar association, 7 people were killed and more than a hundred injured in a bomb explosion.
December 1: In Gazipur, 1 person was killed in a terrible bomb attack.
December 8: In the administrative office of Netrokona district, 8 people were killed and more than a hundred injured in a suicide bomb attack.
The Blaze of Terror, 2013-2015
In 2013, the BNP-Jamaat leaders and their followers engaged in a political movement that resulted in widespread chaos and violence throughout the country. During this period, occurrence of violence like throwing petrol bombs into homes, shops, streets, and offices, resulted to the deaths of innocent civilians, including women and children. They even attacked people in moving cars, burning them alive. School and college students, as well as people on their way to work, were not spared from the brutality of the BNP-Jamaat followers, resulting in thousands of deaths and leaving many more with permanent injuries, including paralysis. Political violence led by BNP has taken life of 872 people with more than 431 victims burned in a series of senseless attacks in 2014-15.
To conclude, the Aftermath of Bangladesh's political history has been a complex web of conspiracies and violence aimed at the Awami League and its leader, Prime Minister Sheikh Hasina, ever since 1975. Anti-independence forces and communal groups have consistently attempted to destabilise the country and advance their agendas through violent means. In response, the Awami League has exercised restraint and avoided retaliatory actions, refraining from bomb attacks or violence against the top leadership of the BNP.
The assassination of Ziaur Rahman was not carried out by the Awami League or any of its members. Rather, it was perpetrated by his own closest military comrades, who had no affiliation with the BNP. The long-term consequences of decisions made by the BNP leadership have led to a deterioration of the political environment in the country, which they are now facing the consequences of. Moving forward, the path to political relevancy and negotiation requires an acceptance of historical wrongdoings. Only by acknowledging past mistakes can we pave the way for a natural, democratic process in which the people of the country can make informed choices. It is imperative that all political parties in Bangladesh prioritise the greater good of the country over their own self-interests and engage in constructive dialogue to find a path towards a more stable and prosperous future.
EXPERT OPINION

It can be said that, we express ourselves as a nation through the great war of independence in 1971 on December 16. Then, the father of the nation, Bangabandhu Sheikh Mujibur Rahman, took various steps towards the establishment of the state and succeeded in various ways. After the assassination of Bangabandhu, the military government came to power, and they immediately stopped the democratic bodies.

The military government took various steps to suppress the progress of democratic institutions. Then, by using religion in politics, Bangabandhu's secularism, which emphasised the separation of religion from politics, was reversed by Ziaur Rahman. In this incident, not only him but also the fate of the nation was killed.

After the military ruler Ziaur Rahman, another military ruler Hussain Muhammad Ershad also established the killers of Bangabandhu in various ways in a military style. Especially Ziaur Rahman established the killers of Bangabandhu in various places. At the same time, he gave religion an institutional form in politics.

The military rulers came to power at different times and tried to establish their authority over democratic institutions. When a democratic trend returned to the country through a democratic movement against Ershad in 1990, it was hoped that all democratic institutions would be restored. But we have also seen that in some areas, these military rulers' trends have been followed.

Later, in 1996, under the leadership of Awami League's president Sheikh Hasina, her party came to power again re-establishing the country's democracy, following the path of the father of the nation, to establish the dream of Bangabandhu's trend, and to restore the country's democratic institutions.