World Health Organization claims that more than 400 million people throughout the world don't have access to basic medical care. It is crucial that immediate action be taken to address the worldwide lack of medical professionals, which is particularly severe in areas with low incomes and rural areas.  But with the development of Artificial Intelligence (AI), there is potentially a way of closing the gap.
An increasing number of healthcare providers are implementing AI solutions, and a new research report predicted that the worldwide AI in the medical sector would be worth $45.2 billion by 2026. Generalist medical AI represents one of the most exciting applications of AI in healthcare because of its ability to revolutionize disease diagnosis, treatment, and management.
Generalist medical AI in action
A "jack-of-all-trades" in healthcare, "generalist medical AI" is an AI system capable of everything from assessment to patient triage to personalized planning of treatments. Generalist medical AI has the chance to transform healthcare by making it more readily available, inexpensive, and economical for everybody by harnessing the strength of deep learning and data analytics.
Babylon is a virtual assistant driven by artificial intelligence that provides customers with tailored health advice determined by their signs and medical records. With NLP, the system can decipher patients' inquiries and provide helpful guidance. The British National Health Service (NHS) uses Babylon to better care for patients.
Another one is Zebra Medical Vision is an AI-driven diagnostic system that can detect abnormalities in imaging tests like CT and X-rays. as machine learning systems evaluate vast amounts of health information, radiologists can devote their attention to the most crucial cases. The diagnostic efficiency and precision of Zebra Medical Vision are both enhanced.
Unlocking the potential: benefits of generalist medical AI in healthcare
Multifaceted AI systems may improve healthcare delivery. By transforming monotonous operations and processing large volumes of data quickly, AI systems can improve healthcare delivery. This lets doctors focus on more important tasks. In a Nature Medicine study, an AI system used retinal images to diagnose diabetic retinopathy, a leading cause of blindness, with sensitivity and specificity comparable to ophthalmologists. The method also diagnosed faster than ophthalmologists, reducing patient wait times.
AI systems' adaptability may improve diagnosis accuracy. Through data analysis and advanced algorithms, AI systems can find patterns and connections that human healthcare providers may miss. Based on electronic health record data, an artificial intelligence (AI) system identified cardiovascular disease-prone patients with excellent accuracy, according to The Lancet Digital Health. The approach identified high-risk patients more accurately than conventional risk models. This may improve clinical outcomes and intervention timing.
Customized medical treatments may be possible with versatile AI. AI systems may analyze medical history, health state, and genetics to make customized therapy suggestions. In a Nature Communications study, an AI system predicted the best chemotherapy for advanced ovarian cancer patients. The method used genetic profile, cancer features, and treatment history data to create tailored treatment recommendations.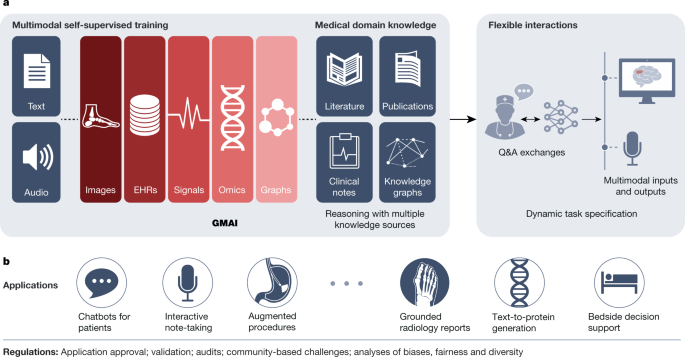 Challenges to harnessing the full potential of generalist medical AI
Notwithstanding the potential advantages of multifaceted artificial intelligence in the field of medicine, there exist noteworthy obstacles that necessitate resolution.
A primary constraint of multifaceted AI systems is their restricted domain knowledge. Although these systems exhibit versatility in their ability to execute various tasks, their proficiency may not match that of a specialist who possesses extensive knowledge and expertise in a specific medical field. This may result in inaccuracies or overlooked possibilities for medical intervention.
An investigation featured in the scholarly publication Annals of Emergency Medicine revealed that an AI framework intended to diagnose chest pain in patients visiting the emergency department exhibited lower levels of precision compared to medical doctors. The system exhibited an elevated incidence of false positives, potentially resulting in superfluous interventions or treatments.
AI systems with many skills may cause insecurity in healthcare workers and patients. If patients don't grasp how an AI system works, they may not trust it for diagnosis or treatment. Doctors and nurses may not adopt new technology if they dispute its dependability or usefulness. The Journal of Medical Internet Research revealed that patients were open to utilizing AI for healthcare but skeptical of its accuracy and reliability. A Journal of the American Medical Informatics Association survey of healthcare practitioners indicated that many were suspicious of AI and unsure how to use it in clinical practices.
General-purpose AI systems face privacy and security risks. Cyberattacks are possible since these systems access patient data. Patients may be apprehensive of giving AI systems their data due to privacy concerns. According to JAMA Network Open research, patients trust AI systems that are transparent about data privacy and security. Patients were more comfortable with AI systems if they knew how they worked and how their data was used.
Finally, establishing general-purpose AI systems in medical environments is not without significant difficulties. The infrastructure, data administration, and healthcare professional training costs associated with these systems are very high. It might be challenging to implement modifications to established procedures and workflows when dealing with such issues. The implementation of an AI system for assessing patients in emergency rooms, for instance, necessitated substantial adjustments to existing processes and collaboration between multiple departments, as documented in a paper published in the Journal of Medical Systems. Extensive training of healthcare providers was also necessary for optimal system utilization.
How Generalist Medical AI can be implemented in Healthcare?
To combat biases in AI, it is essential that systems be built and trained on datasets that are as inclusive and varied as possible. This can help make these systems more accurate and fairer by lowering the possibility of bias introduced by algorithms. In order to improve melanoma diagnosis accuracy, for instance, a large dataset of skin photos was used in the development of the AI-powered diagnostic tool SkinVision.
It may be required to combine generalist AI systems with human healthcare professionals to make up for their lack of specialized knowledge. That way, healthcare providers may rest assured that these tools will be utilized to supplement, rather than replace, their existing levels of competence and knowledge. An AI system created to aid radiologists in making breast cancer diagnoses, for example, the AI-powered diagnostic tool, Prognos, is designed to assist oncologists in predicting cancer progression, leading to more accurate treatment recommendations.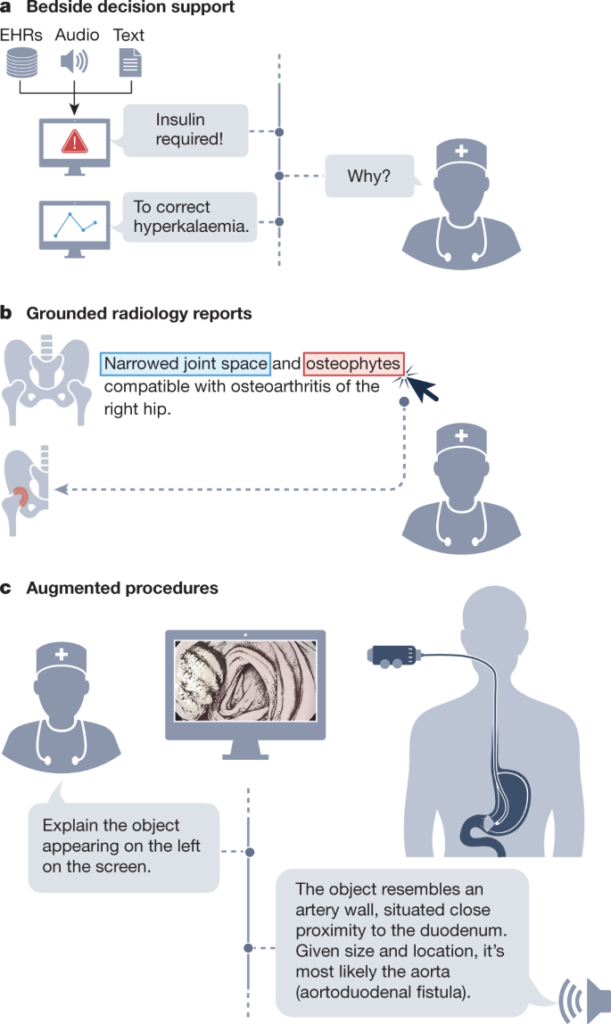 Implementing strong data management and cybersecurity procedures is crucial for protecting the privacy and security of patient data in general-purpose AI systems. Encryption, safe archiving, and restricted access are all methods that can be used. For example, the AI-powered diagnostic tool, Zebra Medical Vision, encrypts all patient data and stores it in secure data centers, ensuring patient privacy.
Providing sufficient resources and support for healthcare personnel is crucial for the smooth introduction of jack-of-all-trades AI systems in healthcare settings. Training, technical assistance, and advice on incorporating the new tools into current procedures are all examples of what this might include.For instance, healthcare providers are more likely to embrace an AI system for triaging emergency department patients if they are provided with proper training and support, according to a study published in the Journal of Medical Systems. Also, a study published in the Journal of the American Medical Informatics Association discovered that when healthcare providers were given instructions on how to incorporate AI systems into their daily routines, adoption rates increased.
In a nutshell generalist medical AI has the potential to radically alter the delivery of healthcare by strengthening the accuracy of diagnoses, the timeliness of treatment, the economy of care, and the participation of patients. However, implementation issues, bias, lack of expertise, privacy and security concerns, and so on must be addressed before this potential can be fully realized. With the correct safeguards in place, generalist medical AI has the potential to significantly impact patient outcomes, healthcare expenditures, and the healthcare system as a whole.