Indian-origin Chief Executive Officers (CEO) have been making waves in the tech world for years now, leading some of the most successful companies in various sectors. These leaders have taken the helm of some of the most successful companies in various sectors and have proven themselves to be among the most influential CEOs in the world. From healthcare to technology, Indian-origin CEOs have made a mark in many fields, including tech giants like Google and Microsoft. The selection of Neal Mohan, an Indian-origin executive, as the next CEO of YouTube, a streaming service giant, highlights the growing trend of Indian-origin CEOs leading technology-focused firms. The story of Indian-origin CEOs' success in the tech industry is an inspiring one, with its own unique challenges and opportunities. This development also sheds light on the increasing global impact of Indian professionals in the technology industry and the contribution of diverse leadership in shaping the future of technology.
The Rise of Indian-Origin CEOs in Tech Companies
The tech industry has seen a significant rise in Indian-origin CEOs leading major companies. Satya Nadella, Arvind Krishna, Shantanu Narayen, Neal Mohan, and Sundar Pichai are among those who have made remarkable contributions to the industry. Satya Nadella, the CEO of Microsoft, has led the company's shift towards cloud computing and AI. Similarly, Arvind Krishna, the CEO of IBM, has been driving IBM's transformation towards cloud computing and AI. Shantanu Narayen, the CEO of Adobe, has expanded the company into new markets and achieved great success in digital marketing.
You Can Also Read: WHY IS FOREX RISING IN BANGLADESH, BUT FALLING IN INDIA, PAKISTAN?
Neal Mohan, the incoming CEO of YouTube, has played a crucial role in developing several of Google's advertising products. Sundar Pichai, the CEO of Google and Alphabet, has been instrumental in advancing Google's search engine technology, mobile devices, and cloud computing. These CEOs have worked hard, shown determination, and navigated the constantly evolving tech industry to achieve their success. Their leadership has not only had a profound impact on their respective companies but also on the industry as a whole. The rise of these Indian-origin CEOs serves as an inspiration for the next generation of tech leaders to follow in their footsteps and make their mark on the world stage.
Neal Mohan
Neal Mohan, the latest addition to the long list of Indian CEOs in the tech world, is an Indian-American executive who has been the chief product officer at YouTube since 2015. Mohan is recognized for his expertise in digital advertising and has played a key role in the development of several of Google's advertising products, including AdWords, AdSense, and DoubleClick. He has had a stint with Google since 2008 and previously worked at DoubleClick, an online advertising company that was acquired by Google in 2007. An alumnus of Stanford University, Mohan had also worked with Microsoft as a manager in corporate strategy. Mohan succeeds Susan Wojcicki, one of the early employees of Google, who in her letter to employees announcing her exit, praised Neal for setting up a top-notch product and UX team and playing pivotal roles in the launch of YouTube TV, YouTube Music and Premium, and Shorts.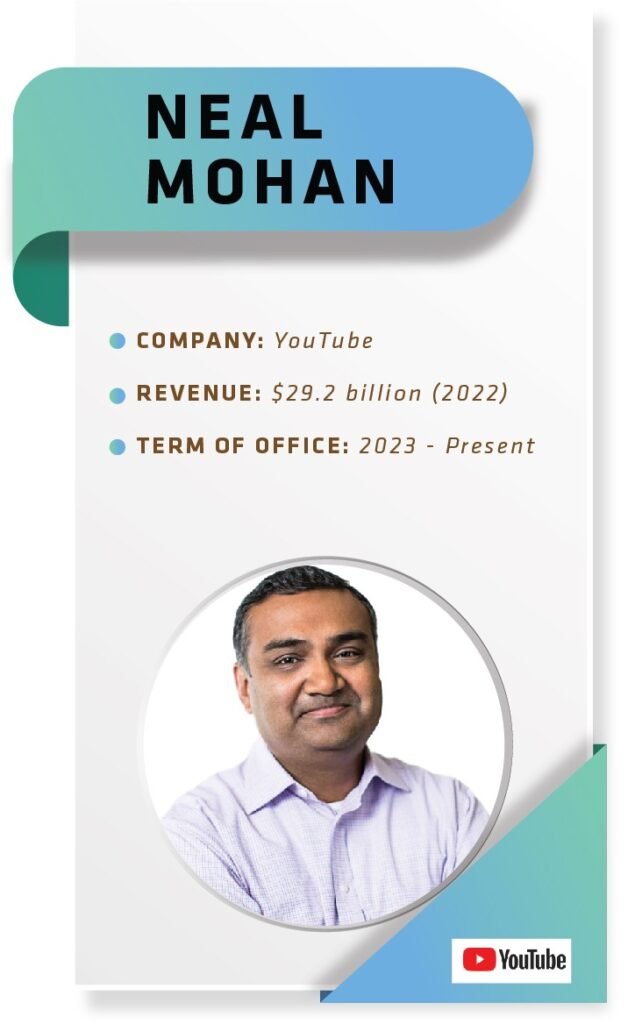 Sundar Pichai
Sundar Pichai is one of the most notable Indian-origin CEOs in the world, serving as the CEO of both Google and its parent company, Alphabet. Pichai, born and raised in Tamil Nadu, India, started his career as a materials engineer before joining Google in 2004. He quickly rose through the ranks and became the CEO of Google in 2015, where he oversaw the development of some of the company's most innovative products and services, including the Google Assistant, Google Drive, and Google Chrome. Pichai's leadership helped Google become one of the most successful and profitable companies in the world, with Alphabet generating a whopping $257.5 billion in revenue in 2022. In December 2019, he was also named CEO of Alphabet, succeeding Google co-founder Larry Page. Pichai's impressive education background includes a degree in metallurgical engineering from IIT Kharagpur, an MS from Stanford University, and an MBA from the Wharton School of the University of Pennsylvania, where he was named a Siebel Scholar and a Palmer Scholar.
Satya Nadella
Satya Nadella is another prominent Indian-origin CEO who leads one of the world's most valuable companies. He was appointed CEO of Microsoft in 2014, succeeding Steve Ballmer. Nadella, who was born in Hyderabad, India, had been with Microsoft since 1992 and held several key positions before being named CEO. Under his leadership, Microsoft has become more focused on cloud computing, artificial intelligence, and other cutting-edge technologies.
Arvind Krishna
Another notable Indian-origin CEO is Arvind Krishna, who was named CEO of IBM in 2020. Krishna, who was born in Andhra Pradesh, India, had been with IBM for more than two decades and had played a key role in the company's shift towards cloud computing and AI. He succeeded Ginni Rometty, who had been IBM's CEO since 2012.
Shantanu Narayen
Shantanu Narayen is the CEO of Adobe, a software company that is best known for its popular Adobe Creative Suite. Narayen, who was born in Hyderabad, India, has been with Adobe since 1998 and was named CEO in 2007. Under his leadership, Adobe has expanded into new markets and has become a leader in digital marketing.
The omnipresence of Indians in the tech world is a testament to the talent and hard work of Indian professionals around the world. It also highlights the importance of diversity and inclusion in the workplace, as companies that embrace diversity are more likely to succeed and innovate. As more and more Indian-origin CEOs rise to the top of their respective companies, it is clear that the future of the tech industry will be shaped by the contributions of Indian professionals.