The air quality in Dhaka, the capital of Bangladesh, remained the worst in the world for the third day in a row. According to the air quality index (AQI) released at 9:30 am today, Dhaka recorded an AQI score of 288, surpassing all other cities in the world in terms of poor air quality. This alarming situation has raised concerns about the health and well-being of millions of people living in the city.
"Hazardous" Air Quality in Dhaka
The AQI measures the concentration of air pollutants that pose a risk to human health. An AQI score between 151 and 200 is considered "unhealthy," 201 and 300 "very unhealthy," and 301 to 400 is classified as "hazardous," which poses serious health risks to residents. With an AQI score of 288, Dhaka's air quality is highly dangerous and hazardous for the citizens.
Other Cities Affected by Air Pollution
The cities that came after Dhaka in the list of worst air quality included Mumbai in India, Beijing in China, and Chiang Mai in Thailand, with AQI scores of 203, 198, and 192, respectively. The increase in air pollution is a major cause of concern for the health and well-being of people worldwide.
Air Pollution and Health Risks
Air pollution has consistently ranked among the top risk factors for death and disability worldwide. Breathing polluted air has long been recognized as increasing a person's chances of developing heart disease, chronic respiratory diseases, lung infections, and cancer, according to several studies. In Bangladesh, the AQI is based on five criteria pollutants – particulate matter (PM10 and PM2.5), NO2, CO, SO2, and ozone.
Experts Concerned about the Situation
The continuous rise in air pollution levels in Dhaka has raised alarm bells among experts and health officials. Experts have recommended that people limit outdoor activities, wear masks, and maintain social distancing to reduce their exposure to polluted air. Experts also emphasized that the government should take immediate steps to tackle the issue of air pollution by implementing effective policies and initiatives to improve air quality.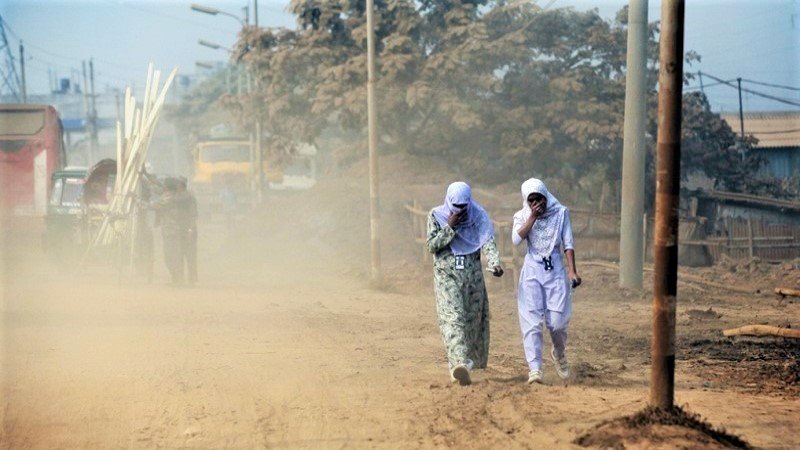 How to Avert this Situation?
The situation of air pollution in Dhaka is a severe concern for the citizens and the environment. To avert this situation, experts recommended taking immediate actions such as reducing vehicular emissions, limiting industrial emissions, and promoting the use of cleaner fuels. In addition, people can take small but effective steps, such as reducing energy consumption, using public transport, and planting more trees, to reduce the levels of air pollution.
To conclude, the issue of air pollution in Dhaka is a growing concern, and it is crucial to take necessary steps to address this problem. It is not only affecting the health of citizens but also damaging the environment. The government should take immediate measures to control air pollution and promote sustainable living. The citizens should also take individual responsibility and contribute to reducing air pollution levels. Only by working together can we address this critical issue and create a healthier and more sustainable future for all.