Colour drains from our face out of fear when we experience an encounter with snake, while only few courageous prepare for defence with sticks to kill the snake. However, a stark contrast can be noticed on Jahangirnagar University (JU) campus, where a group of youths are working towards the conservation of snakes. Along with other endangered wildlife, they are devoted to rescuing snakes and releasing them in favourable environments. In 2018, Mohammad Mahfuzur Rahman founded the voluntary organisation titled Deep Ecology and Snake Conservation Foundation (DESCF), with a vision of forming a better planet through the sustainable co-existence of human and nature. Now they are expanding their scope of work to protect animals across the country. Not only the DESCF, but there are also some other individuals and organisations working towards the same objective – rescuing animals and balancing ecology.
FROM PANIC TO LOVE
DESCF Founder Mahfuzur Rahman is studying Philosophy at Jahangirnagar University. He had innate love and affection for animals since childhood and it was from his love that led to the initiative to establish this organisation. However, Mahfuzur, like others was very afraid of snakes in his childhood. There was an incident behind his fear. Mahfuzur was then living in Rajshahi as it was his father's workplace. He had just started going to school. At that time, he one day heard that a snake charmer in their area had died after being bitten by a 'jinn snake'. The man grabbed that snake and stuck it in a clay pot with a towel. Even though, somehow the snake came out of the pot and bit the snake-charmer, no bite marks were found on his body. This is why the locals believed that the snake was supernatural. From then on, Mahfuzur started getting scared of snakes.
However, as he grew older, his fear of snakes began to disappear when he saw snakes in various places, and his love for animals also became evident. Later, after learning more about snakes, Mahfuzur realised that the snake of the Rajshahi incident was a common Keute snake. These snakes can apply strong pressure with their head. They can pierce the fabric even if the mouth of the pot is tied tightly with a cloth. The teeth of common Keute snakes are also very small and delicate. For this reason, when this snake bites, its scars are not usually found with the naked eye. That is why, no bite marks were found on the body of that snake-charmer. These facts about snakes fuelled his curiosity and created a passion within him. When Mahfuzur first rescued a snake, he was a fourth grader. One day, he saw a group of people beating a snake near a drain for no reason. Then he rescued it. Although at that time he did not know anything about the technique of rescuing snakes. He rescued the helpless animal spontaneously.
WASN'T AN EASY JOURNEY
The journey of Mahfuzur and his organisation was not easy at all. Mahfuzur faced various obstacles due to being close to snakes since adolescence. His parents threw a question towards him: Why did you choose to save snakes among so many animals? After that, the guardians tried a lot to get the 'ghost' of snake off Mahfuzur's head, but to no avail. Mahfuzur has been actively trying to save wildlife since 2013. Although he did not have any formal training, he saved some snakes by capitalising on his curiosity, enthusiasm and experience. At that time, he also wandered around with some snake-charmers for some time. From them he learned some necessary rules of catching snakes. As he became acquainted with many other people working with wildlife, he in the meantime learned from them how to rescue snakes. Then Mahfuzur along with some other like-minded friends of the area formed a small team to rescue the endangered wildlife. Occasionally, he would go to rescue snakes with them. Later, Mahfuzur got admitted to Jahangirnagar University after completing his higher secondary education. He often saw snakes being killed in different halls of the university. To stop this, the young man thought of rescuing the rich array of wildlife including snakes.
Finally in 2018, Mahfuzur while studying at JU formed a team called Snake Rescue Team. He also opened an official Facebook group with this name. They announced that if any snake was spotted on the JU campus and in adjoining areas, they should be alerted. At first, the organisation did not have much associates and activities. But they waited patiently and got the benefits after a while. Gradually, calls started coming to rescue various animals, including snakes. Now they get multiple phone calls almost every day to rescue wildlife. The organisation was later renamed as the Deep Ecology and Snake Conservation Foundation as conservation is a work of superior canvas than rescue, and they believe they can expand their activities.
At the DESCF, Syeda Anannya Faria is working as Publicity Secretary and Finance Director. She is studying Law at the JU. Anannya has another identity– she is the country's first-ever female snake rescuer. She has been working on rescuing animals since her school days. She worked as a volunteer in various organisations. After getting admitted to the JU, she got acquainted with DESCF Founder Mahfuzur. She then formally joined the organisation in an effort to rescue snakes and other wildlife. At the outset, Anannya would occasionally encounter obstacles when she used to go to rescue missions. Many could not trust her as she is female. Many used to ask for a boy rescuer instead of her. At that time, her colleagues stood by Ananya. However, Anannya not only has bitter experiences, but also the good ones. She has been praised by many for her courage while rescuing snakes.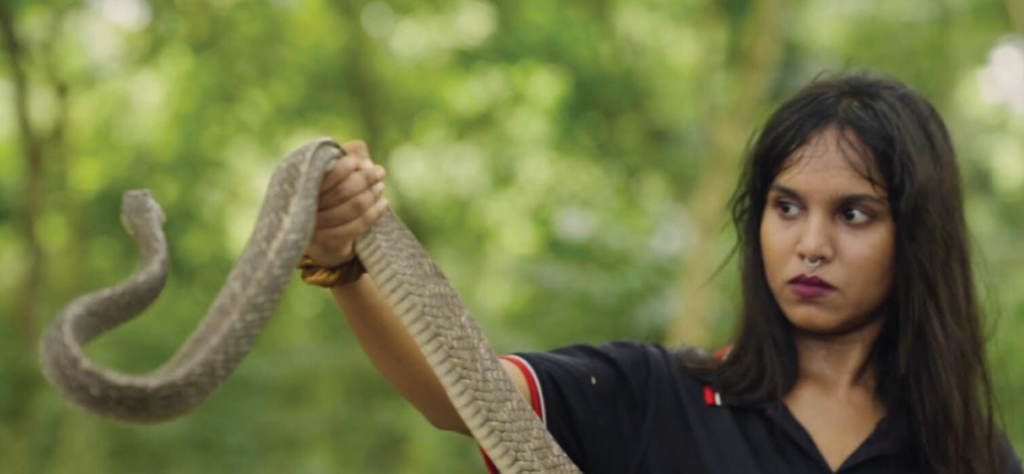 GROWTH CURVE ON THE UP
The range of DESCF's activities is growing. The organisation currently has 550 volunteers and 30 snake rescuers. It has also started working all over the country. They are currently recognised as the first and only RJSC registered snake conservation activist society in the country. As a result, the acceptability of their work is increasing. Even, the forest department also takes the help of DESCF to rescue endangered wildlife at times. The organisation informs the forest department if any wildlife is endangered, the department then allows them to rescue the animal. In each case, an official from the forest department's Wildlife Crime Control Unit supervises the rescue operation. DESCF now runs campus-based activities at various universities across the country. Surprising though, it has more than one lakh members in its Facebook group. The members of the group have regular discussions on wildlife there. About 1,500 snakes have been rescued so far by the foundation. The list includes many venomous, non-venomous and rare species of snakes, ranging from pythons to various species of Cobra, Russel's Viper, and Krait. Not only snakes, Mahfuzur and his DESCF team have rescued more than five hundred wild animals of many species like Lizards, birds, squirrels, wild cats, foxes etc.
RAISING AWARENESS, CREATING COEXISTENCE
Mahfuzur's DESCF's ideology is simple: all living things have equal rights and values. They want safety of nature as well as of the nature's children. Therefore, they are regularly working to rescue wildlife and create awareness in this regard. In doing so, they have gained love and gratitude of many people. Anannya mentioned that once they rescued a dying Russell's viper snake. The snake was struck with a sickle. The stomach of the snake was ruptured due to the injury and the testicles came out. A veterinary student reinserted the protruding part of the snake's body and sewed the torn abdomen.
Anannya and others of the foundation worked tirelessly for about a month to heal the dying snake. After the wound healed, the reptile was released into a suitable environment.
In this way, DESCF have been rescuing and releasing many animals including the snakes. When they go somewhere to rescue snakes, they first give courage to the people and ask them to stay calm. They also explain to them that if you do not attack the snake, it will not harm anyone.
After rescuing the wild animals, they release them in an environment wherein they can live safely. The DESCF also carries out a variety of public awareness programmes to stop wildlife cruelty.
They are also working to ensure that animals do not cause harm to humans. For example, in order to prevent the spread of rabies, the members of the organisation vaccinated 100 percent of the dogs at JU.
They also neutered 80 percent of the dogs so that the number of on-campus dogs does not rise much. In this way, the DESCF seeks to create a conducive environment and awareness for a peaceful coexistence of humans and animals.
YOUNG FIGHTERS OF ANIMAL RIGHTS
There are a number of youthled organisations that have been fighting for animal rights and working with deep empathy for stray animals, particular stray dogs and cats. To name but a few are: Obhoyaronno, Bangladesh Animal Welfare Foundation, Animal Lovers of Bangladesh, Care for Paws, People for Animal Welfare or PAW Foundation, Rise for Paws, Robinhood: The Animal Rescuer, The Animal Rescuers Bangladesh Shelter and Kalua's Homes.
Bangladesh Animal Welfare Foundation is one of the largest animal welfare organisations in Bangladesh. Rubaiya Ahmed founded the organisation in 2009 with a hope to bring an end to the brutality on animals through advocacy, education and other activities. The organisation played an important role in ending dog culling in Dhaka by the city corporation authorities back in 2012.
Animal Lovers of Bangladesh is focused on working for stray animals in Bangladesh. Dipanwita Ridi, a former volunteer of Obhoyaronno, founded the organisation in Narayanganj in 2014. On their website, Animal Lovers of Bangladesh Foundation describes their purpose as 'to spay, neuter, vaccinate (if it is right age) the animal because we strongly believe in controlling amount of homeless animals from street to save them from suffering and death according to their present condition and situation in Bangladesh'. Their general moto is to work 'against animal abusing.'
In 2015, Care for Paws started their journey with three basic objectives—caring for abused and injured animals, raising public awareness about plights of animals and educating people about social issues associated with their pets. They arranged a number of programmes and campaigns to raise public awareness. On 12 July 2019, CFP, Animal Lovers of Bangladesh Foundation, and Travelers of Bangladesh jointly arranged a campaign inside the Dhaka Zoo to raise awareness among the zoo authorities and the visitors. The programme was initiated days after a photograph of a sick lion at the zoo went viral on social media platforms.
Since 2015, People for Animal Welfare (PAW) Foundation is working to improve animal welfare standards in Bangladesh with aim to reduce animal exploitation through education, investigation, legislation, and media attention. The foundation is also advocating for community animal adoption. Rakibul Haque Emil, founder, and chairman of the PAW Foundation tells the unofficially the journey begins even earlier in 2012-13. Some likeminded people started rescuing animals and provide them with food and medicine and that community started to grow larger which took the form of a foundation. On May 3, 2019, PAW Foundation arranged Run for Paw Summer 2019 at National Botanical Garden in Mirpur to raise funds to operate their shelter centre.
Since 2015, People for Animal Welfare (PAW) Foundation is working to improve animal welfare standards in Bangladesh with aim to reduce animal exploitation through education, investigation, legislation and media attention
The Animal Rescuers Bangladesh Shelter began its operation in 2018. It all started when the founder of the organisation, Tia Chowdhury, rescued a few puppies. After three years, she decided to shut down her shelter and solely devote her time in spaying female dogs to reduce untimely death of stray dogs and puppies as she identified the root problem is the overpopulation of dogs in Bangladesh. Moreover, the cost of spaying one dog is around TK 1300 while the cost of rescuing, vaccinating and treating an animal is much higher.
To wrap up, most of the animal welfare organisations are either self-financed or community funded. As such, fund crunch is a common problem. Recently, two such organisations in Dhaka —The Animal Rescuers Bangladesh Shelter and Kalua's Homes—have decided to shut their operations due to fund shortage. The government as well as interested local and foreign organisations should spontaneously step forward in support of initiatives aimed at rescuing animals and meant for maintaining a balanced ecology.
In this regard, the country's first female snake rescuer Syeda Anannya Faria talked to Sub Editor at PRESS XPRESS SM Tanjilul Haque in an exclusive interview.
In this regard, the country's first female snake rescuer Syeda Anannya Faria talked to Sub Editor at PRESS XPRESS SM Tanjilul Haque in an exclusive interview.
According to a WHO report, more than 6,000 people die of snake bites in Bangladesh every year. Many people are dying from snake bites, why are you still rescuing this animal?
Even though the death rate of snake bite is high in Bangladesh, but it is not due to the excess of snakes, rather lack of proper understanding about snake-bite management is the main reason. Our survey showed that only 3% of people go directly to the hospital after being bitten by a snake, on the other hand, 86% of people believe in going to the shamans if they are bitten by a snake. Snake conservation is an important step in protecting biodiversity, as snakes act as natural pest controllers to control the proliferation of pests including rats. Without snakes, the ecosystem would be severely imbalanced, so we emphasize on creating snake awareness.
Starting on a small scale, your organisation has come a long way. What activities are you currently conducting?
Currently, we are working across the country as the first snake-based platform designated by RJSC. Rescue is a small part of conservation, our activities are now more extensive. We believe in deep ecology, our main aim is to ensure coexistence of men with nature. Our manpower is continuously increasing to work towards this goal. We are currently conducting snake awareness programs funded by an American NGO, providing technical support to the forest department to rescue snakes, conducting nationwide research on snakes. This year we have recovered a new species of snake.
What does it take to be a snake rescuer?
Wildlife conservation is a critical issue. Therefore, proper training in wildlife handling, ability to understand their behaviour is a must. According to the prevailing laws of Bangladesh, common people cannot rescue or transport wild animals, in which case a clear authorization from the Forest Department is necessary.
Is the coexistence of man and snake at all possible in Bangladesh?
Possible, because most of the snakes in Bangladesh are not dangerous to humans. Human conflicts with only four species of snakes occur locally, which can be reduced through awareness. People need to be made aware of the need for snakes from the point of view of the imbalance that will be created in the ecosystem and the amount of damage to the crops if there are no snakes.
How are you creating awareness? If you have any message, please share.
Currently, we have 1 lakh 30 thousand people actively connected with us on social media, we have 550 volunteers working across the country. Through them, we are creating awareness and spreading snake awareness at the marginal level. We are also building awareness through national and international media campaigns.