The world is presently passing through one of the most turbulent periods in its history plagued by wars, communal violence, political unrest, and terrorist insurgencies – with pandemic and natural calamities only adding salt to the sorely wounds. There are wars, skirmishes and bloodsheds going on in different countries across the world. But the sad, yet stark, truth is: the Western world and its biased media focus only on one war more than any other, which is a rather needless ongoing fight between Russia and Ukraine.
As the involved countries are two major suppliers in the world's fragile food-supply chain, the Russia-Ukraine war certainly deserves to be at the centre of discussions. But if there's a question about human rights, then the wars in different regions of the world, which are bloodier than the ongoing Ukraine-Russia war, de- serve to be discussed.
WARS AROUND THE GLOBE
Following a year that saw Russia's invasion in Ukraine, horrific genocides in Ethiopia, blood-stained insurgencies in Burkina Faso, Democratic Republic of Congo and some other African regions, ongoing bloodsheds in Yemen and occupied territory of Palestine, Ethnic cleansing in Rakhine state of Myanmar and Xinjiang province in China, violent civil war in Syria, and the great-power showdowns over Taiwan amid dwindling US ambition on the global stage, it's easy to see a world traversing off the tracks. Although these wars are taking thousands of lives, and causing mass human rights violations for months, the western world of- ten keeps a blind eye – thereby unfortunately deliberating the Russia-Ukraine war, and overlooking the apparently bloodier ones elsewhere. But these wars and war-crimes in different countries around the volatile world need to be agreed, talked about and addressed aptly.
BLOODSHED IN AFRICA:
A bloodbath is going on in the African state of Ethiopia, where more than 600,000 people have lost their lives. Victims of this war have been witnessing tear-jerking human rights violations every now and then. Common people are evidently being targeted and rape is being used as a weapon of war. Indeed, a terrible war is taking place in Ethio- pia, specifically in the Tigray region. The harsh truth, however, is that the world still does not know why and where this dreadful and deadly war is going on really. Although this is a much bloodier war than the Russia- Ukraine war, the Western media keeps it largely under wraps.
In November 2020, Nobel Peace Prize winning Ethiopian Prime Minister Abiy Ahmed announced the start of a military operation in the country's disputed region of Tigray, which neighbouring Eritrea later got involved in, although no one could have imagined at that time as to how much disaster was to be followed. The entire region with a population of over 6 million has come under government blockade. Entire population have been pushed to the brink of famine. As a result, scores of children are still dying of acute malnutrition. Also, the people of Tigray are being psychologically tortured by shutting down internet services. Before the war, Tigray had 47 hospitals, 224 healthcare centres and 269 ambulances for patient transport. Currently, more than 80 percent of the hospitals have been damaged or completely destroyed, ambulance services no longer exists.
These statistics and the picture of human sufferings say that Tigray should be the centre of attention of the whole world. But two years have passed since the horror began, still no one is paying attention. Apart from this, several other countries across the African continent are currently embroiled in war. Some of those worst hit are South Sudan, the Democratic Republic of Congo, Somalia, and the Central African Republic. These armed conflicts have led to the loss of millions of lives over the decades. Number of armed conflicts per region with more than 35 non-international armed conflicts (NIACs) are taking place in Burkina Faso, Cameroon, Mali, Mozambique, Nigeria, and Senegal.
Western powers and neighbouring countries are intervening in the conflicts that take place in Burkina Faso, Mali, Mozambique, Nigeria, and Somalia. However, rest of the wars are out of sight and Western media does not focus on those. But we've seen last year how the West extended its hands of care in case of conflict and human degradation in Ukraine. The wars in African countries raise a very important question about the role of the West regarding other wars. Moreover, these wars have confronted us with a dark reality that perhaps says – not all humanitarian crises are equal!
PALESTINE:
The past two years saw the fourth Palestine-Israel war in just over a decade, illustrating again that the peace process is dead and a two-state solution looks less likely than ever. The trigger for this latest outbreak was occupation of Palestine- owned East Jerusalem and West Bank by the Israeli forces, followed by the threatened eviction of Palestinian residents from the Sheikh Jarrah neighbourhood during the holy month of Ramadan, clash between stone-throwing Palestinian youths and Israeli police using lethal force on the compound that comprises the Haram al-Sharif, holy to Muslims.
The conflicts killed more than 250 people, almost all Palestinians, and left in ruins what remained of Gaza's civilian infrastructure. Palestinians, for the first time in de- cades, transcended their fragmentation by joining voices across the West Bank, East Jerusalem, Gaza, and Israel itself, while hostilities were all too familiar also raising debate in Western capitals, especially Washington DC. Democrats, including the mainstream figures, used unusually stern language about Israel's bombardment, suggesting that, among the party, views of the conflict are evolving. Still, fundamentals remain unchanged. Abroad, most capitals wrung their hands but did little. The Biden administration, despite Democrats' new tone, claimed to conduct "quiet, intensive diplomacy" but more or less allowed the conflict to run its course.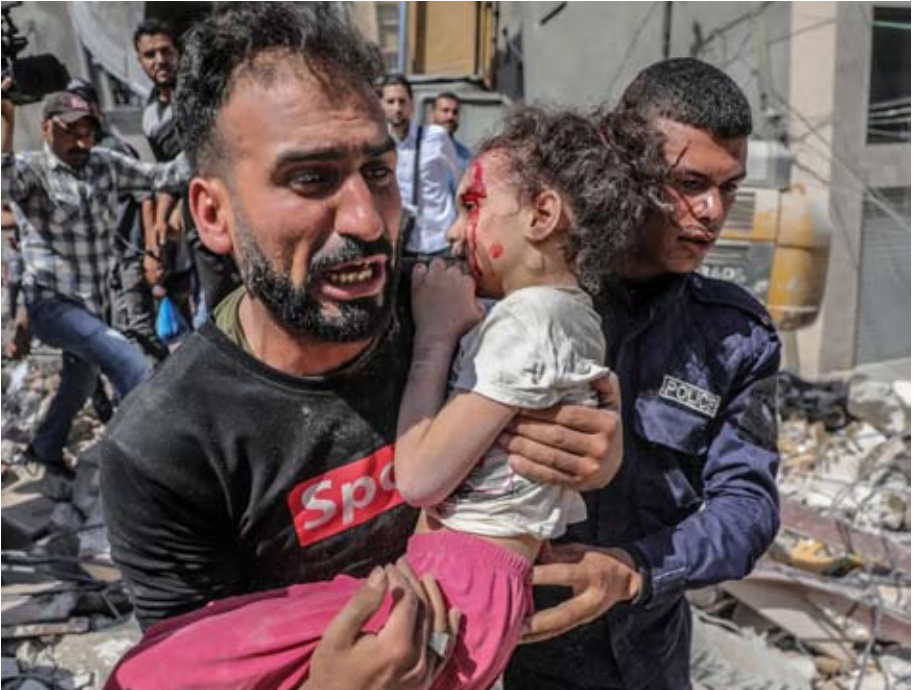 MYANMAR:
Six years ago, the Myanmar military launched a brutal campaign against ethnic minority Rohingya people in Arakan state and committed numerous human rights violations by razing villages, raping, torturing, and perpetrating large-scale violence that killed thousands. More than a million Rohingya were forced to flee their homes and seek refuge in neighbouring Bangladesh. Bloodsheds emerged again in the country as many of the same military force continue to repress, torture, and kill the people of Burma in a blatant attempt to extinguish the country's democratic future. A deadly stalemate exacts a terrible human toll. If the military generals hoped to reboot Myanmar's politics, they actually miscalculated.
Since the February 2021 coup, a crackdown by Myanmar's military on mostly peaceful protests has fuelled broad-based resistance, ranging from civil disobedience to armed clashes with the coun- try's security forces. Even in to- day's time, ethnic minorities in the country are continuously being targeted, violated as well as killed. Rakhine State is still hidden from the public eye and the surviving Rohingyas are living in horror. But the western world avoids it too, and is not as concerned about continued human rights violations in Rakhine state as it is about Ukrainians. Experts think this exposes the bias of the Western world and even exposes sensitive issues such as their antiIslamism.
YEMEN:
The civil war in Yemen continues to take its toll since it all started in September 2014 when the Houthi armed movement took control of capital city Sanaa, which is situate of the sitting government, led by President Abdrabbuh Mansur Hadi, who stepped down last year and transferred executive authority to the Presidential Leadership Council, with Rashad al-Alimi as its chairman. Both groups claim to be the official Yemeni government. Later, Saudi Arabia interceded in support of Hadi in early 2015, driving a coalition of Asian and Afri- can nations, with insights and logistical support from the United States.
Armed Conflict Location & Event Data Project (ACLED) has tallied more than 140,000 fatalities since the start of the war, counting about 20,000 in 2020 alone. In April 2022, the two sides in this strife concurred to a two-month truce, which might have been expanded inconclusively into the longer term, but in vain. As of September 2022, the truce was extended multiple times. Whereas the truce has not continuously been followed; more than 2000 violations, resulting in more than 350 fatalities, have been recorded since its adoption; it has nonetheless decreased the level of violence in the war-torn country. But this bloody war, too, has failed to grab the utmost attention of the Western media.
WHY IS THIS BIASNESS?
The war in Ukraine has hogged the headlines in the United States (US) and European newspapers, not to mention outlets in other parts of the world that casually follow the Western media's lead. The explosion that destroyed part of the bridge connecting Crimea to the Russian mainland, along with Russia's retaliatory missile attacks on Ukrainian cities and infrastructures, and Ukraine's resistant rocket attacks on Russian soldiers are the most dramatic developments that BBC, CNN, The New York Times, The Guardian, Al Jazeera, and others have covered so extensively on a daily basis. But as pointed out above, other bloodier wars around the world are missing from the news coverage. But why aren't those getting as much media attention? Why hasn't the West rallied so readily behind victims of other wars? Where is the determination to punish the aggressors in those other skirmishes? These are worthy questions, which call for answers regardless of what one feels about the conflicts.
WHITE SUPREMACY:
What kind of people in war zones deserve sympathy and tears? And what makes one decide to condemn a war? In the ongoing Ukraine clashes, Westerners gave their answer- skin colour! Since the Ukraine crisis started, there has been an outpouring of support for Ukrainians across the Western world. The importance of Ukraine, some argued in the days after Russia's invasion, boiled down to race. White folks in majority-white countries in Europe, North America, and Australia sympathised with the plight of white-skinned Ukrainians in ways that they didn't with the non-white victims of wars in other places like Yemen or Ethiopia. Ukrainian refugees in Europe have been welcomed with an enthusiasm that was largely lacking during earlier waves of Syrian, Afghan, and Libyan refugees.
CENTRALITY OF GEOPOLITICS:
It's true that few white folks in the global North have routinely thrown up their hands in the face of conflicts in Africa and the Middle East, but most remained uninterested about other wars. Race and racism may indeed play a role, but never underrate the importance of sheer laziness and ignorance. The Western coun- tries' nationals have simply over- looked the crisis around the world as it doesn't bother them much geopolitically. Moreover, Ukraine is of supreme interest to Europeans because of sheer proximity. The country is on the edge of Europe, has expressed strong inter- est in joining the European Union (EU), and has extensive economic connections with European nations through energy and food trade.
Then there are the ties of genealogy, with many people of Ukrainian heritage now living in Western Europe, the US, and Australia. Ultimately, though, the war in Ukraine garners the lion's share of the headlines, and thus the intellectual bandwidth of journalists, pundits, and policymakers because it historically lies at the very centre of geopolitics. Furthermore, preoccupied with global hegemony, Russia—Ukraine is at the very heart of the struggle for control of the globe. It is at the centre of the Eurasian territory, and its coastline provides critical access to the Black Sea and the Mediterranean beyond. A war in Ukraine matters in a way that the conflict in Ethiopia does not, because it is vitally important for the internecine battles within the countries of the global North, and to establish control of the entire global power-play.
SCALE OF THE CONFLICTS:
There actually aren't that many interstate wars going on in the world today. The internal conflict in Yemen has become international with the intervention of Saudi Arabia and its Gulf allies. The civil war in Ethiopia has an interstate dimension because Ethiopian leader Abiy Ahmed has allied with Eritrea to defeat the Tigray insurgency.
Armenia and Azerbaijan have sparred over the enclave of Nagorno-Karabakh, but that fight has abated, at least for the time being. Other international wars have now become almost entirely national. The war in Iraq has settled mostly into a simmering civil conflict, though a full-blown civil war could indeed return. The war in Syria, which still engages the US, Turkey, and Russia, failed to extricate Bashar al-Assad and has burned down to the embers, though another flare-up is possible.
Similar conflicts in Kashmir, Libya, and Palestine have become intermittent, although these conflicts could escalate quickly and become regional conflagrations. Thus, the Western media that prefers superior and internationally concerned issues, move their interest glued on Ukraine- Russia conflict.
BEYOND GOOD AND EVIL:
Another reason why Ukraine is so much in the news is that the victims are 'relatable'. In the case of Ukraine, more people are drawn in by what they believe, and what so much media coverage implies in so many ways is a basic conflict between 'good guys' and 'bad guys'. Most people love an underdog, and the Ukrainians have battled hard against a band of merciless invaders. So strong is this basic moral narrative that various complications fall to the wayside. Even though, Russia has some legitimate grievances about NATO expansion. On the other hand, the Ukrainian government has made some irresponsible moves like a state language law that requires 'Ukrainian be used in most aspects of public life'.
Still, the Ukraine conflict can be explained in relatively simple language to people who know nothing of the complexities of the region. Russia has invaded a country to seize as much of its territory as possible; Ukraine is fighting back to avoid disappearing as a country.
It's hard not to stand on the sidelines and cheer the victories of the victims. Other ongoing wars do not lend themselves so readily to such packaging. Take, for instance, the war in Ethiopia. That political struggle turned violent when the regional party known as the Tigray People's Liberation Front was side-lined from Ahmed's government.
So the reason for the revolt in Tigray may be politically motivated. To defeat this Tigray insurgency, Ahmed teamed up with Eritrea. The Ethiopian government also stands accused of trying to starve the Tigrayans into submission through savage siege tactics. Similarly, although the Saudi coalition has committed an enormous number of human rights abuses in Yemen, their adversaries, the Houthis, are no angels either. Likewise, the US acted abysmally in Afghanistan, but it's not like anyone in the world was exactly rooting for the Taliban to take over. Meanwhile, despite the various defects of its government, Ukraine remains a democracy and defending their sovereignty is essential in this age of creeping authoritarianism.
THE WEST'S DOUBLE STANDARD
Still, none of these above reasons justifies the scant coverage that other conflicts have been accorded in the media compared to Ukraine. Just because a war drags on, takes place far from the Eurasian heartland, or doesn't easily resolve into a battle of good versus evil, it still deserves the attention of journalists who need to cover the casualties and explain the convolutions to the world, and policymakers who need to try to end bloodsheds. Yet, the manner and degree of mainstream, Western coverage has been criticised for displaying racist undertones on two levels.
First, the language often used by Western journalists, such as the frequent refrain of the phrase "Europe's first major land war in decades," often indicates a sense of shock that how something like this could happen in Europe, while implicitly suggesting that wars normally happen in other countries "of a different sort" around the globe. Again, the normalisation of war and bloodshed outside Europe and North by various Western media figures comes across as distasteful. "They seem so like us", remarked by a writer in the Daily Telegraph, one of the United Kingdom's most prominent newspapers.
This is what makes it more shocking. Even an Al Jazeera anchor commented, "These are not people trying to get away from ar- eas in North Africa. They look like any European family that you would live next door to." Another Western reporter Charlie D'Agata calling the Ukrainians 'relatively civilised' also exposes the fact that they believe other countries and people are uncivilised in a way. This type of commentary reflects the pervasive mentality in Western journalism of normalising and undermining tragedies in parts of the world such as the Middle East, Africa, South Asia, and Latin America. In addition, the double standards regarding calls for excluding Russia from cultural and sporting events and not extending the same move to other occupying entities are widely criticised in social media.
As people are voicing that while boycotting Russia for occupying sovereign territories and ignoring the occupation of Palestinian territories by the Israeli forces is not only biasness of the Western world, but also a shameful act. Media's unwarranted bias and antipathy of the propaganda machines also seem omnipresent here. To sign off, there can be many types of differences between people. But the biggest truth is that we are all human beings. Killing humans is the biggest violation of human rights. Hence, it is natural to raise eyebrows when the Western world being the human rights propagator ignores the deaths of people from, what they consider, other countries, other cultures and of dissimilar skins.
Today's horrors tend to crowd yesterday's horrors out of the spotlight. As conflicts drag on, all of us in this brave new world of information begin to focus on something else. The sheer length of a conflict inevitably increases both attention fatigue and compassion fatigue. If the Ukrainian conflict goes into a second or a third year, a lot of people will begin to turn the dial and change the channel. Additionally, if we continue to overlook the bloodsheds, even if it's so minor, we may experience the same tragic fate in the near future. The deaths of a few score people in a war may be a lesser tragedy than a full-scale genocide, but it is a tragedy nonetheless.