In November, Bangladesh's earnings from merchandise shipment surpassed $5 billion for the first time, bringing a much-needed boost to a nation still reeling from a currency crisis. 
According to data released by the Export Promotion Bureau (EPB) on December 1, the country's export earnings in November of FY 2022-23 were $5.09 billion, up from $4.04 billion in the same month of FY 2021-22. This is a growth of 26.01 percent from the previous year. Increasing demand for Western-style clothing, higher costs for imported raw materials, and the release of previously stalled export shipments all factored to the record-breaking total.
YOU CAN ALSO READ: BUILDING MODERN PORT-LED NETWORK, BOOSTING ECONOMIC GROWTH
The export growth happened despite a bleak global economic situation caused by the Russia-Ukraine war and the aftereffects of Covid-19. Additionally, the manufacturers had warned that exports could fall under persistently high inflation in developed markets. In September and October, export revenues totaled $3.91 billion and $4.36 billion, respectively. Prior to this, June 2022 saw the biggest monthly export revenues with $4.90 billion in exports.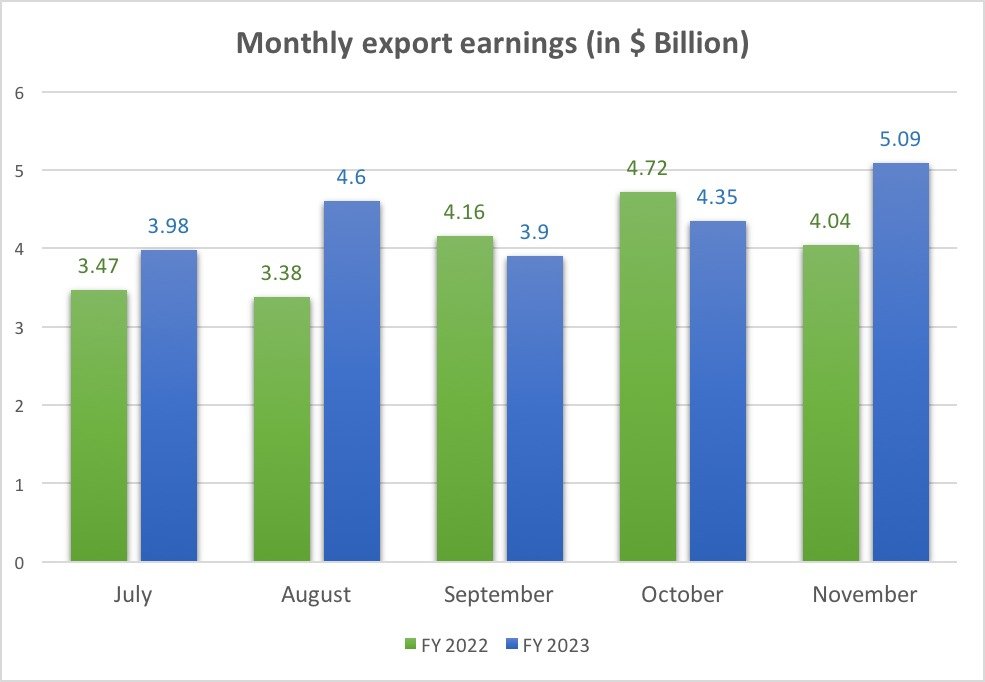 Bangladesh ranked 2nd in global apparel market
Bangladesh is a major provider of basic clothing, and despite the skyrocketing cost of living, customer demand for apparel products has remained high. According to the Trade Statistics Review of the World Trade Organization (WTO), Bangladesh replaced Vietnam to become the world's second-largest exporter of clothing in 2021. In 2020, Vietnam replaced Bangladesh in the third position. In 2021, Bangladesh exported $35.8 billion in ready-made garments, which is 8% of the global total.
An extraordinary achievement of increased export earning
Since Bangladesh's foreign currency reserves have been dwindling recently due to higher import costs, the export records will contribute to pulling back the economy. According to EPB data, exports increased 10.89 percent year-on-year to $21.94 billion from July to November.
Senior Commerce Secretary, Tapan Kanti Ghosh remarked, "This is an extraordinary export accomplishment." "The demand for locally made garment items is still very high despite the higher inflation in Europe. Still, we did not expect such a big jump in export growth in a time of crisis," Ghosh stated. The US (Bangladesh's single-largest export market) has begun to see a decline in inflation which is good news for Bangladesh.  "This has inspired the consumer to spend more," Ghosh remarked.
Apparently, the stock of unsold products is gradually diminishing, as local garment exporters report that overseas stores and brands are returning with a handful of work orders. Apparel shipment represents about 85 percent of the national export earnings. 
Faruque Hassan, president of the Bangladesh Garment Manufacturers and Exporters Association, said "export earnings in November topped $5 billion as the prices of products increased due to the price hike of raw materials and increased shipment of high value-added RMG products." 
According to Faruque, there are four factors for the increase in export earnings. He cited growing exports in new markets, rising unit pieces due to raw material price hikes, increased shipment of value-added products, and resumption of shipment that had been halted due to high inflation in western countries caused by the Russia-Ukraine war.
Exporters and EPB officials attributed the achievement to the production of generally higher-priced goods than in the past. According to AHM Ahsan, vice-chairman of the EPB, "Apparel export growth to non-traditional markets such as Japan, Korea, and Australia also contributed to this achievement." 
Disagreements over EPB data
Crossing the $5 billion mark is definitely a remarkable task for a developing country like Bangladesh. However, some of the relevant authorities disagreed with the export statistics provided by the bureau. According to Mohammad Hatem, executive director of the Bangladesh Knitwear Manufacturers Association (BKMEA), "EPB's facts don't seem credible". He stated that exports are on the rise, but not at the rate represented by the EPB. The data on export orders and imports of raw materials do not support it either.
Abdur Razzaque, chairman of the Research and Policy Integration for Development, called the export growth as unusual. He remarked, "And it is difficult to explain because of the reaction of exporters in the recent weeks after they started facing massive load-shedding and the gas crisis and the slowing order from buyers abroad. It will, however, give some relief to the economy if the data is accurate." Yet, he added that the greatest risk is still present as the world economies may enter a recession.