In the national and regional urban hierarchy, Dhaka has a special place. This capital city is overburdened with administrative and most other policy and decision-making activities. The traffic system in Dhaka is often regarded as one of the most chaotic in the world. Residents are subjected to physical stress and financial losses as a result of wasted man-hours on working days. The media, both print and electronic, has consistently highlighted commuters' miseries in Dhaka city as a result of the vexing traffic situation. Despite the government's best efforts, the city has failed to find a long-term viable solution.
Dhaka's population is growing at a rapid pace. People from all sectors consider Dhaka as the capital source of employment. Thus, in such hopes of improving their living conditions everyone believes that if someone can just go to this city, all of their troubles will be addressed. Our failure to decentralize Dhaka is now a burden over our shoulder, where we see no quick solution to get rid of the catastrophe.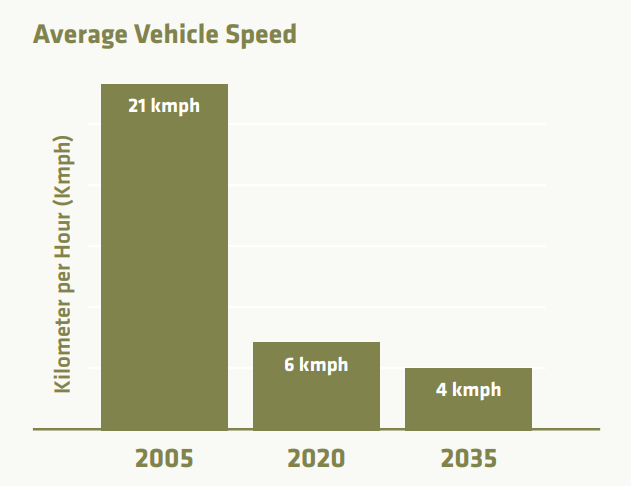 SLOW & STEADY DILEMMA
Dhaka is a city of mess and an ideal example to portrait a metropolitan with least and non-functional urban planning. The average vehicle speed in Dhaka was 21 kmph, 15 years ago, while it's below 6 kmph now. According to reports submitted by the World Bank, it will be less than 4 kmph by 2035.
Traffic congestions cut 5 million work hours in every working day which just vanishes around 11.4 billion dollars every year from our comprehensive economyas stated in a research conducted by BRAC. Moreover, traffic jams burn extra fuel which has adverse effect both in economy and energy sector.
JOURNEY VS OCCUPANCY REALITY
Daily travels in Dhaka city are estimated to be over 21 million, with just around 5% being made by private automobiles, which take up roughly 80% of the road area and are the primary cause of traffic congestion. Buses account for 28% of all journeys while taking up just 5% of road area. Walking, biking, or riding in rickshaws, often known as non-motorized transportation modes, account for 58 percent of total journeys.
However, these non-motorized modes of transportation have a limited amount of road space. In Dhaka, no designated bicycle or rickshaw lane exists on any route, and only about a quarter of the city's roadways have divided, paved walkways, the majority of which are occupied by street sellers and parked automobiles or are broken due to lack of maintenance.
LOST IN TRANSITION
In actuality, the loss is far more than the computed sum because the quality of life and mental and physical stress remain unquantifiable. Apart from that, vehicles are wasting additional liters of gasoline or cubic meters of compressed natural gas as they slog through clogged roads in stop-and-go traffic. On crowded roads, cars burn four times as much gasoline as when traffic is moving at a typical speed. For every 100 kilometers traveled, an automobile burns 24.4 liters of gasoline while it is at a standstill, stopping and starting, or going slowly in heavy traffic. When the same automobile travels at 50 km/h or more in free-flowing traffic, the fuel usage lowers to 6.4 liters per 100 km.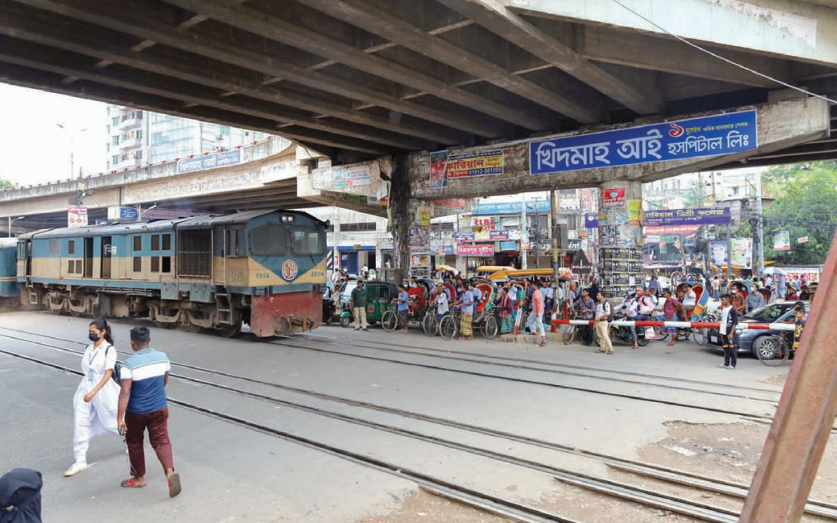 PENNY WISE, POUND FOOLISH
Comparing the narrow and insufficient number of roads and huge number of vehicles; fixing traffic issues is not an easy task. According to a Survey Carried out by Passengers Welfare Association, at least 90% of buses, minibuses, and auto rickshaws violate traffic regulations. The city had to bear a lot of hardship since job prospects and infrastructure development has not done with proper planning. To travel into and out of the city, most residents rely on rickshaws and local buses. These rickshaws and buses, in addition to public and privately owned cars, contribute to the city's gridlock. The waterways around Dhaka are almost non-functional and railway facility is very poor in terms of service and time management. Thus, traffic logging is an obvious fate for Dhaka. From January 1 to April 30, 2021, 1,841 persons faced death and about 5,471 were wounded in roads. The majority of wounded people are unable to live a regular life, resulting in financial and social costs such as healthcare, rehabilitation, and other property damage.
80% of transports that occupy Dhaka streets are private cars, carrying only a person or couple maximum. 54.2% roads are acquired by private cars during peak times.
In addition, Dhaka city is still controlling it's traffic by hand signals by traffic polices. Despite we like to call our Dhaka city as a 'modern metropolis', but everyday we face unbearable traffic congestions courtesy of such manual algorithm. Parking system is a compulsory urban parameter, whereas, in Dhaka, we rarely see any place to station our cars, resulting around 30% of the streets are covered by illegal parking. Lack of foot-over bridge and pedestrian walkways (footpath) are causing people to come over roads, resulting in jam and accidents. Hawkers and miniature infrastructures have acquired most of the city footpaths.
In order to function a city properly, 25% of the total area should be allocated for roads and streets, whereas, in Dhaka, we have roughly 8% or less. Prior to that, this minimal number of roads has no guided rules or regulations.
Wrong side driving, illegal stopping of transports, manual hand guided traffic signal and what not!
SHADOW BENEATH THE LIGHT
Getting license in this city requires no driving qualifications and sometimes having license to drive is not necessary even, as Police can be 'managed'. Untrained, traffic illiterate drivers not only causing traffic logs, also snatching innocent lives as well in roads.
Road excavations, poor quality of roads, unplanned railway crossings are also root cause to traffic jam. Around 80 trains everyday cross the capital through 29 rail gates, causing traffics to give way rails in every 12 minutes.
NOW OR NEVER
Despite prolonged difficulties and urban complexities, traffic problems can be margined. In order to do so, firstly, BRTA needs to restrict themselves from providing new access to enter new vehicles.
Everyday 10,000 new vehicles are approaching in roads of Dhaka city
with no increase in area of roads. Public transportation system should be made functional. Inaugurating short routes and implementing services in public transportation is the only functional solution to this city. Inauguration of new flyovers or express ways are not the solutions as only 8% people get benefitted from these mega projects. Footpaths need to be rescued from hawkers, walkways should be spacious and moving friendly. Intersections need to be made spacious and VIP movements should be controlled in peak hours. Overall comprehensive decentralization of Dhaka city is however the foremost solution to escape from such traffic deadlocks.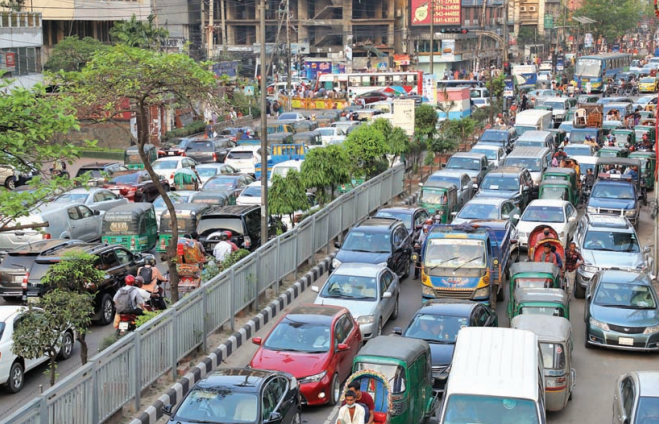 RAY OF HOPE
The government has devised a strategy to bring about dynamic changes in public transportation by establishing a well-planned and modern railway system. As a result, experts from various government and social development schools suggested in 2012 that traffic congestion in the capital could be significantly reduced by building a metro rail network and operating commuter trains after converting the Tongi-Dhaka route to three lanes and the Dhaka-Narayanganj route to two lanes.
Various other initiatives have been made by the government in the previous 10 to 12 years, including a special conference with the agencies responsible to propose measures to assist minimize the severity of the traffic problem in Dhaka city. Although some concrete improvements have been made, the outcomes are still falling short of expectations. Administrative decentralization, work allocation among ministries, departments, and divisional and other sub-divisional offices, dissolution of vertical local government, creation of metropolitan legislature, empowering municipal government, initiation of judicial process at the municipal level, creation of e-governance, and ensuring quality of health and education in district and rural areas are all things that could have a real impact to the traffic congestion in Dhaka city in both short & long term.
Construction of a flyover over a railway level crossing, establishment of a U-loop system, promulgation of legislation, jobs-housing balancing policy, efficient and appropriate public transportation system Imposing higher costs on private vehicles, spreading out major educational institutions in the sub-urban areas, constructing a bicycle network, establishing a car sharing/pooling system, and encouraging work-from home culture in various economic sectors might all help to alleviate the strain of traffic congestion for city dwellers.
MILES TO GO…..
Unbearable traffic congestion in an unlivable city where urban facilities are minimal. Dhaka traffic is now the ugly side of any forms of development deployed for the city. Traffic jam is now a curse, a scar for the city dwellers. The city once used to be the trade center of greater India, came to standstill now. To sort out the major causes, that making Dhaka unlivable; need to be addressed as soon as possible both from administration level and residents as well. Otherwise core function of this age old historical city and its civilization will collapse into complete standstill and Dhaka will be a dead city in no time.
EXPERT'S OPINION
Press Xpress got an exclusive insight from Khondker Neaz Rahman.
Deputy Team Leader of Detailed Area Planning of Dhaka Metropolitan Area (2016-2035)
Who is officially responsible for traffic management in Dhaka Metropolitan Area? Who is executing the job now?
First, I would like to point out that there is a distinction between traffic management and traffic control. We often think that both are same. But traffic control is just one part of the entire traffic management system. Traffic management is a pure hardcore scientific method. The official procedure of traffic management should be done in three layers by three different authorities.
First RAJUK oversees planning of the entire Dhaka Metropolitan Area, which covers almost 1500 square kilometers of area. For traffic management the plan includes infrastructure, roads, water way, transportation routes, terminals, and hubs etc. RAJUK has produced Dhaka Urban Transport Plan (DUTP). And, in recently produced Detailed Area Planning (DAP) has detailed a plan for traffic management. Then there is Dhaka Transport Co-ordination Authority (DTCA), who oversee implementation of that plan in broader scale. And then comes the City Corporations who will execute the plan in local level, which is know as Local Area Management Plan (LATM).
In execution level this three layers need co-ordination and consultation with two stakeholders, each other, and the local citizen. Unfortunately, there is little co-ordination, and we often see the organizations stepping over each other's jurisdiction. Also, Traffic division of Dhaka Metropolitan Police practices implementation its own plan. But they have no jurisdiction of giving plans or creating laws. The job of a police force in any country is strictly enforcement of the law, not providing them. In the end, all these multiple agencies are trying to execute their own version of plan without any consultation with each other and the local citizens. All these chaos is ending up to the suffering of general citizens and waste of taxpayers' money.
Two city corporations of Dhaka want to take official charge of managing traffic. Do they have technical capability of taking such a monstrous task? What they need to do to successfully execute traffic management?
The designated area of Dhaka Metropolitan exceeds the jurisdiction of DSCC and DNCC. It also includes local government of Narayanganj, Gazipur, Savar, and some local Union Parishads. If all these different organizations start planning and executing their own separate plans without any co-ordination the traffic problem will never be solved, in my opinion it will even add to the problem. All these organizations should oversee LATM. But they need planning and execution from an umbrella organization like RAJUK and DTCA. There have beeen already good plans made under DUTP and DAP. We should focus on successful execution of those plans rather than trying to diverge in political powerplay.